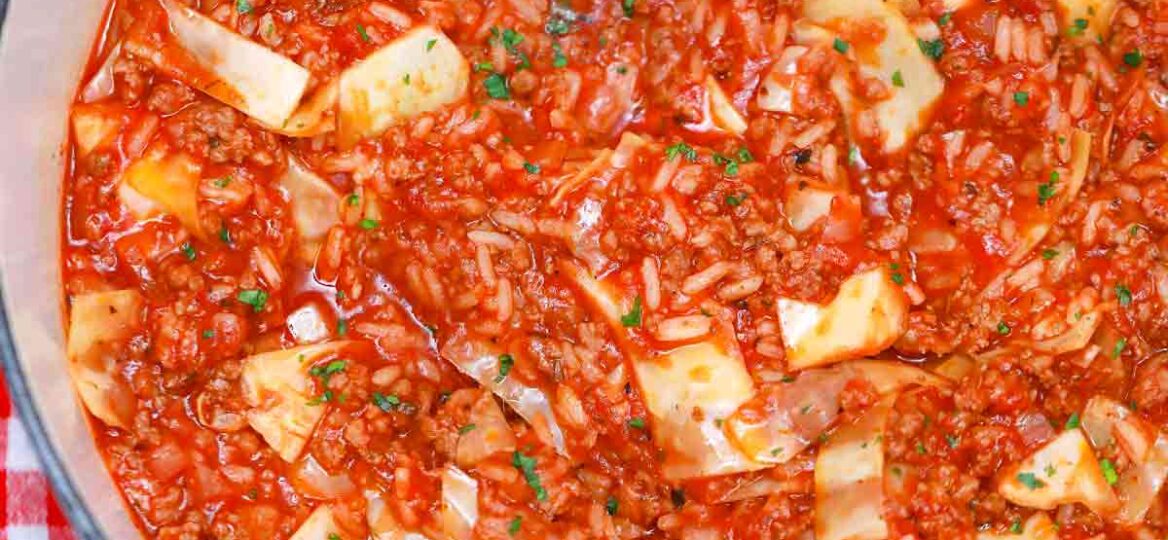 Unstuffed Cabbage Rolls [Video]
Unstuffed Cabbage Rolls dish is packed with hearty beef and sausage, rice, and tender cabbage all cooked in a savory tomato sauce. You only need one skillet or Dutch oven for this rustic classic!
Sometimes, you just want simple food that's filling and familiar. For those days, nothing can top Meatloaf and Mashed Potatoes, Easy Shepherd's Pie, and Chicken and Dumplings!
Easy Unstuffed Cabbage Rolls Recipe
Unstuffed Cabbage Rolls is one of my family's favorite comfort food. There's something about the combo of meat, cabbage, and rice in rich tomato sauce that makes you feel all warm and happy inside. But I have to admit, there are days when rolling up tons of leaves is the last thing I want to do.
I'm so glad to have a skillet version that's packed with all those comforting flavors but at a fraction of the work! It all comes together in one pan and is done in less than an hour. A true easy weeknight recipe I guarantee you'll make again and again!
What are Unstuffed Cabbage Rolls?
They're basically Stuffed Cabbage Rolls, but without all the rolling or baking. Instead of using whole leaves to wrap the filling, we're chopping them up and cooking them right along with the fluffy rice, sausages, and beef, and the tangy tomato sauce.
What is a skillet dinner?
It's exactly what it sounds like— an entire dinner made in one skillet! Everything happens in the same pan, such as cooking the meat and veggies to finishing the sauce. Sometimes, I even serve the meal straight from the pan itself!
Skillet dinners are always a win-win decision. They're fast and easy, don't compromise on flavor, and never leave a mountain of dirty pots to wash. See for yourself— once you've tried this recipe, make sure to try my One Pan Sticky Honey Garlic Beef and One Pan Italian Chicken and Rice!
How do you make Unstuffed Cabbage Rolls?
Brown the sausages and beef. Once they're deeply browned and crumbled, add the aromatics. Follow this up with the herbs and spices.

Simmer the sauce. To the browned and seasoned meat, add the tomato sauce, crushed tomatoes, and the rest of the ingredients for the sauce. Allow to boil, stir in the chunks of cabbage, then simmer until the veggies are vibrant green and tender but still crisp.

Finish the dish. Finally, stir the rice through and simmer until everything is hot.
Serve. Enjoy hot with sour cream and fresh parsley on top!
Recipe variations:
Use other grains: Swap out the white rice for quinoa, wild rice, brown rice, or steel-cut oats.
Try the soup version: For another comforting twist, turn it into a hearty soup instead!
Make it vegetarian: Use chopped mushrooms and vegan meat instead of sausages and beef.
Make it cheesy: Stir some grated parmesan into the dish, and top with a handful of cheddar.
Use other meat: This recipe will also work with other ground meats like pork or chicken if you want a lighter version.
Make it spicy: Red pepper flakes add just the right amount of heat into the tomato sauce!
Stuff it: Want to go the traditional route? Try your hand at making the classic Stuffed Cabbage Rolls!
Can you make it in the slow cooker?
Sure! Just follow the below steps:
Crumble both the beef and sausage into the pot.
Top with the seasonings and cabbage, then the diced tomatoes over that.
Mix the sauce seasonings with the tomato sauce, then pour all over everything.
Cook for four (on high setting) to eight hours (on low). Stir the rice at the end of the cooking time.
Serve with a garnish of herbs and sour cream!
Do you use cooked or dry rice to Make Unstuffed Cabbage Rolls?
We use cooked rice here because it's convenient. It also allows us to make sure it's perfectly cooked instead of getting mushy while the rest of the dish simmers.
How to store?
First, the leftovers should be completely cool throughout. Then, transfer to an air-tight storage container before placing it in the fridge. Consume within a day or two.
How to freeze?
This skillet dish freezes wonderfully! Again, everything has cooled down before scooping into a freezer-friendly container.
Keep frozen up to 1 month. To reheat, thaw and microwave until hot. Garnish and enjoy!
What to serve with Unstuffed Cabbage Rolls?
It's perfect with some Garlic Roasted Potatoes, roasted brussels sprouts, or a simple salad. It's also really good served with baked chicken breasts. Try it with crusty bread and some juicy kielbasa on the side!
More Recipes:
Recipe Tips:
If you're planning to store this long-term, prepare the rice just until cooked. This way, they won't become soggy after reheating.
Try this with crumbled spicy sausages for a little kick.
Deliciousness to your inbox
Enjoy weekly hand picked recipes and recommendations