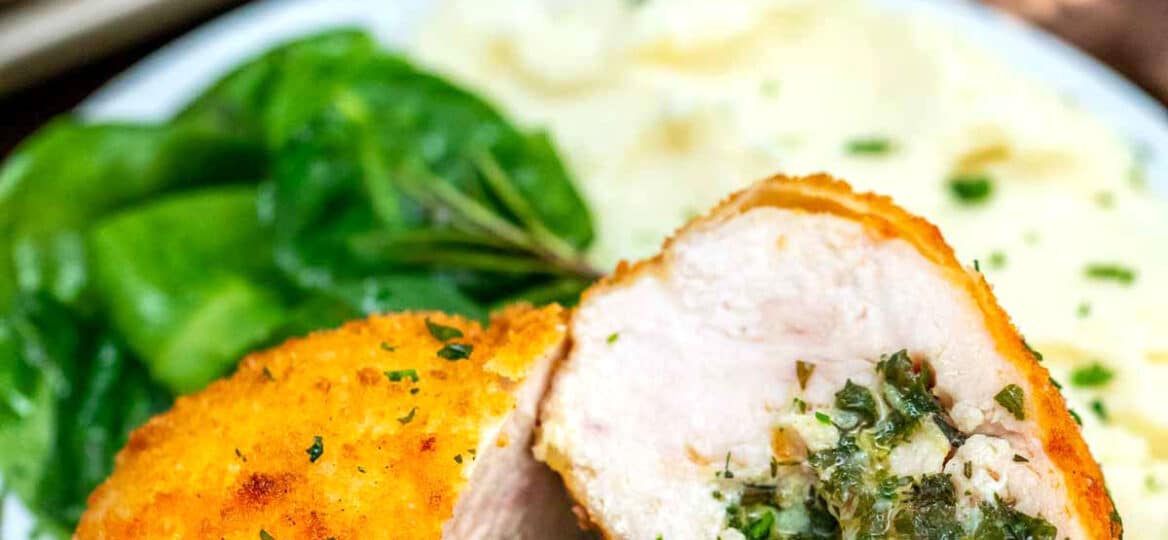 Best Chicken Kiev Recipe [Video]
Chicken Kiev is a sumptuous dish that is juicy on the inside, covered in a crispy crust! Learn this recipe and make a restaurant-quality dish right in your kitchen!
This is just one of the many chicken dishes that I love! This dish came from Eastern Europe much like Cabbage Rolls, Potato Pancakes, and Tzatziki Sauce!
Chicken Kiev Recipe
Chicken Kiev has a filling inside the thin white meat which makes it so moist! And that juicy interior is just perfect for its crispy surface. I love how I can pair this with other side dishes to make a hearty meal.
Even kids love this one because of the irresistible exterior. It is golden and looks so appetizing even if you have not gotten to see the filling. And the secret here is butterflying the breasts.
The breasts are so lean that they dry out faster than dark meat. But with this recipe, you also have a filling that will keep the meat moist.
Instead of going to my favorite restaurant to eat this, I can simply make it at home with this recipe. You can, too! Just follow this simple recipe!
What is Chicken Kiev?
It is a fried or baked dish that is stuffed white meat. In this recipe, the filling is butter mixed with garlic, citrus, and fresh herbs.
This sets it apart from other poultry dishes. And of course, anything with butter tastes great!
Although its exact origin cannot be confirmed, it is known to have originated in Eastern Europe sometime in the 18th or 18th century. It is so good that it is still around today!
Chicken Kiev ingredients:
There are two main components in this dish: the meat and filling. Here are what you need:
butter mixture: garlic, salt, parsley, fresh rosemary, fresh thyme, lemon zest, lemon juice, unsalted butter
white meat: breasts, all-purpose flour, salt, pepper, eggs, panko breadcrumbs, paprika, garlic powder, onion powder, vegetable oil
Refer to the recipe card below for the actual measurements.
How to make Chicken Kiev
Prep the butter mixture: Mix the ingredients in a bowl. Shape it into a log, wrap it in plastic, then chill it for about 15 minutes.
Form: Season the meat with salt and pepper. Put the chilled butter mixture at the center of the meat. Fold the meat around the butter mixture to form a ball. Then, wrap the ball tightly in plastic wrap, place on a plate, then, chill in the freezer to set. This will take around 30 minutes.
Coat: Prepare for breading. Remove the ball from the plastic and dredge it on the flour mixture, into the eggs, and then into the bread crumb mixture. Wrap the ball again with plastic and chill in the freezer for 15 minutes.
Cook: Heat oil in a deep-fryer or large pan to 350 degrees Fahrenheit and preheat the oven to 400 degrees Fahrenheit. Fry the ball in the hot oil starting at the gathered side facing down. Then, after a minute of frying on each side, transfer it to the lined baking sheet. Sprinkle salt and cayenne pepper on it.
Bake: Pop it in the oven and bake until the butter sizzles at around the 15th- to the 17th-minute mark. Check for doneness and allow it to rest before serving.
How to butterfly chicken breast?
Cut the meat on its longest side by pressing it lightly on the chopping board and sliding the knife in the middle.
Do not cut it all the way through.
Open the two halves.
If you think that the meat is still too thick, you can halve it further.
What to serve with Chicken Kiev?
Can I use chicken thighs?
Absolutely! You can make this dish using boneless and skinless thighs. Just make sure that the thickness is even throughout.
How to store leftovers:
Refrigerate: Simply put it in an airtight container and consume within 3 to 4 days in the fridge. The longer it sits, the soggier it gets.
Freeze: To extend its shelf life, you can transfer it in a freezer bag and freeze for up to 3 months. To reheat, simply cook it in the oven again.
Recipe Tips
Make sure that the thickness is even throughout. You can achieve this by putting the chicken breast in between two sheets of parchment paper or plastic wrap and pounding on it with a mallet.
Another variation is by slitting the white meat and piping in the butter mixture.
Add a strip of cheese in the middle for a cheesy surprise!
Deliciousness to your inbox
Enjoy weekly hand picked recipes and recommendations