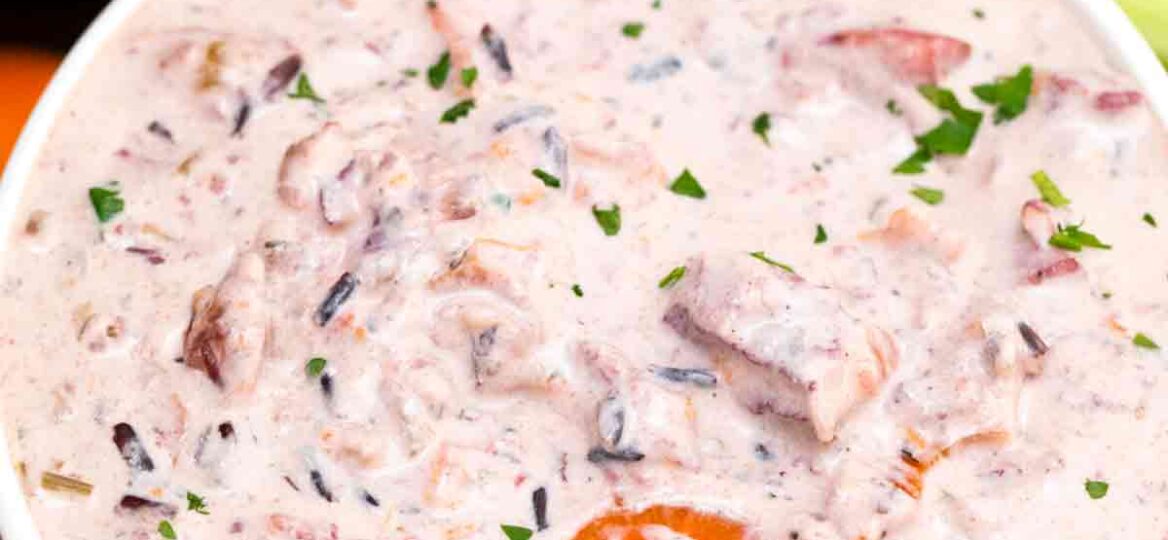 Instant Pot Chicken and Wild Rice Soup [Video]
Instant Pot Chicken and Wild Rice Soup is deliciously creamy with chunks of meat, nutty wild rice, and fresh veggies. A fantastic winter meal that you can actually enjoy during any season, and also ready in less than 30 minutes.
You can cook almost anything in the IP, from side dishes like Potato Salad to full entrees such as Balsamic Pork Tenderloin. And yes, even desserts like Crème Brulee!
Pressure Cooker Chicken and Wild Rice Soup
Instant Pot Chicken and Wild Rice Soup is the ultimate fall or winter meal. It instantly makes me feel better when I'm unwell, or just craving something hot and delicious during a cold day.
But because it is so tasty and simple, I make this frequently all year long as well. Also, there is no need to plan ahead because the pressure cooker takes care of everything.
Because the leftovers taste even better the following days, it's excellent for meal prep. You can just pull a container out, heat up, and you've got a hearty meal within minutes. Such a wonderful, comforting dish!
Instant Pot Chicken and Wild Rice Soup Ingredients:
Chicken: Chop into chunks.
Rice: We use both wild rice mixed with long grain.
Aromatics: Garlic and onion.
Vegetables: Fresh carrots plus crisp celery contribute color and flavor.
Seasonings: Dried parsley, salt, Italian herbs, fresh ground pepper, plus crushed pepper flakes for a very subtle kick.
Slurry: We're thickening the dish with a simple slurry made of cornstarch and water.
Broth: I always recommend making your own stock, but store-bought is fine.
Half and Half: Lighter than heavy cream, but still creates a silky and creamy consistency.
Butter: For sautéing, and also infuses richness to the dish.
Cream cheese: The cheesy tang cuts through the creaminess.
How to make Instant Pot Chicken and Wild Rice Soup?
Sauté. Set your IP to Sauté. Cook the aromatics and vegetables in butter, followed by the grains, seasonings, and meat. Cover with the stock.
Cook. Next, set to pressure cook for 5 mins. Then, let it release naturally when done, for around 5 mins. Perform a quick release to finish.
Thicken. Turn on Sauté again. Start thickening with the slurry. Next, mix in the cubes of cream cheese until they're all incorporated and melted. Swirl in the half and half over a gentle simmer.
Serve. Enjoy with some crusty bread, plated up with fresh chopped parsley on top.
Recipe variations and substitutions:
Stovetop version: Sauté everything first, including the meat. Add grains and broth, then cook on a hard simmer. Thicken with the slurry. Melt the cheese into the soup, give it a good stir, then swirl in the half and half. You can find the stovetop version here.
Make it healthier with veggies: White and brown mushrooms add meaty umami to the dish. Other great veggies include broccoli florets, cubed potatoes, and peas.
Vegetarian version: Use vegan butter, vegetable stock, and dairy-free milk like soy. Skip the meat, and add portobello or cremini mushrooms for meatiness.
Use other meats: For a lighter version, use turkey. Try adding sausages for a heartier dish.
Can you cook rice and meat in the Instant Pot simultaneously?
Yes, but remember that the pressure cooker cooks rice in mere minutes. Therefore, use chicken and other fast-cooking meats.
Also, if you are looking for the best way to cook rice in the IP, here is the rice recipe.
What kind of rice should be used?
I strongly suggest a mix of wild and long grain, so they're both fully cooked within 5 minutes while retaining that nutty chewiness. White rice (raw), or even brown rice will work too.
What to serve with IP Chicken and Wild Rice Soup?
For a rustic and filling meal, nothing beats this dish with a home-baked crusty loaf or soft rolls.
It's also delicious with a simple salad. Terrific with a grilled cheese too!
How to store leftovers?
I highly suggest dividing your leftovers into individual portions so that they're easier to reheat.
Also, keep them in tightly sealed containers once completely cool. Consume within 3 days if storing in the refrigerator. It can last up to 2 months in the freezer.
To reheat, simply microwave 'til hot.
More Pressure Cooker soups:
Recipe Tips:
You may use cubed, skinless thighs if you prefer dark meat.
Also, don't natural release all the way to avoid overcooking the ingredients.
Another fun way to serve this creamy soup would be in a fluffy bread bowl.
Deliciousness to your inbox
Enjoy weekly hand picked recipes and recommendations