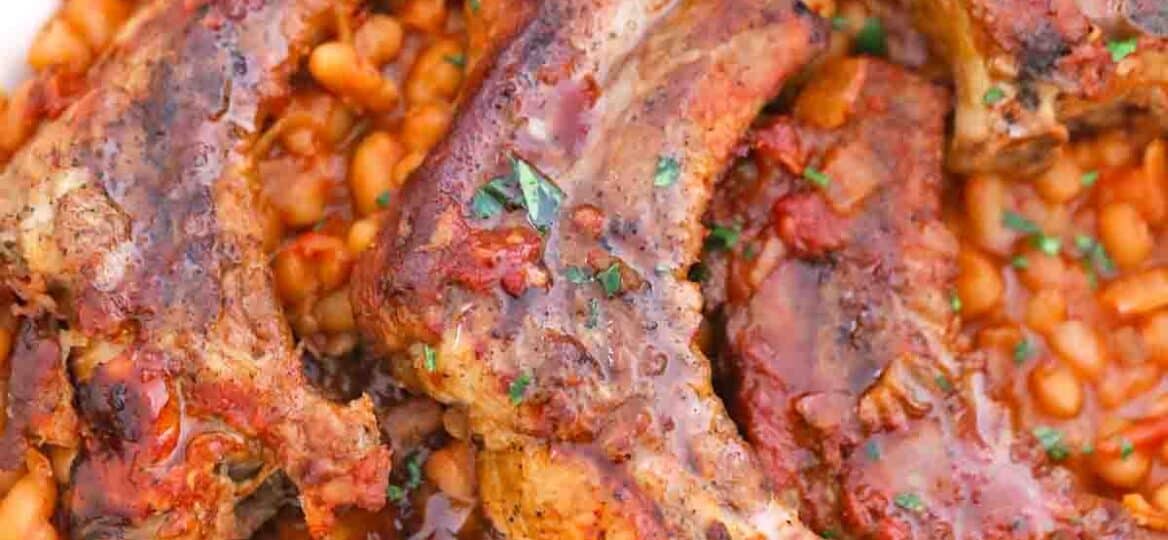 Short Ribs and Beans Recipe
Short Ribs and Beans make the perfect hearty meal with meat so tender it is falling off the bone, in a sweet and tangy tomato sauce. It is comfort food at its finest, filling you up with protein and delicious flavor. The garlic and onion meld with the tomatoes and the sweetness of the molasses and brown sugar give your dish a burst of flavor in every bite.
Looking for some other way to cook ribs? Try our Slow Cooker Asian Short Ribs with ginger, sesame oil, Worcestershire, and chili peppers. It is delicious and worth the wait. If you want your meal done faster, this Instant Pot Ribs recipe is perfect. They are done in one hour and seasoned with a dry rub of brown sugar, dill seeds, nutmeg, cinnamon, and other delicious spices.
Before the 1800s, ribs were often just tossed in the trash when the butcher chopped up the hog. Then, families started getting together in the late 1800s for big meals where they cooked entire pigs.
This was when they realized how good they were. After meatpackers suddenly realized that people would pay for them separately, they started selling them.
For this yummy beef short ribs recipe, all you need are a few ingredients including beef ribs, pinto beans, onion, and a delicious homemade sauce.
The ribs are seared and then braised low and slow until they are falling off the bone. It is a scrumptious meal to serve whether it is a cold winter night or a warm summer day.
If you are looking for some new side dishes to make with these ribs, try our quinoa salad recipe made with just a handful of ingredients including chickpeas, cucumber, tomatoes, bell pepper, and radishes. Or you might enjoy these stuffed mushrooms with cream cheese, parmesan cheese, and garlic with Italian seasoning and herbs.
Ingredients needed:
To make this delicious short rib recipe, gather the ingredients below. After, scroll down to our printable recipe card for exact measurements and directions when you are ready to get started.
Short ribs
Cooking oil: We used olive oil.
Kosher salt

Freshly ground black pepper
Diced onions
Canned pinto beans: Drained and rinsed.
Sauce ingredients:
Tomato sauce
Brown sugar
Molasses
Apple cider vinegar
Minced garlic cloves
Dry mustard
Paprika
Salt
Pepper
How to make short ribs from scratch?
Preheat oven: First, preheat your oven to 350 degrees F.
Cut the fat: In the meantime, remove any excess fat from the ribs and season with salt and pepper.
Prepare the sauce: Then, mix the tomato sauce, brown sugar, molasses, apple cider vinegar, garlic, mustard, paprika, salt, and pepper in a small bowl and stir well. Set it aside until you need it.
Sear the ribs: Next, heat your cooking oil in a Dutch oven on the stove over medium-high heat. Sear the meat on all sides until browned before moving it to a plate and remove all of the liquid except for about one tablespoon.
Simmer veggies: Then, add onions and diced tomatoes to the pan, reduce heat, and simmer until softened, stirring frequently.
Bake for 45 minutes: Now, put the meat back in the same pot with the onions, tomato, and any juices left on the plate. Pour sauce on top of the meat and put the lid on the Dutch oven, placing it in the preheated oven for 45 minutes.
Braise short ribs: After 45 minutes, take the pot out of the oven, turn the meat over, and add 1/4 cup of water. Put the lid back on and put it back in the oven for another 45 minutes. After, flip your ribs again and add another 1/4 cup of water. Cook for another 30 minutes and remove from the oven. Check for doneness. If it splits easily with a fork, add the beans. If not, put it back in for another 15 to 30 minutes.
Bake the beans: To cook the beans, first, remove the ribs and put them on a plate. Pour the beans into the pot with the sauce and return the ribs to the pot. Add just enough cold water to cover the beans.
Finish cooking: Lastly, put the pot back in the oven and cook uncovered for another 30 to 45 minutes. If it needs more liquid, add a bit of freshwater or beef broth.
Serve with cilantro: Finally, remove from the oven, and serve in a serving dish garnished with cilantro.
How to make slow cooker short ribs from scratch?
Mix it up: To begin, stir all the sauce ingredients in a small bowl and set it aside.

Prep and season ribs: Then, after removing any extra fat from the ribs, season them with salt and black pepper.

Brown the ribs: Next, heat oil in a heavy skillet over medium-high heat and sear the ribs on all sides before moving them to your crock pot.

Cook the veggies: Afterward, remove all but one tablespoon of fat and add the tomato and onion to the pan. Reduce to medium heat and continue to cook while stirring until they are soft.

Slow cook in the crock pot: Now, add the onions and tomato to the crock pot and pour the sauce on top. Cover and cook for three hours on low or two hours on high. Flip the ribs and add more braising liquid if needed. Close it back up and cook it for another three hours on low or two hours on high heat.

Cook beans: Then, move the ribs to a rimmed baking sheet and cover them with foil. Add the beans to the pot and stir with a slotted spoon so it is all covered in the braising liquid. Cover and cook for another two hours on low.

Garnish and eat: After, remove the beans and eat with the ribs and a bit of cilantro for garnish.
Recipe variations:
Different ribs: Feel free to use pork, lamb, or beef ribs for this recipe.

Any oil: You can use any cooking oil you prefer such as vegetable or canola oil.

Other ribs: Instead of short ribs, you can use country style or regular ribs for this recipe.

Heat it up: Add a dash of red pepper flakes or cayenne pepper for spicy short ribs.

Bay leaf: For a minty earthy taste, add a bay leaf to the pot while cooking.

More veggies: Use a food processor to chop up your favorite veggies like celery, bell peppers, and mushrooms.

Tomato paste: Add a can of tomato paste to your pot for a richer tomato flavor.
How to serve:
These braised short ribs are restaurant quality with an even better flavor. Whether you make pork or beef short ribs, they both go great with beans of any kind. Add a side dish and salad for a full dinner. Try one of these cooking tips and serving ideas or share some of your own in the comments at the bottom of the page.
This dish goes perfectly with mashed potatoes whether they are homemade or store-bought.

Alternatively, try this creamy potato gratin instead of mashed potatoes.

Use leftovers to make sandwiches or add them to your favorite salad or soup.

Macaroni and cheese is another great side dish with these ribs. Try our homemade instant pot macaroni and cheese recipe.

You could also add your leftover ribs to this easy stovetop beef stew recipe.

Another way to use your leftovers is to make short rib chili. Simply add what you have to your favorite chili recipe.
Frequently asked questions
What are the best beans for this recipe?
Because you are braising your ribs for a long time, you want a thick-skinned solid bean that does not get soggy in water. Pinto beans, kidney beans, lentils, or chickpeas are the best choices. You could also use navy beans, cannellini beans, black-eyed peas, or lima beans. White beans may end up getting soft, but they would still work.
Why are my ribs dry?
If you want your ribs fall off the bone tender, you have to cook them nice and slow and with lots of moisture. If you do not braise your ribs long enough, the muscle and fibers do not break down, leaving them tough, dry, and hard to chew. It may also happen if you do not sear the beef before cooking. That is the best way to keep all the juices inside where they belong.
What does braised mean?
Braising is to cook your meat with low heat for a long time to break down the collagen to make it more tender. To braise meat, it is first seared and then slow-cooked with liquid in a covered pot. The liquid can be broth, juice, wine, or even water. It is like stewing but is done with less liquid and is typically used for larger cuts of meat.
What are the nutrition facts in this recipe?
One serving of these braised short ribs have 550 calories, 135 mg cholesterol, and 27 grams fat with 10 grams saturated fat. It also contains 1,423 mg sodium, 30 grams carbs, and 15 grams sugar. On the good side, each serving also has 6 grams fiber, 30 grams protein, 390 mg potassium, 165 units vitamin A, 11 mg calcium, and 2 mg iron.
How to store leftovers:
Store: Let your leftovers cool to room temperature before refrigerating them in an airtight container. You can keep them for three or four days in the fridge.
Freeze: It is also safe to freeze your ribs for up to three months.
Thaw: Remember to put your frozen leftovers in the fridge to thaw overnight before serving.
Reheat: To reheat, put the chicken and potatoes in a microwave-safe dish and heat in the microwave for one minute. You could also reheat it in the air fryer for 90 seconds.
More easy and hearty dinners:
Cooking tips:
If you do not have a Dutch oven, you can use any nice big pot that can be used in the oven.

The cooking time may vary depending on the size of the ribs and what type of cooking vessel you use.

This can be made a day ahead to shorten prep time.

If you use broth with salt, you may want to leave the salt out of the recipe.

You can use any kind of vinegar you like if you do not have apple cider vinegar.
However, do not skip the vinegar. This boosts the taste to a delicious level.

You can skip the molasses, though, if you are not a fan.

Another idea is to use boneless ribs, either pork or beef.
Short Ribs and Beans
Ingredients
6

short ribs

fat removed

Cooking oil

Salt and freshly ground pepper

to taste

1

onion

diced

2 19

oz

cans pinto beans

rinsed
Sauce:
3/4

cup

tomato sauce

1/4

cup

brown sugar

1/4

cup

molasses

2

tablespoons

apple cider vinegar

5

cloves

garlic

minced

2

teaspoons

dry mustard

1

teaspoon

smoked paprika

1

teaspoons

salt

or to taste

1/4

teaspoon

ground black pepper
Instructions
Prepare the ribs by removing the extra fat. Season them with salt and pepper.

Prepare the sauce by combining all the sauce ingredients in a small bowl and stirring well to combine. Set aside.

Place a large Dutch oven on the stove-top, over medium heat. Add about 2 tablespoons of oil and once hot sear the ribs well on all sides, then remove to a plate. Discard the grease, leaving in only about 1 tablespoon.

Add the onion, and chopped tomato and cook, stirring, until softened, about 3 minutes.

Return the ribs to the pot and also pour the sauce on top of the meat.

Place the lid on the Dutch oven and place it in the preheated oven. Cook for 45 minutes.

After 45 minutes of cooking, remove the pot from the oven and flip the meat over. Add about 1/4 cup of water to the pot. Cover with the lid and place the pot back into the oven for another 45 minutes.

Remove the pot again and flip the ribs. Again, add 1/4 cup water to the pot. Place the lid and return to the oven for an additional 30 minutes.

Remove from the oven and check the ribs. If it will split apart easily with a fork, it's time to add the beans. If not, cover and cook for an additional 15-30 minutes or until the ribs are falling apart.

Remove the meat to a plate, add the rinsed beans, and stir to combine the beans with the sauce. If a little more liquid is needed, add a bit more water. Return the chunks of ribs to the pot and bake UNCOVERED for an additional 30-45 minutes.

Garnish with cilantro and serve.
Deliciousness to your inbox
Enjoy weekly hand picked recipes and recommendations