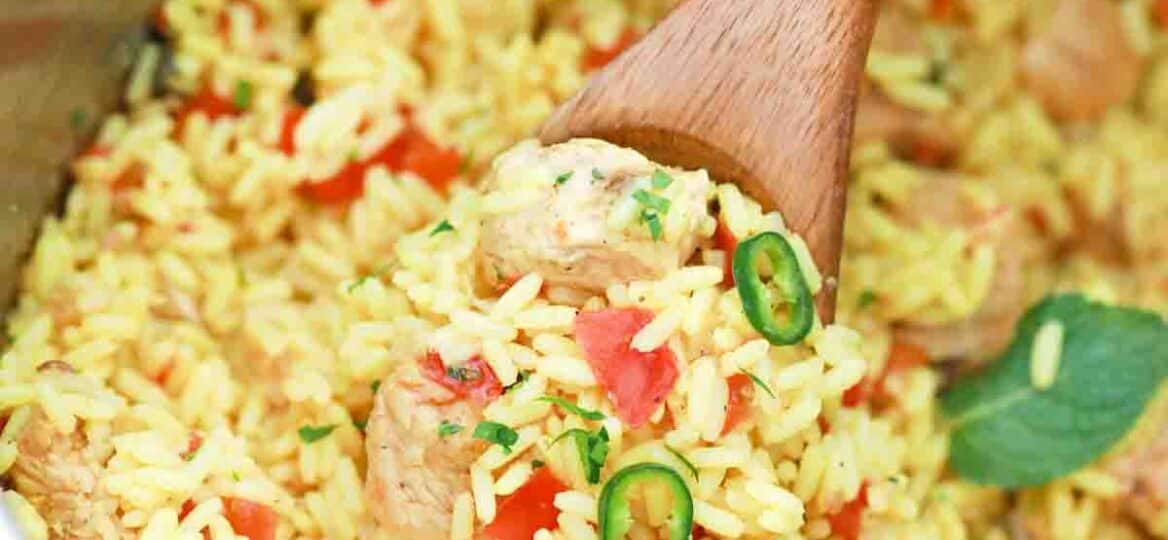 Instant Pot Chicken Biryani Recipe [Video]
Instant Pot Chicken Biryani is a delicious rice dish made with marinated chicken, basmati rice, tomatoes, peppers, and an aromatic mix of spices. The tender chicken and fluffy rice absorb all the spices and give this recipe its intense flavors. It is a perfectly cooked one-pot dish you can have on your dinner table tonight that the whole family will love.
Looking for other instant pot recipes? Our Instant Pot Rice and Beans with black beans, brown rice, and chicken broth is easy and cooks in 20 minutes! Instant Pot Chicken and Rice is another easy but delicious meal made from chicken breast, jasmine rice, and lemon.
You can find many different recipes for biryani including Hyderabadi, Paneer, Lamb, Shrimp, and Dum Biryani. Traditional biryani in the old days was sealed with raw dough to keep the steam and flavors in, sort of like cooking chicken biryani in the instant pot. So even back then they knew the benefits of steaming to make good chicken biryani.
Pressure cooker chicken biryani is one of the easiest and fastest cooking methods for this absolutely delicious main course cuisine. If you are worried about nutrition, calories, or fat, this is the perfect recipe because it has healthy portions of all these.
Another way to enjoy chicken and rice is with chicken fried rice. Our easy and fast recipe uses chicken breasts, canned sweet corn, and frozen peas and carrot for a better-than-take-out flavor. For a different copycat recipe, this Panda Express black pepper chicken is juicy, chunky, and coated in scrumptious pepper sauce.
Ingredients needed:
When cooking chicken biryani, all you need are the ingredients listed below. Scroll down to our handy printable recipe card for complete instructions and exact measurements when you are ready to start making chicken biryani.
Boneless chicken thighs
Basmati rice
Chopped onion
Ginger garlic paste
Chopped tomato
Ghee: Or clarified butter.
Chopped cilantro
Coconut milk
Oil
Serrano pepper
Mint leaves
Salt
Water
Powder:
Garam masala
Coriander: Also known as dhaniya.
Red chili pepper
Turmeric
Tadka or tempering ingredients:
Cumin seeds
Star anise
Cardamom
Cinnamon
Cloves
Bay leaves
How to make instant pot chicken biryani from scratch?
Rinse and soak the rice: First, rinse the basmati rice and soak it for 20 to 30 minutes.
Saute the onion: In the meantime, turn on the instant pot to saute mode more and add the oil and ghee. When it is hot, add the tempering ingredients and the chopped onions. Saute until the onion is light brown.
Add chicken: Now, add the ginger garlic paste, peppers, mint leaves, and tomatoes to the fried onions and saute until the tomatoes are soft. Then add the partially cooked meat and saute for a minute before adding the mixed powders.
Mix in the rice: Then, mix rice with coconut milk and water before adding it to the pot. Stir well.
Pressure cook mode: Close the lid with it in the sealing position. Cancel the saute mode and change it to manual or high-pressure. Then pressure cook chicken for five minutes.
Release naturally: Let the pressure release naturally before you open the lid.
Garnish and serve: Last, garnish with chopped cilantro and serve.
How to make slow-cooked chicken biryani from scratch?
Soak and drain the rice: First, rinse the basmati rice and soak it for 20 to 30 minutes and drain it well.
Cook onions: While you wait, heat the ghee and oil in a frying pan and add the onions and tempering ingredients. Cook until the onions are light golden brown.
Add the meat: Now, add the tomatoes, ginger garlic paste, mint leaves, and peppers to the caramelized onions and saute until the tomatoes are soft. Then add the meat and saute for a minute before adding the powder ingredients.
Slow cook: Put all the ingredients into a crock pot and add the coconut milk and water. Add drained rice and give it a good stir. Close the lid and cook on low for six hours or on low for three hours.
Serve with cilantro: Finally, add chopped cilantro and serve.
Recipe variations:
Any oil: We used sesame oil but you can use olive, avocado, or whatever oil you like to cook with.
Different chicken: Feel free to use your own favorite chicken cuts like boneless chicken breasts or chicken drumsticks (chicken legs).
Other raw meat: Similarly, try using other meat such as turkey, pork, or beef.
Green chiles: You can also use green chiles instead of serrano peppers.
Spicy chicken biryani: If you like spicier biryani, add jalapenos or red pepper flakes to your tempering ingredients.
Sliced onions: Sliced onions are also fine for this recipe.
Lime juice: You can add any citrus fruit juice but lime is perfect for this dish.
How to serve:
Our tasty chicken biryani recipe is cooked to perfection for a one-pot meal that is done in less than an hour. Try one of these serving ideas or share one of your own in the comments below:
Save some of the caramelized onions to top the dish when finished cooking.
You can also top this dish with another favorite sauce like garlic. mint, or onion chutney.
This dish goes great with some kind of cooling raita like cucumber raita or yogurt sauce.
You can do just about anything with leftover chicken biryani. It would be perfect in any casserole, soup, or salad. Try it with one of our favorite top 10 casserole recipes.
A topping of cheese is also delicious. You may like spicy cheese like pepper jack or something mild like cotija or mozzarella.
These grilled vegetables would be a hearty side dish for your chicken biryani.
A different kind of side dish for this chicken meal is some kind of fruit like pineapples, papaya, and mango.
Mashed potatoes go with everything!
Frequently asked questions
How is powder in this recipe different from curry powder?
Unlike curry powder, the spices are more fragrant and include some sweet spices as well. Overall, the flavor is a balance of sweet and spicy, and it has a very strong fragrance. You can actually just add extra spices to your favorite curry for this recipe.
Where did biryani come from?
Although the exact origin of biryani is not certain, it is thought to have originated in Persia or the Muslims of the Indian subcontinent. Today, it is one of the most popular dishes in Southern Asia as well as Malaysia, Thailand, Vietnam, Pakistan, and Iraq.
Why is my instant pot chicken biryani rice mushy?
When cooking rice in an instant pot, the addition of juices from the meat as well as the vegetables and other flavorings can cause it to overcook. That is why it is extremely important to follow the recipe carefully.
It is better to have rice that is not done all the way than mushy rice because you cannot uncook something. This recipe calls for five minutes but you can stop it at four minutes if you are using newly harvested rice.
What are the nutrition facts in this recipe?
Indian servings are different from American servings because they serve almost everything as a sharing dish. These numbers are considered to be from American servings, but they are approximate. In each serving you will get about 450 calories, 67 grams of carbs, and 16 grams of fat with 8 grams of saturated fat as well as 710 mg of sodium, 18 mg of cholesterol, and 5 grams of sugar.
On the good side, your chicken biryani also contains 10 grams of protein, 700 mg of potassium, and 5 mg of iron, 8 mg of iron. You also get 3,870 units of vitamin A, 116 mg of calcium, and 60 mg of vitamin C.
How to store leftovers:
Store: After your chicken biryani cools to room temperature, you can refrigerate it in an airtight container where it should be eaten within four days.
Freeze: If you want to freeze your leftovers, put them in a freezer bag or other freezer-safe container. You can keep them frozen for three months.
Thaw: Make sure you put your frozen instant pot chicken biryani in the fridge to thaw overnight before serving.
Reheat: To reheat, put the thawed chicken biryani in a microwave-safe dish and heat it in the microwave for 60 to 90 seconds.
More Instant Pot Recipes to try:
Cooking tips:
If you use bone-in chicken, give it a few more minutes to cook. Boneless chicken pieces cook faster.
Making biryani can be time-consuming if done traditionally. Using the instant pot makes it quicker because the pressure cook time is not as long.
To shorten prep time, use cooked chicken and rice.
Use whole spices in your tempering ingredients for a better flavor.
Adjust red chili powder based on your spice level.
Pressure cooking time varies depending on the size and type of your instant pot.
Make sure the biryani rice is pushed underneath the liquid before you start the pressure cooking cycle. If all the rice is not covered it will not cook evenly.
You can use regular or long-grain basmati rice grains for this recipe.
If the rice is still not cooked all the way when the cooking cycle is through, add another five minutes on the "keep warm" mode.
Scoop from the bottom of the pot so you get both chicken and rice in each serving.
If you use saffron strands in this recipe. Soak them in warm milk for about five minutes.
Instant Pot Chicken Biryani
Ingredients
2

cups

basmati rice

1 1/2

lb

chicken breast

chopped into 1-2 inch pieces

2

tablespoons

ghee

or use butter

2

tablespoons

canola oil

or vegetable oil

1

large yellow onion

diced

1

teaspoon

ginger paste

1

teaspoon

garlic paste

2

medium tomatoes

chopped

2

green chilies

chopped

1/3

cup

fresh mint leaves

Salt

to taste

1/4

cup

coconut milk

full-fat

2 1/2

cups

water

or chicken broth

2

tablespoons

fresh cilantro

chopped
Powder mix:
1/2

teaspoon

turmeric powder

1

teaspoon

red chili pepper powder

2

teaspoons

coriander powder

1

teaspoon

garam masala powder
Tadka/Tempering:
2

bay leaves

3

cloves

1

stick cinnamon

1

cardamom

1

star anise

2

teaspoons

cumin seeds
Instructions
Rinse and soak the rice for 20 minutes.

Turn on the Instant Pot on Saute Mode More. Once Hot add the ghee and melt.

Add the Tempering ingredients, stir, and cook for 30 seconds.

Next, add the chopped onions, and saute until they turn light brown, 3-5 minutes.

After that, add ginger and garlic paste, chopped tomatoes, mint leaves, and peppers. Saute until the tomatoes get soft, about 2 minutes.

Add the chicken and saute for a minute

Next, add salt, and the Powder mix ingredients. Give everything a good mix.

Add the drained rice followed by water.

Also, add the coconut milk, and give the mixture a stir. Cancel Saute Mode.

Close the lid and position the vent in the Sealing position. Change to Manual/Pressure and input 5 minutes on High Pressure.

Once done with pressure cooking do 10 minutes of Natural Pressure Release and after that open the knob to release the remaining pressure.

Carefully open the lid, stir, and garnish with cilantro before serving.
Deliciousness to your inbox
Enjoy weekly hand picked recipes and recommendations