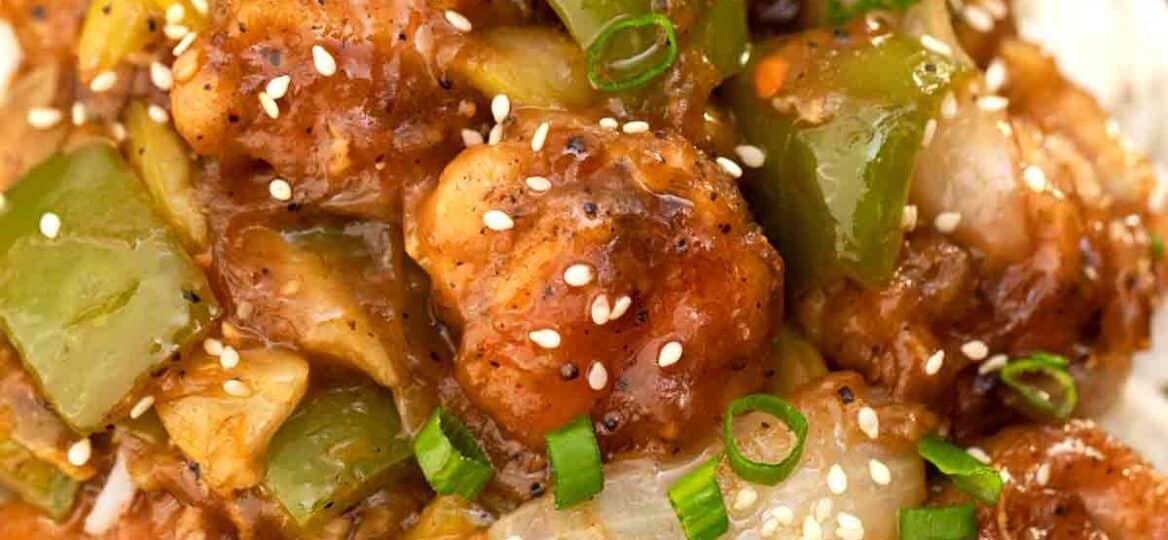 Panda Express Black Pepper Chicken [Video]
Panda Express Black Pepper Chicken features juicy pan-fried chicken chunks with crisp vegetables, all tossed in a phenomenal pepper sauce. A million times tastier and healthier than the take-out!
If you love the light spice of black pepper but craving something with more zing, you should try this Spicy Garlic Shrimp, Garlic Jalapeno Stuffed Pork Loin, and Instant Pot Jalapeño Popper Pasta. A delicious way to spice up your dinner tonight!
Panda Express Black Pepper Chicken (Copycat)
Panda Express Black Pepper Chicken is, in my opinion, one of the most delicious items on the Panda menu. That rich black pepper sauce is garlicky, savory, slightly sweet, and tangy all at once. In short, it's amazing and irresistibly delicious!
The sauce goes perfectly with the juicy meat plus the crisp celery and white onion. But we all know having fast food too often is not good for you. The solution? Make it at home! This super-easy homemade version tastes as good as the original Panda Express version but quicker than driving over to the restaurant.
It's also much healthier because you can control the ingredients, and you know exactly what goes inside. With just a few tweaks, this recipe can be made keto, paleo, low-carb, or gluten-free. Best of all, you can enjoy it as often as you'd like!
What is black pepper chicken?
It's a popular entrée on the Panda Express menu, which is a Chinese-themed American fast-food chain. It contains chicken that's been marinated, then wok-tossed along with chunks of white onions and chopped celery in a black pepper sauce. It's known as one of their lighter items.
Also, compared to the traditional Chinese recipe, the fast-food version has a lot more sauce and is also thicker.
How to make Panda Express Black Pepper Chicken?
Get the sauce ready. Prepare your ingredients: broth and oyster sauce, then rice wine vinegar. You'll also need a little brown sugar, black pepper, and chili powder. Mince around 4 garlic cloves plus fresh ginger. Then, combine and whisk thoroughly with a little cornstarch. Set aside.
Sear the meat. Cube the thighs into 1-inch pieces. Season then roll in cornstarch for a light coat. Next, pan-fry in batches in hot peanut oil.
Stir-fry. Use the same pan to sauté the celery and onion along with some ginger powder and garlic powder. Add the meat and continue sauteeing for a few minutes. Pour in the sauce, boil then reduce heat, and simmer until it becomes glaze-like.
Serve. Enjoy with hot white rice, topped with white sesame seeds and chopped green onions.
How to make the best sauce for black pepper chicken?
Don't skip an ingredient! To get that authentic Asian taste, try your best to use real rice wine vinegar and oyster sauce.
Also, use fresh aromatics as well – powdered garlic and ginger just don't have as much kick as fresh. Finally, don't forget the cornstarch to get that lovely, thick consistency.
Recipe variations and substitutions:
Make it vegetarian: use vegetable broth and fried tofu instead of chicken.
Make it gluten-free: swap out the oyster sauce with a mix of gluten-free soy sauce and gluten-free hoisin.
Add more vegetables: bulk it up with veggies like broccoli florets, chunks of carrots, and mushrooms.
Use other meats: this recipe also works for pork, shrimp, and beef.
Make it spicy: increase the amount of chili powder, or use chopped finger chilies.
What to serve with Panda Express Black Pepper Chicken?
The classic way is over hot white rice, fiber-loaded brown rice, or cauliflower rice if you're doing low-carb.
You can also enjoy it over soba noodles or the easiest chow mein noodles, plus a side of steamed broccoli.
Of course, can't have Chinese-take out without egg fried rice or shrimp fried rice!
How many calories per servings are in black pepper chicken?
The Panda Express original version has about 280 calories for every 6.3-ounce serving, with 170 of those calories from fat.
However, by making it at home, you can control the ingredients and adjust them accordingly, resulting in a healthier dish.
More delicious Asian recipes:
How to store leftovers?
Refrigerate: First, cool everything completely. Then, transfer leftovers to an airtight container and stored in the fridge for up to 5 days.
Freeze: To freeze leftovers, use a freezer-proof container, and freeze it up for 3 months.
Reheat: You can easily reheat the dish in the microwave.
Recipe Tips:
Saute the veggies in the same pan where you seared the meat to get those flavorful brown bits.
Use fresh aromatics to get the most flavor.
Also, don't overcook the veggies. Stir-fry only until they're tender and still crisp for a few minutes.
Use freshly minced garlic.
When slicing celery, try always to slice it diagonally. This way you have more bite, and it looks more festive as well.
Do not add the sauce until the very end. It should be warm and coat the chicken and the veggies, rather than overcooking the food and getting everything mushy.