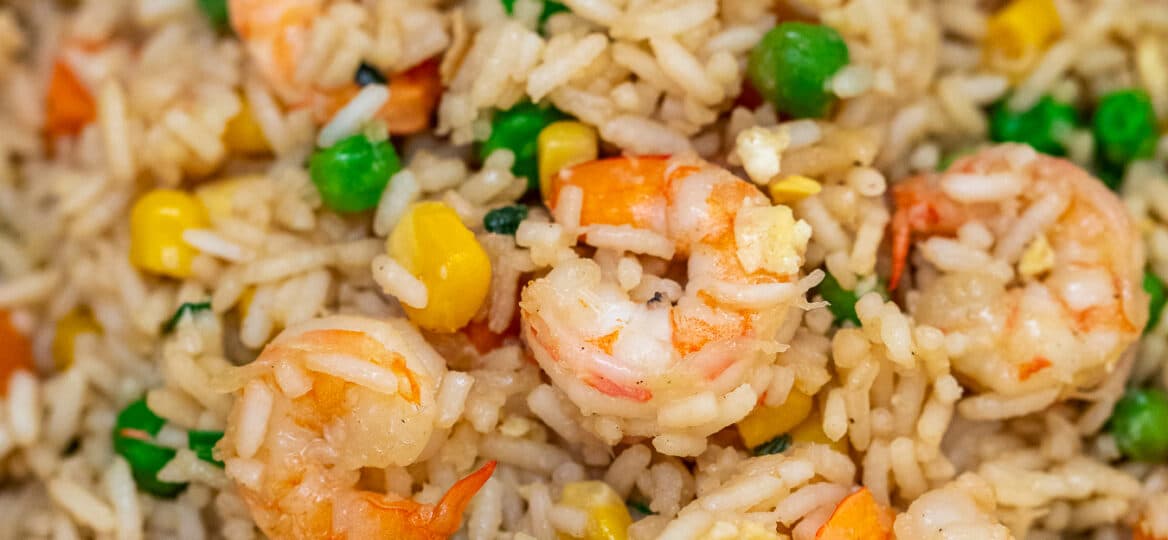 Shrimp Fried Rice Recipe [video]
Shrimp Fried Rice is best made with leftovers and that makes this twice better than takeout! It is economical and versatile without skimping on the flavor!
I love Chinese takeout with all its complex flavors, but I do have a knack of making my homemade version of my favorites. And so, I bring to you this recipe! Feel free to browse with my other takeout-inspired dishes like the Firecracker Chicken, Kung Pao Chicken, and Mongolian Beef!
Shrimp Fried Rice
Shrimp Fried Rice is proof that rice can be festive, colorful, and flavorful! Bring back to life the dull and dry leftover rice that you have in the fridge with this easy recipe.
This is what I made earlier today for lunch and my family loved it! Too many leftovers are not a problem anymore in this household. This recipe is the best remedy for that!
I almost forgot how good this is since it is the first time in a few months that I have had shrimp. I chanced upon some fresh seafood when I did some shopping this morning. So, I knew then what to do.
And I so love this dish that I am sharing this recipe with you. I hope that your family loves it just like how mine does!
How to Make Shrimp Fried Rice:
Cook the shrimp: Heat some canola oil in a deep, non-stick pan or wok. Then, add in the seafood and it will turn orange. Remove when cooked and set aside while retaining the oil in the pan.
Add the veggies and egg: Add in sesame oil, the aromatics, and the rest of the veggies. Once softened, push everything to one side of the pan to free up space. Put the egg in this free space and scramble.
Combine: Add back the shrimp, leftover grains, and season with the soy sauce and rice vinegar. Heat everything then, serve warm.
What is the best rice to use?
The kind of rice that is best to use does not matter as long as it is dry and not sticky. Although long grains tend to be like this, chilled or leftover ones should be used. Brown or Jasmine rice are good options.
Freshly cooked ones will stick to the pan and will become gooey. Short-grained variants also tend to be stickier. So, these are the kinds that you would want to skip frying.
What shrimp is best to use?
You can use the frozen ones as they are easier to come by. But the fresher, the better as fresh ones are more flavorful than their frozen counterparts.
How to peel and devein shrimp?
There are three options on how to peel a shrimp. You can remove the shell, tail, and head. Or, retain the tail and remove everything else. Or, remove the shell but retain both the head and tail.
The option will depend on the recipe. For this recipe, it is best to remove everything, including the vein.
To do this, simply use the tip of a knife to run along the back of the shrimp. Cut the shell and expose the gray vein but it should be shallow enough not to cut all the way through.
Pull out the vein, then, remove the shell and the legs using your fingers. Twist the head to remove it and cut the last segment to remove the tail.
How to Store Shrimp Fried Rice:
Refrigerate: Store it in an airtight container and put it in the fridge for up to 5 days. Cook again in the pan to reheat.
Freezer: Keep it in freezer bags and consume within 4 months.
Recipe Tips:
Add mushrooms, tofu, or bean sprouts or any of your leftover veggies. This recipe is highly flexible.
For the protein substitute, you can replace the seafood with other seafood like squid or fish, or with pork or chicken.
Do not substitute the sesame oil with anything else because it gives this dish Chinese flavors along with the soy sauce and rice vinegar.