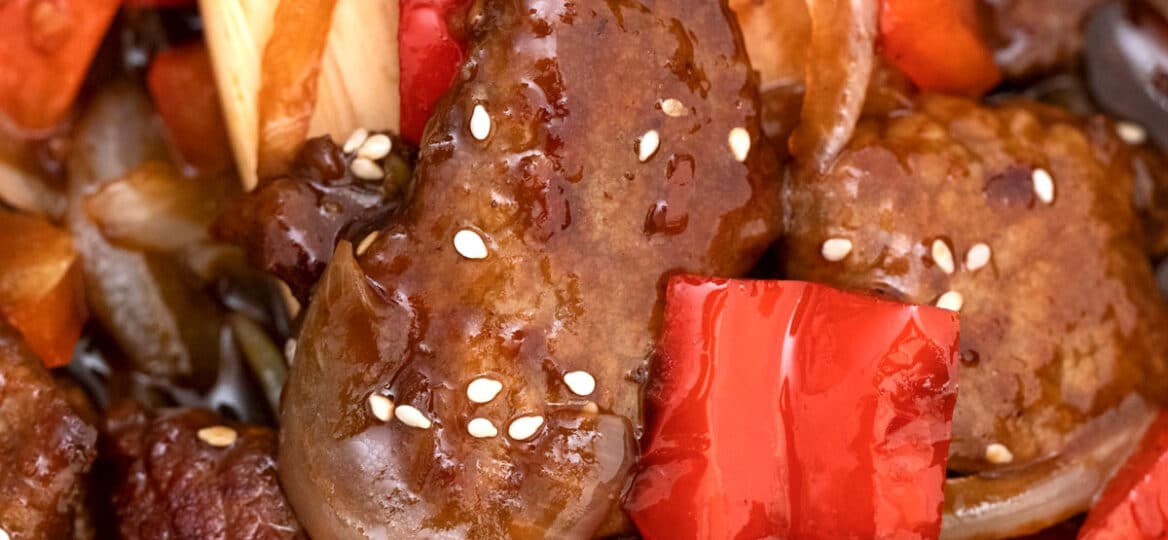 Panda Express Beijing Beef (Video)
Panda Express Beijing Beef is on the menu tonight! Featuring the crispiest, lightly breaded beef strips plus tender veggies, all tossed in an addicting sauce. Sure to get a hearty two thumbs up at the table!
Craving for Chinese take-out but unwilling to spend a fortune on fast food? My copycat Panda Express Mushroom Chicken, Panda Express Honey Sesame Chicken, and Shanghai Angus Steak are as tasty as the original but homemade and much healthier!
Panda Express Beijing Beef Copycat
Panda Express Beijing Beef used to be a limited-time item at the chain. It became so popular, it eventually made the regular menu. However, ordering it is always a hit or miss.
Unless you ate there during lunch or dinner rush, you risk getting chewy, slightly soggy meat that's been sitting under the heat lamp for a bit too long. Therefore, I knew I had to replicate this recipe if I wanted it fresh, hot, and amazing – every single time.
I'm happy to report that this recipe beats the original! It has juicy, crispy-fried beef. Tender sweet onions plus colorful bell peppers. And finally, that signature Beijing Beef sauce that makes everything so tasty and flavorful. This quick dinner tastes like authentic Chinese takeout, but more special because it's made from scratch at home. Enjoy every bite of it!
Panda Express Beijing Beef ingredients:
Steak: flank is great for most stir-fries because it cooks fast but remains tender with a nice chew.
Cornstarch: used as a coating for maximum crunchiness.
Canola oil: neutral and can be used for high-heat cooking.
Garlic and ginger: a must-have for any Asian stir-fry, mince finely.
Onion: use yellow for sweetness, slice into chunks.
Bell pepper: chop into 1-inch size.
Salt: to season.
Now for the sauce, prepare the following ingredients:
Hoisin: a fragrant, thick sauce fondly that tastes like the Asian version of BBQ sauce.
Sweet chili sauce: tangy and sweet at the same time with a bit of heat.
Oyster sauce: thick and salty, with hints of sweetness and a ton of umami.
Water: to loosen up the glaze.
Soy sauce: I use low sodium to control the saltiness.
Ketchup: it adds tanginess.
Red pepper flakes: for some extra heat. However, if you do not like it spicy, reduce or skip this ingredient.
Rice vinegar: the sourness brightens up plus balances the flavor.
Brown sugar: for a thicker consistency and to round out the dish.
How to make Panda Express Beijing Beef?
Fry the meat. Find the grain, and slice against it into strips. Then, coat cornstarch and a little salt, then let sit for 30 mins. Lightly cover in more cornstarch just before cooking. Next, fry until crunchy and golden. Set aside.
Stir-fry the veggies. Cook the vegetables until the edges start to caramelize. Follow with garlic and ginger. Set aside.
Thicken the sauce. Whisk together the sauce components then cook until it reaches a glaze-like consistency, or according to your preference.
Finish the dish: Once thick, it's time to add the veggies and the meat. Glaze everything with sauce.
Serve. Enjoy with rice. For presentation, you can also garnish with green onions and a sprinkle of white sesame seeds.
Recipe substitution and variations:
Use other meats: chicken thighs, breasts, and pork strips are great meat alternatives.
Make it spicier: for a hotter version, add cayenne pepper or go all out with sliced finger chilies.
Add veggies: if you'd like more vegetables, snow peas and broccoli florets are a great addition, as are cauliflower and carrots.
Make it vegetarian: swap out the meat for fried tofu and mushrooms.
Make it healthier: stir-fry the before the vegetables and skip the breading.
What does Beijing beef taste like?
It is quite similar to Orange Chicken, only it's spicier and less sweet. Also, it's like a sweet and sour dish but starring crispy beef.
What to serve with Panda Express Beijing Beef?
Traditionally this dish is served over warm white or brown rice.
It also goes well with a side of steamed broccoli, or bok choy.
But for a true Chinese feast, it's hard to beat Beijing Beef with shrimp fried rice and chow mein!
How to store leftovers?
First, cool any leftovers completely. Then store in a sealed container. Keep in the fridge and consume within 2 days.
To freeze, use a freezer-safe dish and freeze it for up to 3 months.
Do keep in mind that crispy items like this one are best eaten ASAP. The coating will absorb the glaze and become soggy over time, though the flavors will still be amazing.
More easy Chinese recipes:
Recipe Tips:
Instead of flank steak, you can also use sirloin or other cuts.
I highly recommend using real ingredients in this dish, such as sweet chili and Hoisin. It's challenging to get those authentic flavors using substitutions.
Whenever possible, use a hot cast iron wok or pan when stir-frying the ingredients. This will make the meat crispy and flavorful.
Deliciousness to your inbox
Enjoy weekly hand picked recipes and recommendations