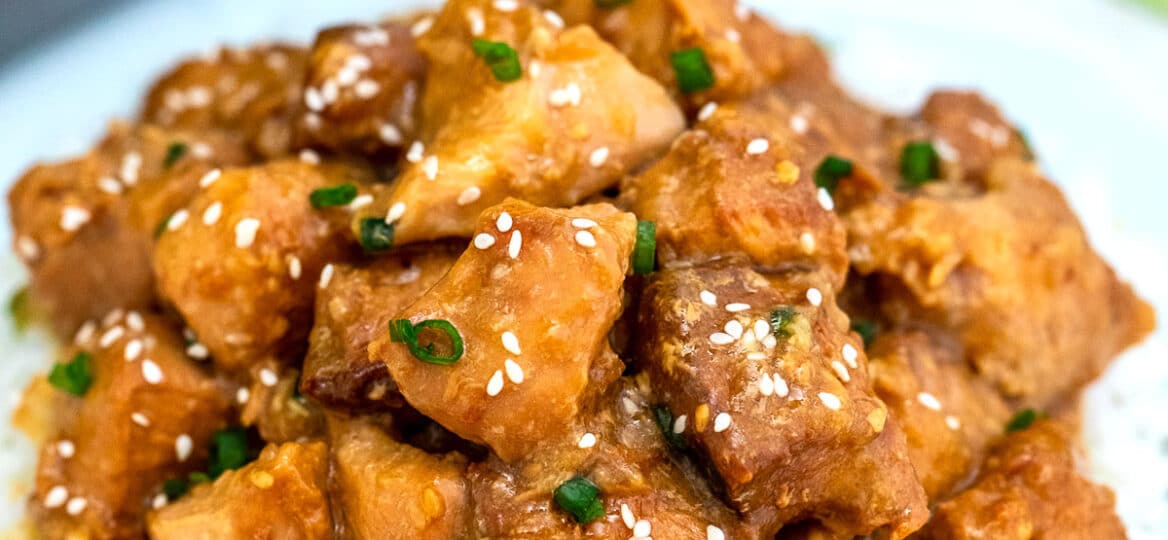 Slow Cooker Sesame Chicken [Video]
Slow Cooker Sesame Chicken is so easy to prepare from scratch right in your kitchen! Experience this Chinese-inspired dish in the comfort of your home!
This crockpot sesame chicken recipe is a healthier version of your favorite take-out dish that kids will love. You may also want to check out my other favorite Asian recipes such as this Sweet and Sour Shrimp or Sticky Orange Beef!
Slow Cooker Sesame Chicken is a popular Chinese takeout dish that is always in demand for its rich flavors! And those flavors are amplified by using the crockpot.
Crockpot Chinese foods are some of my favorites as they are delicious, easy to make, and feed a large family. Cooking the protein for hours extracts the flavors well which makes this dish tasty. Also, the meat becomes tender and juicy and the sauce becomes sticky which makes it even more appetizing.
But this is not your usual recipe. In general, I am a huge fan of Homemade Asian recipes, because they are easy to make, and are bursting with flavors. However, making them in the slow cooker has plenty of benefits as well. Firstly, slow cooker chinese recipes are just as simple to make as regular ones. You simply dump the ingredients in the pot and let it slowly cook for hours. Also, they are perfect for busy days. It is just perfect to come home to Chinese food cooked in the crockpot and serve it over rice!
This recipe teaches you how to make this sumptuous dish in advance. Also, this is a good freezer meal for when you want to have a ready-to-cook dish.
It comes in handy whenever you are too busy to prepare a meal. Making anything in the crockpot is hassle-free as you will only have to put everything in and let it do the work.
Leave it for several hours. Later, you will have a savory dish to enjoy! This crockpot chinese food is so convenient to make even for making lunchboxes as they are perfectly easy to assemble with rice and other sides!
Is sesame chicken sweet or spicy?
This authentic Asian food is commonly found in local Chinese restaurants. It has a nice balance of sweetness to it which comes from honey. The dish is similar to General Tso's Chicken, but this version is on the sweeter side rather than spicy.
How to Make Slow Cooker Sesame Chicken?
Coat the meat: First, get a freezer bag and put the white meat in. Then, put the cornstarch in and toss to coat the meat.
Make the sauce: Next, prepare the sauce in a separate container by mixing the ingredients.
Freeze: Add the sauce to the bag and freeze.
Cook: Once ready to cook, start thawing. Lightly grease the crockpot by spraying it with cooking spray. Then, put everything in. Set it to LOW for 2 to 3 hours.
Serve: Lastly, garnish with sesame seeds and green onions then serve.
How to make Sesame Chicken in the Instant Pot?
Making this honey sesame chicken in the pressure cooker is quick and easy. You can follow this Instant Pot garlic sesame chicken recipe.
In addition, by using the Instant Pot you can skip the thawing process. However, you may have to lengthen the cooking time by a few minutes.
How to serve crock pot sesame chicken?
This dish pairs well with veggies, grains, and noodles dishes like the following:
Vegetables like broccoli and potatoes
What does honey sesame chicken taste like?
It tastes sweet and savory at the same time. The sweetness comes from the honey.
It is perfectly balanced by the saltiness and umami flavors of the soy sauce, rice vinegar, and sesame oil in true Chinese fashion. The aromatics such as the garlic and ginger also add a depth of flavor.
Sesame chicken vs orange chicken:
They are highly similar recipes, but the flavorings are not the same. Both use rice vinegar, soy sauce, and aromatics. And both recipes also employ coating the meat with cornstarch.
In this recipe, there is no use the citrus which is essentially the unique element of the Orange Chicken.
Can I use chicken thighs instead?
Yes! Thighs are juicier and tastier because of the higher fat content compared to that of the breasts. For details, you can refer to this garlic sesame chicken thighs instead of breasts.
More crockpot chinese chicken recipes:
How to store leftovers?
Put the leftovers in an airtight container and store them in the fridge for 3 to 4 days.
To freeze them, simply transfer leftovers to freezer bags, and freeze them for up to 4 months.
To serve, thaw and reheat in the microwave.
Recipe Tips:
Instead of using the crockpot, you can directly cook the thawed meat in a skillet on the stovetop or grill it!
Also, if you want to add heat, then add in some Sriracha and red pepper flakes.
You can use arrowroot powder as a substitute for cornstarch.
I highly recommend cutting your meat into similar chunks and not shredding it. This way it cooks evenly, and looks professional!
However, if you prefer to shred it, just know that the texture will be completely different.
You can use brown sugar instead of honey.
Slow Cooker Sesame Chicken
Ingredients
1 1/2

lbs

boneless skinless chicken breasts

cut into 1-inch chunks

1/4

cup

cornstarch

cooking spray
Sauce:
1/4

cup

sesame oil

3/4

cup

honey

1/4

cup

low sodium soy sauce

1

tablespoon

rice vinegar

1

teaspoon

sesame oil

6

cloves

garlic

minced

1

tablespoon

fresh ginger

grated

1

tablespoon

sesame seeds
Garnish:
½

teaspoon

sesame seeds

2

tablespoons

sliced green onions
Instructions
Place the chicken pieces in a large ziplock bag.

Add the cornstarch and toss to coat evenly.

In a large measuring cup, combine all the sauce ingredients. Add the sauce to the ziplock bag with the chicken. Toss to combine. Freeze for later or place in the fridge to marinate if using within one day.

When ready to cook, thaw the bag (if frozen) with the Honey Sesame Chicken.

Coat a slow cooker with cooking spray and add the mixture to the slow cooker.

Cook on HIGH for 3 hours or on LOW for 6-7 hours.

Sprinkle with sesame seeds and green onions, then serve with rice.
Deliciousness to your inbox
Enjoy weekly hand picked recipes and recommendations