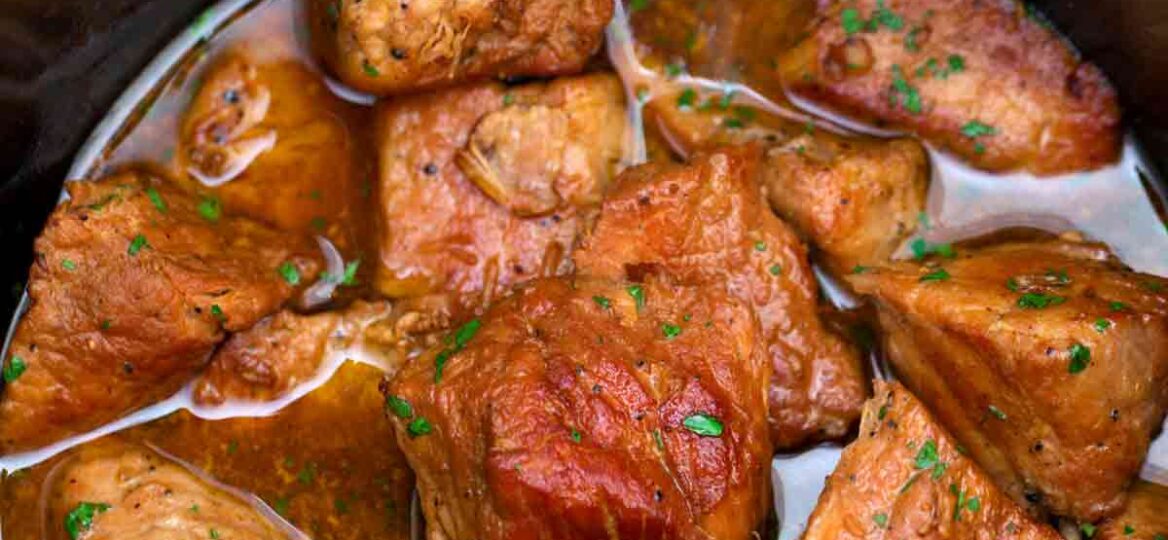 Slow Cooker Brown Sugar Garlic Pork [Video]
Brown Sugar Garlic Pork is a fancy main course dish that is caramelized on the outside and tender on the inside. It is a restaurant-quality meal easily made at home, and perfect for any occasion.
Once in a while, everybody wants to splurge and throw a special dinner. If you barely have an idea on what to serve, why don't you start first with a sumptuous appetizer such as Shrimp Caesar Salad. Don't forget a complimentary cocktail like a Peaches and Cream Martini and of course, cap off the dinner with a sweet Panna Cotta.
Roasted Brown Sugar Garlic Pork Shoulder
Brown Sugar Garlic Pork is the kind of recipe that I turn to when I want to serve something classy. This dish is smothered in a sugary and buttery sauce that perfectly complements the tender meat.
While I usually reserve this dish for an elegant evening, it does not mean to say that it is off-limits during ordinary days. Sometimes, my friends and family crave the juicy meat, and who's to say no when the appetite hits?
Although this recipe takes longer to cook, the luscious meat that literally falls off the bone is super worth it. You can even enjoy it as it is or pair it with a side of mashed potatoes or white rice.
I have to say this dish is easily one of my go-to Saturday night dinner recipes. It makes me look forward to the weekend and when you try it, you know exactly why I love this meal.
What is the best pork cut to use?
For this recipe, try to use the shoulder or butt as it has a little bit of fat. When it is cooked, the fat melts making the meat ultra juicy and tender. Similarly, you can use pork chops or loin, but these are leaner cuts. These cuts are leaner but equality delicious!
How to make Brown Sugar Garlic Pork?
Make the sauce. In a pan, over medium heat, stir together the following ingredients: butter, brown sugar, apple cider vinegar, apple juice, liquid smoke, garlic, cinnamon, ginger, paprika, salt, and pepper. Once the butter and sugar have melted, turn off the heat.
Cook the meat. Season your meat with salt and pepper according to taste. In another pan, cook pork over hot oil on each side until golden brown. Afterward, place the cooked meat and sauce in a slow cooker. Choose a setting. If you prefer to let it cook over a longer period such as 8-9 hours, choose the low setting. Otherwise, for a 4 to 5-hour cooking time, set to high.
Bake – optional. Once done, preheat the oven to 350F. Then, transfer the dish to a baking sheet with foil and bake in the oven without cover for 20 minutes. Afterward, flip it over and coat with sauce before returning it to the oven for another 20 minutes.
Let it rest and serve. Let it cool for 5 minutes before transferring to your serving plate. Garnish with herbs and then serve.
What to serve with Brown Sugar Garlic Pork?
While this dish is already so filling by itself, you can still take it up a notch by also serving it with a great side dish. Some of our favorite side dishes to serve it with are:
Looking for more pork dishes?
Without a doubt, pork is quite a versatile and satisfying ingredient. It is nutrient-dense and protein-packed which can easily make a family feel full and satisfied.
Looking to expand your recipe bank? Check out these dishes that I highly recommend:
Storing instructions:
If you are planning to make this recipe ahead of time or there are some leftovers, make sure to store it properly so that you can preserve the taste and tenderness. To make it in advance, season and sear the meat then place it in a baking sheet covered with foil with the sauce mixture before putting it in the fridge for just a day.
Otherwise, you can also enjoy your leftovers by following the same instructions but just make sure to leave it in the coldest part of the fridge to make it last for about 4 days. Place in the freezer to keep for 2 months.
Recipe tips:
You can also make this recipe with chicken parts or other parts such as tenderloin or chops.
Use white wine or red wine vinegar if you don't have apple cider.
Feel free to season the meat with our homemade taco seasoning.
Deliciousness to your inbox
Enjoy weekly hand picked recipes and recommendations