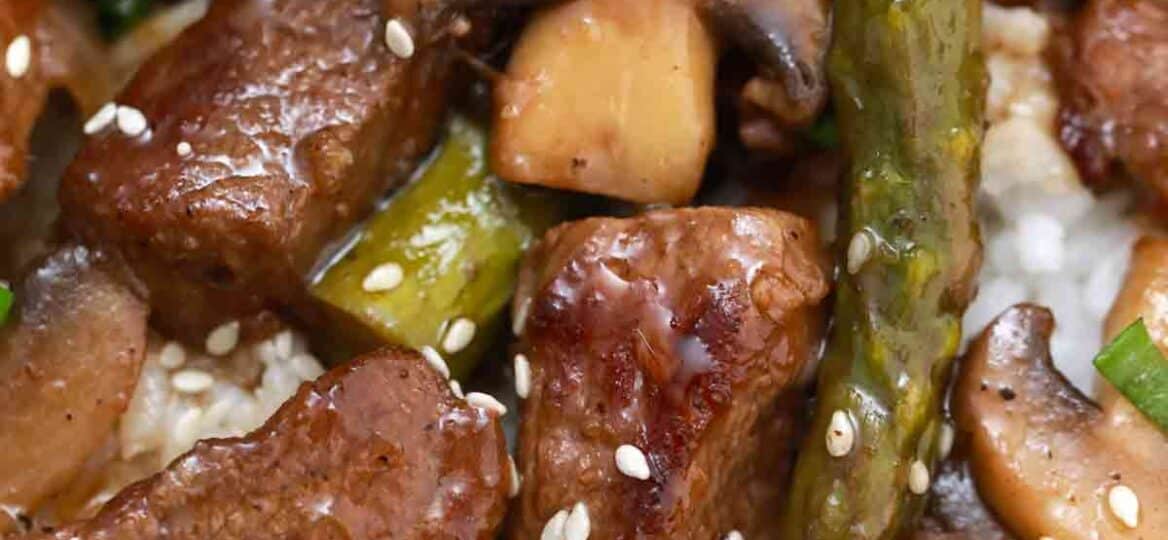 Panda Express Shanghai Angus Steak (Video)
Panda Express Shanghai Angus Steak is the healthier, homemade version of the chain's famous wok-tossed entrée. Enjoy the juiciest Angus sirloin steak and vegetables stir-fried in the most amazing Asian sauce! Easy and better than take-out!
Don't you just love it when you're trying to recreate a restaurant dish, and you get it right? It's like hitting the jackpot! See for yourself and try my copycat recipes for Cheesecake Factory Honey Truffle Chicken and Panera Bread Chicken Wild Rice Soup. Have some Copycat Haagen Daz Caramel Cone Ice Cream for dessert!
Panda Express Shanghai Steak Copycat Recipe
Panda Express Shanghai Angus Steak is one of my go-to orders whenever I'm in the mood for Chinese food. I can practically finish a whole serving by myself! Naturally, I just had to make my own version.
It took quite some time to perfect this recipe, but I swear, this from-scratch version tastes more delicious than fast food. Seriously, one of the tastiest beef stir-fries I've ever had!
The secret to getting it right is using authentic ingredients. For instance, try your best to find a bottle of kecap manis at your local Asian market or the Asian aisle at the grocery store. It's a sweet soy sauce of Indonesian origin that really makes the dish.
Don't worry about wasting the rest of the bottle because I guarantee you'll be making this again and again. Pro-tip: Make some extra sauce for drizzling over your rice!
What is Panda Express Shanghai Angus Steak?
It's a Chinese-inspired beef stir-fry that's a staple on the Panda Express menu. The dish is composed of strips of Angus sirloin steak, chunks of white onions, asparagus (green beans in some areas), and meaty white mushrooms.
The sauce has pretty basic Asian ingredients like soy sauce, rice wine, and kecap manis (for slight sweetness). All of it is wok-fried in very high heat until the meat and veggies are perfectly tender and coated with the delectable sauce.
How to make Panda Express Shanghai Angus Steak?
This dish takes less than 30 minutes to make, so make sure all your ingredients are ready to go before you turn on the stove. Follow these steps:
Sear the meat: marinate the beef strips in soy sauce and corn starch for a minimum of one hour. Then brown it in the skillet and transfer it to the plate.
Stir-fry: wait until the oil is slightly smoking, then sauté your aromatics for a minute or two. Sauté the vegetables next. After a couple of minutes, pour the sauce in along with the browned steak strips. Stir fry until the veggies are done to your liking and everything is coated lightly in the sauce.

Serve: Enjoy as a rice bowl topping, with veggies, or over noodles.
Recipe variations and substitutions:
Add more vegetables: make it healthier with additional veggies like carrots, green beans, broccoli, snow peas, cauliflower, bell peppers, and a handful of spinach or kale. I also like this recipe with zucchini, yellow squash, or baby corn.
Use other meats: this recipe will also work for strips of pork or chicken thighs and breasts. Another option is to used seafood, the sauce and veggie combo is great with some shrimp. You can cook some salmon or even scallops, and after that serve with the delicious sauce and veggies.
Make it spicy: for a hot version, add diced and deseeded red chili peppers at the end. You can also add a tablespoon or two of sweet chili sauce.
Make it vegetarian: use vegan meat substitutes, or triple the number of mushrooms for a meatier flavor without the beef. Make it with tofu, the sauce is definitely delicious on crispy tofu pieces. To make the crispies and easiest tofu check my go-to recipe. The results are amazing, and you can use this substitute in many meat recipes.
What to serve with Panda Express Shanghai Angus Steak?
For the ultimate Chinese take-out experience, pair it with my chicken fried rice and roasted bok choy or steamed broccoli. Also heavenly with hot white rice or cauliflower rice for those who are watching their carbs.
More stir fry recipes:
More Panda Express Recipes:
Panda Express Mushroom Chicken
How to store leftovers?
Make sure the leftovers are completely cool before storing them. If storing in the fridge, transfer to an air-tight container.
Consume within 5 days. It will last up to three months frozen. To reheat, thaw and microwave for a few minutes on high until hot.
Recipe Tips:
Combine equal parts brown sugar/molasses and soy sauce as a quick sub kecap manis.
Get the best quality sirloin steak you can find so that it sears nicely without getting tough in the stir-fry.
Chop your ingredients in roughly similar sizes so that they cook evenly and at the same time.