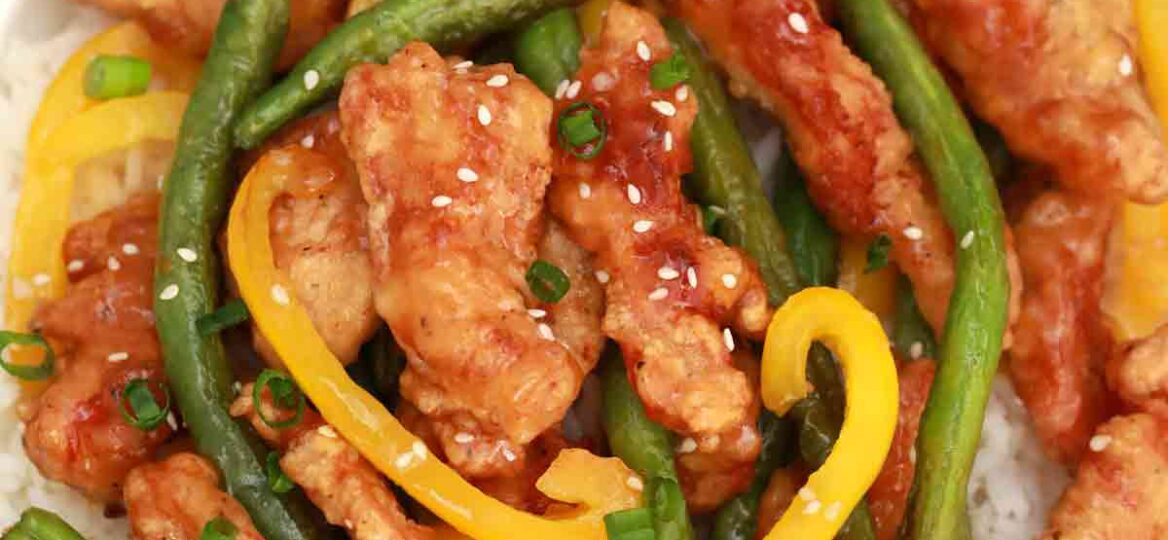 Panda Express Honey Sesame Chicken [Video]
Panda Express Honey Sesame Chicken is made from scratch featuring breaded crispy chicken and vibrant vegetables, all tossed in a fantastic honey sesame sauce. It is a healthier, homemade way to enjoy this take-out favorite!
When it comes to Asian food, the sauces are often the star of the dish. Make a batch of this amazing Orange Sauce, General Tso Sauce, and Easy Szechuan Sauce, then store them for quick and delicious stir-fries!
Panda Express Honey Sesame Chicken (Copycat)
Panda Express Honey Sesame Chicken is one of my go-to orders when the Chinese cravings hit. Sadly, they previously took it away from the menu (but apparently, it's back for good!). However, I don't want to take any chances, so I made my very own version.
It tastes just like the original Orange Chicken, but much cheaper and healthier because it's made from scratch with ingredients you control. Also, you can make it with breasts or thighs whichever you prefer. Both versions are flavorful and delicious.
My top advice: don't skimp on the ingredients! To achieve that authentic Asian flavor, you need the real stuff like the sweet chili sauce. Don't worry about not using up the rest of the bottle. I guarantee this will be a staple at your home. Say hello to your new favorite stir-fry meal!
Panda Express Honey Sesame Chicken Ingredients:
First, we'll be frying up the breast strips to make them crispy. You'll need the following:
Breast meat – no skin and bones, sliced into thin strips.
Egg mixture – a large egg, a little oil, seasoned with salt and pepper.
Flour mixture –maximum crispiness, we're not just using flour but cornstarch too.
Vegetable oil – neutral with a high smoke point.
For the sauce, we'll need:
Honey and sweet chili sauce
Rice vinegar adds a nice tang
Soy sauce balances out the sweet and tangy flavors along with salt
Cornstarch as a sauce thickener
To finish, prepare:
String beans
Bell pepper, yellow
Sesame oil adds a delicious nutty flavor to the dish
White sesame seeds plus chopped green onions as garnish
Finally, prepare hot white rice to serve. Try the Instant Pot for the easiest, most fool-proof way to perfect white rice!
How to make Panda Express Honey Sesame Chicken?
Crisp up the meat: Submerge lightly in egg, then through the flour. Fry until the breading is crispy, brown, and golden. Then, set aside to eliminate excess oil.
Honey Sesame sauce: Boil all sauce ingredients until thick.
Stir fry: Next, using the pan where you fried the breast strips, leave a couple of tablespoons oil behind. Stir-fry veggies until tender, then return the meat and pour sauce. Finally, stir fry together along with the sesame oil.
Serve: Garnish, then serve immediately with hot white rice.
Recipe variations and substitutions:
Try other meats: this recipe will also work with pork and beef strips, or even ground meat.
Make it vegetarian: for a meat-free version, use crispy tofu instead.
Make it spicy: slice some red finger chilies and add to the stir-fry if you like it spicy.
Add crunch: some toasted peanuts, almonds, or cashews add a delicious, nutty crunch to the dish.
Make it healthier: skip frying the meat. During the stir-fry step, begin by browning the meat instead of the veggies. Then, follow the rest of the recipe.
What is the difference between Orange and Sesame Chicken?
Orange chicken is sweeter, tangier, and has a lighter color due to the orange juice.
The sesame recipe has more of a nutty, sweet, and savory profile. But both are incredibly delicious!
What to serve with Crispy Panda Express Honey Sesame Chicken?
Aside from white coconut rice, I also like serving this with brown rice for additional fiber.
Steamed broccoli, roasted asparagus, or bok choy also makes a healthy and light side dish to this stir-fry.
Watching your carbs? Enjoy it with some cauliflower rice instead. But for the full Chinese take-out experience, have it with egg fried rice or soba noodles!
How to store leftovers?
This dish stores well. However, you should know that when stored, the meat will not be as crispy when reheated (but it's still delicious!).
To refrigerate: First, let it completely cool, then transfer to a sealed container. Refrigerate it for up to 3 days.
To freeze: Use a freezer-safe container, and freeze it for up to 3 months.
To reheat: First, thaw overnight in the fridge. Then, microwave it for a few minutes until hot.
More delicious Asian recipes:
Recipe tips:
Use fresh veggies for optimum texture and taste.
Also, feel free to use thigh meat if you're not a fan of white meat.
For extra flavor, you can use some freshly minced garlic during the stir-fry.
Because this is a stir fry recipe, it is cooking fast. Therefore, ensure to have all the ingredients ready ahead of time.
Deliciousness to your inbox
Enjoy weekly hand picked recipes and recommendations