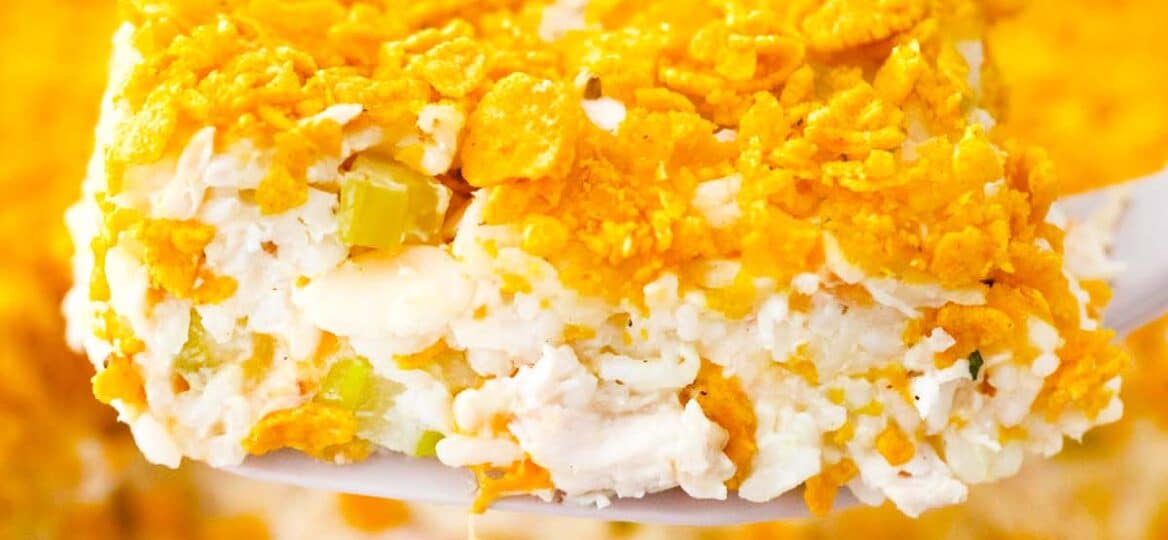 Cheesy Rotisserie Chicken Casserole
Rotisserie Chicken Casserole is the perfect comfort food made with leftover chicken from a whole rotisserie chicken, rice, veggies, and cheese. The whole family will love this great recipe, including picky eaters. After trying this chicken casserole, you will find that it is a keeper.
Nobody knows for certain who made the first casserole since it is just a bunch of different foods mixed up in a dish. However, some say it was a French-Canadian man named Elmire Jolicoeur who invented it in 1866 in New Hampshire. Others say it has existed since the 13th century when our predecessors mixed meat, veggies, and spices with cheese for a hearty meal.
This easy chicken and rice casserole recipe has very little saturated fat with lots of protein, potassium, vitamins, and minerals so it is good for you too! Even if you love cooking, sometimes it is nice just to use a casserole recipe that is easy and fast for busy nights. This is an easy-to-follow recipe that anyone can make.
Follow us on Pinterest for more delicious recipes!
Ingredients needed:
Each one of these ingredients is important to this easy chicken rice casserole dish. You can substitute some items but make sure you read this first. Then, find the recipe card for the cooking details.
Diced rotisserie chicken: You can use store-bought or freshly made rotisserie chicken. Or use any cooked chicken you happen to have. You could even use canned chicken.

Cream of mushroom soup: Just the soup. Do not dilute with water. You want it to be thick and creamy.
Shredded cheddar cheese: Any shredded cheese will work but we think cheddar cheese is perfect.
Sliced almonds: Sliced or slivered. You can even use chopped. It gives your casserole a crunchy texture.
Cooked rice: Any kind of cooked rice is fine. Just make it according to the package directions.
Diced celery: This is another way to get some crunchiness in your chicken casserole.

Greek yogurt: Plain Greek yogurt for extra creaminess.
Melted butter: You pour the melted butter on top of the cornflakes for a buttery flavor.
Crushed cornflakes: Perfect for crunchiness and gluten-free.

Italian herbs: A delicious mix of basil, oregano, parsley, rosemary, thyme, marjoram, and sage.
Kosher salt
Black pepper
How to make rotisserie chicken casserole from scratch?
Preheat oven: First, preheat your oven to 350 degrees F.
Make the chicken mixture: Next, add all the ingredients except the cornflakes into a casserole dish and stir right in the baking dish. This will shorten prep time and use fewer dishes.
Add cornflake topping: Now, crush cornflakes and sprinkle on top. Drizzle melted butter on top of that.
Bake until golden: Last, bake for 30 to 40 minutes or until it is golden brown on top, and serve while still hot.
Recipe variations:
Sour cream: You can use sour cream instead of Greek yogurt to make this dish even creamier.

Different meat: In fact, feel free to use different kinds of meat such as sausage, beef, pork, or turkey.
Chicken broccoli casserole: If you love broccoli, combine chicken with frozen broccoli florets for a chicken broccoli casserole.

More veggies: Make it a heartier dish by adding your favorite frozen vegetables like green beans, corn, carrots, or even frozen spinach.

Other cheeses: You can use whatever kind of cheese you like. Sharp cheddar cheese would be delicious, but you could also try mozzarella, pepper jack, or Monterey jack cheese.

More herbs and spices: Add onion powder, garlic powder, smoked paprika, and whatever other herbs and spices you like.

Bacon: Everything is better with bacon, and it adds a lot of protein to your casserole.

Spicy casserole: Add chopped green chiles or a sprinkle of red pepper flakes to give your dish some spiciness.
How to serve:
This easy chicken casserole recipe is ready in less than an hour and makes the perfect one-dish meal. Try one of our fun serving suggestions or share some of your own in the comments section at the bottom of the page.
Crushed crackers would also be a great topping instead of cornflakes. We like Ritz crackers, but you can use whatever you like.
Instead of rice, you can serve this casserole with cooked noodles like egg noodles or our delicious homemade angel hair pasta.
Mix half a cup of breadcrumbs with melted butter and pour it on top of your casserole instead of the cornflakes for a different flavor.
Use leftovers for some other easy casserole recipes such as chicken enchilada casserole.
Potato chips of any kind would also make a great topping. Use barbecue or sour cream and onion for extra flavor.
Try this delicious dinner with one of our easy rice recipes like coconut or jasmine rice.
Use French fried onions on top for an even crunchier and more flavorful topping.
Frequently asked questions
Why is my casserole watery?
It could be that you used too much liquid. It may also be from any vegetables you added. Make sure you drain the rice well after cooking too. Certain veggies have lots of water such as celery, squash, and mushrooms. Also, if you use frozen vegetables, thaw them out and drain out the excess moisture.
How can I thicken my casserole?
If your casserole is watery, mix a teaspoon of cornstarch with some water and stir until it is dissolved. Then, add it to your casserole and stir it up. If you do not have cornstarch, you can also use flour. Try making a roux. Simply mix equal parts butter and flour and heat it in a saucepan on high heat until it is combined. Then, add it to your casserole.
What is rotisserie chicken?
You have probably seen the cooked chickens in the deli department of your favorite store. These are usually rotisserie chickens. It is just a way of cooking whole chickens by putting them on a spit and rotating them over a fire. A more updated way to cook them is on a spit in an electric cooker or even an air fryer.
What can I serve with this casserole?
Since a casserole dish typically has all the ingredients of a whole meal, it can be difficult to figure out what to serve with them, if anything. You could serve it with a large bowl of salad or soup. You may also enjoy it with the vegetables on the side. It also goes great with mashed potatoes. Or you can just skip the side dish and serve dessert on the side.
How to store leftovers:
Store: You can store your leftover rotisserie chicken casserole in an airtight container and refrigerate for up to three days.
Freeze: To freeze, wrap your casserole dish in plastic wrap or put it in a freezer-safe container. It will last for 90 days.

Thaw: For the best results, put your frozen leftovers in the fridge overnight before serving.
Reheat: To reheat, put the whole casserole dish in the oven and bake at 350 degrees F for 20 minutes. Or you can put some in a microwave-safe dish and heat it in the microwave for one to two minutes.
More easy chicken casseroles to try:
Cooking tips:
Instead of store-bought rotisserie chicken, you can make your own.

You can grease the casserole dish with olive oil or nonstick cooking spray to keep it from sticking.
Have fun crushing the cornflakes. Just put them in a sealed baggie and smash them.
If you want to double this recipe, use a 9×13-inch baking dish. Make extra and freeze half for some other day.
Instead of cream soup, feel free to use chicken broth for less fat.

If you have any remaining cheese, add it to the top of the casserole for a cheesy topping.

Leftover cooked chicken: Instead of rotisserie chicken, this is a good way to use up any leftover chicken meat you have.

You could also use cream of chicken soup instead of cream of mushroom.

Put your phone in cook mode. Prevent it from going dark as you cook.
Looking for other casserole dishes? You can find more than a dozen easy casseroles on our food blog with many other recipes.
Rotisserie Chicken Casserole
Ingredients
3

cups

diced rotisserie chicken

or other cooked chicken

10.5

oz

cream of mushroom soup

or other cream soup

1 1/2

cups

shredded cheddar cheese

3

cups

cooked rice

white or brown

1/2

cup

slivered almonds

1/2

cup

Greek yogurt

1

cup

diced celery

1

cup

corn flakes

crushed

2

tablespoons

butter melted

1

teaspoon

italian herbs

salt and pepper to taste
Instructions
Preheat oven to 350 degrees F.

Grease a 9x13 baking dish and set it aside.

Combine all ingredients into a mixing bowl.

Add the mixture to the baking dish, into an even layer.

Add the cornflakes into a Ziplock bag and crush them into small pieces using a rolling pin.

Sprinkle the crushed cornflakes on the top of the casserole.

Drizzle melted butter on top.

Bake for 30 to 40 minutes or until casserole is heated through.

Let cool for 10 minutes, and serve.