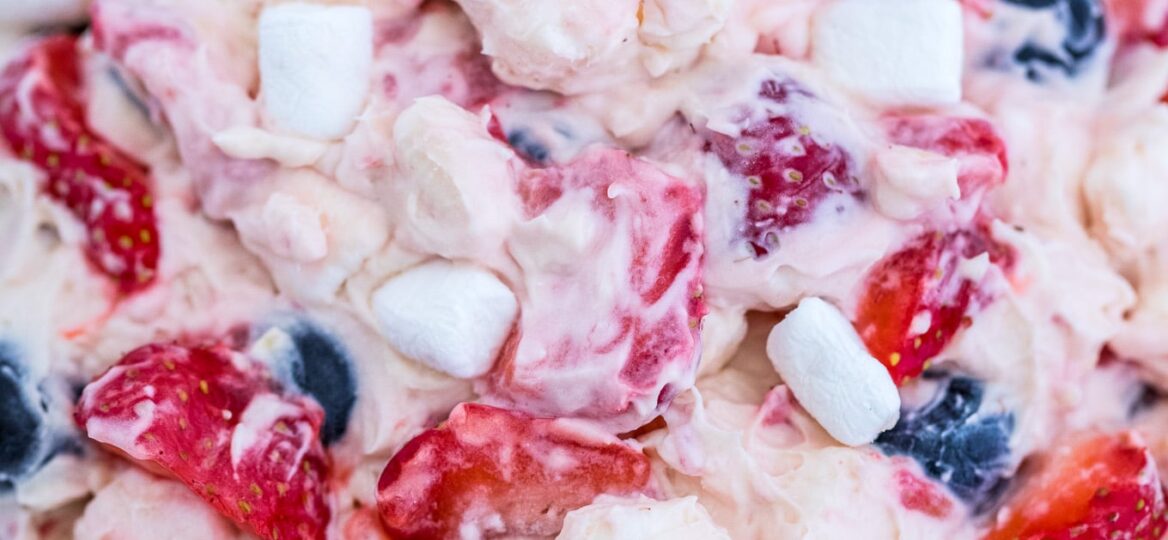 Red White and Blue Cheesecake Salad [video]
This Red, White, and Blue Cheesecake Salad is the perfect patriotic dessert to enjoy for Memorial Day or Independence Day. It is made with fresh fruits and is super delicious.
This is one colorful and creamy salad that is just ideal for a summer potluck, picnics, or barbecues. You might also love our other patriotic desserts such as American Flag Cupcakes, Patriotic Fudge, or American Rice Crispy.
Red White and Blue Cheesecake Salad
Summer desserts might be tricky to pick and please everyone. But this Red White and Blue Cheesecake Salad is guaranteed to be a huge hit with everyone.
First of all, it is super easy to make and very delicious. It contains strawberries, berries, and marshmallows. The combination of these ingredients along with cream makes it one irresistible dish!
Also, it is just perfect for summer BBQs, potlucks, or picnics. Because this recipe is so fresh and colorful, it is pretty much the best food to go along with the summer events or holidays. Whether you want something special for the 4th of July, or simply something refreshing, this dessert is definitely a winner!
WHAT IS CHEESECAKE SALAD?
This is definitely not your regular baked cheesecake or salad. It requires no baking or lettuce! The name is derived because of the use of cream cheese or yogurt, and the way the fruits are mixed together, as well as cheesecake pudding mix. This dessert is very creamy, rich, and indulging, which requires no baking.
What do you need to make Red White and Blue Cheesecake Salad?
This recipe is very versatile and can be used with other fruits to your liking. For this version, we used the following ingredients:
Strawberry yogurt
Instant cheesecake pudding
Whipped topping
Vanilla extract
Fresh strawberries
Blueberries
Marshmallows
How to Make Red White and Blue Cheesecake Salad?
Get the freshest Fruits – It all starts with the fruits used. Since they are front and center here, you want to make sure you use organic, ripe, and fresh once. We picked strawberries and blueberries in this mix to represent the colors of the American Flag. However, you can swap them with your favorite once.
Wash and Clen the Fruits – Prior to utilizing them, ensure you properly wash and clean the fruits. Also, we like to slice the strawberries in half, or quarters depending on how large they are. But you could also use whole once if desired. Make sure you pat them dry.
Prepare the Cream filling – In a medium bowl add the whipped topping, vanilla, pudding mix, and yogurt. Using a hand mixer, whip the cream until it is well balanced and fluffy. Once properly mixed and smoothed, it should be nice and soft. Chill it before using.
Assemble the salad – Now that you have everything ready, simply place the sliced strawberries, berries, and marshmallow into a bowl, and add the cheesecake mixture on top. Stir gently a few times until well mixed.
OTHER CHEESECAKE FRUIT SALAD VARIATIONS
The beauty of this dish is that you can mix and match various fruits. Pretty much use any fruits you like, simply add into it. Some other great additions are:
Pineapple, mango, mandarin oranges, grapefruits
Grapes, kiwis, raspberries
Blackberries, melon, apples, papaya.
TOPPING/FROSTING OPTIONS
Although we have made this recipe with cream cheese frosting, you can substitute it with some of the following:
Whipped Cream – It is a nice alternative to the cream cheese mixture, and the great thing is that you can buy it ready, and use it right away.
Buttercream Frosting – it will also work nicely here because it is rich, creamy, and flavorful.
Greek Yogurt – For a healthier option, feel free to go with yogurt. In addition, you might add some honey if you feel like it.
FOOD SAFETY RECOMMENDATIONS
Refrigeration: This Red White and Blue Cheesecake Salad can easily be refrigerated. In fact, it tastes better that way. In fact, it tastes better that way. Just try to make the cream filling ahead of time, and mix it with the fruits right before serving. Otherwise, the salad might become a bit watery and mushy.
Freezer: We do not recommend freezing it because it will get mushy. Plus, with summer on the horizon, it is advisable to use fresh fruits, and just make it from scratch. It will take less than 10 minutes!
Room Temperature: This dish can be served at room temperature for up to 2 hours. If it will stay longer than that, it will form bacteria, which is dangerous for human bodies. Therefore, discard immediately after that.
More easy summer desserts:
Recipe Tips
Make sure to add fruit just before serving so it doesn't get mushy or discolored.
After washing the strawberries, pat them dry, to avoid getting water into the cheesecake mixture.
Also, when making the filling, try not to pour all the creamer at once, but rather do it slowly. This way, you will avoid a clumpy mixture.
Deliciousness to your inbox
Enjoy weekly hand picked recipes and recommendations