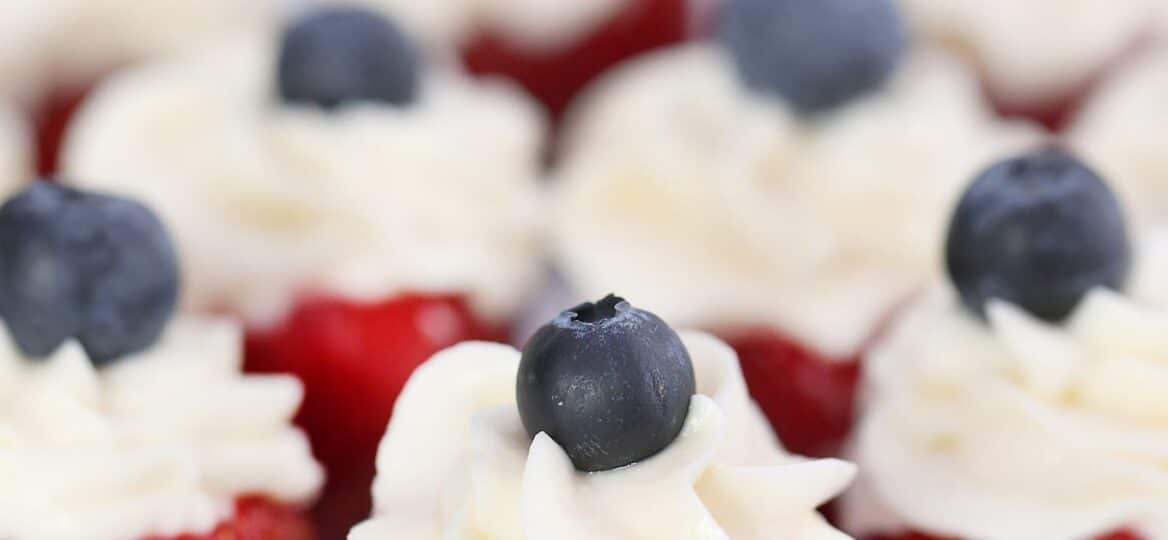 Patriotic Stuffed Strawberries
Patriotic Stuffed Strawberries are an easy dessert made with fresh strawberries, filled with cream cheese frosting and topped with blueberries. The perfect dessert to celebrate the 4th of July!
This easy dessert is ready in no time and a healthier alternative to may sweets. For Independence Day celebration, you might also love Patriotic Poke Cake, Red White, and Blue Cheesecake Salad, and American Flag Cupcakes.
Patriotic Cheesecake Stuffed Strawberries
Red, White and Blue Patriotic Strawberries are not only festive and perfect for July 4th celebration, but they are also super easy to make and a light dessert to have on a hot summer day! During Independence Day, you want to spend as little time as possible in the kitchen, and rather celebrate it with friends and families. Therefore, this sweet treat is the perfect choice to go with!
They are sweet, festive, colorful and ready in less than 10 minutes. Also, you can prepare them ahead and refrigerate to serve for later. It's a win-win recipe and is guaranteed to be a huge hit with everyone.
The cream cheese frosting is super creamy and pure goodness that compliments the fruits just nicely. For a more festive look, go ahead and insert a small American flag in each fruit. Also, you could top each of them with various colors if desired.
How to make the best cream cheese frosting filling?
Probably the most important part in having the perfect Patriotic Stuffed Strawberries is the cream cheese filling. You want to have the right balance and consistency, to complement them perfectly. Check out this easy Cream Cheese Frosting, that is ready in no time.
Also, feel free to use this recipe for other fruits, or cakes. It is heavenly delicious and super easy to make with just a few simple ingredients!
How to make Patriotic Stuffed Strawberries?
Prepare the strawberries: First, start with nice looking strawberries that are fresh and not overly ripe. Rinse them and cut around the top. Also, slightly slice off the bottom so that each fruit can stand nicely on its own. Next, hollow out the center of the fruit for the filling, using a spoon or small knife. Pat them dry using a paper towel.
Prepare the cream cheese filling: You will need unsalted butter, cream cheese, vanilla extract, powdered sugar, and a pinch of salt. Then, simply follow this recipe to make the stuffing.
Fill the fruits: Once the stuffing is well mixed and ready, simply fill each fruit individually. You can use a spoon to fill them, or a quart-sized plastic baggie with a pipe. Fold the top of the bag down over the sides of the glass and scoop in the mixture.
Top them: Using 1 blueberry simply top them and serve right away, or refrigerate for later.
Variation of Patriotic Stuffed Strawberries:
Although this dessert is one of the easiest to make, you could play around with it and come up with various versions. Some of our favorites once are:
Dip the bottom in melted semi-sweet white chocolate, and top each fruit with graham crackers.
If you do not want to scoop out the center, simply use a knife and cut off the stem for a flat end. Then, cut an "X" in the tip, and fill them. Top with plump blueberries or blackberries.
Dip one strawberry at a time in melted white chocolate, and then dip each one in blue sanding sugar. Then, place on parchment paper to dry. This way you will have a whole fruit with 3 colors representing the flag. The top red, center white (from melted white chocolate), and the bottom blue (from the sanding sugar).
Can you make them ahead of time?
Yes. These are great to make ahead especially if you plan on holding a larger gathering and need a larger batch. Simply store them in a container and wrap them with plastic, then place them in the refrigerator. They are best used within 12 hours but will last for up to 2 days without leaking juices and dissolving the filling.
More 4th of July desserts:
Red, white and blue cheesecake salad
Recipe tips
Try using the freshest strawberries and medium to medium-large in size. This way they are easier to work with, and also to scoop out.
This recipe is great for Independence Day. However, feel free to use it for Memorial Day or Labor Day. It is a fun and healthy way to enjoy a delicious and colorful dessert for various occasions.
Also, use small American Flags to insert in each fruit for a more festive and presentable look.
Deliciousness to your inbox
Enjoy weekly hand picked recipes and recommendations