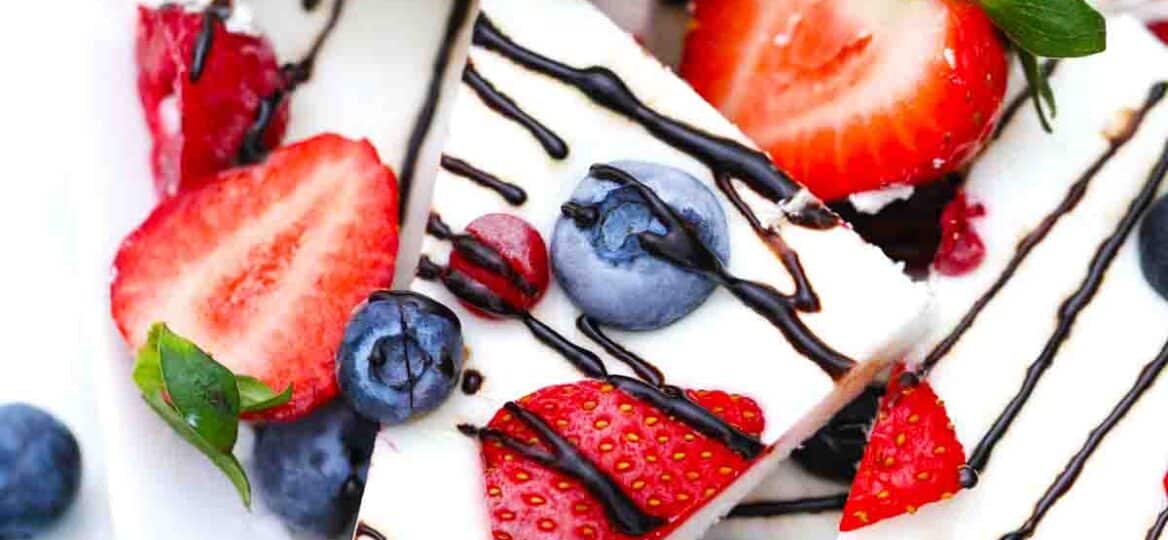 Frozen Yogurt Bark – Just 2 Ingredients!
Frozen Yogurt Bark is a quick, easy, and delicious treat that is also quite healthy, made with just two ingredients, Greek yogurt, and berries. You can satisfy your sweet tooth or make yogurt bark for the whole family. It is perfect on a hot summer day at the pool or for a backyard barbecue. It is also a good winter snack or holiday dessert. Add some crushed candy canes for a Christmas treat.
Yogurt has been around for thousands of years. It was developed in India about 5,000 years ago when they had yogurt for breakfast, lunch, and dinner.
But frozen yogurt was not invented until the 1970s. It was H. P. Hood who started the trend and called it Frogurt. And candy bark was invented by accident when someone's chocolate candy melted and cooled again. But they are not sure who it was.
Make this frozen Greek yogurt bark for the kids as a healthy afterschool snack that everyone will love, including you! And since all you need is yogurt and some toppings, you can make this any time you want and it only takes a few minutes. Add whatever you like or don't add anything at all. It is up to you!
Ingredients needed:
Here are the main ingredients for this healthy frozen yogurt bark recipe. When you are ready to begin, find our recipe card at the bottom of the page for the exact instructions and measurements.
Plain or vanilla yogurt: We used plain Greek yogurt.
Fresh raspberries
Fresh strawberries
Chocolate syrup
How to make frozen yogurt bark from scratch?
Line a baking sheet: First, prep a baking sheet with parchment paper or wax paper.
Spread evenly: Then, pour all of the yogurt onto the prepared baking sheet and spread the yogurt evenly.
Add fresh berries: Next, add raspberries and strawberries in random spots on the yogurt.
Sprinkle on some chocolate: Lastly, drizzle some chocolate syrup on top of the whole thing.
Place in the freezer: Finally, freeze the yogurt bark topped with goodies for about three hours before eating or serving.
Recipe variations:
Different Greek yogurt: Feel free to use any kind of Greek yogurt you like such as vanilla Greek yogurt, strawberry, blueberry, or even chocolate.
Different yogurt: In fact, you can use regular yogurt instead of Greek if you like.
Make your own: Instead of using store-bought chocolate syrup, make your own with chocolate chips. Just heat them in the microwave in 30-second bursts until melted.
Other toppings: Be creative with your toppings. Try adding unsweetened coconut flakes, granola, or rice crispies.
Add sweetener: To make your frozen yogurt bark sweeter, add some honey or maple syrup to your yogurt before pouring the yogurt mixture onto the sheet pan.
Other fruits: Instead of fresh strawberries and raspberries, you can use any kind of fruit like banana slices, chopped mango, sliced peaches, or whatever you like.
Dried fruits: Instead of fresh, try using dried fruits like raisins or cranberries.
Seeds: You can make your frozen yogurt bark a really healthy snack, top it with chia seeds.
Extracts: Another way to add flavor to your frozen bark is to use vanilla extract or some other flavor like orange, lemon, or lime.
How to serve:
You can serve this yogurt bark on hot summer days or cold winter nights. Whenever you want a healthy snack or just want to try something different. Try one of these fun ideas or share some of your own in the comments below.
Make this yummy treat crunchy by adding some chopped walnuts, pecans, or slivered almonds on top before freezing.
Smash up leftover frozen yogurt bark and use it for topping. It is perfect for ice cream or pudding. Try it on top of our no-churn cherry ice cream.
You can also make peanut butter chocolate bark by adding chocolate chips and peanut butter to your yogurt bark.
This healthy dessert cuisine goes great with other snack cuisine like a medium bowl of hummus or sweet dip.
Add some rainbow sprinkles for a festive frozen yogurt bark.
Dip your yogurt bark in our yummy keto caramel sauce.
Frequently asked questions
How long does it take to freeze?
Depending on how thick your yogurt bark is and what it is made with, it can take anywhere from two to four hours. If you use yogurt with high fat or cream, it will take longer than one that is low fat. Also, those with more sugar will take longer to freeze. The good thing is that it will also take longer to melt.
How can I prevent ice crystals?
Adding sugar is one way to prevent ice crystals. The sugar crystals slow down the formation of the ice crystals. Of course, this will also make it less healthy. But it will still be delicious. You could try sugar substitutes like Splenda or Stevia.
How can I make frozen yogurt like ice cream?
One of the easiest ways is to use an ice cream maker. Just whisk together yogurt, heavy cream, and honey or sugar. Then, churn it in your ice cream machine. Make sure the bowl is frozen for 24 hours first or your frozen yogurt will be slushy. No machine? No problem. Just remove it and stir it every hour until it is hard enough to serve.
What flavors of yogurt and toppings go well together?
There are many combinations that work well together. Try white chocolate chips with orange cream yogurt, blueberries with lemon yogurt, or crumbled Oreo cookies with vanilla yogurt. Some ideas are healthier than others and you can even make savory yogurt bark with plain Greek yogurt and nuts, cheese, or bacon.
How long can I freeze yogurt bark?
If you wrap it well, you can keep frozen yogurt bark for up to three months. The best way is to wrap it in plastic wrap, then in aluminum foil, and then put it in freezer bags. This will keep leftovers frozen without having to worry about any ice crystals forming.
What are the nutrition facts in this recipe?
Each serving only has 55 calories, 10 grams of carbohydrates, 50 mg sodium, 10 grams of sugar, 1 mg cholesterol, and less than 1 gram of fat or saturated fat. It also has 125 mg calcium, 3 mg vitamin C, 5 units vitamin A, 160 mg potassium, and 5 grams of protein.
More healthy recipes to try:
How to store leftovers:
Store: You can store your leftover frozen yogurt bark in a sealed freezer bag or another airtight container in the freezer.
Recipe tips:
Shorten prep time by using frozen or precut fruit pieces instead of cutting your own fresh fruit.
Use mini chocolate chips for easier melted chocolate.
If you do not have fresh berries or fruit, you can use frozen fruit. After all, it is going to freeze anyway.
You can cut frozen yogurt bark with a large knife, or pizza cutter. Or just break it into irregular pieces to make it look like bark.
It is best to use full-fat Greek yogurt, full-fat yogurt, or whole-milk yogurt for the best results. Low-fat yogurt just does not set as well.
Use a rimmed baking sheet or baking tray so your parchment paper does not slide off when moving it.
This yogurt bark is gluten-free, but you can also make this dairy-free by using dairy-free yogurt.
If you are concerned with nutrition, calories, and fat content, this is a good healthy snack or dessert.
Frozen Yogurt Bark
Ingredients
32

oz

Greek yogurt

plain and full-fat

1 1/2

cups

mixed berries

strawberries, blueberries, raspberries

4

oz

dark chocolate

melted - optional
Instructions
Prepare a half-sheet pan by lining it with parchment paper.

Spread the yogurt in an even layer that is about, 1/4 inch thick.

Top it with berries of your choice.

Drizzle with melted chocolate.

Freeze for 4-8 hours. Slice and serve, and store in the freezer.
Deliciousness to your inbox
Enjoy weekly hand picked recipes and recommendations