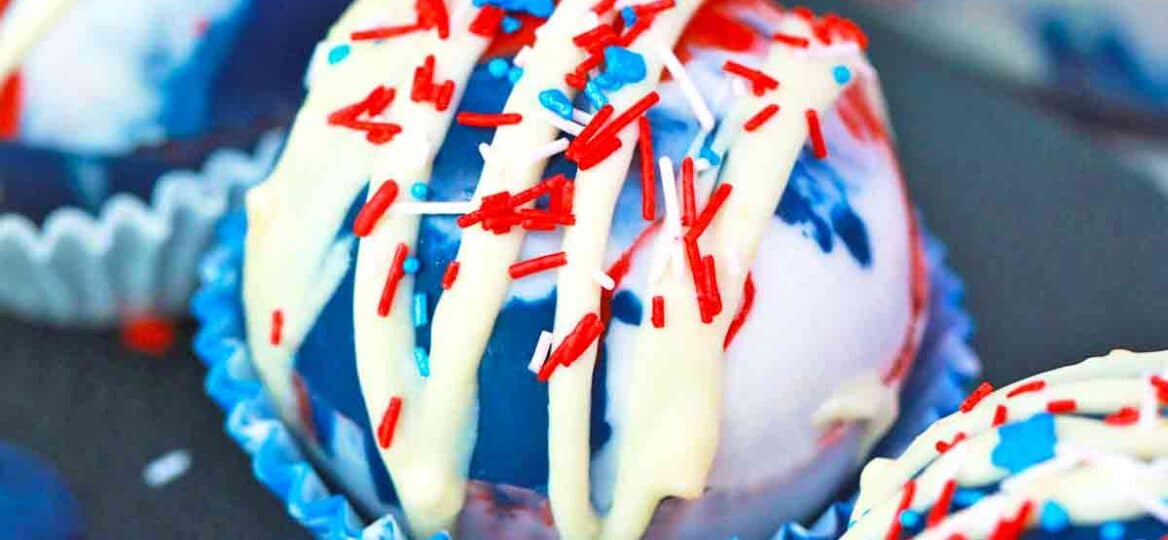 Patriotic Hot Cocoa Bombs [Video]
Patriotic Hot Cocoa Bombs are the perfect dessert to celebrate the 4th of July. They are festive with red, white, and blue color, and quite delicious. Celebrate this year's Independence Day with these amazing treats!
For more Independence Day recipes, check out my Patriotic Poke Cake, Red White and Blue Cheesecake Salad, and Rainbow Cheesecake.
Red, White, and Blue Hot Cocoa Bombs
If you are looking to make a special dessert to go with your fireworks during the 4th of July, then these Patriotic Hot Cocoa Bombs are the obvious choice. They are adorable, fun, delicious, and can be gifted to anyone for a special occasion
These are usually very popular during the Christmas season, but in this post, we are changing up the theme, and making them for Independence Day.
They are loaded with chocolate, are delicious, and colorful. Your guest will definitely be impressed by them. Although they look complicated, these treats are actually quite easy to make. Also, they make for a great family project, and kids will love making them.
You can make them ahead as well, and refrigerate for days to come. Feel free to decorate them the way you like for any other holiday or birthday.
What are hot chocolate bombs?
They are simply a dessert in a form of balls that have chocolate as the main ingredients and topped with marshmallows. They are also called hot cocoa bombs.
Ingredients you will need:
Marshmallows
Baking chips: Also, red, white, and blue.
How to make Patriotic Hot Cocoa Bombs?
Melt the Candy Melts: In your microwave, melt the three together for about 60 seconds, or until they are all melted.
Add the chocolate to the mold: Once melted, spoon about ½ tablespoon of each color into the bottom of each half-sphere mold. Gently swirl the colors together to create a marble effect. You can also decorate it separately without combining them together. Fill each mold, and then refrigerate or place in the freezer for about 5-1o minutes to firm them up.
Top: Next, remove them from the refrigerator or freezer, and add the hot chocolate mix. Then, top it with baking chips and mini marshmallows. Finally, add a bit of melted chocolate to the sides of each sphere and top with another one.
Garnish: Drizzle the tops with melted chocolate and immediately add some sprinkles on top. Refrigerate.
Serve: Remove the chocolate bombs from the fridge, prepare some hot milk. Next, place a hot chocolate bomb into a cup and pour the hot milk on top. Stir and serve immediately.

Recipe variation and adaptations:
These treats can be easily adjusted to fit your theme. Some great suggestions are:
Peanut butter cups: For peanut butter lovers, top them with PB cups instead of marshmallows.
Mint: Use mint banking chips instead.
Dark chocolate: Substitute the white chocolate with black.
Caramel: Drizzle some caramel on top.
Peppermint Mocha: Add a sprinkle of instant coffee with crushed candy canes.
Strawberry: Make this super fun for summer by using pink/strawberry flavored chocolate and stuff them with white hot chocolate and freezer dried strawberries. The combo is incredibly delicious.
Candy Melts Color: The colors are an endless possibility, just choose the ones you like and fit your event to make these.
Vegan: Make vegan hot cocoa bombs by using dark chocolate and decorating them with vegan colorful sprinkles that would match the celebration or event you are making them for. Serve with plant-based milk.
Best chocolate to use for Patriotic Hot Cocoa Bombs?
Go with good-quality chocolate as it is the front and center ingredient here. Also, because you want it to melt properly, I recommend using the ones which contain cocoa butter, or white chocolate chips. They are a bit more expensive but worth the cost.
How long will these keep?
They will keep for several months refrigerated. Simply store them in an airtight container and refrigerate them for up to 3 months.
More Patriotic Day recipes to try:
Recipe Tips:
Instead of melting the chocolate in the microwave, you can do it by boiler method.
Also, if you decide to use the microwave, ensure to melt it in increments so you don't overcook. Do 30 seconds at a time, then stir.
When filling the mold make sure to layer the chocolate evenly up the sides of the mold.
You can swap the types of chocolate you love and have on hand. Pretty much any combo will work here, so go with what you like.