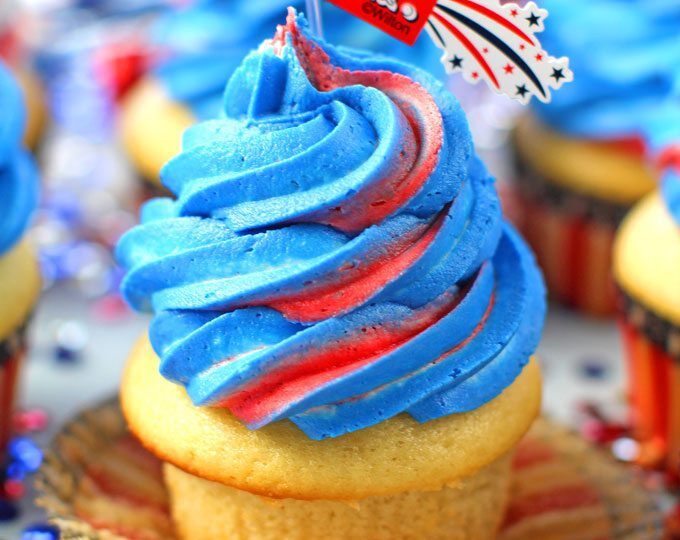 Red White and Blue Cupcakes [VIDEO]
Red White and Blue Cupcakes are the perfect patriotic treat. Fluffy and soft vanilla cupcakes are topped with sweet red, blue and white buttercream swirl. Watch the recipe video tutorial below and see how delicious they are!
I love making gorgeous and delicious cupcakes. Among my popular once are Dark Chocolate Peanut Butter Cupcakes, Best German Chocolate Cupcakes, and Galaxy Cupcakes.
Red White and Blue Cupcakes
Red White and Blue Cupcakes are very festive and delicious, the perfect patriotic dessert that everyone will love. For these cupcakes, I used my go-to vanilla cupcake recipe, because it always turns out well. You can make these in regular size or as mini cupcakes. The recipe will work well in both cases, you just need to adjust the baking time.
The vanilla cupcakes are soft, moist and fluffy. The Red White and Blue Buttercream is very easy to make and looks like you worked a lot to get that perfect swirl, while it's actually very easy to make. Keep reading to learn how to easily make that gorgeous buttercream!
Pin This Red White and Blue Cupcakes Recipe to your Favorite Board
Red White and Blue Cupcakes Recipe Tips:
I used my go-to recipe for the cupcake batter, you can use any recipe that you like. I really like this one, as the cupcakes are moist and soft. You can also use a store-bought cupcake mix to save time.
You can add different flavors to the batter, almond extract, vanilla extract, cherry extract or even lemon are delicious options.
For the best cupcakes and for them to rise nicely in the oven, do NOT over-mix the batter.
After you put the cupcakes in the oven, do NOT open the oven door for 15 minutes.
When working with gel food color be extra careful, it can easily stain your hands, counter or carpet. Cover the surfaces accordingly. The stain will wash off your hands in about 24 hours, if you want to keep your hands clean, you can wear silicone gloves.
When piling the colors on top of each other on plastic wrap, try to use the same amount of each color. Also, don't add too much buttercream, eye it so it later fits in the piping bag.
You can also play with other colors that you like, depending on the occasion, holiday or event.
Should I use butter in the cupcake frosting?
When making the buttercream, it has a lot of sugar so it can hold its shape when piped. I do not like the taste of shortening, so I only use butter in my frosting. If you want to use shortening, to create even a stiffer buttercream, replace half of the butter with shortening. Sugar amount stays the same in both cases.
Can the Patriotic cupcakes be refrigerated?
Best to refrigerate the cupcakes for one hour before serving, so the frosting can harden a bit. Keep the cupcakes refrigerated, as the frosting will melt at room temperature.
Tools/Ingredients I used to make the Red White and Blue Cupcakes Recipe:
Red White and Blue Cupcakes Recipe Video:
Deliciousness to your inbox
Enjoy weekly hand picked recipes and recommendations