Red White and Blue Cupcakes [VIDEO]
Red White and Blue Cupcakes are the perfect patriotic treat. Fluffy and soft vanilla cupcakes are topped with sweet red, blue and white buttercream swirl. Watch the recipe video tutorial below and see how delicious they are!
I love making gorgeous and delicious cupcakes. Among my popular once are Dark Chocolate Peanut Butter Cupcakes, Best German Chocolate Cupcakes, and Galaxy Cupcakes.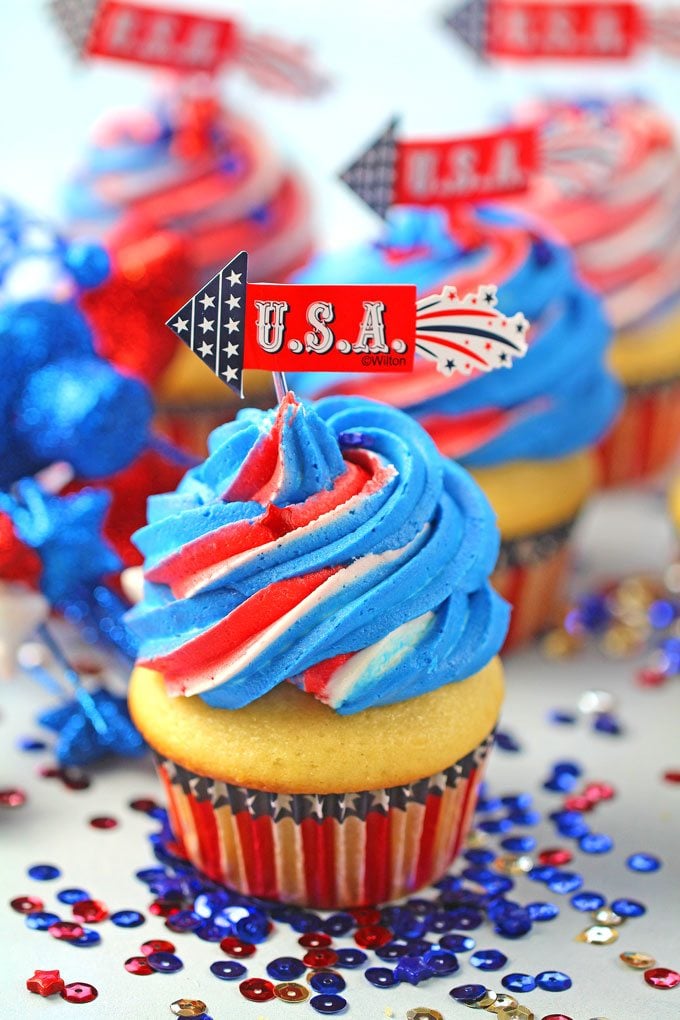 Red White and Blue Cupcakes
Red White and Blue Cupcakes are very festive and delicious, the perfect patriotic dessert that everyone will love. For these cupcakes, I used my go-to vanilla cupcake recipe, because it always turns out well. You can make these in regular size or as mini cupcakes. The recipe will work well in both cases, you just need to adjust the baking time.
The vanilla cupcakes are soft, moist and fluffy. The Red White and Blue Buttercream is very easy to make and looks like you worked a lot to get that perfect swirl, while it's actually very easy to make. Keep reading to learn how to easily make that gorgeous buttercream!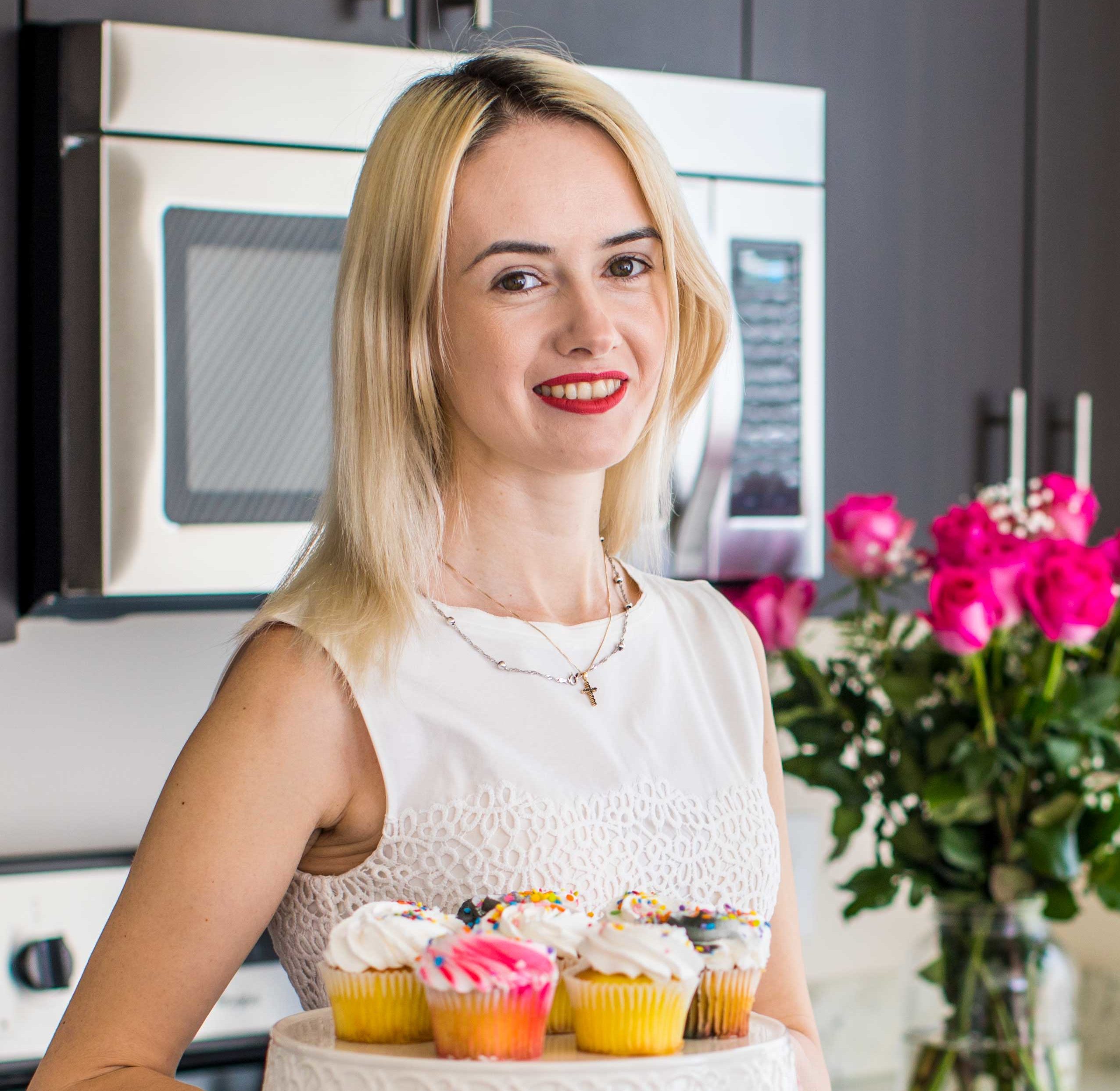 Follow us on Pinterest for more delicious recipes!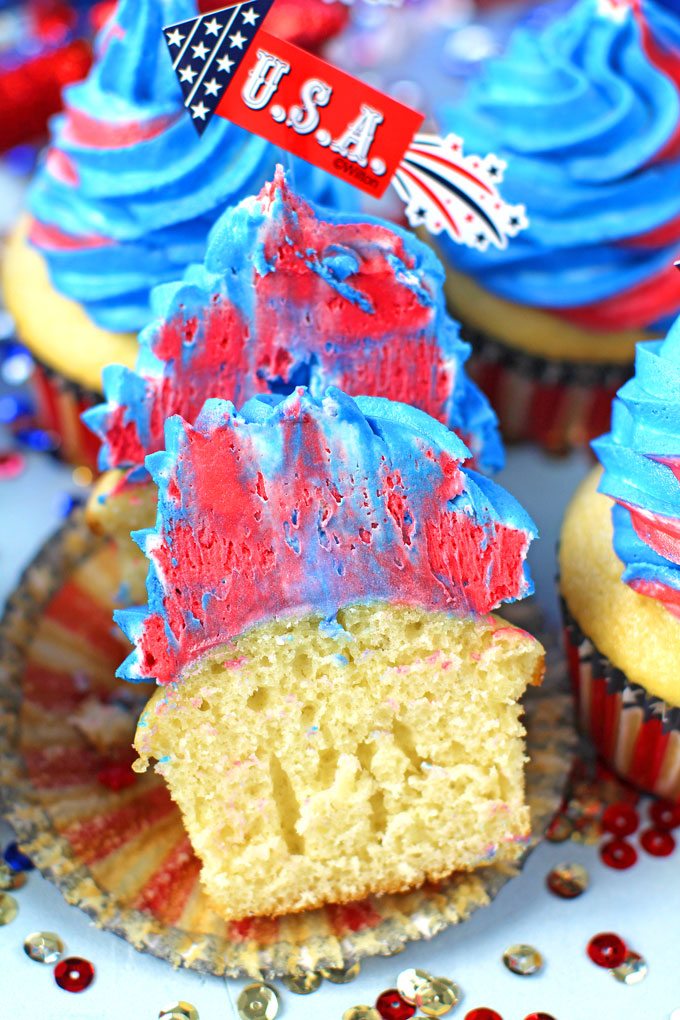 Red White and Blue Cupcakes Recipe Tips:
I used my go-to recipe for the cupcake batter, you can use any recipe that you like. I really like this one, as the cupcakes are moist and soft. You can also use a store-bought cupcake mix to save time.
You can add different flavors to the batter, almond extract, vanilla extract, cherry extract or even lemon are delicious options.
For the best cupcakes and for them to rise nicely in the oven, do NOT over-mix the batter.
After you put the cupcakes in the oven, do NOT open the oven door for 15 minutes.
When working with gel food color be extra careful, it can easily stain your hands, counter or carpet. Cover the surfaces accordingly. The stain will wash off your hands in about 24 hours, if you want to keep your hands clean, you can wear silicone gloves.
When piling the colors on top of each other on plastic wrap, try to use the same amount of each color. Also, don't add too much buttercream, eye it so it later fits in the piping bag.
You can also play with other colors that you like, depending on the occasion, holiday or event.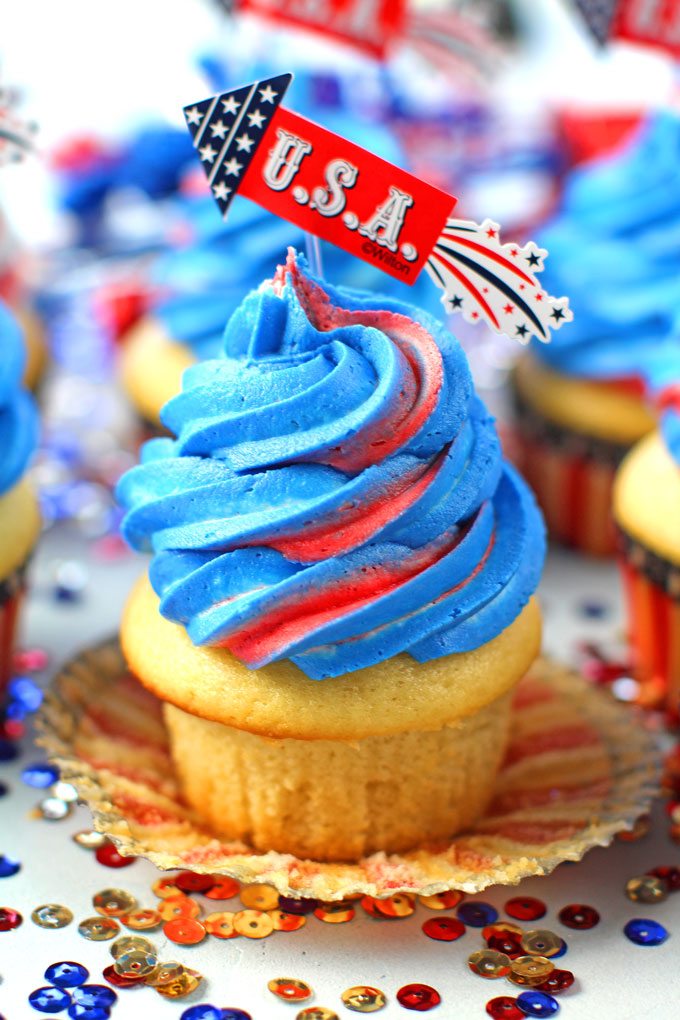 Should I use butter in the cupcake frosting?
When making the buttercream, it has a lot of sugar so it can hold its shape when piped. I do not like the taste of shortening, so I only use butter in my frosting. If you want to use shortening, to create even a stiffer buttercream, replace half of the butter with shortening. Sugar amount stays the same in both cases.
Can the Patriotic cupcakes be refrigerated?
Best to refrigerate the cupcakes for one hour before serving, so the frosting can harden a bit. Keep the cupcakes refrigerated, as the frosting will melt at room temperature.
Tools/Ingredients I used to make the Red White and Blue Cupcakes Recipe:
Red White and Blue Cupcakes Recipe Video:
Save Recipe
Red White and Blue Cupcakes
Author: Catalina Castravet
Serves: 18 servings
Prep time:

30

minutes
Cook time:

20

minutes
Total time:

50

mins
Ingredients
2 1/2 cups all purpose flour
2 cups sugar
3 teaspoons baking powder
1 teaspoon salt
1 cup whole milk
1/2 cup vegetable oil
1 tablespoon vanilla extract
2 large eggs
2/3 cup water
Frosting:
2 cups unsalted butter (room temperature)
8-9 cups powdered sugar
1 teaspoons vanilla extract
3 tablespoons milk
Red Gel Food Color
Blue Pink Gel Food Color
Instructions
Cupcakes:
Preheat oven to 350°F degrees and add cupcake liners to a cupcake/muffin pan. Set aside.
To a large bowl add: flour, sugar, baking powder and salt, whisk to combine. Set aside.
Add milk, vegetable oil, vanilla extract and eggs to a mixer bowl and whisk until fully combined, about 1 minute on medium speed.
Add the dry ingredients to the wet ingredients and beat until well combined. Stop once to scrape the sides and bottom of the bowl with a spatula.
Slowly, with the mixer on low speed, add the water to the batter and mix just until combined. Scrape down the sides of the bowl as needed to make sure everything is well combined.
The batter is thin, I find it easier to add it to a pancake dispenser, this makes filling the cupcakes liners much easier and mess free.
Fill the cupcake liners just a little over half and bake for 15-20 minutes, or until a toothpick comes out with a few moist crumbs NOT raw batter. In my oven, the cupcakes were perfectly done at the 20 minute mark. Do NOT open the oven until 15 minutes have passed. Start checking on the cupcakes at the 15 minute mark. If you are baking mini cupcakes, they may be done in 9-12 minutes, start checking after 9 minutes.
Remove the cupcakes from oven and allow to cool for 3-5 minutes in the pan, then remove to a cooling rack to finish cooling.
Frosting:
Add butter to a large mixer bowl and mix until smooth.
Add 4 cups of powdered sugar and mix until smooth.
Add the vanilla extract and milk, mix until smooth.
Add the remaining 4 cups of powdered sugar and mix until smooth. If the buttercream is too soft, add more sugar, 1/2 cup at a time.
Divide buttercream equally into 3 medium bowls.
Add a few drops of red gel food color to one of the bowls, about 7-10 drops, and stir with a spatula to fully combine. Set aside.
Add a few drops of blue gel food color to one of the bowls, about 7-10 drops, and stir with a spatula to fully combine. Set aside.
Assembling:
Start by preparing your work area, gel food color can easily stain your working surface so cover it with parchment paper or plastic wrap.
Fix a piping bag with a large star tip, or any other piping tip that you like. Set aside.
Cut about 15 inches of plastic wrap and place it on the counter. In the middle of the plastic wrap add about 1/3 of the blue buttercream, spread it into a 6x6inches square. Top it with 1/3 of the white buttercream, and carefully, spread it on top of the blue square. Top it with 1/3 of the red buttercream, and carefully, spread it on top of the white square.
Before adding the buttercream to the plastic wrap take a look at the piping bag you will be using, some are smaller and some are larger, so make sure the square that you are making is not larger than the piping bag, as it won't fit in when rolled.
Roll the wrap, so it forms a tube, and place the wrapped buttercream inside the piping bag. Do a first, pipe and dump test, so you get the buttercream closer to the tip.
Pipe the buttercream onto the cupcakes and decorate with sprinkles and cupcake toppers.
Repeat with the rest of the buttercream and cupcakes.
Refrigerate cupcakes at least one hour before serving.
Store in the refrigerator for 3-4 days.
Enjoy!
Calories: 601 Carbohydrates: 88 Protein: 2 Fat: 27 Saturated Fat: 18 Cholesterol: 73 Sodium: 326 Potassium: 144 Fiber: 1 Sugar: 75 Vitamin A: 720 Calcium: 78 Iron: 1.4
Save Recipe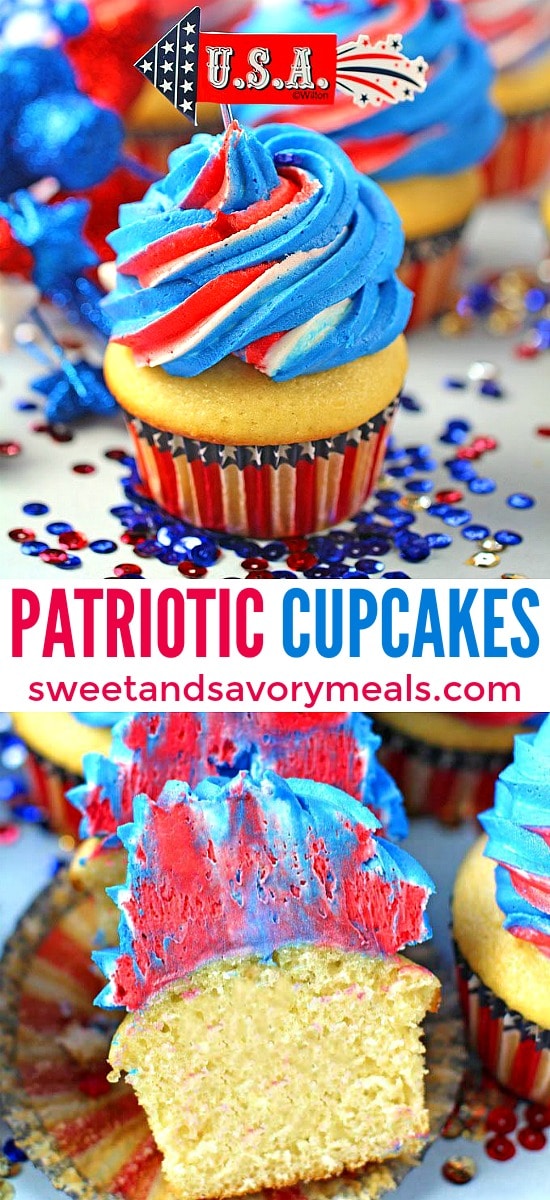 More recipes you might love