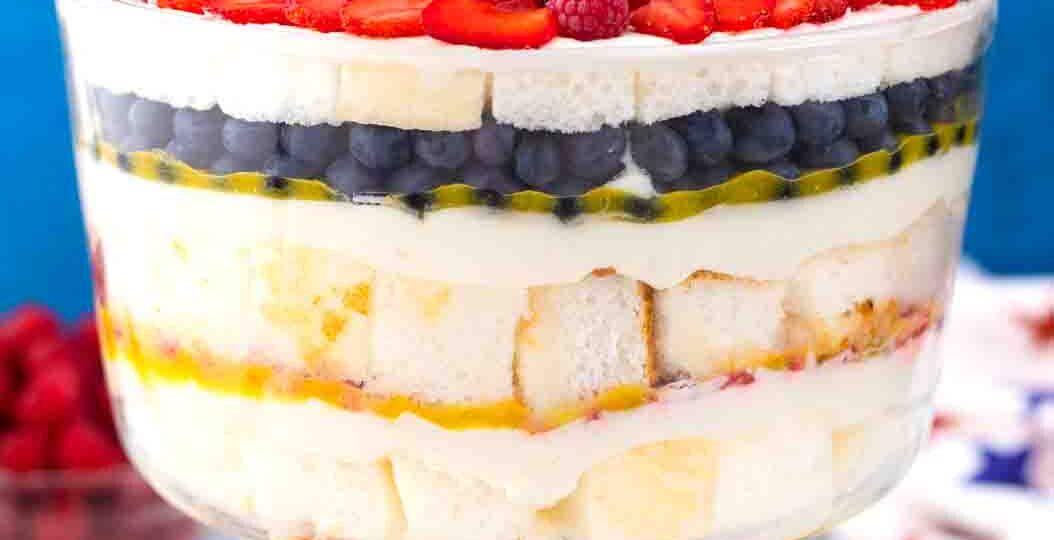 Patriotic Trifle Recipe – with Lemon Cream
Patriotic Trifle is a red, white, and blue dessert made with angel food cake, fresh fruit, rich creamy lemon cream, and tangy lemon curd. The patriotic berry trifle is the perfect dessert cuisine for Independence Day, Memorial Day, Labor Day, or any day of the year! Made with just a handful of ingredients and no baking included, you can have this pretty trifle finished and ready to eat in less than 30 minutes!
According to the experts, the trifle was first made in England using sponge cake soaked in wine, fruit, and custard. The first trifle recipe recorded was in a cookbook from 1585 written by Thomas Dawson. "The Good Huswifes Jewell" featured a dessert made with thick cream and ginger. The trifle we know now was not seen until the 1750s in England with biscuits soaked in custard and topped with fruit jelly.
For this yummy patriotic trifle recipe, you only need a few ingredients including cake, fresh fruit, lemon curd, lemon juice, lemon zest, sugar, and cream. You can also change this recipe easily by using different fruits, substituting pudding for cream cheese, and using a different type of cake.
Ingredients needed:
Here are the needed ingredients to make this delicious patriotic trifle dessert recipe. Then, scroll down to our recipe card for the exact instructions and measurements.
Angel food cake: Cut into 1-inch cubes.
Lemon curd
Fresh blueberries
Fresh raspberries
Hulled and sliced strawberries
Lemon syrup ingredients:
Water
Granulated white sugar
Fresh lemon juice: From half a lemon.
Cream frosting ingredients:
Cream cheese: Softened to room temperature.
Granulated white sugar
Heavy whipping cream
Vanilla extract
Raspberries
Lemon zest
Lemon juice
How to make patriotic trifle from scratch?
Make the syrup: To make the lemon syrup, mix two tablespoons of each lemon juice and sugar with 1/4 cup water until the sugar is dissolved. Set aside.

Make the lemon cream: Then, in a medium bowl, beat 3/4 cup sugar and one pound of cream cheese with the whisk attachment on your mixer at medium speed until it is smooth and creamy. Be sure to scrape the bowl a few times. Continue mixing while adding the heavy cream and then turn it to medium-high. Keep beating until it is fluffy. Fold in the vanilla until incorporated.
Assembling your trifle: Now, put about a third of the angel food cake cubes at the bottom of a trifle dish and brush them with a third of the syrup with a pastry brush.

Make your layers: Next, add about a third of the lemon cream and gently spread it on the cake pieces trying not to move them around. After, add a third of the lemon curd, carefully spreading it on the frosting.
Add a design on top: After, place half of the raspberries and strawberries before starting all over again, this time using blueberries. The last layer will use the remaining cake cubes and a layer of cream topped with blueberries, strawberries, and raspberries.

Chill and serve: Last, refrigerate until ready to serve. Garnish with extra berries if you like.
Recipe variations:
Another cake: If you do not have angel food cake, pound cake will also work well in this recipe. However, pound cakes are heavier so make smaller cubes, so the slices are not too heavy.

Boxed cake mix: In fact, you can use a boxed cake mix if that is all you have on hand. Just make sure to bake it ahead of time so it can cool completely before using it.
Vanilla pudding: Instead of cream cheese, you can use instant vanilla pudding mix, milk, and sour cream. The velvety smooth pudding mixture would be used to replace the cream frosting layers.
No whipping cream: You could also use Cool Whip instead of whipping cream.

Blackberries: In a pinch, blackberries would work fine for blueberries because they are slightly blue in color.

Frozen berries: Fresh strawberries, raspberries, and blueberries can be difficult to find in some areas. If you do not have fresh berries, you can use frozen berries. But the colors may run a little bit.
Other holidays: In fact, if you are making this dessert for a different holiday like Christmas, you could use strawberries and kiwi for red and green colors.
How to serve:
You can make this delicious dessert at the last minute for a surprise visit on the 4th of July or another patriotic holiday or just serve it any day because it tastes and looks so amazing. Try one of these awesome ideas or share some of your own in the comments section.
Did you mess up the design on top? Not to worry! You can remove it and start over or just mix it all up and it will still look gorgeously patriotic.

Feel free to add another dollop of whipped topping to each slice. You can buy whipped cream from the store or use our easy and delicious recipe for homemade whipped cream.

Make your trifle even more festive by adding red, white, and blue sprinkles on top.

Use leftover berries to make a delicious pie or yogurt parfait.

Add crunch to the top of your patriotic trifle with slivered almonds or granola.

Instead of lemon curd, you could use our sweet and tangy strawberry curd.

Make individual patriotic trifles in jars for easier serving and eating on the go.
Frequently asked questions
What is a trifle?
A trifle is one of those desserts that use multiple layers for a variety of flavors and textures. It is typically made with sponge cake and fruit layered with cream, jelly, and custard. Sometimes the cake is soaked in wine or fruit juice and the top may be covered in fruit and whipped cream.
Can I make this patriotic trifle the night before?
Yes, you can. In fact, it will give the bread more time to soak up the flavors of the fruit and cream. But do not wait too long or you will end up with soggy cake and runny cream. You want to make sure you eat your trifle within 24 to 36 hours for the best flavor and texture.
What if my flag is different colors?
If red, white, and blue are not your colors, choose different colored fruit to make what you need. For example, India's flag colors are orange, white, and green so you could use papaya or oranges and kiwi or grapes. And the flag of Romania is red, yellow, and blue so you could use strawberries or raspberries, bananas or lemons, and blueberries, grapes, or blackberries.
Why are my cake cubes moving around so much?
Angel food cake is very light and moves around easily. To make these yummy cubes stay in place, try soaking them in the syrup before placing them in the trifle bowl. Alternatively, you could start with a layer of cream and lemon curd to give your cake cubes something to hold them in place.
What are the nutrition facts in this recipe?
Each serving has only 160 calories, 2 grams of fat, and 1 gram of saturated fat. It also has just 3 mg of cholesterol, 30 grams of carbs, 19 grams of sugar, and 244 mg of sodium. On the other hand, it also gives you 813 units of vitamin A, 33 mg of vitamin C, 120 mg of calcium, 1 mg of iron, 3 grams of fiber, 275 mg of potassium, and 7 grams of protein.
More Patritiotic-themed recipes:
How to store leftovers:
Store: You can store your leftover patriotic trifle in an airtight container in the fridge for up to 36 hours. For a longer time, use a heavier cake like pound cake instead because it will not get soggy as fast.

Freeze: Freezing is not recommended.
Recipe tips:
If you do not have a trifle bowl, you could use a large bowl like a punch bowl or Pyrex dish. You want to be able to see the delectable layers.

For a shorter prep time, you can make the cake and prepare your fruit ahead of time and put them in the refrigerator until you are ready.
Using a store-bought angel food cake is fine and it also saves time.

You can decorate the top of your strawberry-raspberry-blueberry trifle however you like. I chose a blue star surrounded by red berries, but you could also try making a flag with blueberries for the stars and alternate strawberries with raspberries for the stripes.
Just in case, buy (or make) two angel food cakes in case you need more cake.

You may need more blueberries depending on which design you are making so plan accordingly.

If you use pudding, be sure to let it stand until it is soft set before adding it to the mix.
We have a ton of great dessert recipes as well as some more 4th of July recipes on our food blog.
Patriotic Trifle
Ingredients
17

oz

angel food cake

cut into 1" cubes

1

lb

fresh strawberries

hulled and sliced

1

lb

fresh blueberries

1

lb

fresh raspberries

2

cans

lemon curd

or lemon pie filling - 15.7oz per can
Lemon Syrup Ingredients:
1/4

cup

water

2

tablespoons

granulated sugar

2

tablespoons

fresh lemon juice
Frosting:
16

oz

cream cheese

2 packages - softened at room temp

3/4

cup

granulated sugar

2

cups

heavy whipping cream

1/2

teaspoon

vanilla extract

1

teaspoon

lemon juice

1

teaspoon

lemon zest
Instructions
Lemon Syrup:
In a measuring cup, combine the syrup ingredients and stir until the sugar is dissolved. Set aside until needed.
Lemon Trifle Cream:
Beat together the cream cheese with sugar on medium speed until creamy and smooth, make sure to stop and scrape the bottom and sides of the bowl.

With the mixer on low speed, pour in the heavy cream, gradually increase the speed to medium/high and continue beating until fluffy. Add the vanilla, lemon juice, and zest, and beat until incorporated.
Assembling:
Place 1/3 of the cubed angel food cake onto the bottom of a trifle dish, in an even layer, and brush with 1/3 of the syrup.

Add 1/3 of the lemon cream and spread it over cake pieces, followed by a layer of lemon curd.

After that, add 1/2 of the sliced strawberries.

Repeat with the remaining ingredients, switching strawberries for blueberries in the next layer.

Repeat again, this time: cake, syrup, cream, lemon curd only if you still have some left, and garnish with berries. Make a star using blueberries, add raspberries around it, and after that the sliced strawberries.

Refrigerate for a few hours before serving.
Deliciousness to your inbox
Enjoy weekly hand picked recipes and recommendations