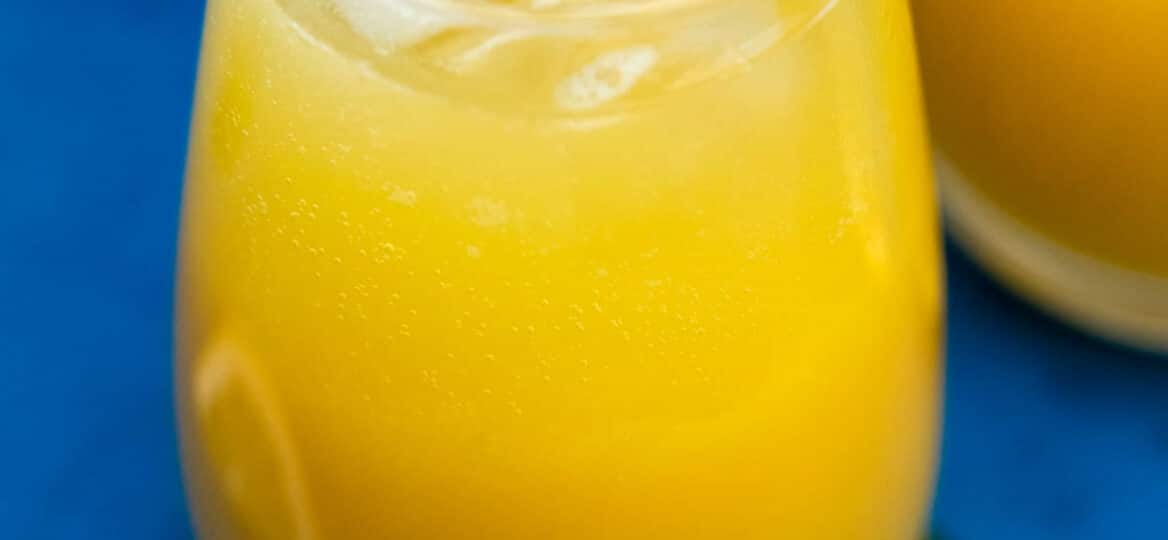 Mango Lemonade Recipe [Video]
Mango Lemonade is fresh, cool, and bursting with seasonal tropical flavors. A fantastic drink not just for hot summer days, but all year long!
Love mangoes? Try this refreshing Mango Smoothie, or use this delicious fruit in a full dessert like my Best Mango Mousse Cake! I'm also sharing this link to my Homemade Lemonade Recipe which is an excellent base for more fruity twists.
Mango Lemonade Recipe
Summer always feels a bit too short for me. Just when I'm settling in and getting used to those lovely, sunny days, chilly fall is already knocking on my door. That's what inspired this Mango Lemonade recipe – it absolutely tastes like summer in a glass!
We all know that lemonade is the ultimate summer drink. So, it just made sense to combine it with mangoes, my favorite tropical fruit. The sweet, juicy flavors of mangoes perfectly complement the acidity of lemons. It's also versatile with lots of room to experiment with whatever suits your taste.
Be warned, this drink can get kind of addicting. Good thing it's super simple to make because I guarantee you'll be going through pitchers of this delicious Mango Lemonade!
What is Mango Lemonade?
Mango lemonade is a fruity twist to the traditional lemonade. You simply add a mango mixture to the usual lemonade recipe.
Is it healthy?
Yes, much healthier than artificially-flavored juices loaded with chemicals, and they don't really taste like the real thing. If you're watching your sugar intake, however, feel free to sub with your sweetener of choice.
What do you need to make Mango Lemonade?
I love how most of the ingredients in this recipe are pantry staples. It means you can pretty much enjoy this drink anytime you like. You'll need:
Cold water
Sugar
Lemons
Lemon juice
Vanilla extract
Fresh mint sprigs
Mangoes
Club soda
Of course, the only challenging part in terms of ingredients is getting your hands on some mangoes. What I do is buy a lot when they're in season, slice them up, and freeze the fruit until I'm ready to use them. Stays good and fresh for a long time!
How to make Mango Lemonade
There are three basic steps:
Make the Syrup
In a medium saucepan, add sugar, water, mint, and lemon peel. Bring to a boil over medium heat.
Dissolve the sugar by stirring constantly.
After all the sugar is dissolved, remove from the heat. Add vanilla and lemon juice.
Cool the syrup for around 30 minutes.
Discard the lemon peel and mint once cooled.
Make the Mango Mixture:
Peel the mangoes, remove the seed, and puree in a food processor until smooth.
Place the pureed mangoes in a pitcher. Add syrup, and combine. Stir well.
Refrigerate for a minimum of two hours.
Serve the Mango Lemonade:
Get your glasses. I prefer tall glasses because they really highlight the beautiful, yellow color of this drink.
Add ice to the glass. Fill with chilled mango lemonade 1/3 of the way.

Add club soda. Stir well.
Garnish the glass with lemon and mango slices.
Serve and enjoy!
Recipe Variations:
This is a very flexible recipe, and you can use other fruits to sub for the mango. Try strawberries, blueberries, kiwis, and raspberries! You can also use lime if you prefer. For a healthier version, you can use coconut sugar or honey.
Can you make it in advance?
Sure! Keep the mango lemonade mixture in the fridge until you're ready to serve.
More delicious refreshing drinks:
Recipe Tips:
Don't forget to refrigerate properly for the best results.
Make sure the sugar is completely dissolved before cooling to prevent a gritty texture.
Add a splash of rum or vodka to make a tasty, tropical cocktail.
Don't like mint? Try basil!