Panda Express Honey Walnut Shrimp [Video]
Last updated on July 1st, 2021 at 05:11 pm
Panda Express Honey Walnut Shrimp is light, sweet, and crispy with the creamiest honey sauce. The homemade caramelized walnuts add a lovely crunch!
No need to go out to enjoy takeout! Our homemade Panda Express Shanghai Angus Steak, Black Pepper Chicken, and Orange Chicken taste even better than fast food and super easy, too!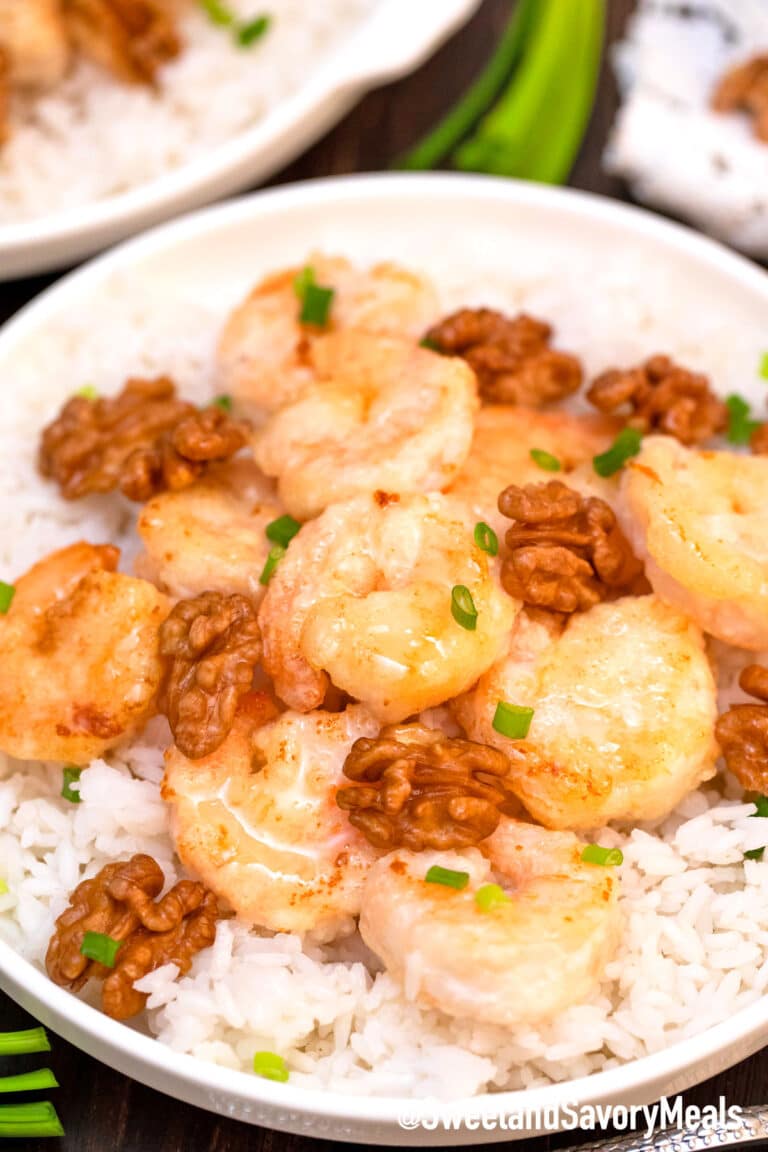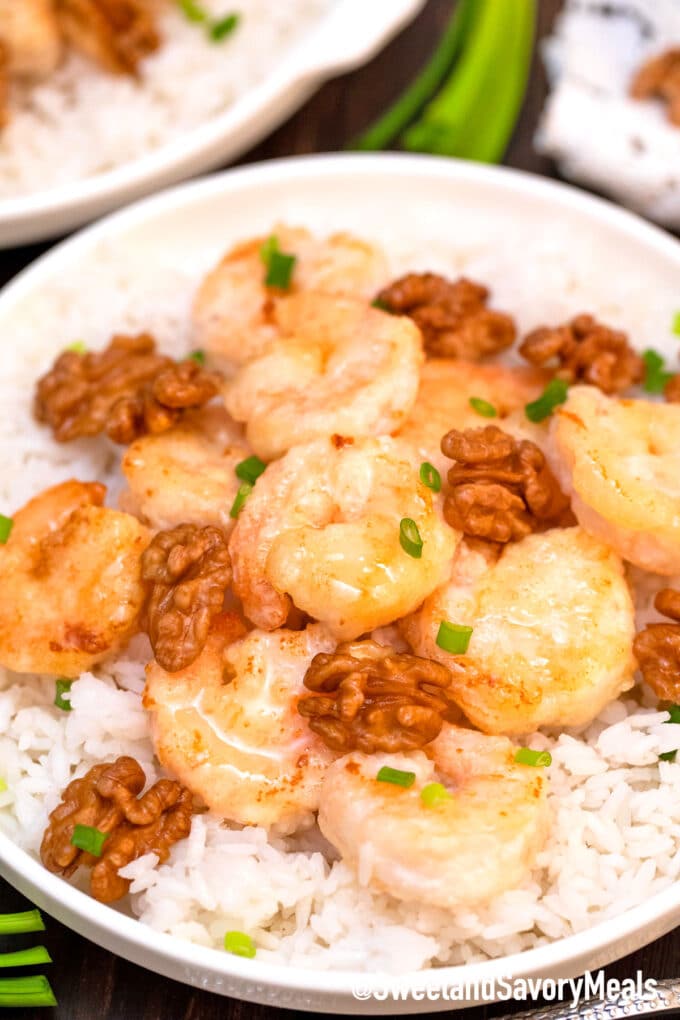 Honey Walnut Shrimp Recipe
Panda Express Honey Walnut Shrimp plus egg rolls and fried rice equal takeout heaven. My entire family loves it, but one serving (even two) is never enough for all of us. Worse, seafood is often the most expensive thing on the Panda menu!
I don't want to go broke from eating at Panda Express, so I did the next best thing— create a copycat recipe that's every bit as creamy, crispy, and amazing as the original. Best of all, it's much cheaper than ordering in and you can have it as often as you want!
Is honey walnut shrimp a Chinese dish?
Due to the inclusion of mayo, some people think that it's a Chinese-American invention, but it's more of a Hong Kong-style Cantonese dish.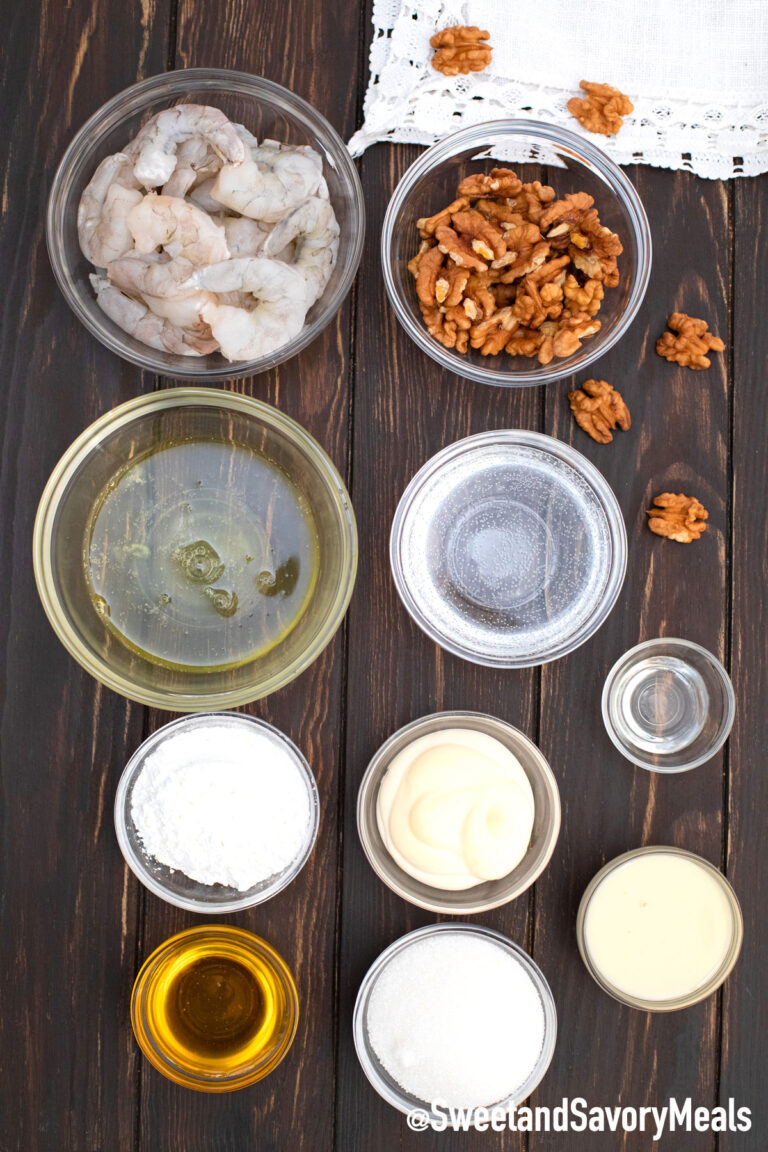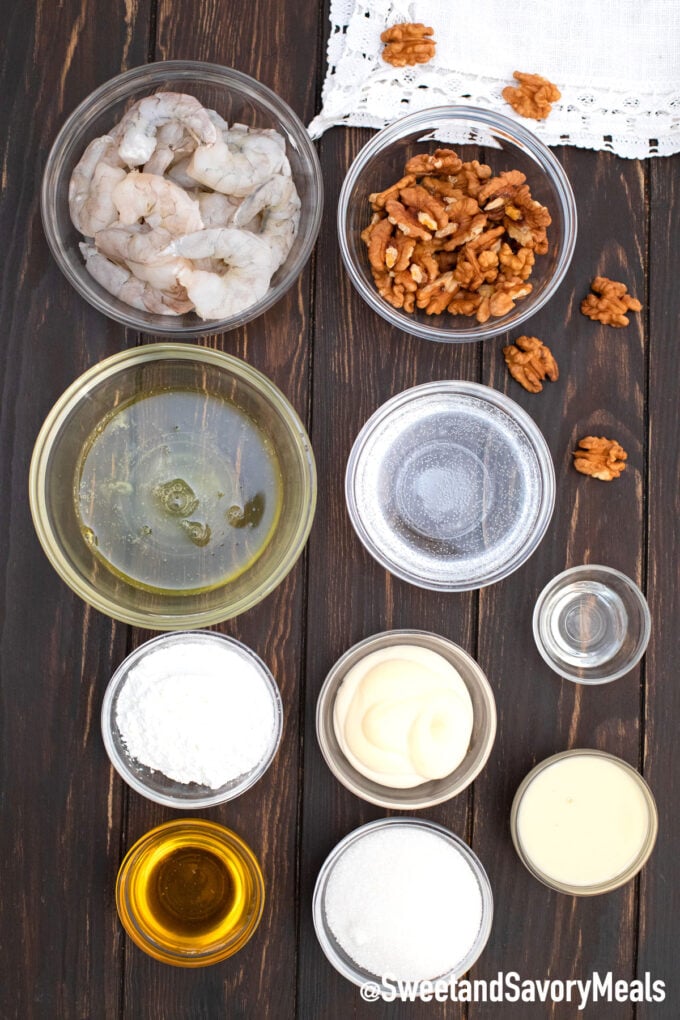 Where did honey walnut shrimp come from?
It was invented in Hong Kong by local chefs. Rumor has it, these Hong Kong chefs took the recipe to the US when a lot of them moved stateside during the 80s and 90s.
What's the honey walnut shrimp dish at Panda Express?
It's a seafood entrée made of fried, battered shrimp covered in a sweet sauce with glazed walnuts on top. Price-wise, this seafood dish costs more than most of the other entrees at the chain.
More Copycat Recipes:
How do you easily peel and devein raw shrimp?
First, gently twist off the head. Then, peel off the shell using your fingers (starting from the legs, where it's softer) or using kitchen shears (cut along the back where the shell is harder). Finally, use a sharp paring knife to lift the dark vein and pull it out.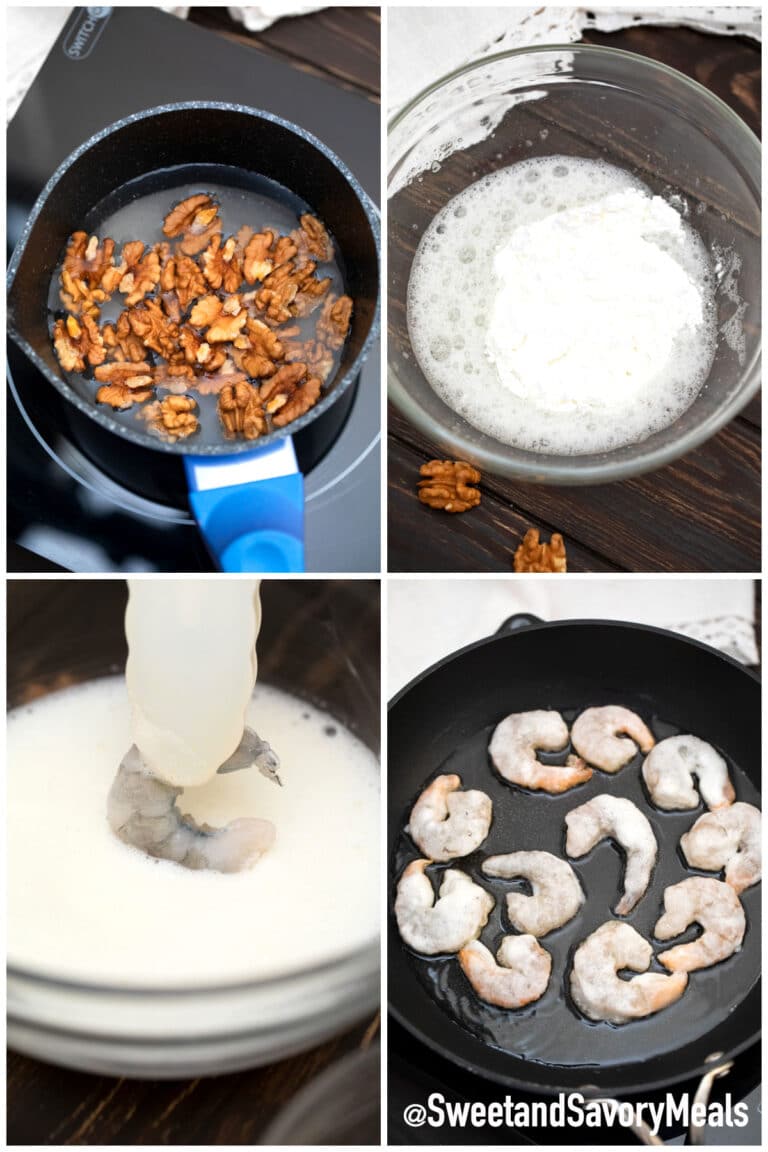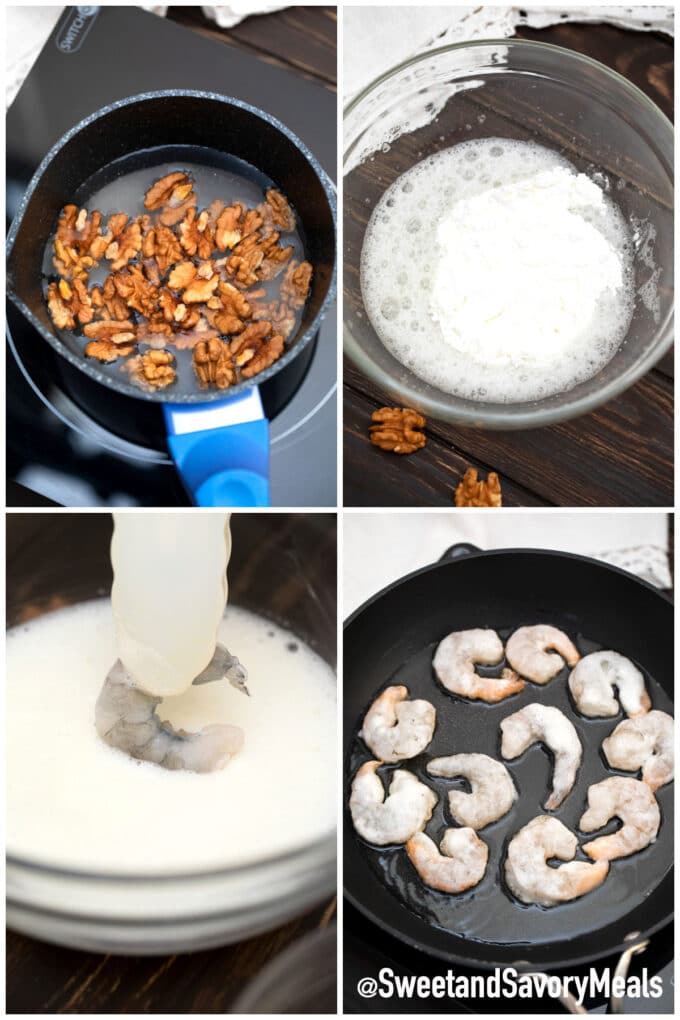 What are the ingredients for Panda Express Honey Walnut Shrimp?
For the battered shrimp:
Shrimp: Cleaned, with or without the tail left on.
Cornstarch: Gives the batter structure and makes it really crispy.
Egg whites: For a lighter tempura coating.
Oil: Use any neutral oil like vegetable or canola.
For the sauce:
Mayonnaise: Use your favorite brand!
Sweetened condensed milk: This is the secret to that perfect sweet, creamy, and sticky sauce.

Mirin: Adds salty-sweet umami to the sauce.
Honey: Thickens our creamy sauce plus adds more sweetness.
For the walnuts:
Prepare walnut halves, plus water and sugar for glazing.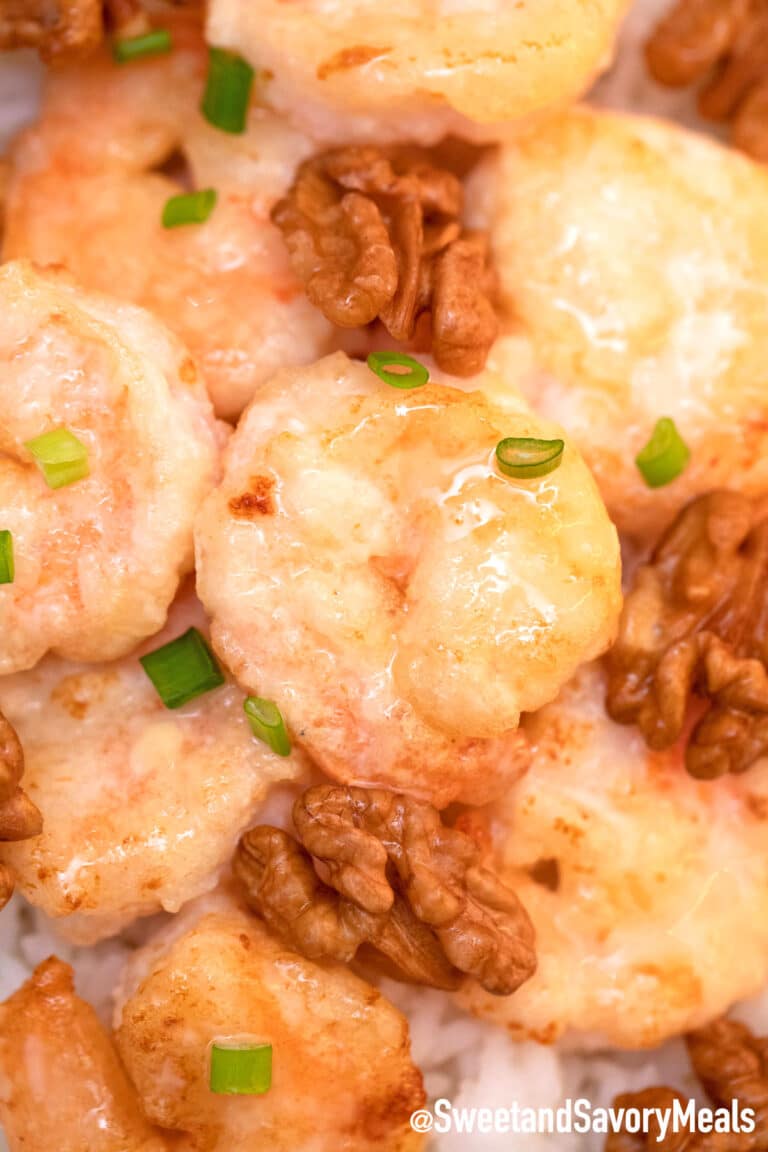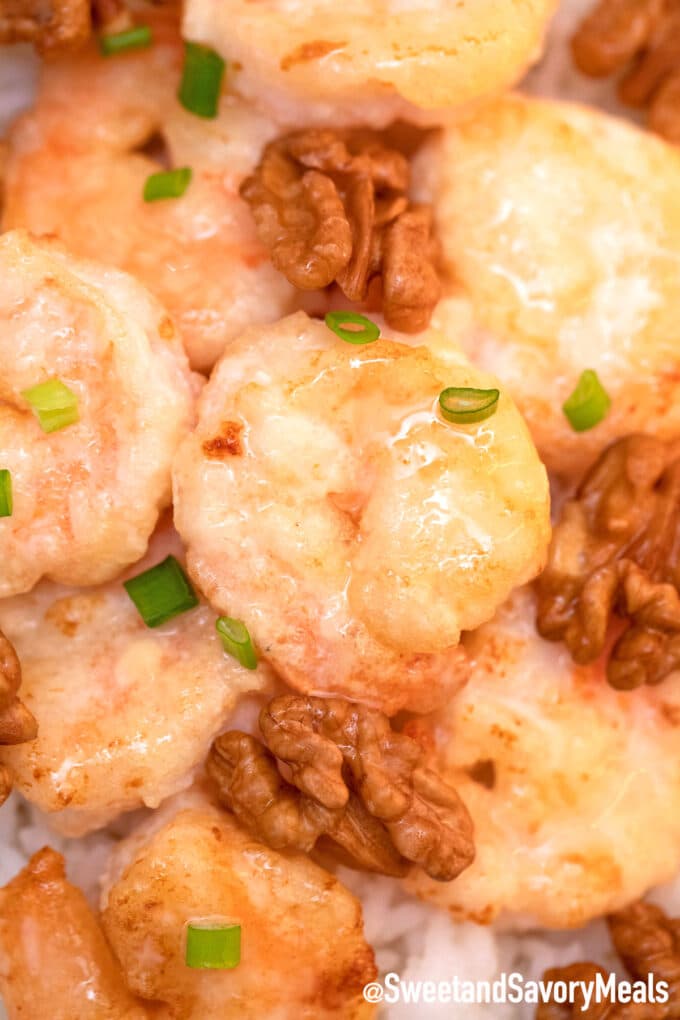 How do you make homemade Panda Express Honey Walnut Shrimp?
Glaze. Boil the nuts, water, and sugar together for about 2 mins, then dry on a dish.
Batter and fry. First, take your whites and whisk until very foamy, followed by the cornstarch. In this batter, submerge each piece of seafood. Fry in small batches until lightly golden.
Toss. Whisk the condensed milk with all the sauce ingredients. Toss the fried seafood into this sauce, and coat each piece well.

Serve. Transfer to a plate, sprinkle glazed walnuts on top, plus chopped scallions if desired. Enjoy immediately.
Recipe variations:
Use other nuts: Pecans, hazelnuts, or pine nuts are great substitutes!
Bake: Skip deep-frying! Coat the seafood with flour, egg wash, then panko. Bake at 400F for around 8 to 12 mins then immediately coat with sauce.

Grill: Cook on a hot grill for 3 minutes on each side, then toss in the sauce.

Shallow-fry: Skillet-fry the seafood in a little oil until opaque and pink before drenching in the sauce.
Mirin alternatives: Sub in some sweet marsala wine or dry sherry. You can also use dry white wine, but add half a teaspoon of sugar for every tbsp of wine to balance the sourness.
What goes well with Panda Express Honey Walnut Shrimp?
It's amazing on top of white rice, brown rice, or low-carb cauliflower rice. But for an authentic takeout meal, serve it with homemade fried rice! Don't forget the mixed veggies and Chow Mein!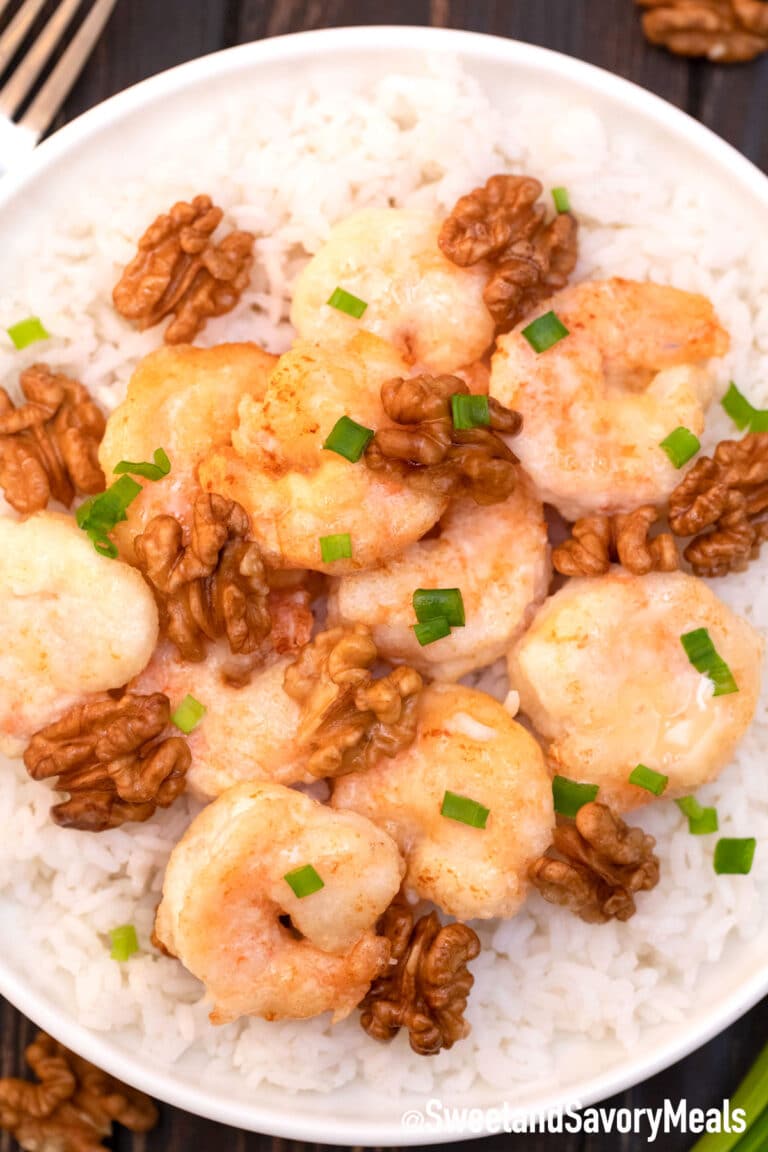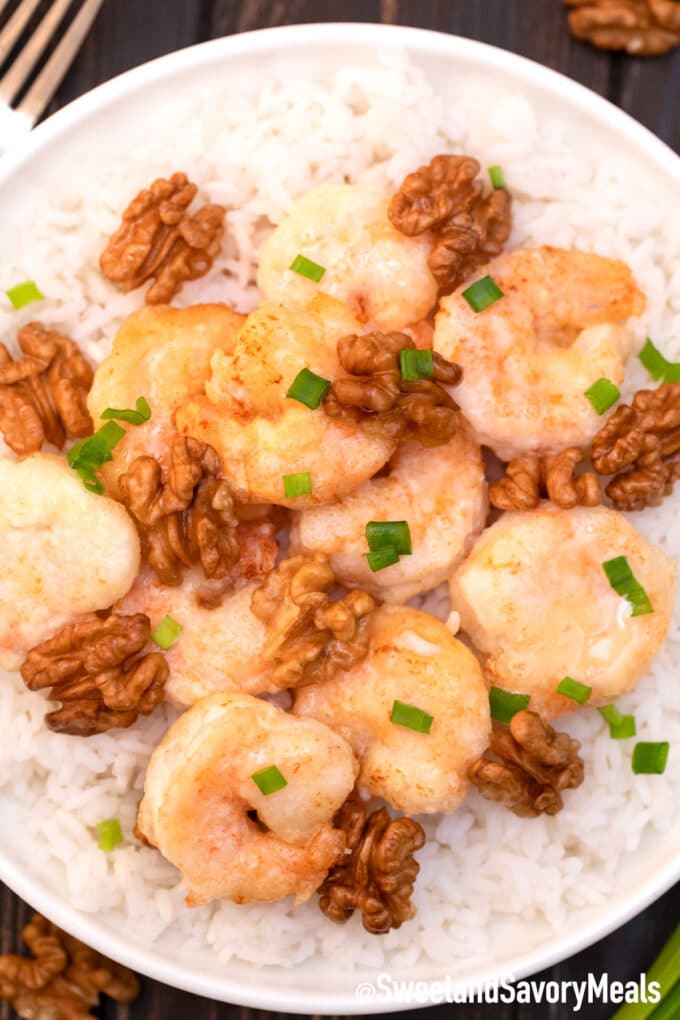 How to store leftovers:
This dish is best eaten right away because sauce-coated battered items like this tend to go soggy. In case there are still a few pieces left, make sure they're cool before transferring to a container and storing them in the fridge. Try to finish them within a day or two.
To reheat, place in a 350F oven for about 15 minutes to get some of that crispness back. Don't microwave, or it'll just get soggier.
More shrimp recipes:
Recipe tips:
For a lighter sauce, try using low-fat mayo.
Don't want it too sweet? Feel free to tweak how much honey and condensed milk you want in there.
You can use frozen seafood. Just defrost completely and pat as dry as possible before cooking.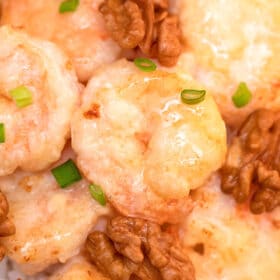 Panda Express Honey Walnut Shrimp
Panda Express Honey Walnut Shrimp is light, sweet, and crispy with the creamiest honey sauce. The homemade caramelized walnuts add a lovely crunch!
Save
Share
Print
Pin
Rate
Ingredients
1 ½

pound

large shrimp

(18-20 count - peeled and deveined)

1

cup

water

1/2

cup

white sugar

1

cup

whole walnut halves

4

egg whites

2/3

cup

cornstarch

1

cup

vegetable oil

(for frying)
Sauce:
1/4

cup

honey

1/4

cup

sweetened condensed milk

1

teaspoon

mirin

1/3

cup

mayonnaise
Garnish:
Chopped green onions

(for topping - optional)
Instructions
Add the water, sugar, and walnuts to a small saucepan over medium heat and bring to a boil.

Boil for two minutes and remove the walnuts, arrange them in one layer to dry, on a baking sheet covered with waxed paper.

In a medium bowl, whisk the egg whites until foamy, then add cornstarch and continue whisking until combined. Add the shrimp and stir to combine.

Heat the oil in a medium-sized pot on medium-high heat until it reaches 350 degrees F.

One at a time, using a fork, pick up 1 shrimp, let it drip off the excess coating so that the shrimp has a thin coating.

Fry until light golden brown, 4-5 minutes. Repeat with all the shrimp.

To make the sauce, combine all the ingredients in a large bowl and stir.

Add the fried shrimp to the sauce and gently stir to coat evenly.

Transfer to a serving plate and top with candied walnuts.

Serve immediately with rice and top with sliced green onions.
Nutrition
Calories:
718
kcal
|
Carbohydrates:
73
g
|
Protein:
40
g
|
Fat:
18
g
|
Saturated Fat:
4
g
|
Trans Fat:
1
g
|
Cholesterol:
443
mg
|
Sodium:
1530
mg
|
Potassium:
272
mg
|
Fiber:
1
g
|
Sugar:
54
g
|
Vitamin A:
63
IU
|
Vitamin C:
8
mg
|
Calcium:
308
mg
|
Iron:
4
mg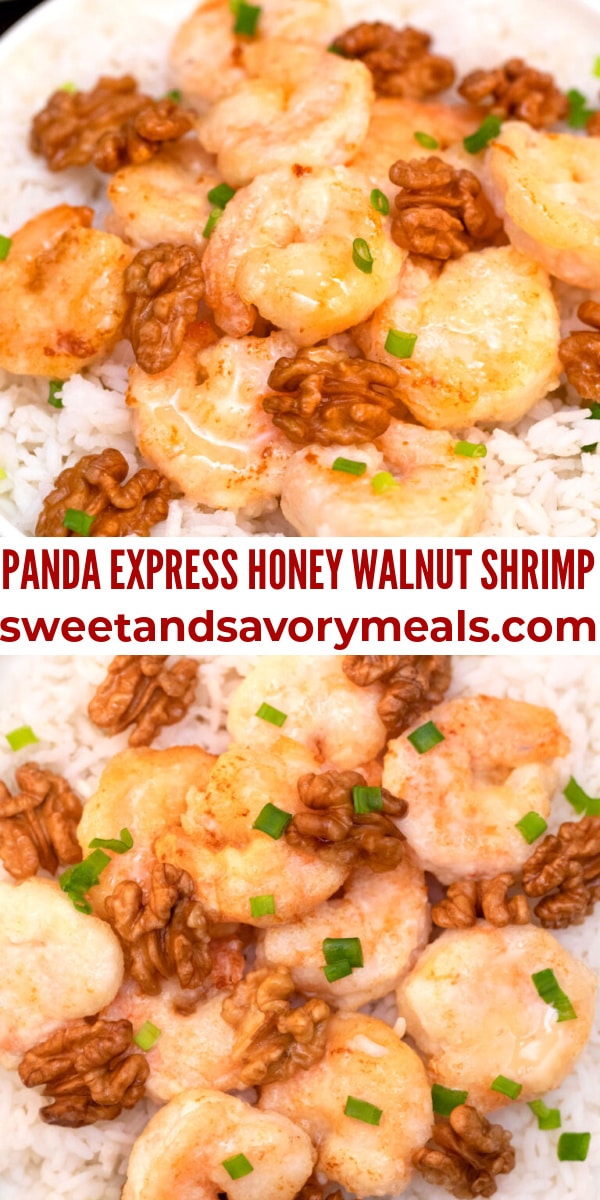 More recipes you might love