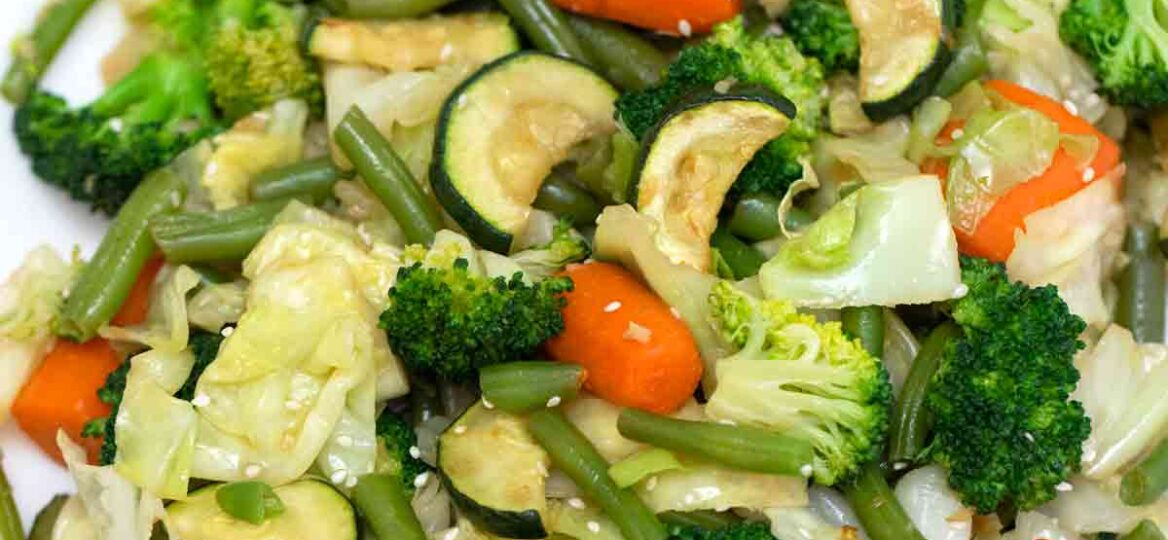 Panda Express Mixed Veggies (Copycat)
Panda Express Mixed Veggies is a delicious combination of fresh, crisp veggies stir-fried in soy sauce and aromatics, then finished up with a splash of sesame oil. This is a super healthy, quick, and hearty enough dish to be a meal on its own!
Who said eating vegetables had to be boring? Serve this refreshing Beet Salad, colorful Rainbow Roasted Vegetables, or Cheesy Baked Green Beans, and watch everyone ask for seconds!
Panda Express Mixed Veggies Recipe
Panda Express Mixed Veggies is never absent from my Panda Express orders. The chain's Asian sauce and wok stir-frying method turn common vegetables into something as delicious as any entrée!
Sadly, the chain's version has always been too oily for me. Since I don't want to miss out on my favorite veggie dish, I set out to recreate it at home.
And trust me, this copycat is every bit as good as the original— even better because it's so much healthier and cheaper than take-out. This is a fantastic vegetarian side dish or meatless main, and it takes less than 30 minutes from prep to the table!
Panda Express Mixed Veggies Ingredients:
Chicken Stock: Used both as a boiling liquid for the veggies, and to infuse them with umami and flavor. Also, you can make your own chicken stock at home.
Soy Sauce: Use low-sodium if you want less salt in your dish.
Broccoli: A superfood, make sure to cut into bite-sized florets.
Zucchini: This tender vegetable adds a little sweetness to the dish. Slice into half-circles.
Carrots: Adds crunch and color! Peel then sliced into rounds.
Green Beans: Clean and trim carefully, and slice in half.
Cabbage: Chop into large pieces.
Sesame oil: I love the extra smokiness that toasted oil adds to the dish.
Garlic: Take four cloves and mince finely.
Ginger: We're using fresh for maximum aroma and flavor; mince finely.
How to make Panda Express Mixed Veggies?
Cook the veggies. First, boil the stock with water in a large pot. Then, take all the vegetables, and cook them in the broth for around 5 to 7 minutes until the carrots get soft and the broccoli becomes bright green. Drain very well and set aside.
Sauté. Next, stir-fry the minced aromatics in hot sesame oil until fragrant. Add the veggies, followed by the soy sauce. Toss everything well to coat.
Serve. Enjoy hot, with a sprinkle of white sesame seeds on top for garnish.
Recipe variations and substitutions:
Make it super green: Turn this into an all-green veggie dish by keeping the cabbage and broccoli, and subbing kale for everything else!
Add meat: Feel free to add protein into this stir-fry. Also, I recommend slicing the meat thinly (some great options are juicy shrimp, thigh meat, pork, and flank steak), toss in a bit of cornstarch for crisp, and brown. Set aside, then proceed with the rest of the recipe. Add back at the end.
Add tofu: Boost the protein while keeping the dish vegetarian by adding tofu cubes or strips.
Make it spicy: If you want heat, toss in a few sliced chili peppers into the stir fry, or a sprinkle of pepper flakes.
Use other vegetables: Add white or brown mushrooms, fresh snow peas, baby corn, and chopped cauliflower.
Can I use frozen vegetables to make this dish?
No problem! But remember not to let them thaw before boiling in the broth, or they'll become soggy. Just put them in the liquid straight from the freezer.
What to serve with Panda Express Mixed Veggies?
It's the perfect side for most Asian entrees, like Mongolian Drumsticks, Sesame Chicken, and General Tso Chicken.
In addition, I love serving it over white rice with a side of Crispy Baked Tofu when I'm craving a hearty but light meal.
How to store leftovers?
First, cool the leftovers completely before putting them into a tightly-sealed container. Then, refrigerate and serve within two days for the best texture and taste.
If you want to keep it longer, freeze it instead. Frozen stir-fries can last up to a month. Thaw overnight and microwave until hot to reheat.
More delicious Panda Express Recipes:
Recipe tips:
Cut the vegetables in roughly the same sizes so they cook evenly and at the same time.
Also, try using toasted instead of regular sesame oil. The intense, nutty taste is so good!
Drain the boiled veggies well so they crisp up while stir-frying instead of steaming.