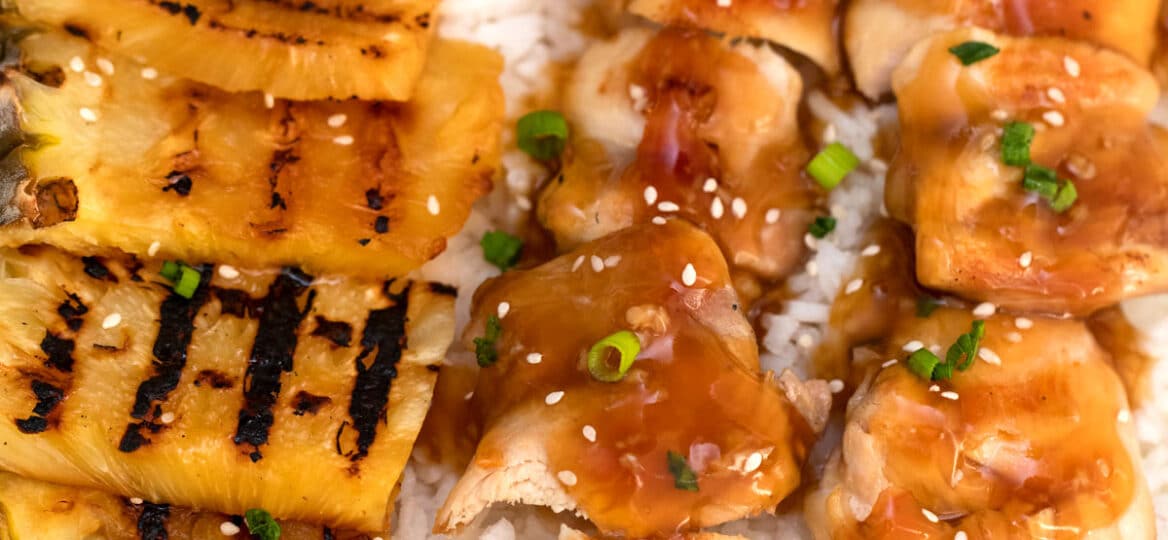 Panda Express Mandarin Teriyaki Chicken [Video]
Panda Express Mandarin Teriyaki Chicken is made with the juiciest grilled chicken then glazed with that amazing ginger-garlic sauce. A satisfying Chinese take-out dish that is quickly and easily made at home!
Stir-fry recipes are a lifesaver during busy days when you want a homemade meal but you're short on time. This Sweet and Sour Shrimp, the Best Hunan Beef, and Thai Fried Rice are delicious and take less than 30 minutes from pan to table!
Panda Express Teriyaki Chicken (Copycat)
Panda Express Mandarin Teriyaki Chicken used to be a crowd-favorite at the famous chain. I say "used to," because they pulled it out of the menu and replaced it with regular teriyaki chicken.
It's good but frankly not the same. Especially the sauce. The Mandarin Teriyaki glaze is so good with a thick sweet glaze that takes this dish to another level. If you want their original version, they still sell it by the bottle!
If you miss this Panda entrée, or if you've never tried it, you'll fall in love with this recipe. It maintains all that authentic goodness while also being healthier because it's made from scratch, with ingredients you control.
It's also much faster than waiting for delivery or driving to the chain. Perfect with white coconut rice or more vegetables like steamed broccoli. But for that take-out flair, feel free to enjoy it with grilled pineapple on the side!
Panda Express Mandarin Teriyaki Chicken Ingredients:
Aside from being quick and tasty, you only need a few common pantry ingredients for this recipe:
Canola oil – a neutral-tasting oil perfect for coating meat for grilling.
Thighs – the juiciest part of the chicken! I also recommend using boneless ones, with or without skin (depends on your preference, but the skin tastes awesome with those grill marks and glaze).
Soy sauce – I use low-sodium to lessen the salt in the dish.
White and brown sugar – not just for sweetness, but to help us achieve that sticky glaze consistency.
Garlic – try to mince it as finely as you can so it gets distributed in the sauce. Also, you can go with garlic powder.
Lemon juice – brightens up the flavors with a nice tang.
Fresh ginger – again, try to mince as finely as possible.
Cornstarch slurry – a simple mix of water and cornstarch used to thicken the sauce.
Water – to loosen our sauce.
How to make Panda Express Mandarin Teriyaki Chicken?
Grill the thighs – Coat them with oil, then add to a hot grill pan. Flip after 3-5 minutes, until each side has char lines.
Make the sauce – Boil all the sauce ingredients except for the slurry. After a couple of minutes, pour slurry and lower heat. Then, simmer until it gets thicker.
Serve – Chop the thighs into strips. Lay on a plate and drizzle with the Mandarin Teriyaki glaze. Serve Panda Express-style with grilled pineapple on the side, or with other sides like rice and steamed veggies.
Recipe Substitutions and variations:
Use other meats: this recipe will also work with grilled pork, shrimp, beef, or even white fish.
Make it spicy: make it hotter with a dash of chili flakes or freshly chopped jalapeno peppers.
Bake or pan-fry: no grill pan? No problem! Pan fry or bake the thighs in the oven instead.
Vegetarian version: try this with fried tofu instead of meat. It is equally delicious.
What to serve with Panda Express Teriyaki Chicken?
The classic way to serve this is with grilled pineapple because the fruity sweetness is perfect with the sauce.
I also recommend enjoying this with white rice, brown rice, or make it extra special with coconut rice and fried rice.
For a lighter meal, serve it with steamed broccoli on the side. Asian soba noodles go great with the dish too!
Storing instructions:
For left-overs, make sure the dish is completely cool to avoid watering down the glaze. Then, store in the fridge using a sealed container and consume within a day or two.
You can also freeze it, but make sure to enjoy it within a month or less for the best texture. Thaw and microwave until thoroughly hot.
If you're making it ahead, I recommend keeping the grilled meat and the sauce separate. Also, you can heat them up separately, and then just drizzle the glaze just before serving.
More delicious Asian recipes:
Recipe Tips:
I definitely recommend using thighs for this recipe because it cooks fast and remains tender. However, if desired, you can easily use white breast meat instead.
Make sure the grill is hot before placing the meat on it. This helps you achieve those beautiful grill marks.
Also, don't forget the oil coating to prevent the thighs from sticking to the grill!
Mix the cornstarch thoroughly in the water to avoid that floury taste. There should be no dry pockets in the slurry. Try using hot water so it's easier to dissolve.
Deliciousness to your inbox
Enjoy weekly hand picked recipes and recommendations