Mexican Street Corn Nachos Recipe
Last updated on August 31st, 2022 at 05:01 pm
Mexican Street Corn Nachos take the famous street food to a whole new level, this is the perfect appetizer or game night dish. Filled with three different kinds of cheese, corn, sour cream, fresh lime juice, and jalapeno for a kick, this dish is the best thing that ever happened to tortilla chips.
If you are looking for more Mexican recipes, try our Chipotle Chicken Nachos made with Greek yogurt and chicken breasts or Mexican Street Corn Dip seasoned with pepper jack cheese and cream cheese. Another delicious way to enjoy corn is this Crack Corn Salad covered in a homemade ranch salad dressing with milk and buttermilk.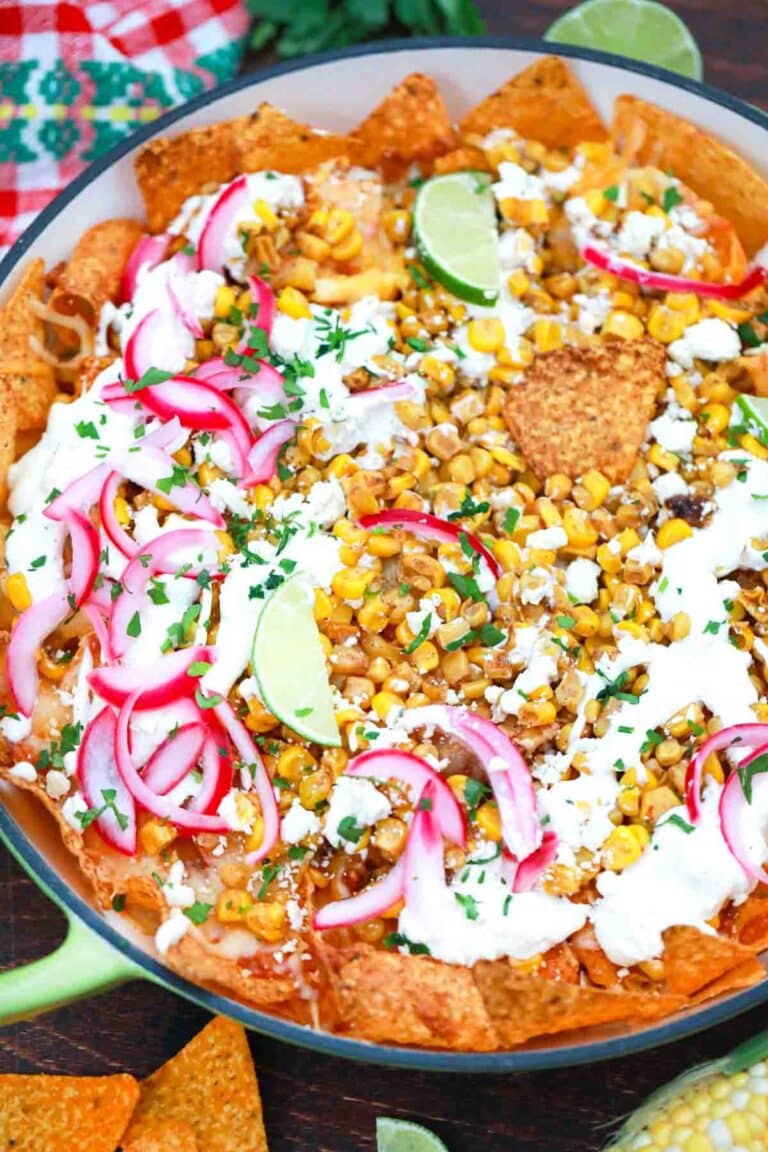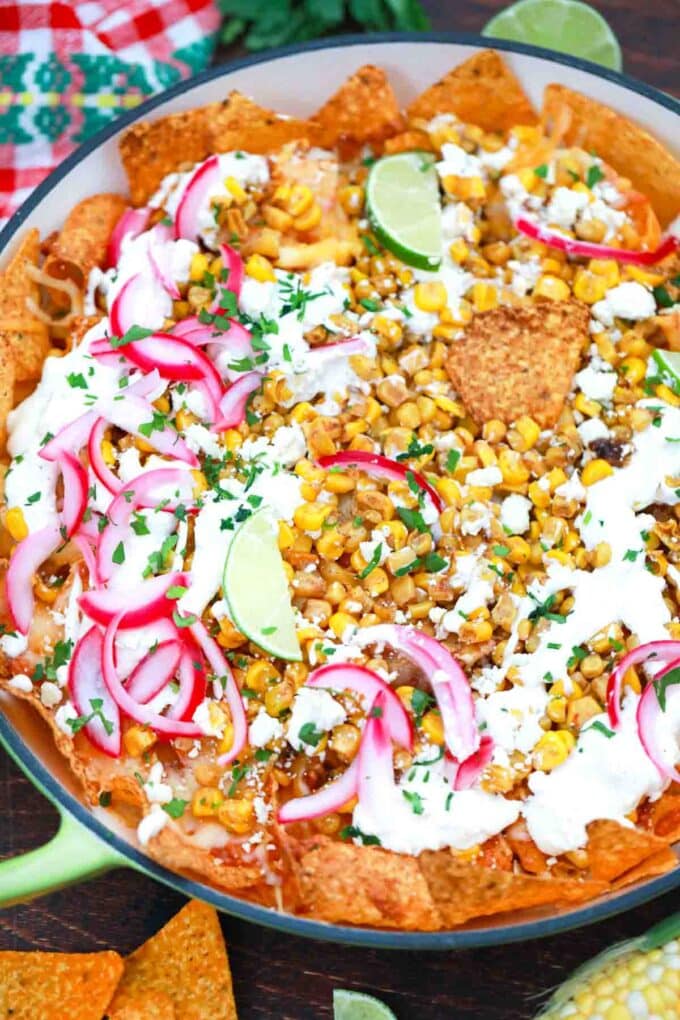 If you ask several people who invented nachos, you are likely to get several different answers but they will almost always agree that it came from Mexico. It was first created by and named by Chef Ignacio Anaya Garcia in 1940 at the Piedras Negras Victory Club.
His original recipe calls for just three ingredients including cheese, tortilla chips, and pickled jalapenos. Whether you are planning a Cinco de mayo party or need a new dish for the big game, this new way to serve nachos is a delicious choice.
Try these corn nachos in different ways such as with lemon juice, taco seasoning, or Mexican crema. If you cannot find Mexican crema, use sour cream with a tablespoon of milk. This recipe is my family's favorite way to eat nachos.
If you like these corn nachos, try some of our other corn recipes like Mexican street corn chicken tacos seasoned with creamy avocado sauce. Or try our creamy instant pot corn chowder with bacon and potatoes. This avocado corn salad is scrumptious and you do not even have to cook it.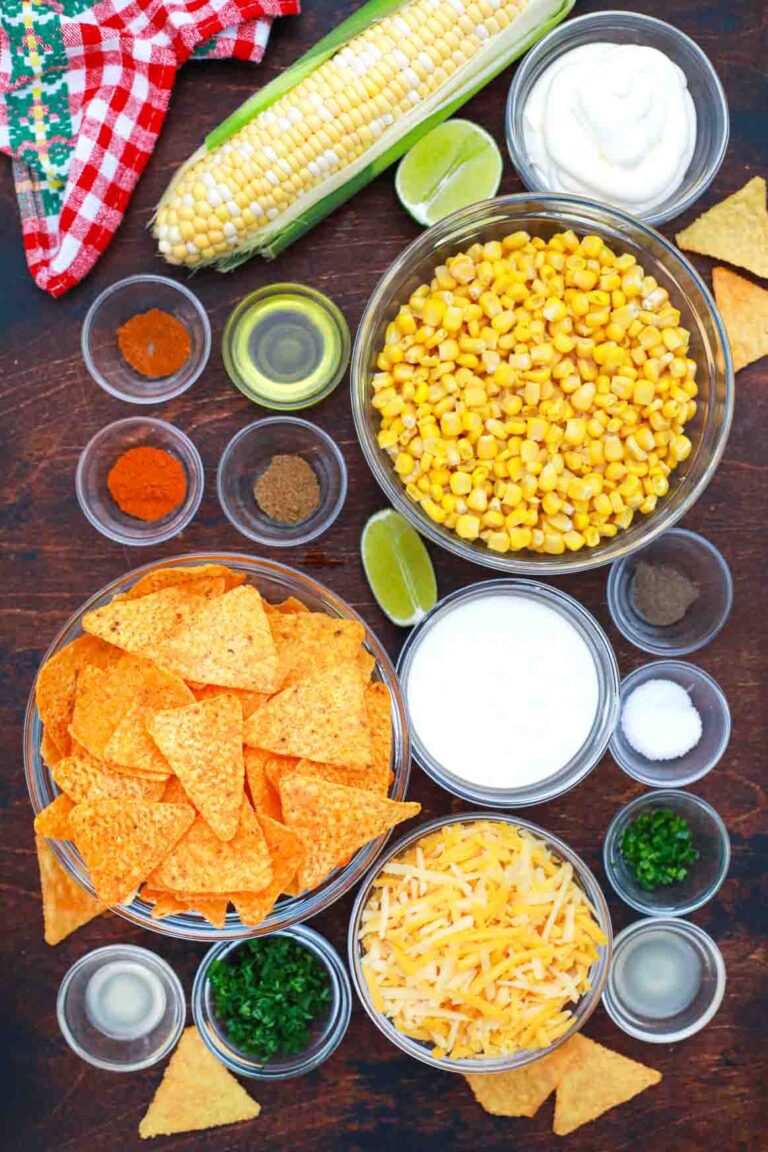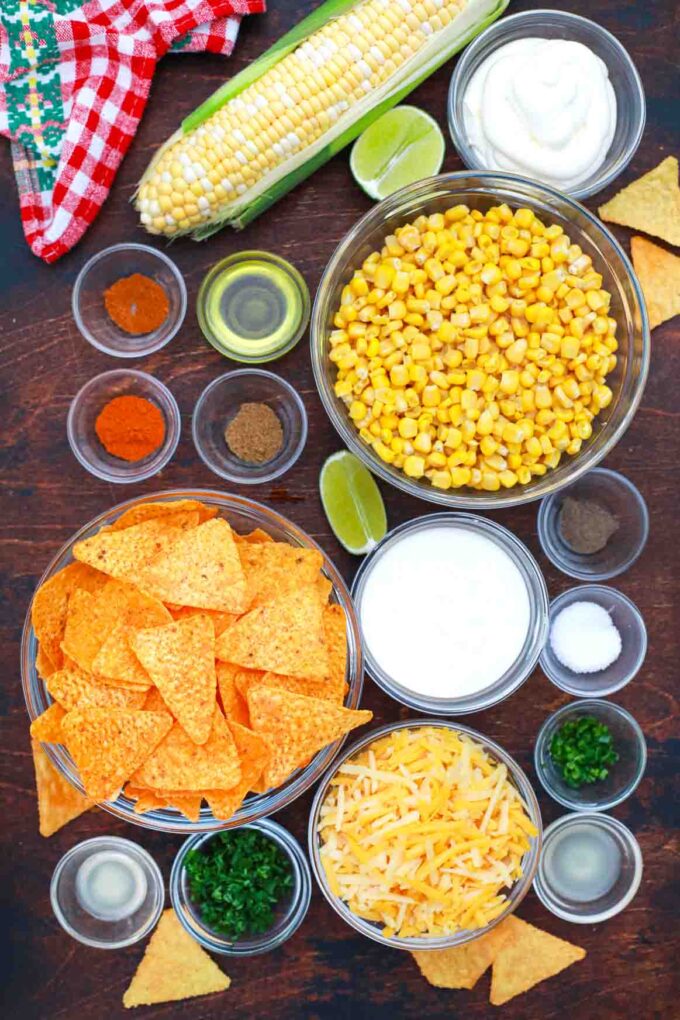 Ingredients needed:
You only need a handful of simple ingredients for this amazing street corn nachos dish. For the instructions and exact measurements, scroll down to the bottom of the page for our printable recipe card.
Fresh corn kernels: Frozen corn will work too but thaw and drain.
Corn tortilla chips
Pepper jack cheese
Mexican cheese
Crumbled cotija cheese
Sour cream
Mayonnaise
Jalapeño: Seeded and minced.
Fresh lime juice: Divided.
Extra-virgin olive oil
Cumin
Chili powder
Paprika
Kosher salt
Freshly ground black pepper
Garnish:
Lime wedges
Pickled red onion
Chopped cilantro: Fresh cilantro is best.
Crumbled cotija cheese
How to make Mexican street corn nachos in the oven?
Preheat: To begin, preheat the oven to 375 degrees F and add oil to a large ovenproof frying pan like a cast iron skillet. You could also use a large sheet pan.
Heat the corn: While you wait for the oven to heat, add corn with paprika, chili powder, cumin, salt, and pepper and cook for about two minutes in the skillet on high heat. Then, pour the corn into a large bowl and wipe out the skillet.
Add the spice: Next, add jalapeno and one tablespoon of lime juice to the corn and stir thoroughly.
Make mayo mixture: After, combine the rest of the lime juice with the cotija cheese, mayo, and sour cream in a medium bowl and season with salt and pepper to taste.
Bake the nachos: Then, put tortilla chips down on the sheet pan in a single layer and cover with cheese. Continue to layer your chips with the remaining cheeses and tortilla chips in the skillet or on a large baking sheet pan and bake for five minutes or just until the cheese is starting to melt.
Remove and garnish: Last, remove from the oven and top with the corn mixture, mayonnaise mix, cotija cheese, cilantro, and pickled red onion.
Serve with toppings: Serve immediately with sour cream and other toppings on the side.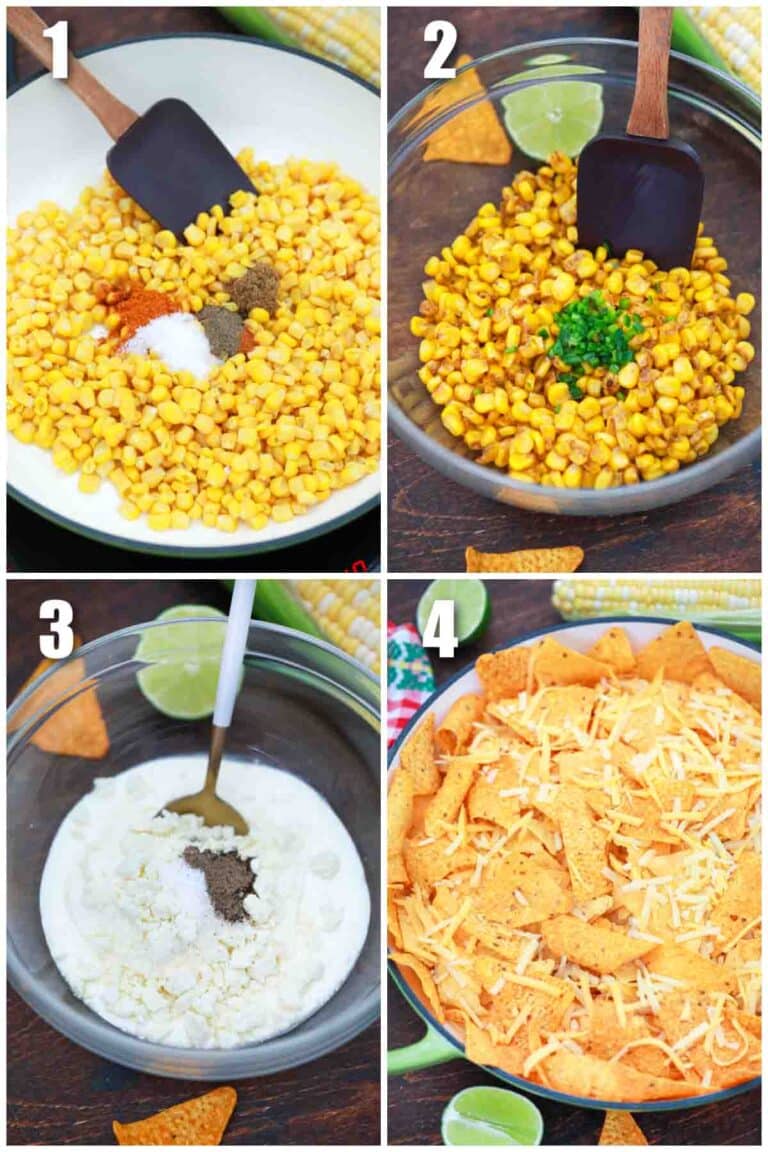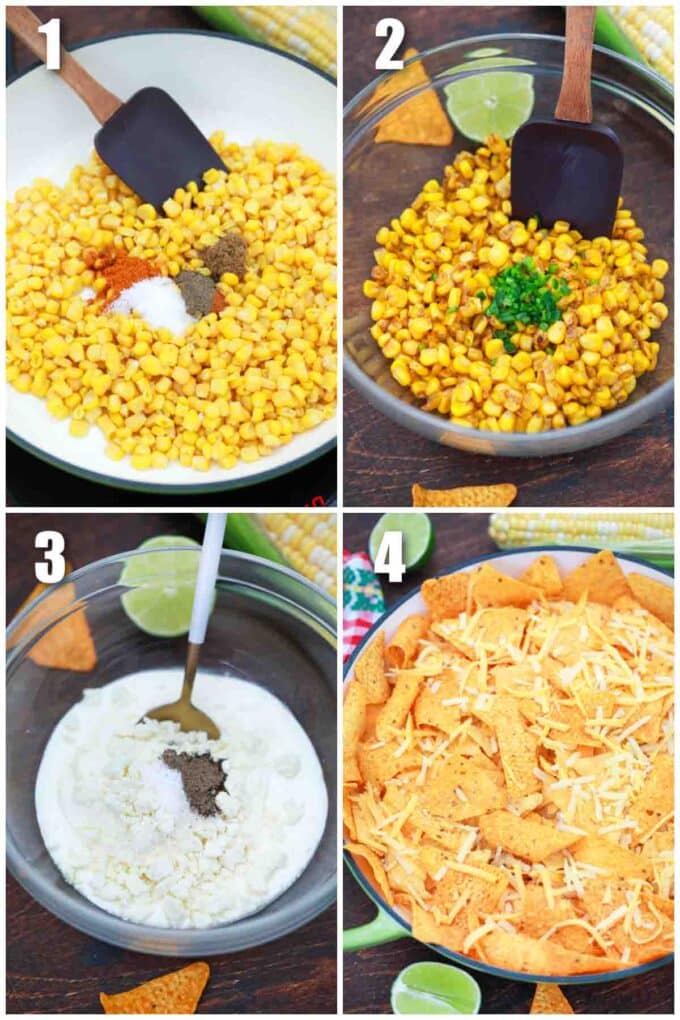 How to make Mexican street corn nachos on the grill?
Heat oil: First, add your oil to a large skillet and bring it to a simmer over high heat.
Heat the corn: Next, add the corn, paprika, cumin, chili powder, salt, and black pepper, and heat over high heat for two minutes.
Stir in the jalapeno: Then, in a large bowl, mix the corn, one tablespoon of lime juice, and jalapeno until combined.
Make the sour cream mixture: In a separate bowl, mix the sour cream, mayo, cotija cheese, salt, and pepper with the rest of the lemon juice.
Heat the nachos: When ready, layer the chips and cheese sauce in the skillet and grill for about five minutes or until the cheese is melted.
Add the toppings: After, top with the mayo mix, corn combination, red onion, cilantro, and the rest of the cotija cheese.
Serve immediately: Lastly, serve while still hot with your family's favorite toppings.
Recipe variations:
Canned corn: You could also use canned corn to shorten prep time.
Grilled corn: Why not grill your corn first to make it extra flavorful?
Make it hotter: If one jalapeno is not enough spice for you, toss in a pinch of red pepper flakes or cayenne pepper.
Less heat: Alternatively, if your family is not into spicy food, you can omit the jalapeno or replace it with anaheim or poblano peppers.
Sweeten it up: Like sweet and hot dishes? Add a few tablespoons of brown sugar to your sour cream mixture.
Other cheeses: If you cannot find cotija cheese, feel free to use other cheeses like feta, queso fresco, or Monterey jack cheese.
More cheese: You can also substitute cotija with ricotta.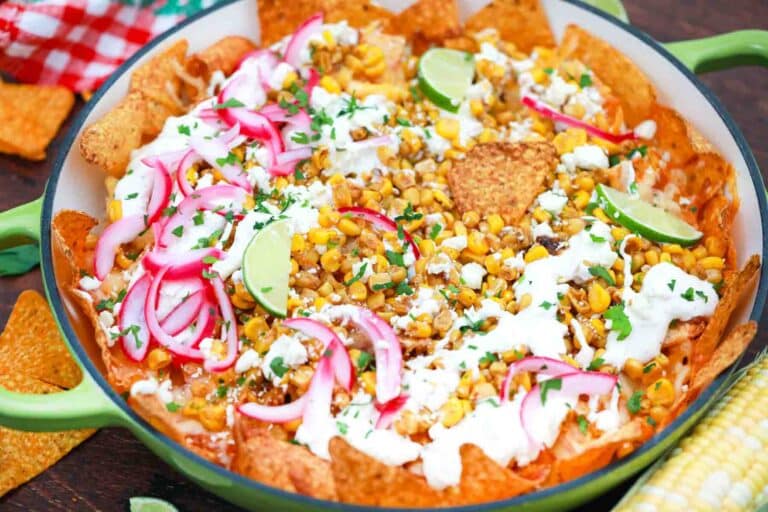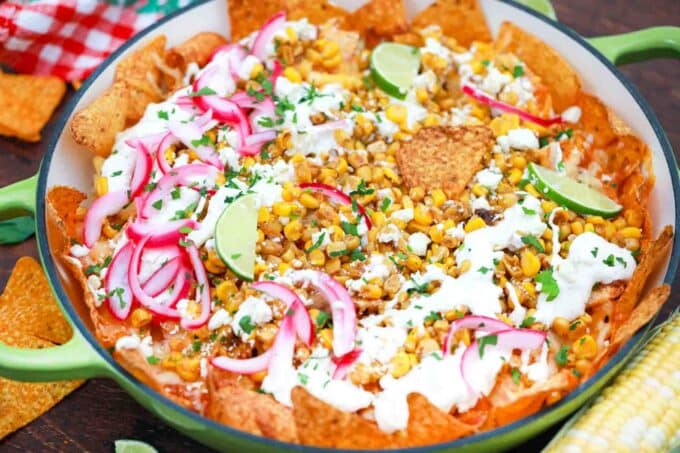 How to serve:
You can serve this delicious nacho recipe on game day or any day of the week when you want a snack, a side dish, or the base of a nice meal. Try one of these ideas or share one of your own with us below.
Instead of tortilla chips, you can use corn chips or fried tortilla strips.
Add our delicious shredded chicken or some other meat to your nachos to make it a hearty meal. Our recipe for shredded chicken is fast and easy as well as tasty.
You could also top with chopped tomatoes, green peppers, white onions, green or black olives, bell peppers, or whatever else you like.
Drizzle hot sauce or your favorite salsa on these nachos so you do not have to worry about dipping. Try our recipe for homemade salsa.
Sprinkle parmesan or romano cheese on top for a richer flavor.
The flavors of these nachos taste great with any of our Mexican dishes like Mexican pot roast made from beef chuck roast or this air fryer chicken and veggies with zucchini and balsamic vinegar.
Use leftovers in your next Mexican casserole or salad.
Chipotle sauce is another way to top this delicious Mexican street corn nachos recipe. Try our five-minute chipotle sauce recipe.
Enjoy our Mexican street corn nachos with a frosty margarita or glass of ice-cold Mexican beer.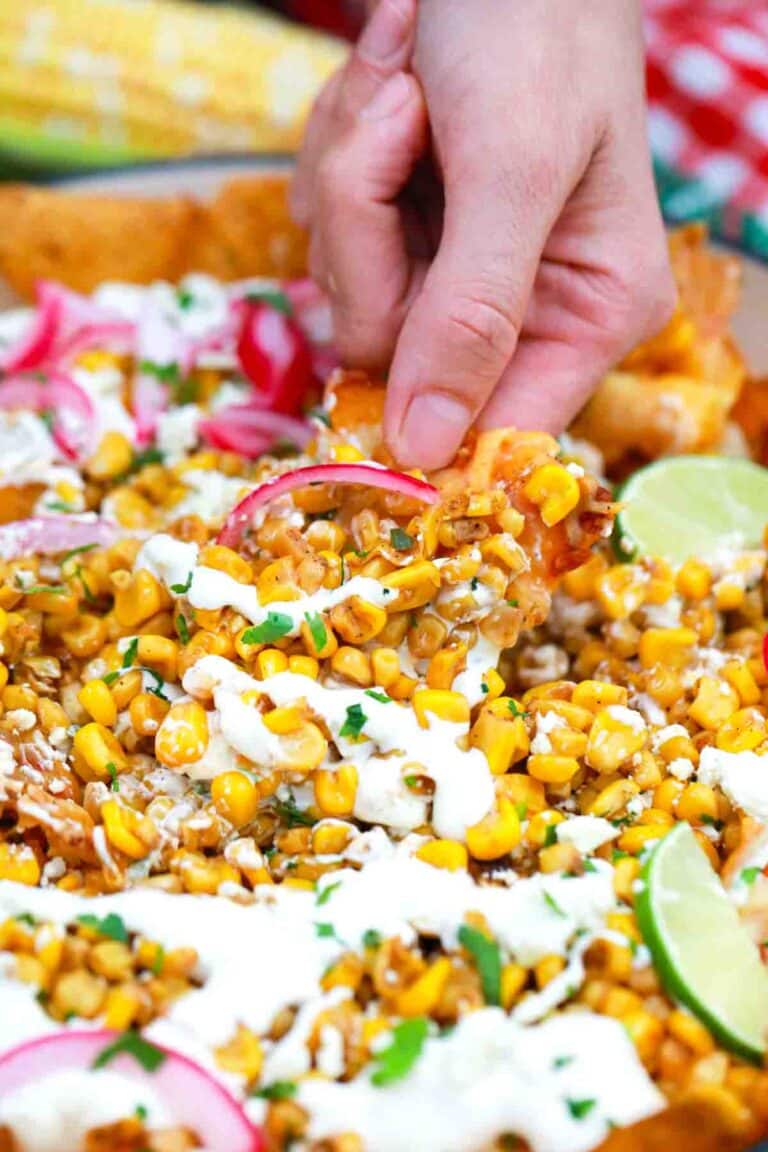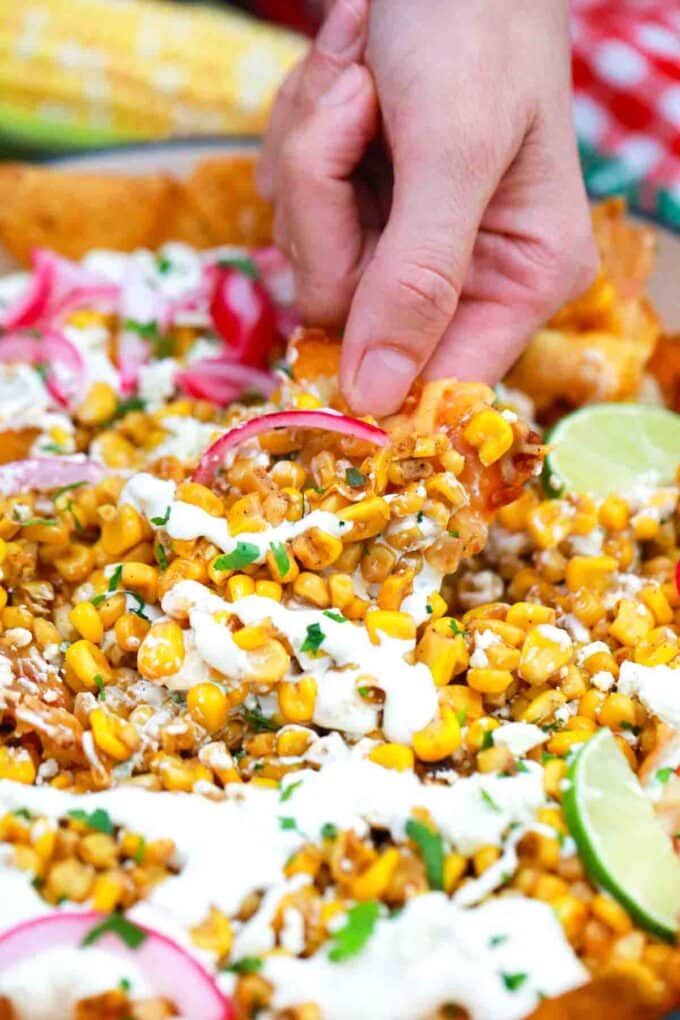 Frequently asked questions
How is traditional street corn made?
In Mexico and other areas where Mexican cuisine is popular, you can find street vendors selling corn all over the place. You may also hear it referred to as elote, because elote means corn in Spanish.
It is made by grilling the corn while it is still on the cob and then coating it in lime zest or juice, chili powder, melted cheese, Mexican crema, and mayonnaise.
What can I use instead of cilantro?
Believe it or not, many people do not like the taste of it. In fact, some think it tastes like soap! So, instead of this popular spice, you can try some others that will do nicely. Some of the best choices are dill, basil, parsley, cumin, oregano, and caraway seeds.
What are some Mexican dishes that are not often eaten in Mexico?
Although they were made in Mexico, nachos are rarely eaten in Mexico. For that matter, you probably will not find chimichangas, burritos, chili con carne, or fajitas on a family dinner table there. They do not often use queso either because it is made with cheddar and the favorite cheese in Mexico is cotija.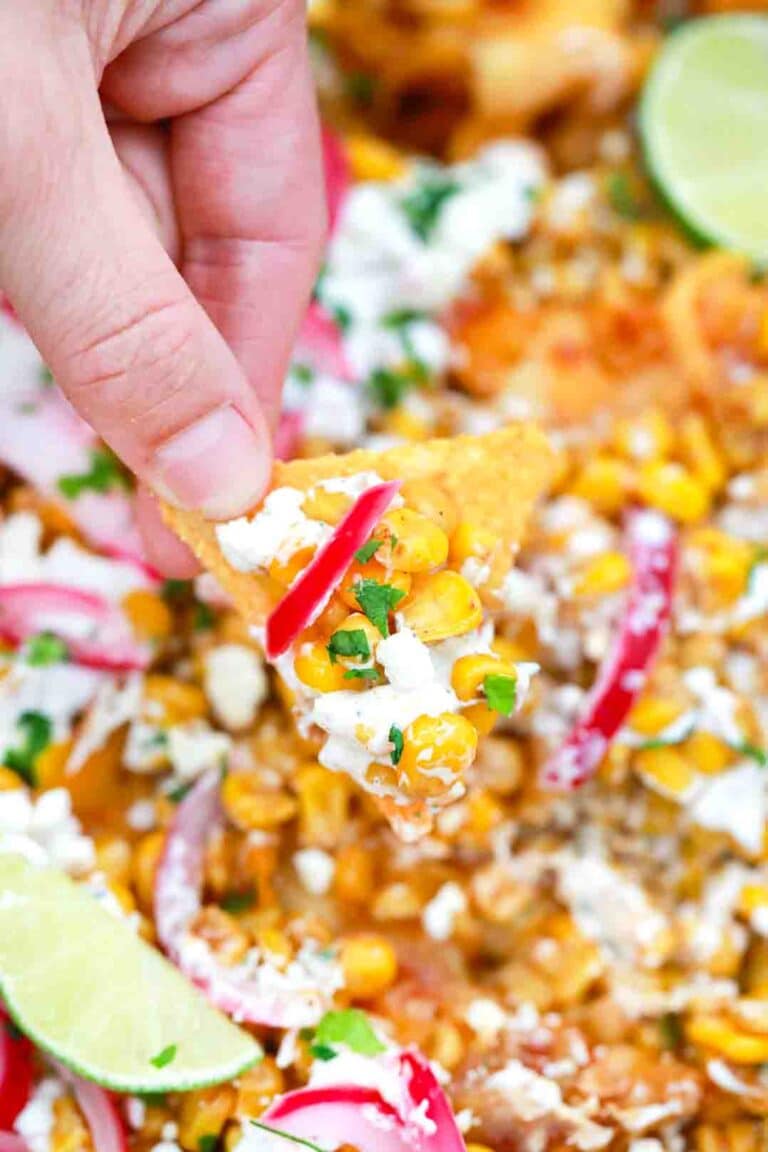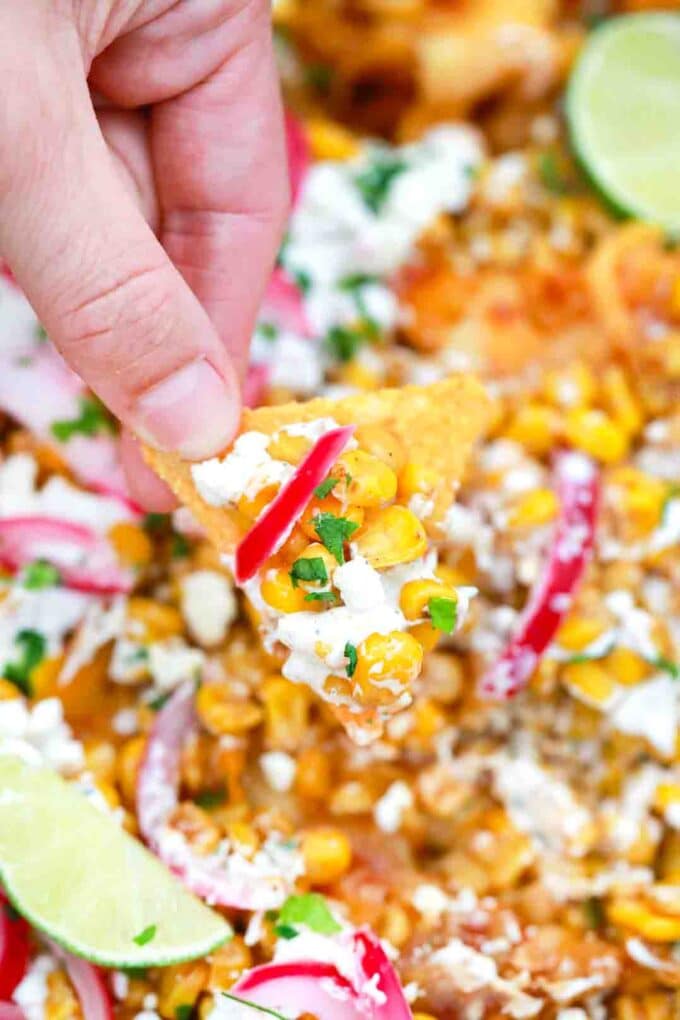 What are the nutrition facts in this recipe?
Since the main ingredient is corn, you know this recipe has a lot of nutrients. However, it is slathered with melted cheeses and cream so you may be concerned about the fat and calories. Nutrition is an important factor but when you are having a treat like this, you should not worry unless you plan to eat it every day.
That being said, one serving of delicious street corn nachos has almost 650 calories, 42 grams of fat with 18 grams of saturated fat, 75 milligrams of cholesterol, 52 grams of carbs, and 5 grams of sugar. But you also get 21 grams of protein, 8 milligrams of vitamin C, 5 grams of fiber, 545 milligrams of calcium, and 2 milligrams of iron.
How to store leftovers:
Store: If you have leftovers, remove the tortilla chips, and just store the rest of the nachos in an airtight container. It will stay fresh in the fridge for three to four days.
Freeze: If you plan ahead, you can freeze the nachos ingredients without the chips for up to two months.
Thaw: For best results, thaw overnight in the fridge.
Reheat: Use the microwave to reheat your sauce before adding more tortilla chips and other toppings.
More appetizers:
Cooking tips:
Be sure to remove the seeds from the jalapeno unless you want super spicy nachos.
Also, it is best to wear disposable kitchen gloves when handling jalapenos to prevent the juice from burning your skin or eyes.
This is sure to be one of your favorite recipes so make sure you print it and save it in your recipe box.
Use pre-packaged chopped veggies and store-bought seasonings to shorten prep time.
No fresh corn in the produce section? That is okay, you can use canned or frozen corn instead.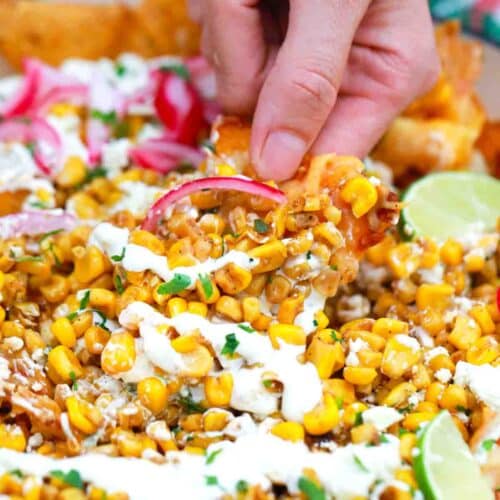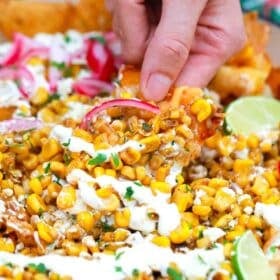 Mexican Street Corn Nachos
Mexican Street Corn Nachos take the famous street food to a whole new level, this is the perfect appetizer or game night dish.
Save
Share
Print
Pin
Rate
Ingredients
2

tablespoons

extra-virgin olive oil

3

cups

corn kernels

(fresh or frozen - if frozen thaw)

1

teaspoon

cumin

1/2

teaspoon

chili powder

1/2

teaspoon

paprika

Kosher salt

(to taste)

Freshly ground black pepper

(to taste)

1

jalapeño

(seeded and minced)

2

tablespoons

fresh lime juice

(divided)

1/2

cup

sour cream

1/2

cup

mayonnaise

1/3

cup

crumbled cotija cheese

9

oz

package corn tortilla chips

1 1/2

cup

Mexican cheese

1

cup

pepper Jack cheese
Garnish:
2

tablespoons

crumbled Cotija cheese

2

tablespoons

chopped fresh cilantro

Pickled red onion
Instructions
Preheat the oven to 375 degrees F.

Place a large ovenproof skillet over high heat, and heat the olive oil.

Add corn, cumin, chili powder, paprika, salt, and pepper. Toss and cook, for about 2 minutes.

Transfer the cooked corn to a large bowl and wipe out the skillet.

Add the jalapeño and 1 tablespoon of lime juice to the corn mixture and stir to combine.

In a small bowl, stir sour cream, mayonnaise, cotija cheese, and the remaining 1 tablespoon of lime juice; season with salt to taste.

Add one layer of chips to the skillet and sprinkle cheese on top, repeat with all the chips and cheese, creating layers. Bake until cheese is melty, for about 5 minutes.

Top the chips with the corn mixture, and mayo mixture, store a bit to combine and distribute it evenly on top.

Garnish with Cotija cheese, pickled red onion, and cilantro. Serve immediately.
Nutrition
Calories:
496
kcal
|
Carbohydrates:
33
g
|
Protein:
14
g
|
Fat:
35
g
|
Saturated Fat:
12
g
|
Polyunsaturated Fat:
11
g
|
Monounsaturated Fat:
11
g
|
Trans Fat:
0.05
g
|
Cholesterol:
53
mg
|
Sodium:
666
mg
|
Potassium:
227
mg
|
Fiber:
3
g
|
Sugar:
4
g
|
Vitamin A:
499
IU
|
Vitamin C:
4
mg
|
Calcium:
356
mg
|
Iron:
1
mg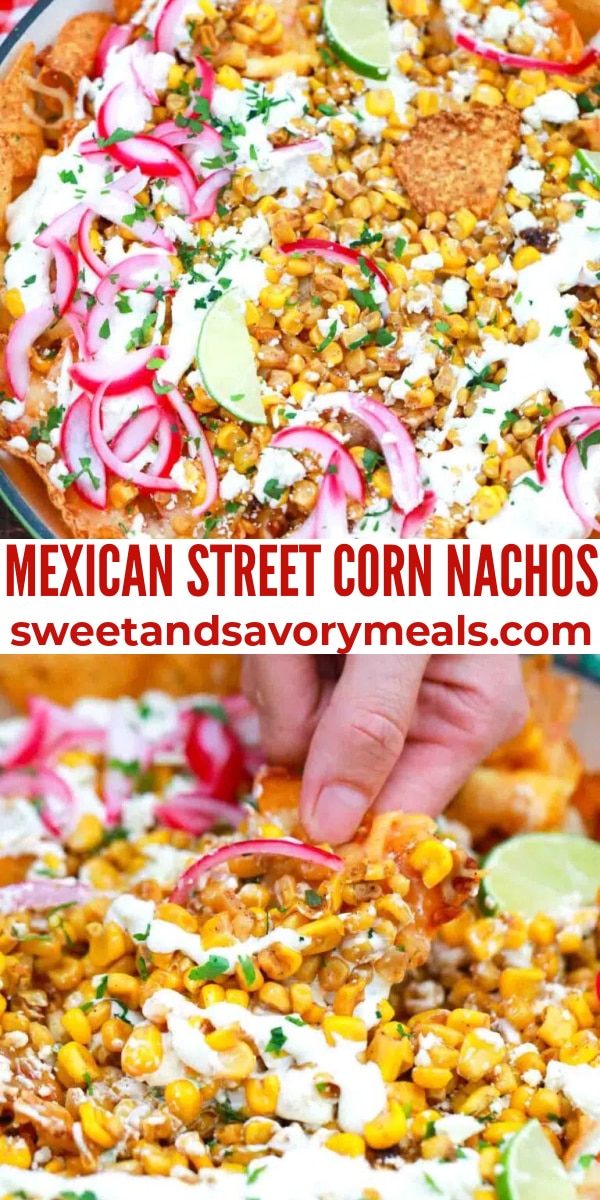 More recipes you might love