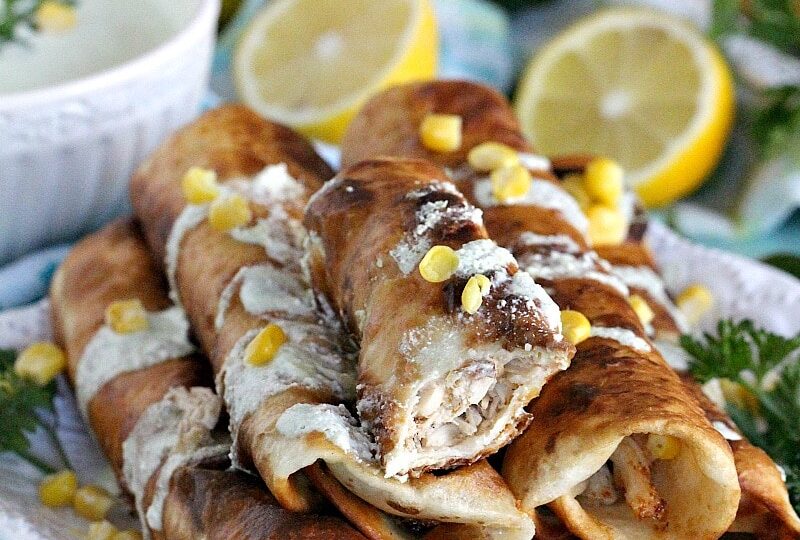 BBQ Chicken Taquitos with Sweet Corn
BBQ Chicken Taquitos are stuffed with creamy mozzarella cheese, shredded BBQ chicken and sweet corn, fried to golden, crispy perfection.
We love making easy and delicious meals in the Slow Cooker like our popular Slow Cooker Beef Teriyaki, Slow Cooker Corned Beef and Slow Cooker Chicken Tortilla Soup.
BBQ Chicken Taquitos
Dinner this weekend was good, crispy Chicken Taquitos were served! You know, I absolutely loathe easy dinners that are also delicious and this is definitely one of those. Also, these make great leftovers, they taste great cold and I have been snacking on them all day! Someone hide them from me please.
These BBQ Chicken Taquitos are incredibly juicy and flavorful, loaded with yummy things that I like. The hardest job is done by the slow cooker, all you have left is spending a few minutes rolling and frying these golden, crispy beauties, and they are totally worth handling the hot oil.
BBQ Chicken Taquitos Recipe Tips:
I like to make this recipe with chicken breast, but you can also use boneless/skinless chicken thighs or pork.
Once you start shredding the chicken, add as much sauce as needed to make it moist, but not soggy.
You can add even more garlic, or if you please less, I personally love garlicky meals, so the more the merrier for me.
For a spicier kick, add 1-2 teaspoons of red pepper flakes.
You can adjust the taquitos liking as you prefer, you can skip the corn and just add cheese. You can also add chopped bell peppers and mushrooms.
Crockpot – I cooked the chicken in the slow cooker first, but you can save some time by using rotisserie chicken.
Pin This BBQ Chicken Taquitos Recipe to your Favorite Board
Deliciousness to your inbox
Enjoy weekly hand picked recipes and recommendations