BBQ Chicken Taquitos with Sweet Corn
This post may contain affiliate links. Please read my disclosure policy.
BBQ Chicken Taquitos are stuffed with creamy mozzarella cheese, shredded bbq chicken and sweet corn, fried to golden, crispy perfection.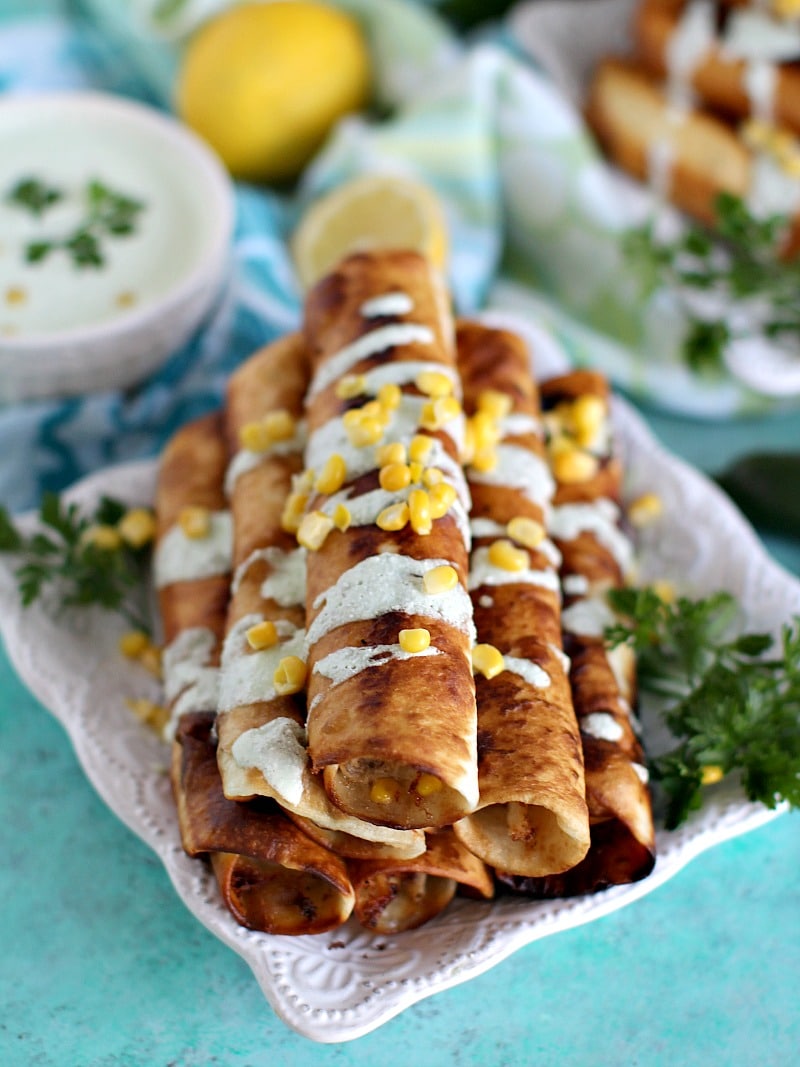 Dinner this weekend was good, crispy Chicken Taquitos were served! You know I absolutely loathe easy dinners that are also delicious and this is definitely one of those. Also, these make great leftovers, they taste great cold and I have been snacking on them all day!

These BBQ Chicken Taquitos are incredibly juicy and flavorful, loaded with yummy things that I like. The hardest job is done by the slow cooker, all you have left is spending a few minutes rolling and frying these golden, crispy beauties, and they are totally worth handling the hot pan.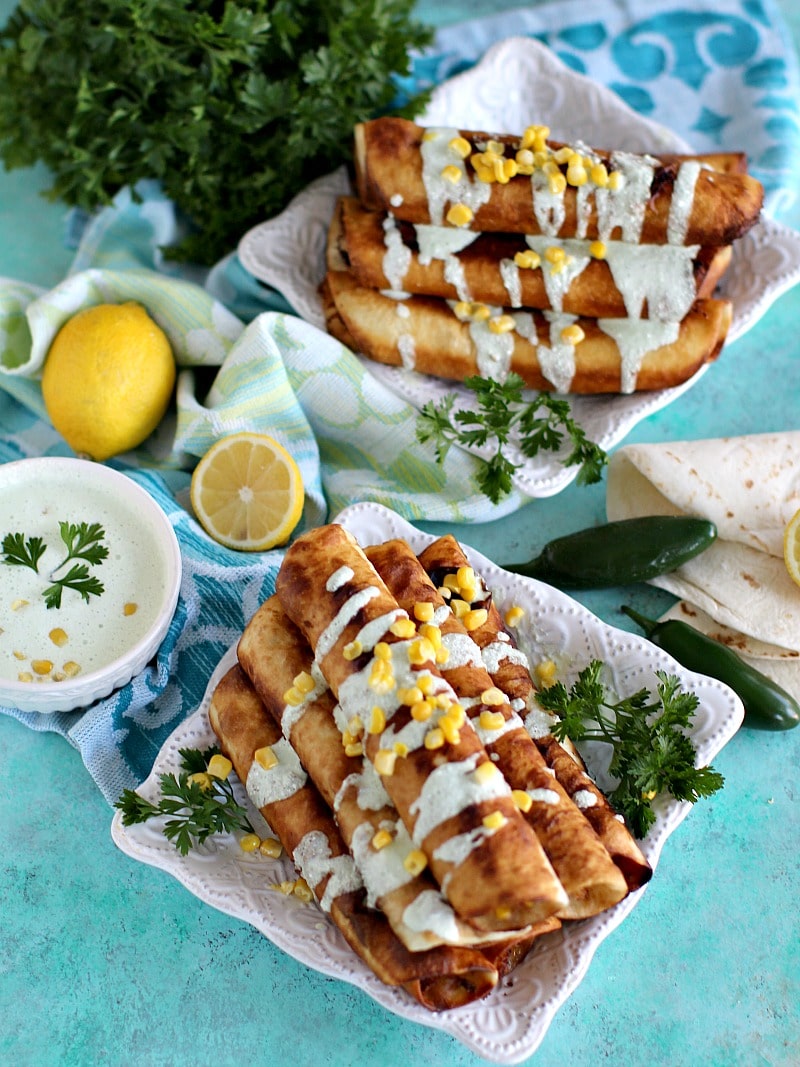 Like I have mentioned before, I had a few helpers working on these BBQ Chicken Taquitos – obviously my toddler was a great helper but the main job was done by:
Slow Cooker – I actually own an InstantPot and the chicken was cooked on the slow cooker setting, the best part is that you can start cooking it in the morning and have it ready for lunch
My second helper was Dorot – Dorot provides the perfect amount of herbs, with no prep or cleanup! I used the frozen garlic and cilantro and it was so easy to just get the frozen herb cubes out and place them in my slow cooker, that definitely saved me some time!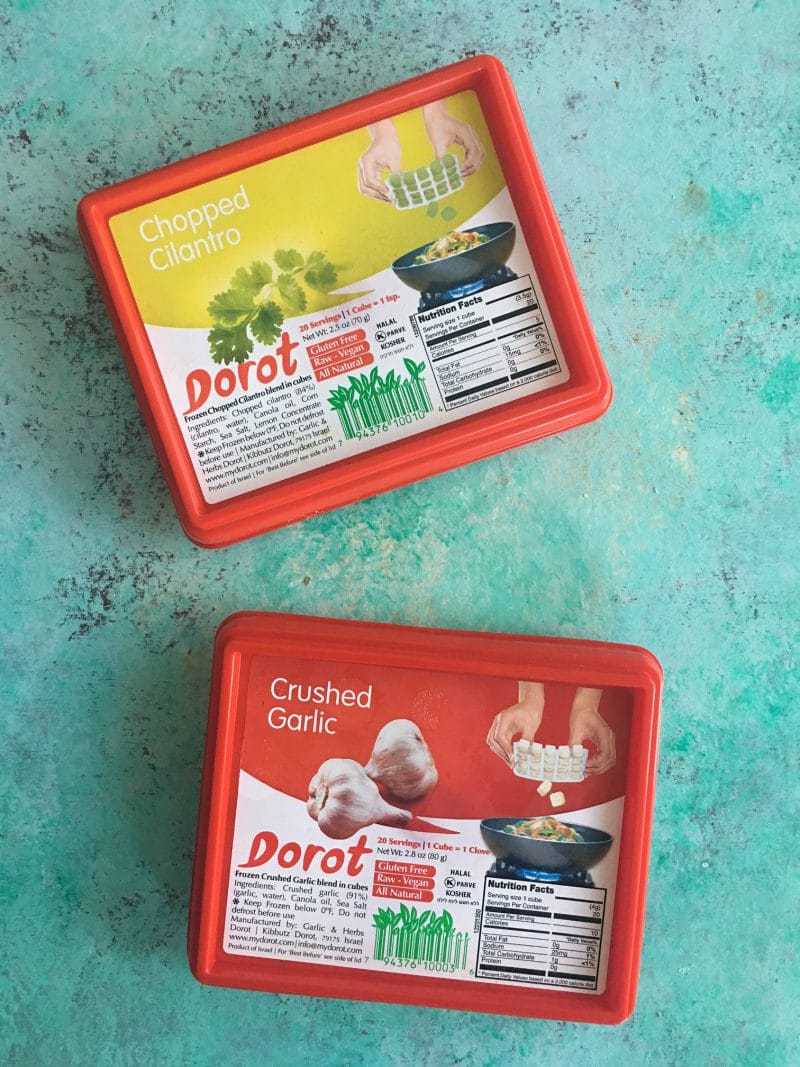 Dorot is easy to use and brings your meals to an entirely new level, I personally love that I don't have to peel garlic anymore!

MY LATEST VIDEOS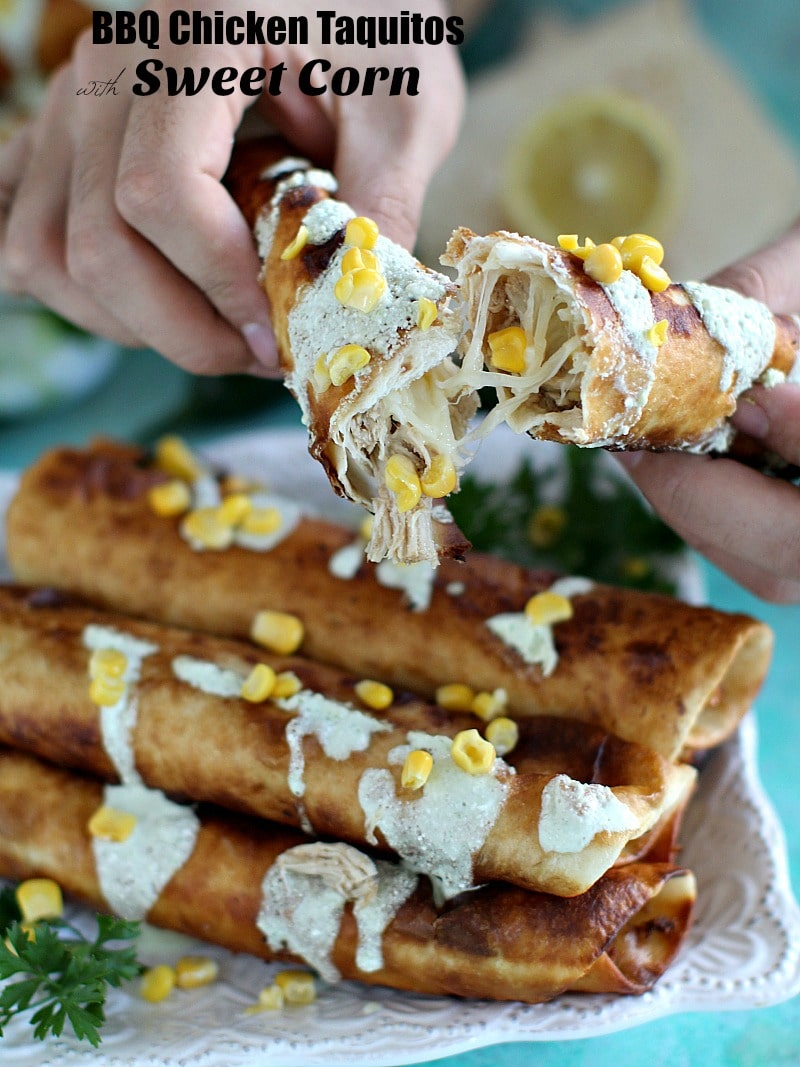 The chicken turned out amazing, so juicy and flavorful. The BBQ Chicken Taquitos are stuffed with the bbq pulled chicken, shredded mozzarella cheese and sweet corn! OMG they are so juicy and cheesy and the sweet corn is such a nice and delicious addition! To make these even more amazing, I served them with a Spicy Jalapeño Tzatziki Sauce that balances out the sweet notes of the perfectly fried, crispy taquitos!
These are addicting!
Cheesy BBQ Chicken Taquitos with Sweet Corn
Author:
Prep time:
Cook time:
Total time:
BBQ Chicken Taquitos are stuffed with creamy mozzarella cheese, shredded bbq chicken and sweet corn, fried to golden, crispy perfection.
Ingredients
[b]TO MAKE THE CHICKEN:[/b]
3 chicken breast
3 cups chicken stock
1 cup BBQ sauce
5 garlic cloves, minced (or 5 Dorot garlic cubes)
5 teaspoons chopped cilantro (or 5 Dorot parsley cubes)
1 teaspoon salt
1 teaspoon pepper
5 bay leaves
[b]FOR THE TAQUITOS:[/b]
The cooked chicken, pulled
1 cup canola oil
15 soft corn or flour tortillas, medium size
1 cup frozen sweet corn, thawed
2 cups mozzarella cheese, shredded
Fresh cilantro, for garnish
[b]FOR THE SAUCE:[/b]
1 cup plain greek yogurt
2 jalapeno peppers, seeds removed and chopped
1 cucumber, sliced
juice of 1 lemon
salt to taste
1 tablespoon parsley
1 teaspoon sweet corn
Instructions
[b]TO MAKE THE CHICKEN:[/b]
In a medium bowl mix chicken stock and BBQ sauce until combined. Add chicken to the slow cooker, followed by the BBQ mixture. Add salt, pepper, garlic, cilantro and bay leaves. Cook on the slow cooker setting for 4 hours.
Once done, remove chicken breasts from the slow cooker, place into a medium bowl and using a fork or your hands, pull apart the meat. Add 3/4 cups of the slow cooker sauce to the shredded chicken and mix it in. Season with more salt and pepper if needed. Set aside.
[b]TO MAKE THE TAQUITOS:[/b]
Set up your station, have the corn and cheese ready in a bowl and also the pulled BBQ chicken on hand.
Over medium heat, heat canola oil in a large, heavy bottomed pot or skillet until about 350F.
Line a baking sheet with paper towels and top with a cooling rack. Set aside.
Warm tortillas in the microwave until soft and easy to work with.
To the lower part (that is closer to you) of the tortilla add: a few tablespoons of shredded BBQ chicken, top with 1 teaspoon of corn kernels and a sprinkle of mozzarella cheese. Roll the tortilla up from the bottom towards the top.
Using tongs, carefully pick up the rolled tortilla and place it into hot oil, seam side down. Hold with the tongs for about 15 seconds to make sure the tortilla won't come unrolled. Fry for 1-2 minutes per side, until golden brown.
Transfer taquito to the cooling rack. Repeat process with remaining tortillas. Serve immediately.
I find it easier to first roll all the taquitos, place them seam side down and after that start the frying process.
[b]FOR THE SAUCE:[/b]
Add all the ingredients (except corn and parsley) to a food processor for 30-40 seconds, adjust for salt to taste. Transfer to a bowl, garnish with corn kernels and fresh parsley. Store in the fridge.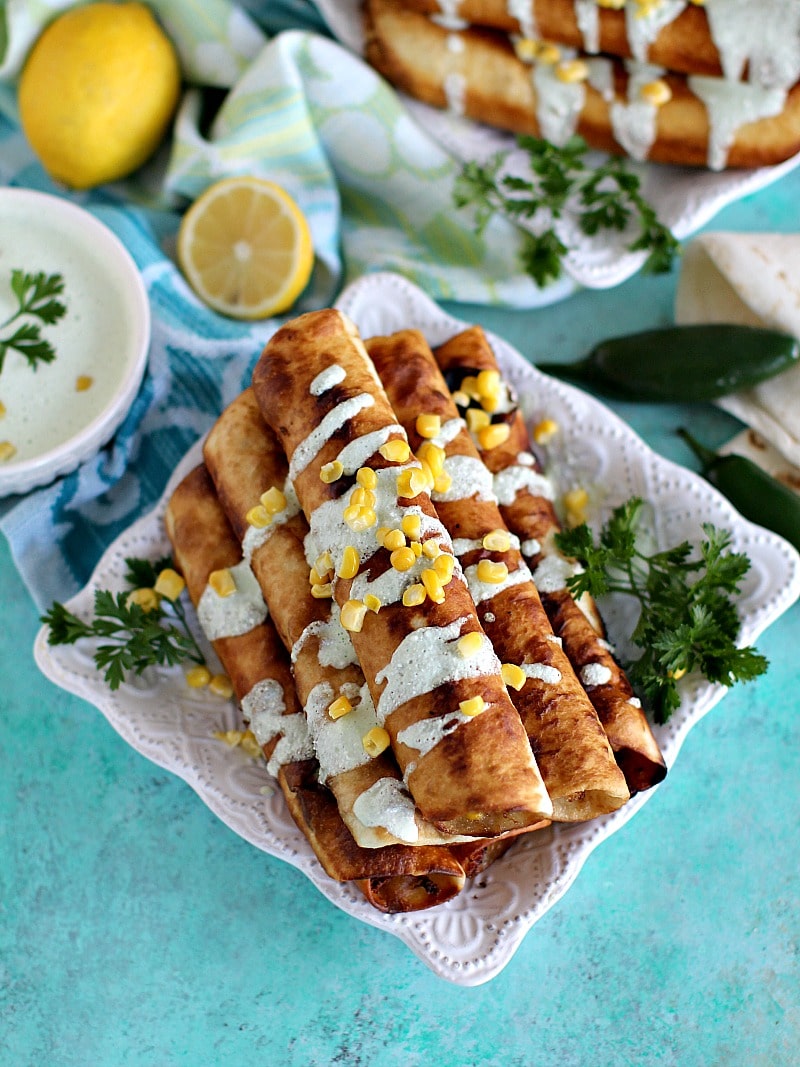 Double, triple yum!
Peas and Peonies, LLC. owns the copyright on all images and text and does not allow for its original recipes and pictures to be reproduced anywhere other than at this site unless authorization is given. If you enjoyed the recipe and would like to publish it on your own site, please re-write it in your own words, and link back to my site and recipe page. Copying and/or pasting full recipes to social media or personal blogs is strictly prohibited. Sharing this recipe is very much appreciated and encouraged. Read my disclosure and privacy policy. This post may contain affiliate links.