Lemon Garlic Roast Chicken [Video]
Roast Chicken with lemon, garlic, butter, and herbs is super flavorful and juicy, with perfectly crispy skin on the outside. The garlic and butter give the chicken an incredible aroma, which tastes way better than a store-bought rotisserie chicken. Check out the full recipe video below.
Roast Chicken is hands down one of our top dishes to make and this version is absolutely mouthwatering. We like to serve it with roasted brussel sprouts, sweet potatoes or chunky mashed potatoes.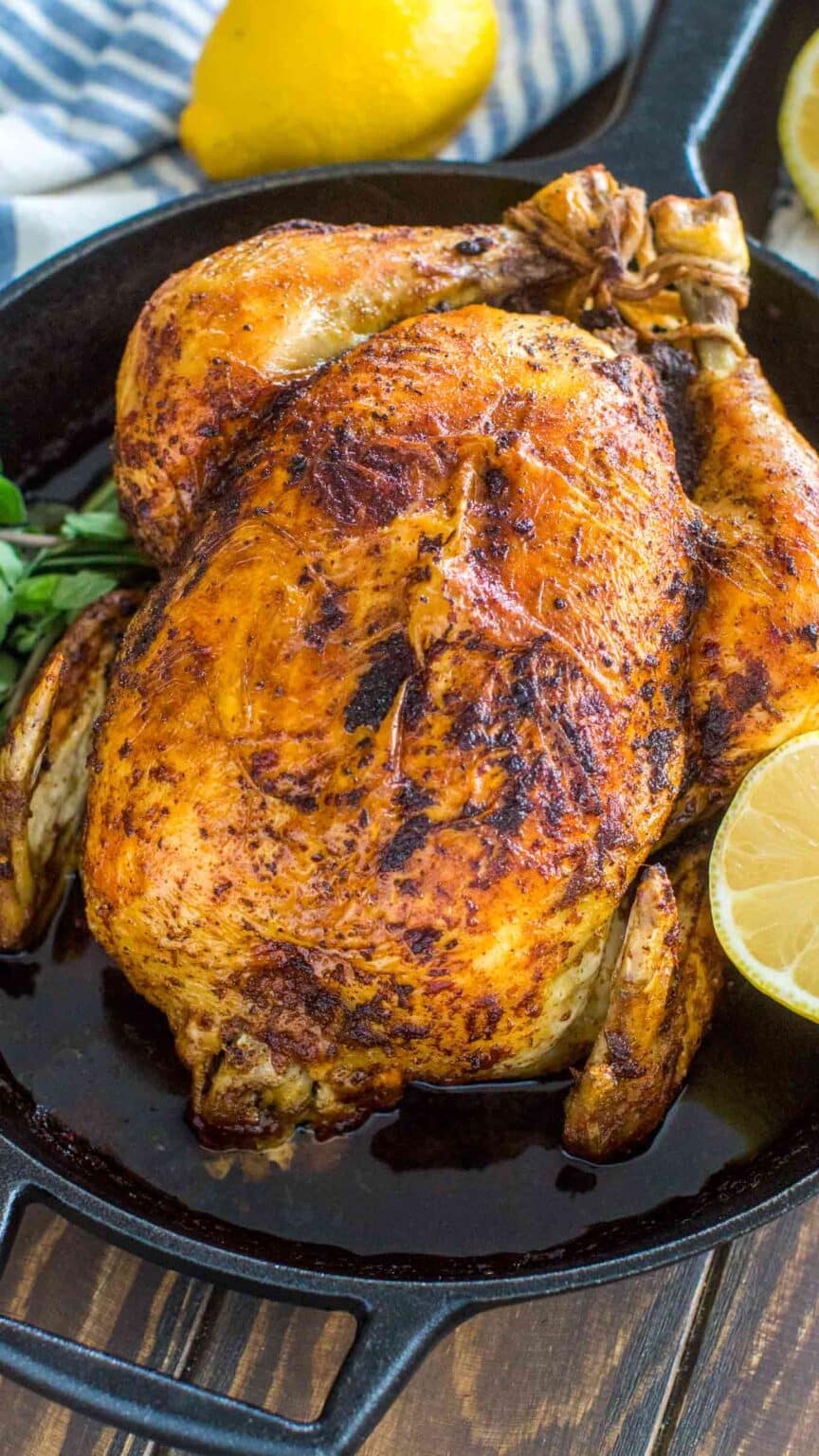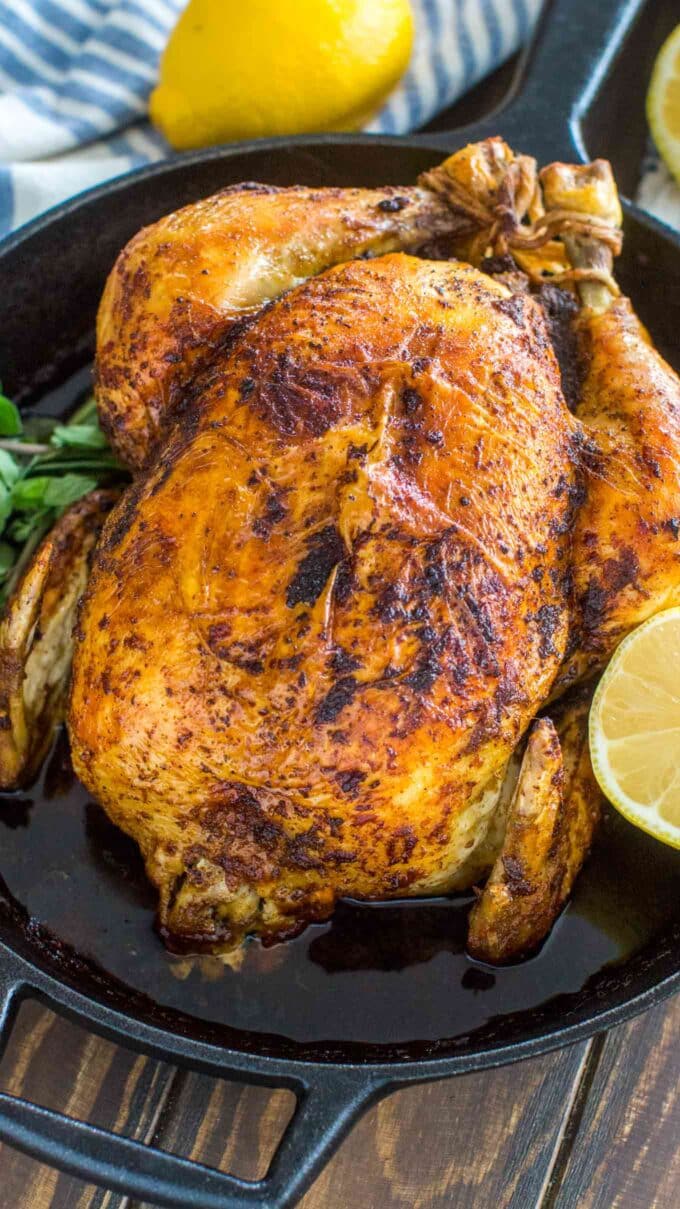 Best Roasted Chicken
Roast Chicken might sound like a complex dish to make, but it's actually very simple. While we love the grocery store rotisserie chicken, making it at home tastes so much better. We stuff it with simple ingredients, such as lemon, garlic, rosemary, and thyme, and the results are quite amazing. Not only does the chicken taste fresh and buttery, but it also has perfectly crispy skin and some delicious gravy.
Once you roast it in the iron cast pan, the juice drips at the bottom of it, which creates a very yummy gravy. When you cut the chicken, you can use the gravy as a dipping sauce.
You will have to pour the gravy through a sieve to separate the fat. Similarly, if using mashed potatoes as a side dish, just pour the gravy over them and enjoy the indulgence. You might start the meal using a knife and fork, but finish it with your fingers, because it's so delicious!
What goes in Oven Roast Chicken?
For stuffing the chicken:
Fresh thyme springs, marjoram, and rosemary
1 lemon
6 garlic cloves
1/4 cup cold sliced butter
For coating the chicken:
1/4 cup melted butter
1 teaspoon garlic powder and onion powder
1 teaspoon dried thyme powder
lemon zest
1/4 teaspoon salt and pepper
1 teaspoon paprika, regular or smoked
Is Roast Chicken Healthy?
While store-bought rotisserie chicken may appear super healthy, it actually contains a LOT of sodium. The homemade version is way healthier, rich in protein and nutritious especially if you use organic chicken.
Baking is a healthier cooking option for it, and the meat's nutrient content makes it a nutritious addition to your diet. To reduce calories or fat intake the butter in this recipe can be replaced with oil.
Roast Chicken is safe to eat on Keto Diet!
Isn't that great? This homemade rotisserie chicken has only 1 gram of carbs per serving, which makes it a delicious addition to any low carb diet!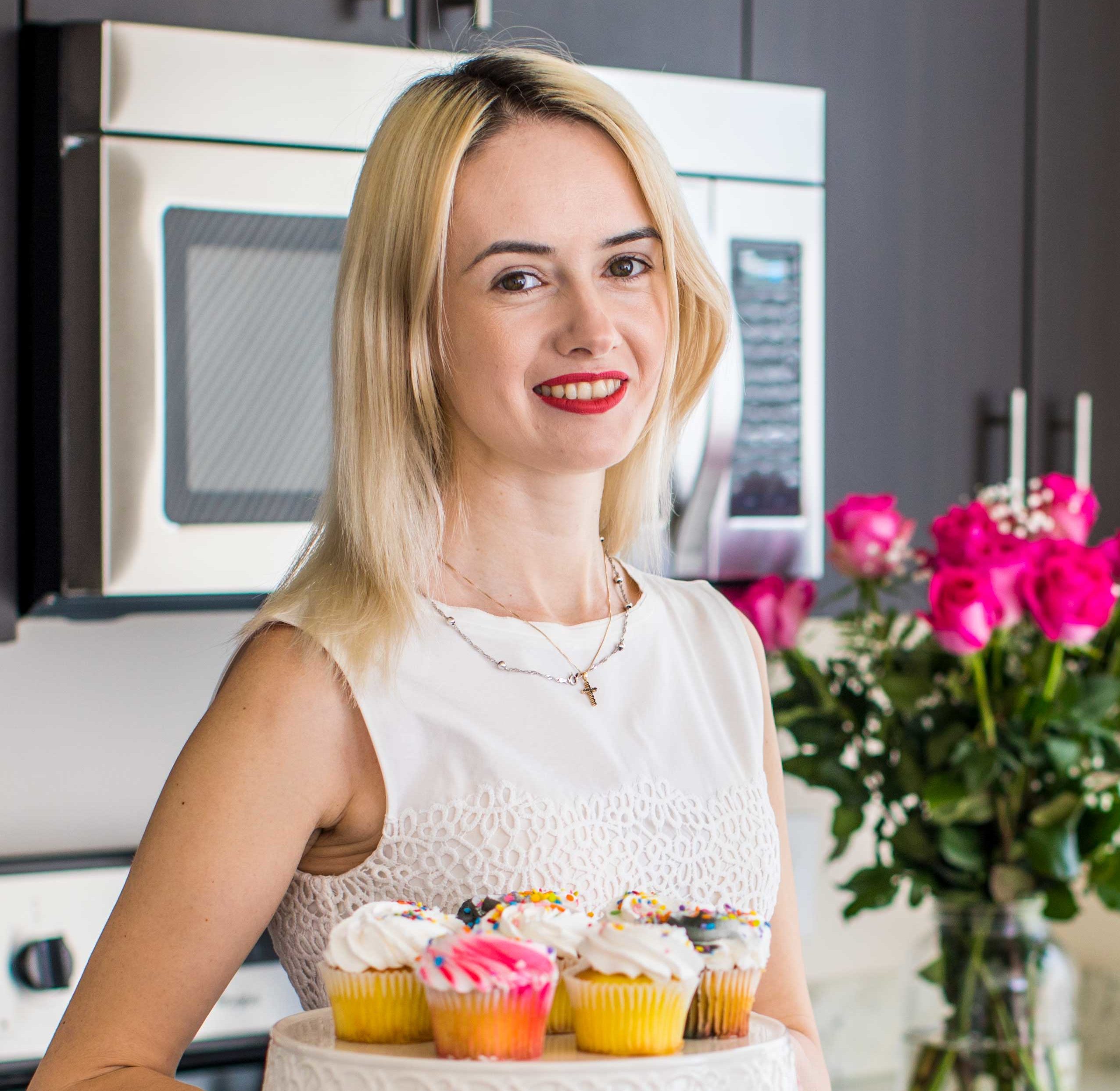 Follow us on Pinterest for more delicious recipes!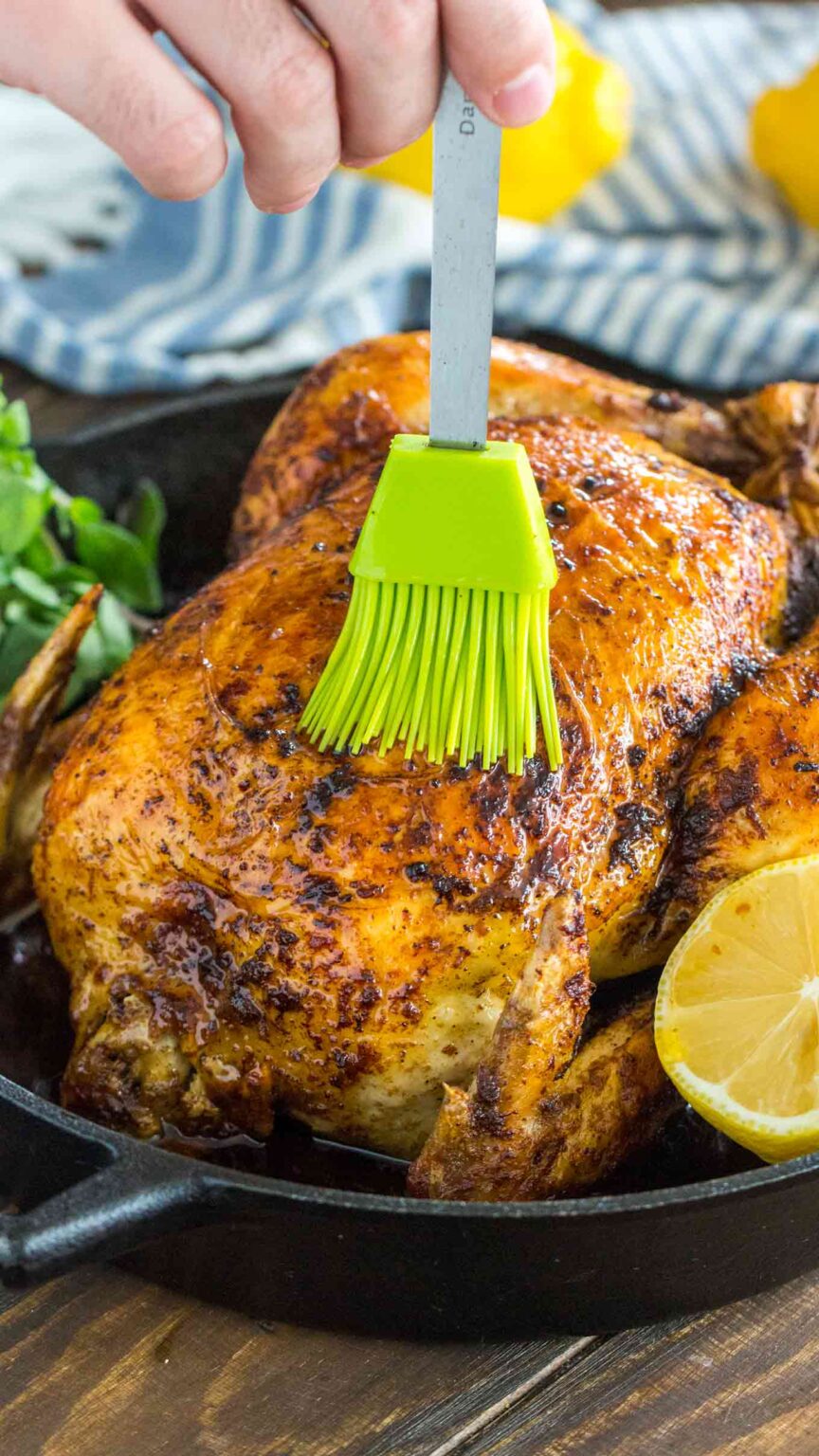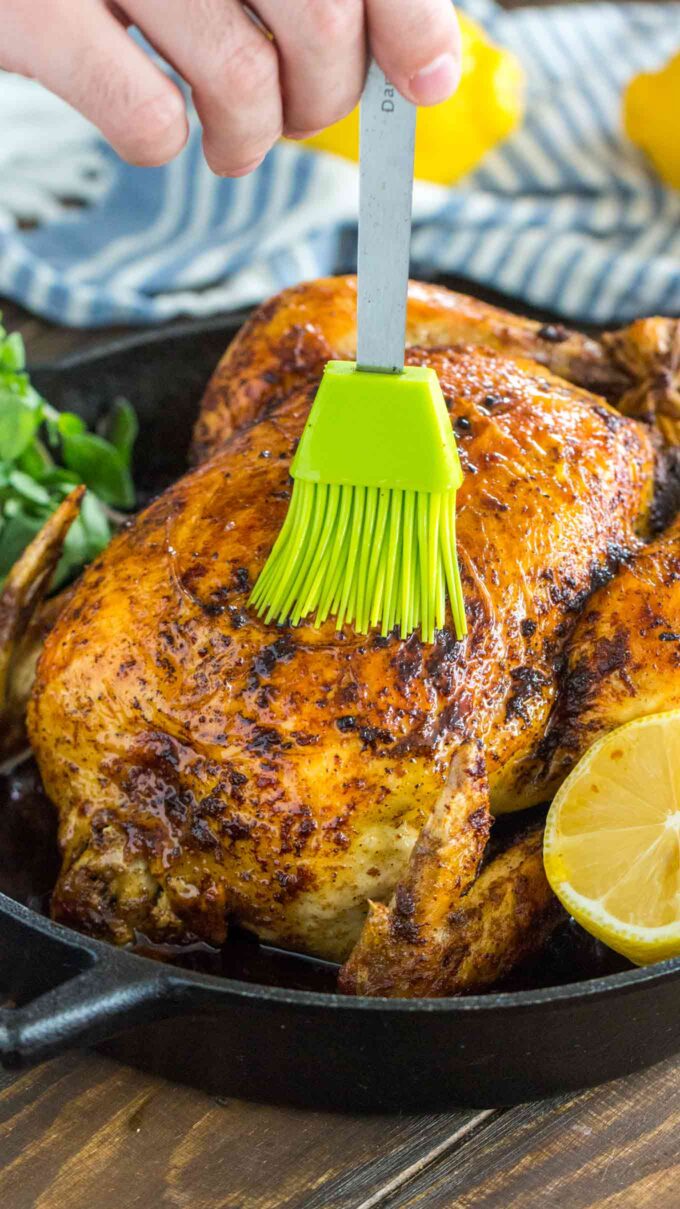 How to Roast Chicken?
Preheat oven to 350 degrees F. Lightly sprays with cooking spray and grease with olive oil a 9 inch cast iron pan and set it aside.
Then, remove the chicken giblets, rinse it, remove any excess fat and leftover pin feathers and pat dry with paper towels.
Season the chicken with salt and pepper.
Next, stuff it with a lemon that has been cut in half. Fresh thyme, marjoram, rosemary, and crushed garlic cloves.
Lift the skin and stuff under sliced cold butter.
Rub the chicken on the outside with olive oil.
Tie the legs together with kitchen string and tuck the wing tips under the body of the chicken. Transfer it to the prepared cast iron pan. If preferred, add some veggies to the pan as well. We like red onions, carrots and halved mini potatoes.
Cover with foil and bake covered for 30 minutes.
In a medium bowl, mix all the coating ingredients until fully combined.
After 30 minutes of baking, uncover the bird and discard the foil. Brush the chicken all over with the prepared coating and return to the oven for about one hour.
From time to time baste the chicken, or brush it with the sauces from the pan. It should be golden brown and reach an internal temperature of 165 F degrees when done the cooking.
Remove the chicken from oven and let it rest for about 15-20 minutes before slicing and serving.
How long do I roast a chicken?
This really depends on the size of the bird. On average, for 4 pounds of chicken, it takes about one hour and 30 minutes of cooking time at 350F. However, this will deviate based on the size of the chicken. For a larger bird, you will have to increase the time accordingly. Best measure would be to use a thermometer, as the internal temperature should be 165 degrees F (use the inner thigh for measurement).
What temperature should a Roast Chicken be cooked to?
A chicken is safe to eat when it reaches the internal temperature of 165 degrees F, use the inner thigh for measurement.
How do I make gravy to go with Roast Chicken?
The juices from the pan are delicious and can be used as gravy. All you have to do is, pour them through a sieve to separate the fat.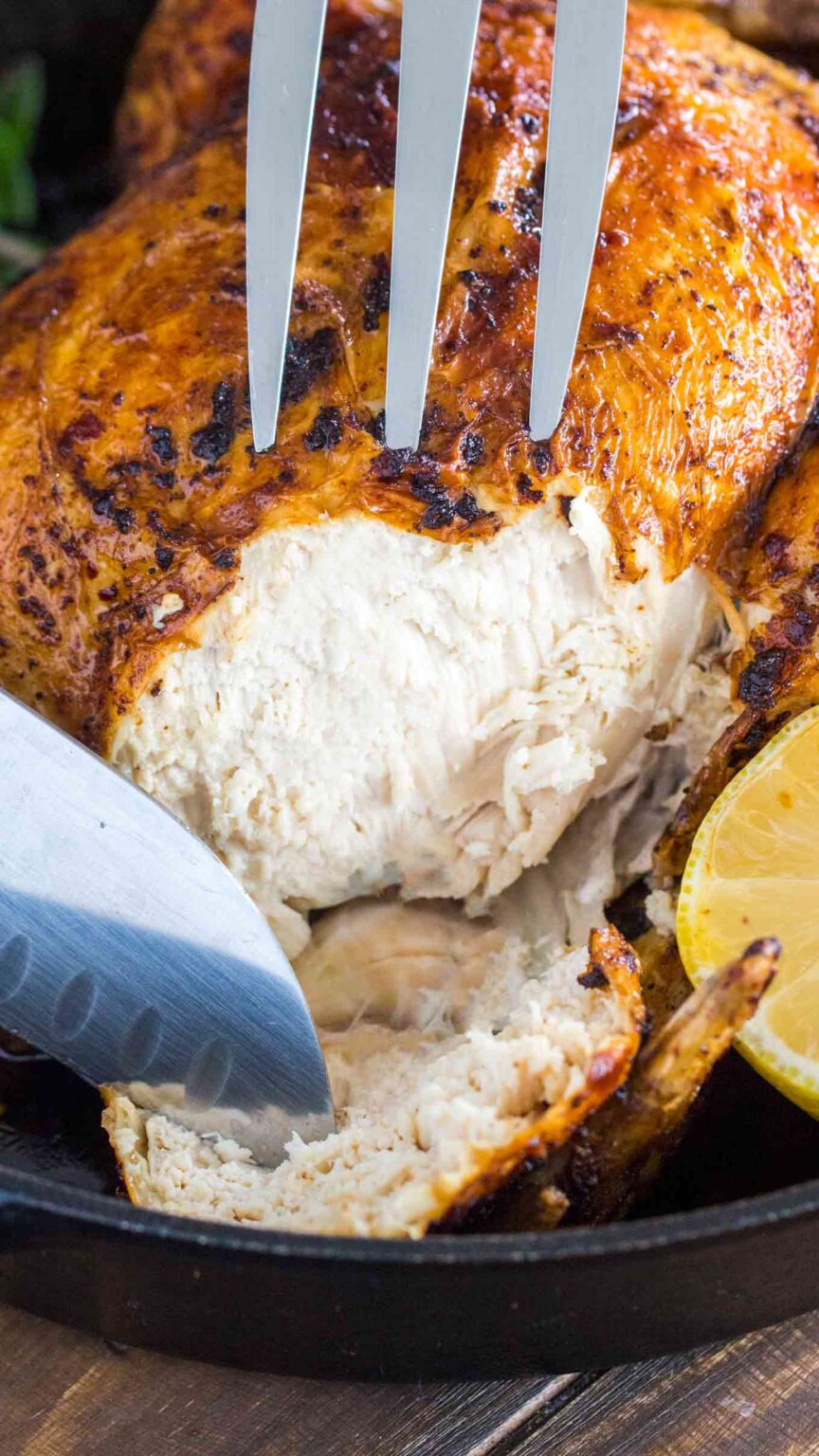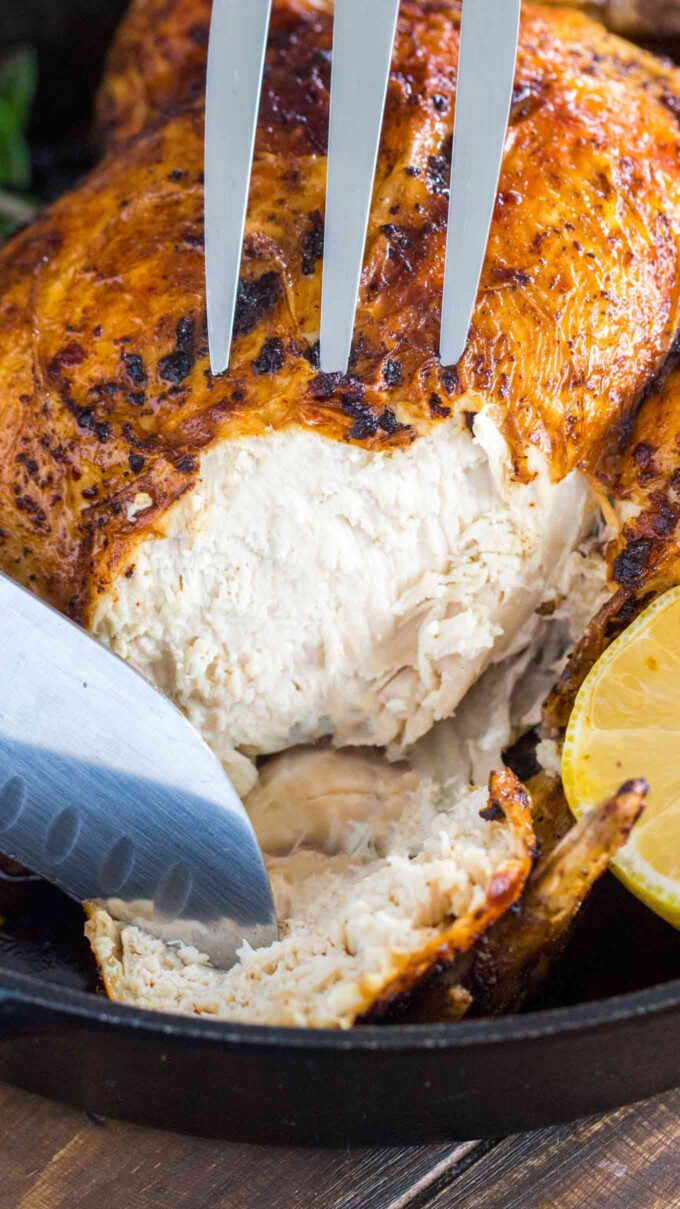 CAN I MAKE ROAST CHICKEN IN THE SLOW COOKER?
Absolutely! Start by spray the slow cooker with a bit of cooking spray. First stuff the chicken, combine all the coating ingredients and simply rub half of it well onto the chicken. Then, add it to the slow cooker and add the remaining coating mixture around it. Lastly, cover and cook on low for 3-4 hours or on high, or about 6-7 hours on low.
The internal temperature of the chicken should be at 165 F degrees. To brown the bird and give it a crispy skin, brush it with some melted butter or olive oil and broil it for a few minutes.
Can I cook a whole chicken in the Instant Pot or a Pressure Cooker?
Cooking a whole chicken in the Instant Pot is a great idea. First, you can cook a fresh or frozen chicken, bonus points for that. The meat ends up being very moist and tender, just like it has been slow roasted for hours.
Also, you can't beat the convenience of being able to cook a frozen chicken in just under 2 hours, it takes way longer to defrost it. Click here for full Instant Pot Whole Chicken recipe.
Can I roast a frozen chicken?
While you can't roast a frozen chicken in the oven, all is not lost as you can easily cook one in a pressure cooker or the Instant Pot. Check my fool-proof recipe for Instant Pot Whole Chicken from fresh or frozen, dinner has never been easier!
Should I cover a chicken with foil when roasting?
For this recipe, we lightly greased the chicken with olive oil, and then covered with foil. Next, we baked covered for 30 minutes at 350F to get the meat moist and juicy and let the stuffing flavors get into the chicken. After, we cooked the bird uncovered (without foil) to brown it and make the skin perfectly crispy.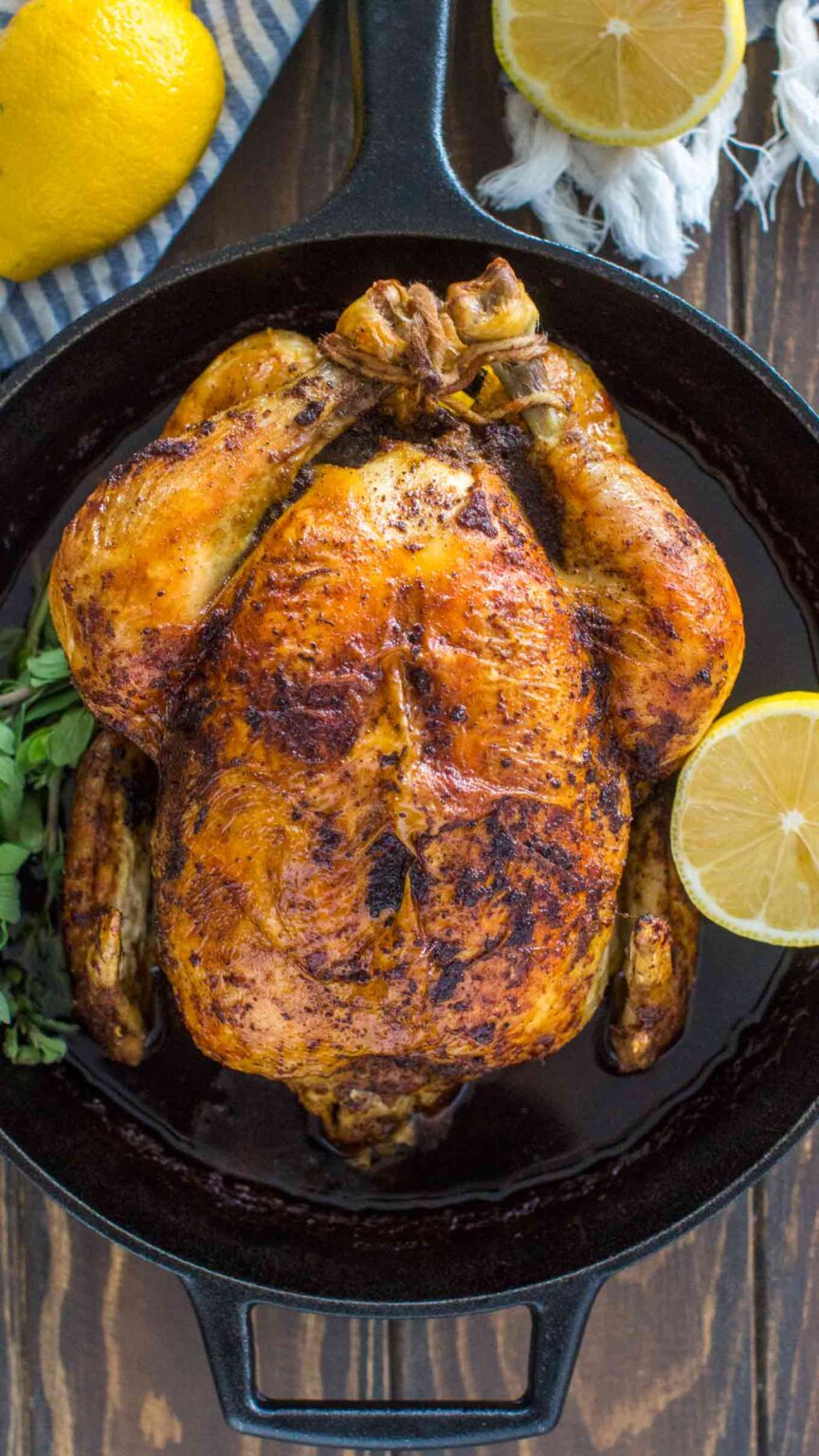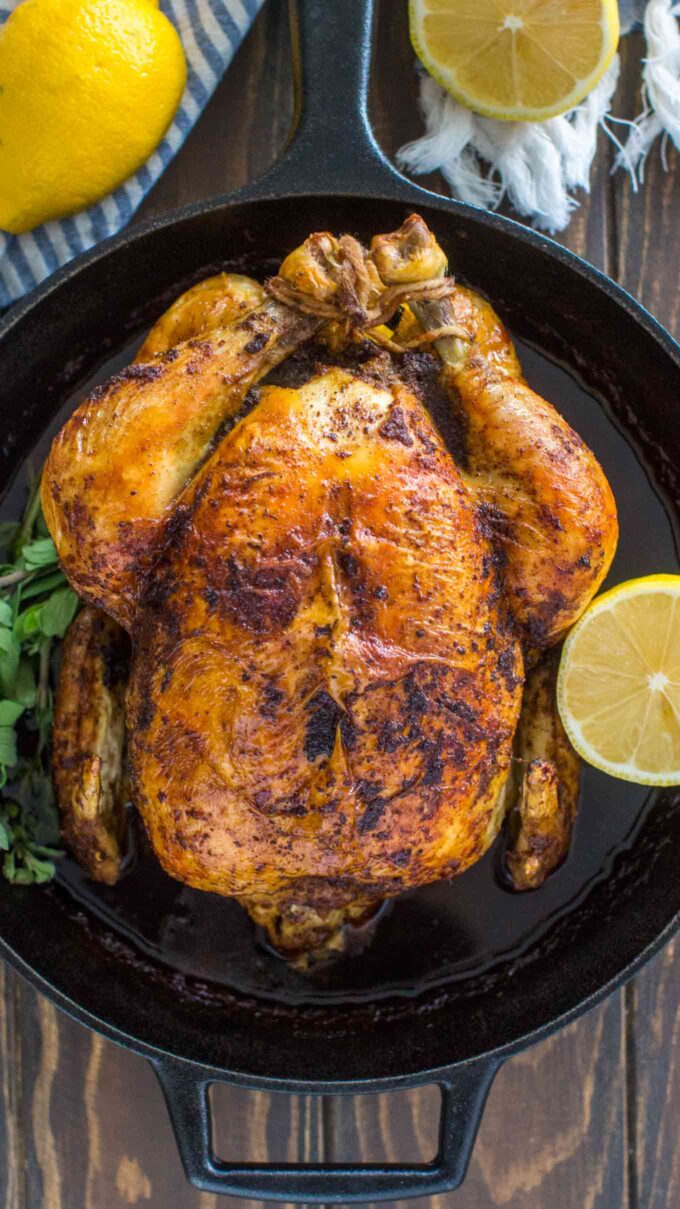 WHAT TO SERVE WITH ROAST CHICKEN:
What to do with leftover Roast Chicken:
Leftover meat does not have to go to waste, and if you are looking for something more exciting than a chicken sandwich I suggest the following recipes:
Watch Recipe Video:
Save Recipe
Perfect Roast Chicken
Roast Chicken with lemon, garlic, butter, and herbs is super flavorful and juicy, with perfectly crispy skin on the outside.
Author: Catalina Castravet
Serves: 8 servings
Prep time:

20

minutes
Cook time:

1

hour

30

minutes
Total time:

1

hr

50

mins
Ingredients
For stuffing the chicken:
For coating the chicken:
Instructions
Bake the Chicken:
Gravy:
Nutrition information
Calories: 177 Carbohydrates: 1 Protein: 0 Fat: 19 Saturated Fat: 5 Cholesterol: 15 Sodium: 191 Potassium: 28 Fiber: 0 Sugar: 0 Vitamin A: 555 Vitamin C: 7.2 Calcium: 7 Iron: 0.2
Save Recipe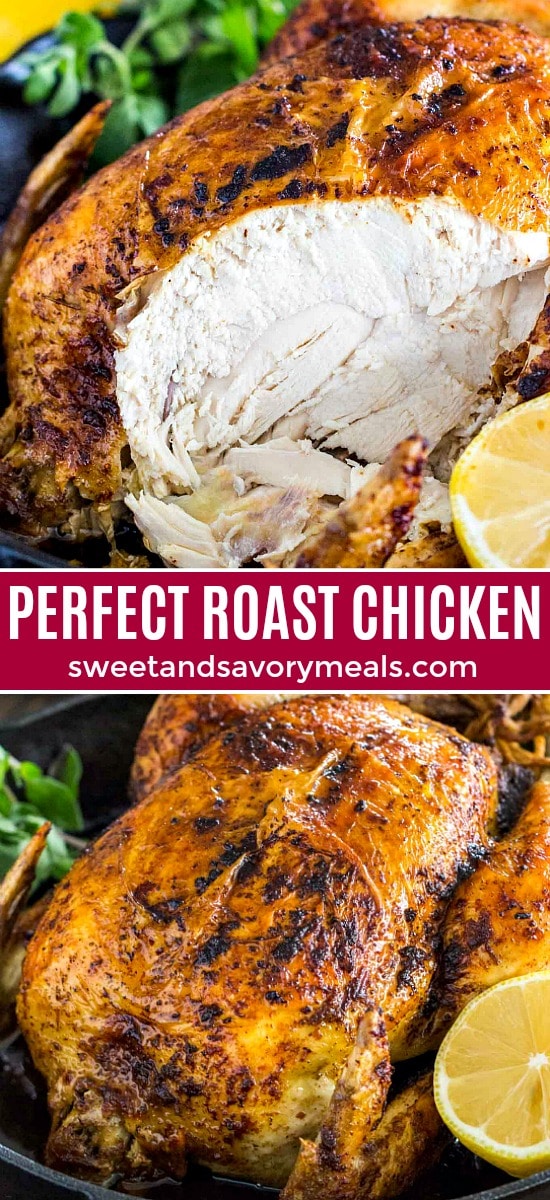 More recipes you might love
Categories: