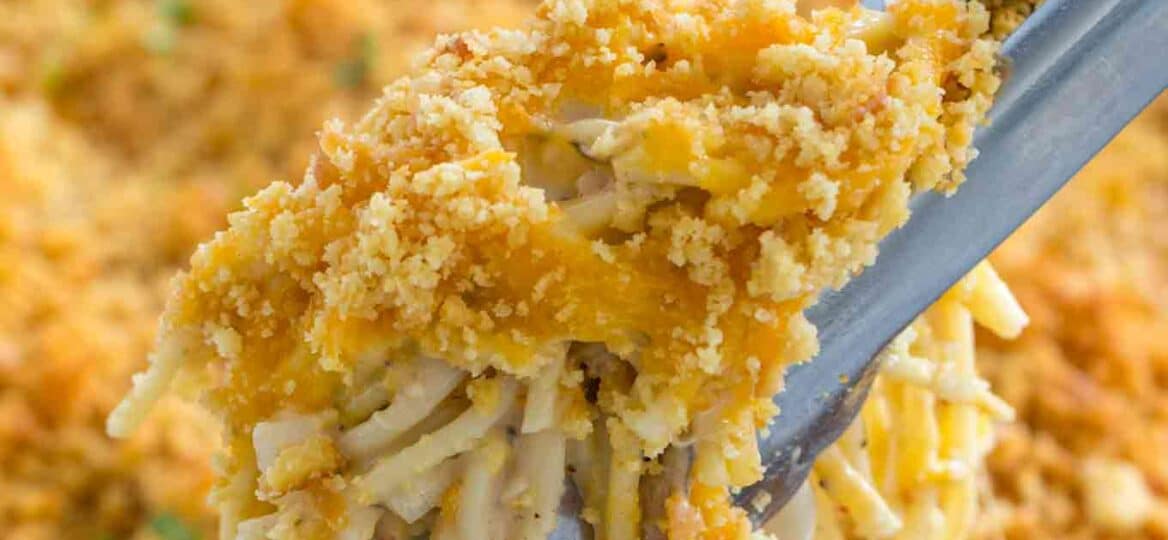 Homemade Baked Chicken Spaghetti [VIDEO]
Chicken Spaghetti Casserole is a very creamy, cheesy, and easy classic comfort food. It is loaded with chicken, veggies, spaghetti, lots of cheddar cheese, and baked in a mushroom sauce.
Casserole recipes are a favorite around here. They are easy to prepare and usually make enough leftovers so I don't have to worry about cooking dinner the next day again.
I like to take the time and prep a few sometimes ahead of time and freeze them, to have dinner readily available for crazy weeknights. We often make this Cheesy Crack Chicken Casserole, White Pizza Casserole, and Chicken Hash-brown Casserole.
This Chicken Spaghetti Casserole is such a classic dish and is always a hit with my whole family. It is very easy to adapt to your own taste preference because you can skip the veggies or add more. No wonder this is our family's favorite dish!
Also, you can also make this casserole with other meat. For instance, I made it a few times with spicy Italian sausage and I also tried it with leftover turkey, both versions were delicious.
The casseroles are a great option when you don't want to cook every single night or have a very large family. Just perfect for busy nights!
They are usually easy to make, and large enough to serve to a crowd or have leftovers.
Also, they freeze well, which means you can make a few ahead of time and freeze for busy times. When you are ready to serve, just pop it in the oven and a stress-free homemade dinner is ready.
Recipe Ingredients:
Chicken – I love using boneless skinless chicken thighs because they are moist and have plenty of flavors. Alternatively, feel free to use chicken breasts.
Spaghetti – Go with your favorite brand.
Condensed cream of mushroom soup and sour cream – This is used to make the sauce. Also, it makes this dish extra rich and creamy.
Sharp cheddar cheese or parmesan cheese
Unsalted butter
Chicken stock – I usually go with my homemade chicken stock. However, you can easily use the store-bought version as well.
Veggies – Baby Bella mushrooms, yellow and red bell peppers, onion.
Freshly minced garlic – It adds a nice aroma and flavor. So, you more if desired.
Seasoning – Poultry seasoning, dried thyme, rosemary, red pepper flakes, salt, and black pepper.
Cracker crumbs – For the topping.
How to make Chicken Spaghetti Casserole?
Boil the pasta: In a large pot, boil the pasta according to package instructions. I keep it al dente because it will be baked later on.
Cook chicken: In a separate pot, boil the chicken until fully cooked.
Mix in the remaining ingredients: Next, add the chicken and the remaining ingredients to the pasta, and mix them well to combine. Then, transfer the whole mixture into a 9 by 13 casserole dish.
Bake: Lastly, pop it in the oven and bake for about 20-30 minutes, until golden brown.
Garnish: Top it with cracker and more cheese and serve warm.
Possible flavors variations:
Ranch – add one package of Ranch Dry Mix and 1 cup of Ranch salad dressing, for a delicious Ranch flavor.
Buffalo – add one cup of Buffalo sauce into the mix and you will have a Buffalo Chicken Spaghetti Casserole.
Blue Cheese – add one to two cups of blue cheese salad dressing to the mix, and also top the casserole with crumbled cheese, for a tasty Blue Cheese flavor.
Chili powder – use some chili powder to make add some spicy kick to it.
Italian seasoning – from time to time, I like making it with homemade Italian seasoning. Highly recommended!
What is Condensed Cream of Mushroom Soup?
Condensed soup is a canned variety of soup that is prepared with a reduced proportion of water. A liquid, like water or milk, is added to the soup when heated up. Alson, condensed soup is used often to add more flavor and creaminess in many recipes.
Condensed Cream of Mushroom Soup substitute:
Don't worry, if you are not from the US and can't get your hands on Condensed Cream of Mushroom Soup, or simply want a homemade, more wholesome version. You can use the below recipe to make a quick homemade version, which will make roughly about 3 cups of soup, enough to replace 2 (10 1/2 oz each) cans of condensed cream of mushroom soup.
Ingredients:
4 ounces baby Bella mushrooms, finely diced
6 tablespoon unsalted butter
2/3 cup all-purpose flour
2/3 cup chicken broth or veggie broth
1 teaspoon garlic powder
1 teaspoon onion powder
2/3 cup whole or skim milk
1 teaspoon ground thyme
salt and pepper to taste
Directions:
First, place a medium saucepan over medium heat. Once hot, add the butter and melt it.

Then, add diced mushrooms and cook stirring for 2-3 minutes.

Add flour to the mushroom and butter mix, and stir well to combine and form a paste.

Whisk in milk slowly until fully combined with no lumps.

Next, whisk in broth, slowly again, until fully combined.

Then, stir in garlic, onion powder, thyme and adjust for salt and pepper.

Lastly, whisk the mixture until it starts to simmer. Let it simmer on low heat for about 2 minutes. The soup should be smooth and creamy. If it's too dense, whisk in a little more milk or broth.

When replacing the Condensed Cream of Mushroom Soup use a 1:1 ratio, so if you are using a – 10.5 ounces can of condensed soup, you will need 1 1/3 cup of the homemade version to replace in recipes.

The homemade soup can be stored in an airtight container in the refrigerator for up to 3-4 days.
Can you make this casserole with whole wheat spaghetti?
Absolutely! You can make it with pretty much any type of pasta. It will be equally delicious!
Can I use other cheese types?
Yes, you can! In fact, I have tried this casserole with mozzarella cheese, Velveeta cheese, and it tastes amazing. You can use any cheese that melts well, provolone and pepper jack cheese are also great options.
Are mushrooms necessary?
I know mushrooms divide people, some love them, some hate them. Yes, you can skip the mushrooms in this recipe or you can replace them with chopped celery, or more bell peppers.
Can I use rotisserie chicken instead?
Yes! actually using rotisserie chicken is a great shortcut to make this recipe. Also, feel free to use leftover turkey. If you are tired of turkey sandwiches, making this casserole is a much tastier option.
What other veggies can I use in this dish?
It is actually up to you, you can thaw a package of mixed veggies like peas, carrots, green peppers, and broccoli. You can also use mushrooms, bell peppers, and even chopped zucchini.
Spinach is also a great alternative if you are looking to add more greens. If you want something fancier, a cup of chopped sun-dried tomatoes in oil would work great. Combine the latest with some spinach and you have a Tuscan Chicken Spaghetti Casserole.
Can you make it ahead of time?
Yes! Follow all the instructions and assemble the casserole fully. Then, cover with plastic food wrap and refrigerate for up to 2 days.
How to freeze this chicken casserole?
To freeze, first, transfer the mixture to a buttered 9-by-13-inch freezer-to-oven baking dish. Then, cover tightly with aluminum foil. Freeze for up to 6 months. Bake, frozen, and covered with foil, at 350°F, for 1 hour.
More Casseroles to try:
Recipe tips:
You can use pretty much any type of meat to make it. Boil or pulled chicken, rotisserie chicken, leftover meat, turkey breasts are all great options.
Also, cook spaghetti al dente because it will continue to cook in the oven.
If you are baking it at 350 degrees F, the cooking time should be about 30 minutes.
If you like it extra cheesy, just add more cheese on top.
To swap the menu, feel free to swap the chicken with ground beef or ground turkey.