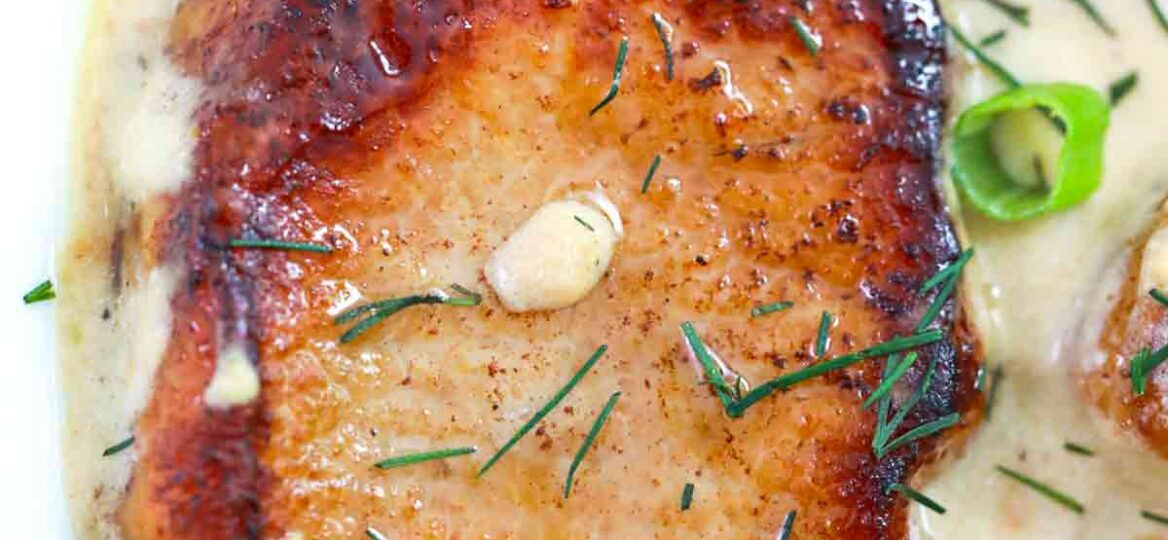 Instant Pot Ranch Pork Chops [Video]
Instant Pot Ranch Pork Chops is one of the easiest dinner recipes out there. It is made with a few basic ingredients, such as homemade ranch seasoning, broth, and chops. This is a quick and delicious meal ready in less than 30 minutes from start to finish!
I have over 200 Instant Pot recipes on my blog, but I would say that this dish is among the top 5 easiest to prepare. You can pair it with Mexican Rice, Air Fryer Baked Sweet Potatoes, or Hassleback Potatoes.
Quick and Easy Instant Pot Ranch Pork Chops
This Instant Pot Ranch Pork Chops is a full-flavored meal, made with a few simple pantry ingredients, and ready in no time. It is a great rotational family dinner, especially when you are short on time. You simply season the meat, brown, dump it in the pot, and cook. Nothing more is required for the perfect family meal!
Not only is this recipe easy to prepare, budget-friendly, and delicious, but it also yields juicy and fall-apart tender meat. Cooking chops sometimes can be tricky, and you might end up with dry meat.
Not in this case! The pressure cooker does a great job of keeping the moisture and cooking them evenly. As a result, you will end up with the best pork chops that are super moist and tender.
Also, you can even make this dish with boneless chops, or frozen meat. The only adjustment you have to make is to increase the cooking time by about 10 minutes. All in all, this is a quick and great family recipe to incorporate during busy weekdays.
How to make Instant Pot Ranch Pork Chops?
Season the meat: I tend to use bone-in chops about 3/4″ to 1″ thick. They hold the best when cooked under pressure, and result in moist and tender meat. Also, for seasoning, I go with homemade ranch seasoning, it is very simple and easy to prepare, and you can control what goes inside. Just season the meat evenly on both sides.
Brown the meat: Add oil and butter to the pot and brown the meat. Deglaze the pot with some of the broth once done sauteing.
Add broth: Next, place the seasoned chops at the bottom of the pot. Then, pour in some broth over. Again, I love using homemade chicken broth. It just brings the best flavors! Alternatively, feel free to use good-quality store-bought broth.
Cook: Lastly, close the lid and pressure cook on HIGH for 7 minutes, following by 10-minutes of natural pressure release.
Make the Sauce: Remove the pork chops, add the cream and Ranch seasoning and stir until the sauce thickens. After that, add back the meat and simmer for 1 more minute.
Serve: Serve them hot with your favorite side dish.
Recipe adaptations:
How to cook Frozen Pork Chops in the Instant Pot?
You can easily cook frozen meat in the IP. Follow these steps:
To avoid the meat sticking to the bottom of the pan, I recommend using a trivet. Then, add 1 cup of water or broth to the bottom.
Next, put the frozen chops on the trivet, close the lid and cook for 15 minutes per pound.
Naturally, release the pressure, and then serve. If the meat is not fully cooked, close the lid, and cook for an additional 5 minutes.
Also, if you want to learn more about how to cook other frozen foods in the pressure cooker, here are some suggestions:
How long does it take to cook pork in the Instant Pot?
As a general rule, you have to cook for 12 minutes under HIGH pressure for each pound of pork. You can adjust the time a bit, but overcooking might result in dry meat as well.
Therefore, it is best to cook for about 10 minutes, and if more time is required, simply cook them for a few extra minutes.
For frozen meat, the cooking time is increase by 5 minutes per pound. So for 1 pound of frozen chops, you will need about 15 minutes of
Why are my Instant Pot pork chops tough?
Not using enough liquid such as broth or water, will cause the meat to be on a tougher side.
In addition, you should follow the above-recommended cooking time. Because pork chops are leaner cuts, it is easy to overcook them, resulting in tough chops.
Also, I recommended doing a natural pressure release instead of a quick release.
What to Serve with Instant Pot Ranch Pork Chops?
This dish goes pretty much with anything. Some great suggestions would be:
Storing instructions?
Leftovers can be stored in an airtight container, and refrigerated for up to 4 days.
To freeze, transfer them to a freezer-safe dish, and freeze for up to 3 months.
More Instant Pot recipes to try:
Recipe Tips:
This recipe can be made with boneless pork chops, or other meats, such as chicken breasts, turkey, or beef.
In addition, feel free to use your favorite seasoning. Some great alternatives would be cajun seasoning or taco seasoning.
Chicken broth adds a lot of flavor to it. However, if you do not have it, simply use water.
For juicy and fall-apart tender results, use bone-in chops about 3/4″ to 1″ thick.
Deliciousness to your inbox
Enjoy weekly hand picked recipes and recommendations