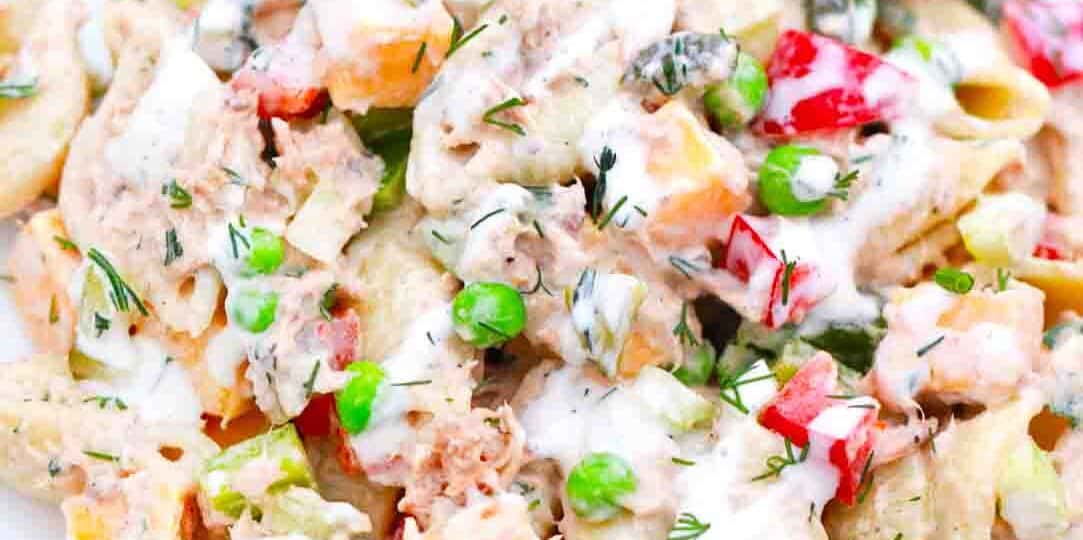 Tuna Pasta Salad Recipe [Video]
Tuna Pasta Salad is made with fresh veggies like crunchy celery and diced bell peppers, canned tuna, pasta shells, and a delicious creamy dill dressing. Tuna salad is a childhood classic for just about everyone as it is one of the top 10 casserole dishes in the United States. If you love tuna and pasta, this recipe is perfect for you to try.
If you liked this salad cuisine, you would absolutely love our latest recipes. This Southwest Ranch Pasta Salad is full of flavor and protein including black beans, corn, bell pepper, and jalapenos for a kick. Also, this Fall Pasta Salad is a quick and easy dinner for a cool night with butternut squash, broccoli, goat cheese, and chickpeas.
Tuna salad started out as a sandwich in the 1800s when people were very frugal with their food and tried not to let anything go to waste. Any kind of scrap meat like tuna would be mixed with mayonnaise and leftover relishes like pickles and celery.
When manufacturers came out with canned tuna in 1904, people did not even have to worry about cooking whole fish to make tuna salad. They just added it to the relish and mayo, put it on bread, and called it a tuna salad sandwich.
Tuna pasta salad is the best thing that has ever happened to salad! Not only is it delicious but it is also healthy and full of flavors like bell peppers, peas, celery, and cheddar cheese. Tuna is a wonderful wholesome seafood you do not have to cook so it can be added to almost any salad. Pasta salads come in many different varieties as well.
We have some delicious recipes for pasta salads that you and your family will love. Our Mexican street corn pasta salad is amazingly creamy with sour cream, cotija cheese, and small shell pasta. Or you can just go with the classic macaroni salad we all know and love. This one is made from sweet corn, pickle juice, and cheddar cheese.
Follow us on Pinterest for more delicious recipes!
Ingredients needed:
To make this scrumptious tuna pasta salad recipe, all you need are these simple ingredients. Then, scroll down to our recipe card for detailed instructions and exact measurements when you are ready to begin.
Canned tuna drained
Small shells pasta: Measured dry.
Green or red bell pepper: Diced.
Frozen peas: Defrosted and drained.
Sliced green onions
Chopped celery
Diced cheddar cheese
Dressing ingredients:
Mayonnaise
Greek yogurt
Sweet pickle relish
Lemon juice
Fresh dried dill
Kosher salt
Ground black pepper
How to make tuna pasta salad from scratch?
Cook macaroni: First, cook the pasta in a large pot according to the package instructions for al dente pasta.
Whisk the dressing ingredients: While you wait for the pasta to cook, whisk together the fresh dill, lemon juice, pickle relish, Greek yogurt, and mayo in a small bowl and set it aside.
Drain and rinse pasta: After the pasta is done cooking, drain it and rinse it with cold water to stop the cooking process. Let it sit for five minutes in a separate bowl.
Gently mix in the rest of the ingredients: Then, add the bell pepper, thawed peas, onions, celery, drained tuna, and pasta to a large bowl, mixing before you toss gently with the dressing.
Chill before serving: Finally, cover the large mixing bowl with plastic wrap and let it chill in the fridge for at least 30 minutes before serving topped with cheddar cheese.
Recipe variations:
Other tuna: Feel free to use your own favorite type of tuna like albacore tuna, which has a milder flavor.
Healthy meal: Use whole wheat pasta for an even healthier meal.
More herbs: Add other herbs like fresh basil, oregano, and rosemary.
Add tomatoes: Toss in some cherry tomatoes or a large tomato chopped into small cubes.
More protein: Another way to make this tasty lunch even heartier is to add some hard-boiled eggs.
Other protein: Some other protein additions you can use include beans, nuts, or tofu.
Chicken: Instead of tuna, you can use canned chicken for chicken pasta salad.
Other meat: In fact, feel free to use veal, pork, or turkey too.

Add veggies: You could also make this a more filling dish by adding your other favorite veggies like English cucumber, corn, green beans, or broccoli.
Sweet salad: For those who love sweets, add a 1/4 cup of brown sugar to your salad dressing.
How to serve:
This easy creamy pasta salad recipe is ready in under an hour and can be made as a meal, side dish, or appetizer. Try one of these serving ideas or share one of your own in the comments section at the bottom of the page.
Serve this dish on a bed of greens.

Sprinkle with red pepper flakes for a spicy kick to your creamy tuna pasta salad.
Stir in a tablespoon of dijon mustard for extra flavor.
You could also top this delicious tuna pasta salad with sour cream and red onion.

Add leftover tuna pasta salad to your favorite casserole. Try it with this easy and delicious recipe for tuna noodle casserole recipe.

In fact, you can add just about any topping to this salad for a heartier dish. Try some croutons, granola, mushrooms, tomatoes, or sunflower seeds.

For some crunchiness in your salad, sprinkle on some chopped walnuts, pecans, or slivered almonds.
This tuna pasta salad would be a wonderful complement to our KFC copycat fried chicken.
Frequently asked questions
What is the best pasta shape for this tuna macaroni salad?
Although our recipe calls for small shells, many people like to use elbow macaroni. The most important thing is to get a shape that will hold the creamy dressing and pair well with the other ingredients. Some other great choices include Gemelli, farfalle, and rotini. The second most important thing is to make sure you cook it to ensure you do not cook it too long.
Should I rinse the pasta first?
Although you do not have to, you can rinse with cold water to remove the extra starch in the pasta. It also works if you rinse the pasta after cooking as it states in this recipe. That way, not only does it rinse away the excess starch but it also stops the cooking process, so your noodles do not get overcooked.
Why are my noodles soggy?
If your pasta absorbs too much water, it will make your noodles soggy. First, make sure the water is at a full boil before adding your pasta, and keep it boiling during the cooking process. Also, cook your noodles less than the package says so they do not get overcooked, and be sure to cool them in cold running water to stop them from cooking after you remove them from the water.
What are the nutrition facts in this recipe?
Using American servings, you will get 138 calories and 7 grams of fat including 1 gram of saturated fat, 1 gram of monounsaturated fat, and 3 grams of polyunsaturated fat. It also has 14 grams of carbs, 8 mg of cholesterol, 328 mg of sodium, and 1 gram of sugar. But your pasta salad also has 2 mg of iron, 1 gram of fiber, 54 mg of calcium, 9 grams of protein, 20 mg of potassium, 13 mg of vitamin C, and 332 units of vitamin A.
How to store leftovers:
Store: You can store cooled leftover tuna pasta salad in an airtight container or gallon-size zip baggie for up to four days in the fridge.
Freeze: If you cannot finish it in a few days, freeze your tuna pasta salad for up to three months in a freezer bag or any freezer-safe container.
Thaw: Thaw your frozen tuna pasta salad in the refrigerator overnight before serving it for the best results.
More salad recipes:
Recipe tips:
Cut all the other ingredients about the same size for better uniformity.
Actually, shorten the work and the prep time by using precut veggies.
Make sure you add salt to the water when boiling your pasta.

Also, be sure to add salt and pepper to taste before serving.

You can make this a day ahead for less meal prep.
Make sure to use the package directions for al dente pasta and not fully cooked noodles. You want them to be slightly chewy.
Instead of Greek yogurt, you can use plain yogurt or sour cream.

If you are worried about fat or calories, use a light tuna packed in water or olive oil instead of vegetable oil.
You can also use light mayonnaise for less fat and fewer calories. Light mayo is easy to find in any grocery store.
Tuna Pasta Salad
Ingredients
3

cups

small shells pasta

measured dry

8

oz

canned tuna

drained

1/2

cup

celery

finely diced

1

red bell pepper

diced

green bell pepper

diced

1/4

cup

green onions sliced

1/2

cup

sweet peas

defrosted and drained of extra water

1 1/2

cup

cheddar cheese

diced into small cubes
Dill pickle dressing:
1/2

cup

mayonnaise

1/2

cup

greek yogurt

3

tablespoons

sweet pickle relish

1

tablespoon

lemon juice

1

teaspoon

fresh dill

chopped

Salt & pepper to taste
Instructions
Place a large pot with about 8 cups of water over medium-high heat and boil.

Season the water with salt, add a drizzle of olive oil, and cook pasta per package directions, aiming for al-dente.

Transfer the cooked pasta to a colander and drain well. Let cool.

Once the pasta has cooled to room temperature add it to a large bowl and the drained canned tuna.

Add the rest of the veggies and cheese.

Mix the dressing ingredients in a bowl.

Pour the dressing on top of the pasta, and stir gently to combine.

Set it aside in the fridge to chill or serve immediately.