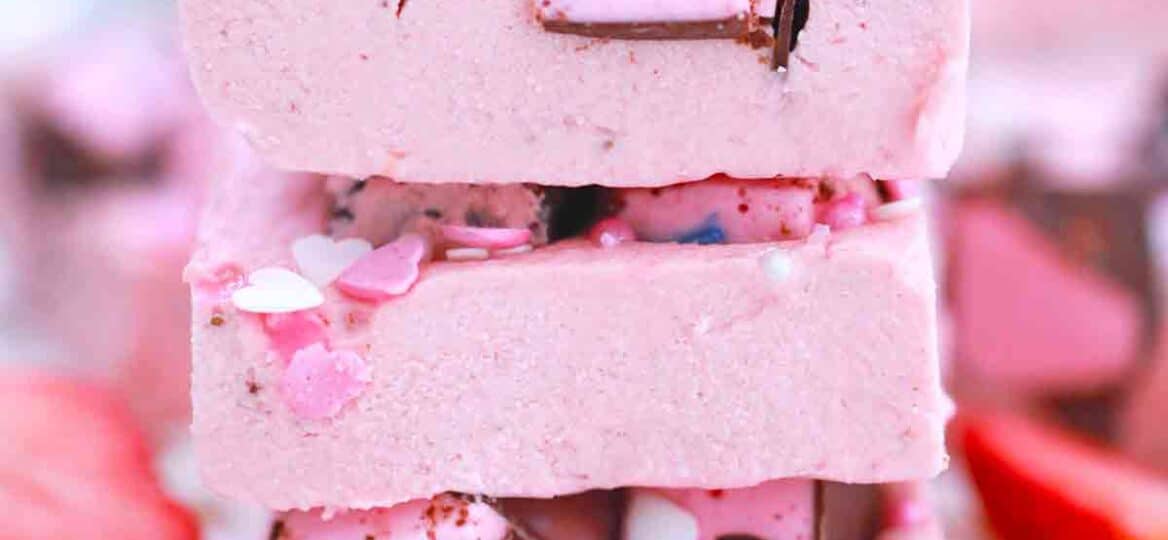 Strawberry Fudge Recipe [Video]
Strawberry Fudge is made with just three ingredients and a microwave, topped with strawberry-filled chocolate chunks its perfect for Valentine's day. Try one small piece of this easy treat and you will be hooked.
If you are looking for something a bit different, try our Pink White Chocolate Fudge with white chocolate and food coloring or this White Chocolate Fudge made with rainbow sprinkles. Another delicious strawberry dessert is this Strawberry Poke Cake made with white cake mix and white chocolate chips.
This 3-ingredient strawberry fudge recipe is a delicious treat for any day of the year but extra-special on Valentine's Day or at Christmas.
This is one of those no bake fudge easy recipes that you can make in minutes for easy delicious desserts. It has a lovely color and it's so easy to make that it can be a great project to do with kids.
Also, it takes just a few minutes to prepare and there is no baking or cooking required. Just a few ingredients are all you need to make this perfect recipe of white chocolate-strawberry fudge.
Ingredients needed:
These are the simple ingredients you need for this easy fudge recipe. But scroll down to the bottom of the page for our recipe card with the exact measurements and instructions.
White chocolate chips: Or white candy melts.
Unsalted butter: At room temperature.
Strawberry frosting: Homemade strawberry frosting or store-bought.
Chocolate candy with strawberry filling: For topping.
Sprinkles: For topping.
How to make strawberry fudge recipe?
Prepare: First, prepare an 8×8-inch square pan with aluminum foil, wax paper, or parchment paper.
Melt: Then, melt the white chocolate chips and butter in the microwave in a small bowl for one minute. Remove the bowl and stir. If it is not smooth, keep heating in 30-second bursts until it is smooth, stirring in between bursts.
Heat: Next, put the mixture back into the microwave and heat it for another 30 seconds before stirring again.

Pour: Immediately, pour the mixture into your prepared pan and sprinkle the top of the fudge with chopped candy and sprinkles.

Set and cut: Lastly, let it set for two hours in the fridge before cutting into squares.
Serve: Finally, serve with a bowl of fresh strawberries.
Recipe variations:
Melt: Alternatively, you could melt the chocolate in a double boiler or small saucepan with a heavy base over medium heat until melted.
Vanilla: Add a teaspoon of vanilla extract to this easy recipe for an extra boost of flavor.

More strawberry: Alternatively, use a teaspoon of strawberry extract for intense strawberry flavor.

Fluff: Add marshmallow fluff to the mixture to make a lighter and fluffier delicious strawberry fudge.

Color it: Put a few drops of red food coloring in the melted chocolate to give it a gorgeous red color.
Chocolate lovers: If you would rather have chocolate, use chocolate chips and chocolate frosting instead.
How to serve:
This is a great sweet treat for Valentine's Day or any time you need to feed your sweet tooth. Try one of these great serving suggestions:
Use cookie cutters to make shapes instead of cutting them into squares.
Add our sweet and tangy homemade strawberry sauce for more sweet strawberry flavor.
Drizzle some chocolate syrup on top before chilling it.
This easy caramel sauce is also a delicious topping for our yummy fudge.
For a nice dessert, serve this alongside a large bowl of fresh strawberries.
Our homemade blueberry sauce is also a tasty topping for this homemade fudge recipe.
Frequently asked questions
What is the secret to making good fudge?
Some of the secrets include using a heavy pan or double boiler during melting, never stirring during cooking, using a candy thermometer, and letting the fudge mixture cool before beating.
The temperature should read 234 to 237 degrees F with a candy thermometer.
Why is my fudge grainy?
You should also brush the sides of the pot with a wet brush to prevent sugar crystals from sticking.
Stirring during the melting stage can also make it grainy. The mixture may seize up if stirred too much.
Also, stop beating when it looks dull and then pour it into a mold.
Why won't my fudge harden?
The most common reason that fudge does not harden is that it was not cooked long enough. If it does not reach the proper temperature of approximately 235 degrees F, it will not set right.
Try reheating it. Add a tiny bit of evaporated milk and bring it back to a boil but do not stop cooking it until it reaches the right temperature.
How to store leftovers:
Store: After the fudge cools to room temperature, wrap it in plastic wrap and store it in a plastic bag or an airtight container. It will stay fresh for up to three days on the counter or five days in the fridge.

Freeze: To freeze your leftovers, wait until it is completely set and cool and then wrap it in plastic wrap or aluminum foil and place in a freezer bag. It will stay fresh for about three months.
Thaw: Thaw overnight in the fridge before serving for best results and then serve at room temperature.
More Valentine's Day recipes:
Cooking tips:
Make sure you use a microwave safe bowl when microwaving the chocolate.
Be sure to use a high-quality chocolate because it has more cocoa butter, making it smoother and easier to harden.
Spray the pan with cooking spray to keep the foil or paper from sliding around.
For precise cooking, make sure the fudge is 235 degrees F before letting it set.
Strawberry extract can be found in some local grocery stores and online.

If your fudge is grainy, next time try melting in 15-second bursts instead of 30.
According to the nutrition information, each serving of this great treat has 13% of your daily value of vitamin C, so you can think of this as a healthy dessert.
Strawberry Fudge
Ingredients
2 1/2

cups

white chocolate chips

1

tablespoon

unsalted butter

or coconut butter

1

16 ounce container

strawberry frosting

Strawberry filled candy bars and sprinkles

optional for topping
Instructions
Line an 8x8 pan with foil.

Place the white chocolate chips and butter in a microwave-safe bowl. Heat for one minute. Remove and stir. If needed heat for 30 more seconds and stir until melted and smooth.

Remove the foil lid from the frosting container and microwave the frosting for 1 minute. Combine with the melted chips. Stir quickly until fully incorporated.

Place the entire mixture back in the microwave for 20-30 seconds. Stir.

Pour the mixture into the prepared pan. Immediately top of the fudge with the chopped strawberry candy bars and sprinkles.

Chill it in the fridge to set.

Cut into squares and serve.