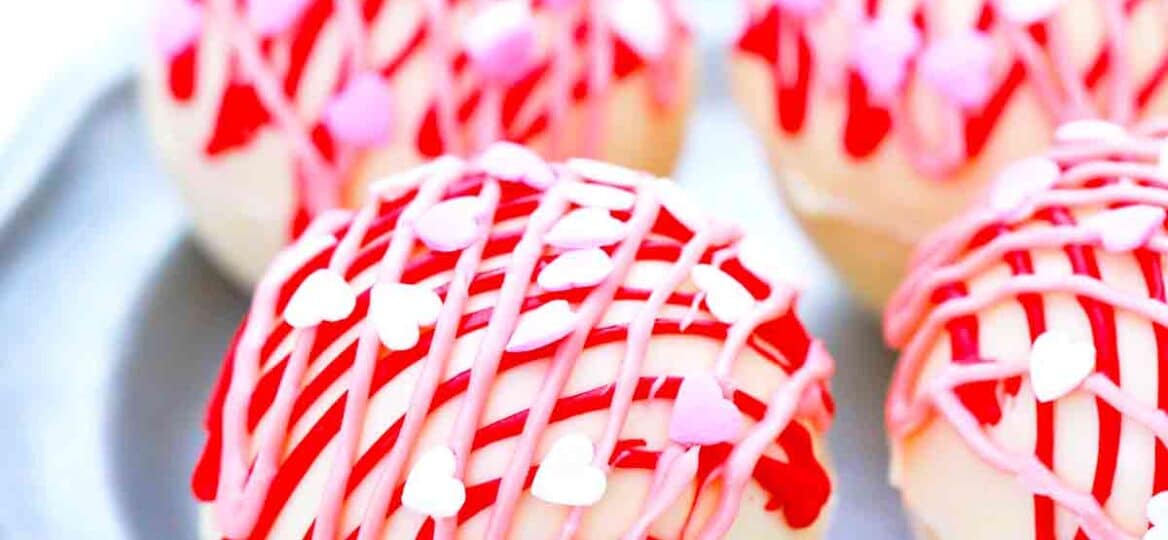 Valentine's Day Hot Chocolate Bombs [Video]
Valentine's Day Hot Chocolate Bombs are made of a creamy white chocolate sphere filled with hot cocoa powder, candy bits, and marshmallows. Decorate the top of each bomb however you like and give them as gifts, wrapping them in cellophane or plastic baggies. They are like a bath bomb that you can drink.
If you are enjoying this recipe, you will love our Pumpkin Spice Hot Cocoa Bombs with pumpkin spice or these Patriotic Hot Cocoa Bombs for Independence Day. Who says hot cocoa is just for the winter? Our Red Velvet Hershey's Kiss Cookies make a perfect addition to your cup of hot cocoa.
These are so much fun to make, you should invite the kids or grandkids to help. It can be a new Valentine's Day tradition.
It is a unique way to bond with the little ones during the Christmas season as well. They do not have to be Valentine's Day treats.
No matter when you make them, it is certainly the perfect way to enjoy a cup of hot cocoa.
Ingredients needed:
For the exact measurements, scroll down to our recipe card. But here are the main ingredients for making these Valentine's hot cocoa bombs:
White chocolate: Also, you can candy melts or white chocolate chips.
Red candy melts
Bright pink candy melts
Light pink candy melts
Strawberry Nesquik powder: You can use the pink Nesquik powder or just hot chocolate.
Strawberry heart marshmallows: Or pink marshmallows, in addition, any marshmallow will work in this recipe.
Pink marshmallows: Chopped small for easier melting.
Sprinkles
Glitter spray: Optional, you can add some on top to make these fancier.
Milk: For serving.
How to make Valentine's Day hot chocolate bombs from scratch?
Melt: First, the put the white candy melts in a microwave-safe bowl and cook according to the package instructions and stir until smooth.

Mold: Add a large spoonful into the cavity of each of the molds. Use a silicone brush or back of a spoon to brush a layer up the sides of the mold to cover the entire thing.
Chill: Next, put the whole thing into the fridge for five to 10 minutes to chill. Add another layer and chill again.

Heat: Then, heat up a microwave-safe plate for one minute.

Remove: Meanwhile, stretch the edges of the mold to loosen up the shells.

Melt: After, doing one at a time, press the edge of six of the shells on the hot plate to melt the edges and set them on a flat tray or baking sheet.

Fill: Next, add two tablespoons of Nesquik, three heart marshmallows, and one tablespoon of mini marshmallow bits to each half of the sphere.

Seal: Again, one at a time, press the edges of the shells onto the hot plate until they start to melt. Then, press it to one of the filled shells and hold it until it is sealed.

Melt: Next, melt the other wafers according to the instructions and stir each color until it is completely melted and smooth.

Decorate: Lastly, using a spoon, transfer each color of the melted candy to a piping bag. Drizzle each color over the top of the bombs. Add festive sprinkles and glitter before it sets.
Serve: Put the bomb in a mug and pour one cup of hot milk on top. Stir until it is melted.
Recipe variations:
Milk chocolate: Feel free to use milk or dark chocolate instead of the colors in this hot recipe. You can decorate with the candy melts on top.

Chocolate heart: Use a heart mold to make a chocolate heart and fill it with heart candy and marshmallows.

Add extra: Chocolate lovers will enjoy a spoonful of chocolate chips inside the bomb.

More chocolate: In fact, you can substitute the strawberry powder with chocolate if you like.

Coconut oil: Add a tablespoon of coconut oil to the chocolate to make the candy melts shinier.
How to serve:
To serve, put one of these Valentine's hot chocolate bombs into the bottom of a mug and fill it with hot milk. Or try one of these ideas:
These make great gifts. Just wrap them individually in red or pink cellophane bags and tie them with a ribbon.
Instead of (or in addition to) marshmallows, use candy conversation hearts inside your bombs.
Enjoy some of our decadent chocolate chip cookies with your drink.

Use the remaining chocolate to make mini bombs for the kids.

When using heart molds, make half of the hearts pink and the other half white with Valentine's sprinkles.
Try this cocoa with one of our mouthwatering Valentine's Day cookies.
What is a hot chocolate bomb?
A hot chocolate bomb is a little ball of mouthwatering chocolate that you put in a mug and pour hot milk on. The shell melts and allows the cocoa and mini marshmallows inside the bomb to be released.
This delicious way to drink hot cocoa became popular in 2017 and has been seen on social media like Tik Tok and Pinterest.
Can you eat a hot chocolate bomb?
If you do not happen to have a mug or some hot milk, you can eat a chocolate bomb if you want.
Chocolate lovers will have no second thoughts about biting into a chocolate shell filled with hot cocoa mix and marshmallows.
It may be a little bit messy though, depending on how many toppings you have inside.
Do I have to temper my chocolate?
If you are using anything other than candy melts, you will need to temper your chocolate.
For example, if you are using chocolate chips or candy bars, tempering it makes it smooth and hard, so it does not stick to your fingers or melt when you touch it.
How to store leftovers:
Store: Storing these bombs is easy. Just put them into an airtight container and place them in the refrigerator for up to a week.

Freeze: Freezing this fun treat is not recommended but you can try. Just make sure you put it in an airtight freezer-safe container.
Thaw: No need to thaw. Just let the bombs come to room temperature on the counter.
More Valentine's Day recipes:
Cooking tips:
If the store is out of pink or red candy melts, just get the white ones and use food coloring to dye it the shades you need.

Chop your chocolate for better melting results. The smaller the chunks, the easier it is to melt.

You can also melt the candy by putting them in the microwave for 30-second increments. Stir each time and do not let it get too hot. A temperature of about 90 degrees F on your instant-read thermometer means it is ready.

Another way to make sure your chocolate is tempered is to use the back of the spoon to put a little bit onto parchment paper and into the fridge for five minutes. It is done when it looks glossy and snaps when you break it.
You can also use a double boiler to melt and temper your candy melts over medium heat.

If you do not have milk, hot water will work just fine as well.

Place each of the completed bombs in a cupcake liner to keep them from touching each other when you store them.
Valentine's Day Hot Chocolate Bombs
Ingredients
10

ounce

bag white chocolate melting wafers

or white chocolate chips

1

cup

strawberry Nesquik powder

or regular hot chocolate powder

16

strawberry mini pink marshmallows

4

tablespoons

white marshmallow bits

1/4

cup

red melting wafers

1/4

cup

white melting wafers

1/4

cup

light pink melting wafers

heart shaped sprinkles
Instructions
In a medium microwave-safe bowl, melt the white chocolate wafers according to the package directions. Stir well until smooth and creamy.

Add about 2 teaspoons into each mold cavity and using a pastry brush spread a thin layer of chocolate to evenly cover the entire mold.

Refrigerate for 5-10 minutes. Reheat the remaining chocolate if needed and add another thin layer of chocolate, and refrigerate again.

Once chilled, loosen the chocolate semi-spheres from the molds by gently stretching the edges.

Heat a dinner plate in the microwave for a minute. One at a time, press the edges of the chocolate shells onto the warm plate to melt the edge just a bit. Place on a flat tray with the edge up.

Immediately add to half of the shells: 2 tablespoons of strawberry Nesquik, 4 heart marshmallows, and 1 tablespoon of mini marshmallow bits.

Cover with the remaining shells, and hold for a few seconds until it seals.

Add the colored melting wafers to separate small microwave-safe bowls and heat according to package directions. Stir each one until melted and creamy.

Spoon each melted color into piping bags and drizzle over the tops of the hot chocolate bombs quickly.

Immediately top with sprinkles before chocolate sets.
To Serve:
Place a white-hot chocolate bomb into a mug and pour 8 ounces of hot milk over the top until it "explodes" open. Stir until melted and serve.
Deliciousness to your inbox
Enjoy weekly hand picked recipes and recommendations