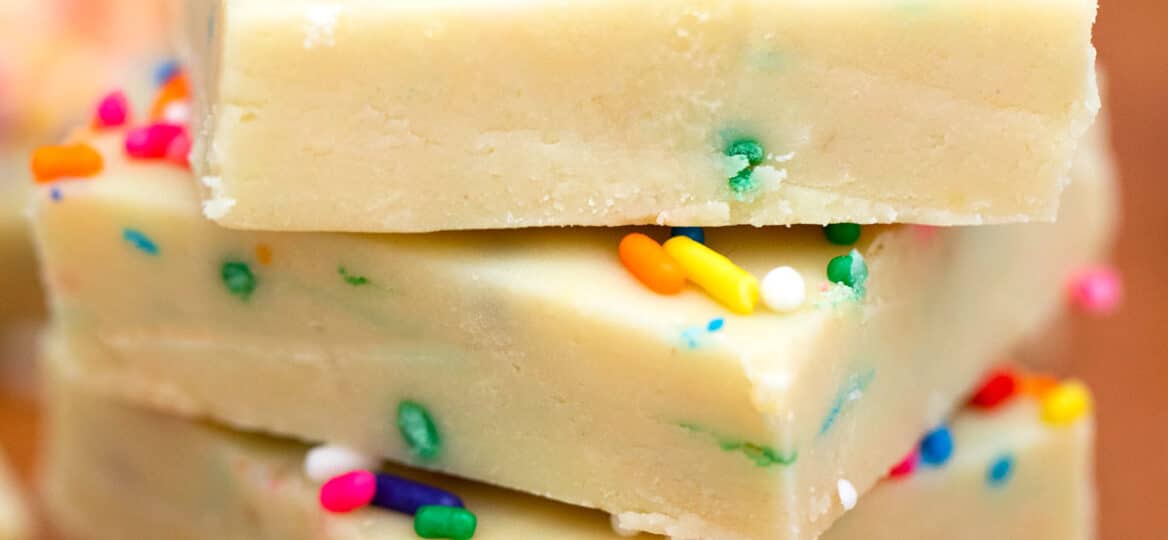 White Chocolate Fudge Recipe [Video]
White Chocolate Fudge is a classic dessert loved by people all around the world! This chewy goodness is so easy to make with just 4 ingredients!
If you want to see some other confectionary classics, take a quick look at my recipes for Lemon Bars, Cinnamon Rolls, and No-Bake Oreo Balls!
No Bake White Chocolate Fudge
White Chocolate Fudge is one of my ultimate guilty pleasures! When those sweet cravings hit, it is so convenient to have it in my fridge for a quick bite.
Children obviously love it but even my adult friends can't seem to help themselves. This irresistible goodness is just so satisfying that one bite is not enough.
This treat is also great for parties as they come in bite-sized shapes which is fun to eat.
Holidays especially are the perfect time to make this dessert at homes as the price of the store-bought ones increase drastically.
How to make White Chocolate Fudge
Prep the container. Using a pastry brush, butter a square pan. Then, place parchment paper to easily remove the fudge later.
Melt the mixture. Together in one bowl, stir frequently and melt over low heat chocolate chips and condensed milk for a minute or when completely melted. Stir for more rounds after letting it sit for another minute before putting in vanilla extract.
Let it cool. Place the mixture in the buttered pan. Let it cool completely at room temperature or in the fridge for an hour.

Serve. Cut it into bars, preferably one-inch squares. Sprinkle with sea salt for additional flavor. Then, serve.
Recipe Variations:
Adding a little bit of tangy sweetness also upgrades the taste of the delicacy. You can add dried fruits chopped into tiny pieces such as cranberry and pecans.
However, you can also check out some of my other recipe variations to have more options in cooking this dessert.
How to keep your fudge from being gritty?
A gritty and grainy output is one of the most common problems in making this recipe. However, don't fret as I have tips and tricks to make it the perfect dessert it can be.
To fix a gritty outcome, you can either redo the entire steps but add one and a half cups of water to the pan. Add the flavors necessary in case it becomes diluted. The trick is to also make sure to brush the sides of the pan to avoid premature crystallization.
If you want to be more meticulous, using a candy thermometer may also prevent overcooking which causes the dessert to be gritty.
How to store it?
White Chocolate Fudge perfectly settles at room temperature. There is absolutely no need for it to be placed in a fridge.
However, I still prefer letting it chill as I like to bite sweet goodies that are cool rather than warm. I just make sure that I place it in a sealed container to avoid it from drying out.
More delicious chocolate desserts:
As the common saying goes, chocolate is happiness that you can eat! No matter the season, it is something that everybody wants to have.
If you are just like me who loves eating and giving out sweets, you may want to take a look at these other sweet recipes:
Recipe tips:
Heat is crucial when it comes to making this recipe. Try to use a saucepan that evenly distributes heat.
When using a candy thermometer instead of relying on the cooking time, you only need to check whether the temp has reached a degree between 234 to 237 °F.
Use a sturdy spatula, preferably wooden one or those made out of silicone. The last thing you would want is to break the utensil when the fudge gets too thick.