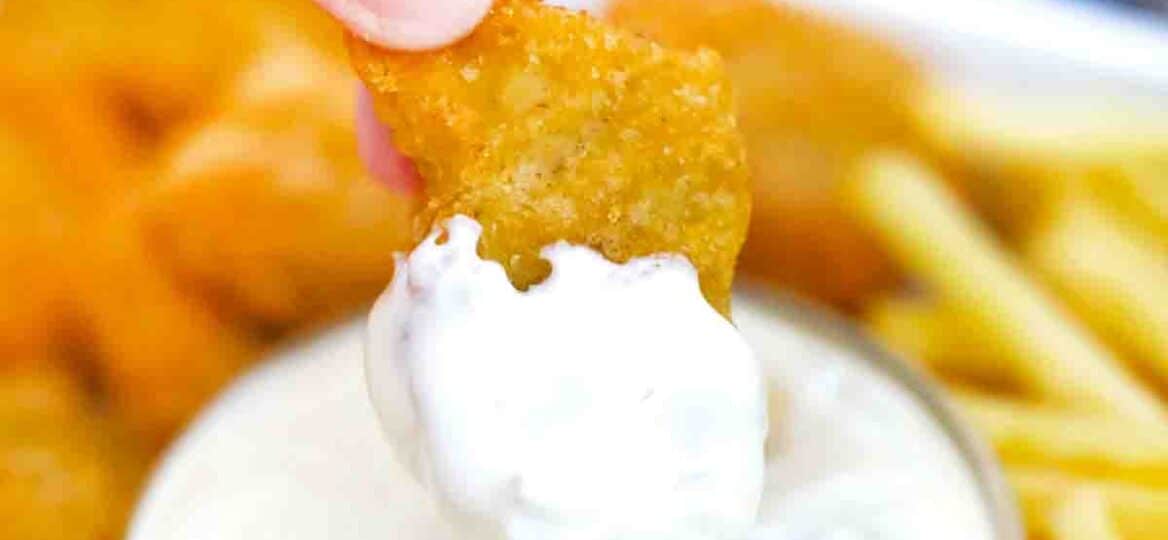 McDonald's Tartar Sauce Copycat Recipe
McDonald's Tartar Sauce Copycat brings your favorite fast-food dish home, made with simple ingredients so you do not have to go out every time you want something to spread on your fish sandwich. If you are a fan of fish sandwiches, you have to try this recipe because it is the best tartar sauce recipe I have ever tried. And making this sauce at home means you know everything that goes into it!
If you want to make the whole sandwich from scratch, use our easy recipe for McDonald's Fish Sandwich. One of the secrets we share with you is the pickle juice in the fish batter and you already have the tartar sauce recipe here! Another tasty copycat to dip in this sauce is our McDonald's Chicken Nuggets made with skinless, boneless chicken breasts.
Also known as McDonald's tarter sauce recipe, this creamy sauce made the Filet o Fish sandwich famous way back in 1962. The legendary fish sandwich was invented by Lou Groen to deal with the falling burger sales on Fridays due to the Christian Friday Fast tradition. It was a huge hit and was added as a permanent menu item the following year.
No need to get dressed and hit the drive-thru. You can make your own Filet o Fish. Our homemade McDonald's tartar sauce recipe only includes the fresh ingredients listed here. McDonald's tartar sauce recipe has other additives like calcium chloride, soybean oil, polysorbate, and other ingredients that are hard to spell.
Looking for more great copycat recipes? We have lots of them including other McDonald's recipes like the McDonald's Big Mac sauce you can make in minutes with just a handful of ingredients. For something a little sweeter, we have this air fryer McDonald's apple pies copycat recipe. You only need four ingredients including a pie crust, apple pie filling, an egg, and cinnamon sugar.
Follow us on Pinterest for more delicious recipes!
Ingredients needed:
All you need to make this delicious Mcdonald's tartar sauce copycat recipe are these simple ingredients listed here. When you are ready to make your copycat tartar sauce, find our recipe card at the bottom of the page for step-by-step instructions, all the ingredients, and precise measurements.
Chopped onion: Divided.
Pickle relish: Divided.
Capers
Mayonnaise
Granulated sugar
Dried parsley flakes
How to make McDonald's tartar sauce copycat from scratch?
Chop it up: First, blend sugar, parsley, capers, pickle relish, mayonnaise, and one tablespoon of chopped onions in a blender or food processor until it is completely smooth.
Add the rest of the ingredients: Then, add in the rest of the pickle relish and one tablespoon of onion and stir until combined.
Chill and serve: Last, put the sauce into a bowl covered in plastic wrap or a jar and chill for at least two hours before serving.
Recipe variations:
Sweeter: If you like sweeter relishes, add more sugar to your recipe.
Other relishes: Another way to make this tartar sauce recipe sweeter is to use sweet pickle relish.
Greek yogurt: For more protein and fewer calories, you can use plain Greek yogurt instead of mayonnaise.
No capers: If you do not have any capers, try chopped olives. The green ones work best.
No parsley: Similarly, basil can be used instead of parsley.
Spice it up: Spicy food lovers will enjoy a pinch of red pepper flakes or cayenne pepper in this recipe.
Different onions: You can use any kind of onion you want for your copycat sauce, but McDonald's recipe uses white onion.
How to serve:
You know that Mcdonald's tartar sauce goes best with battered fried fish. But it can be used in many other ways as well. There is so much more you can do with it! Check out some of these ideas or share some of your own in the comments section below.
You can use tartar sauce at home on anything from fish sticks to chili. Be creative!
Tartar sauce tastes great with any fried dish. Serve a small bowl of this creamy sauce with chicken fingers, fried shrimp, chips, or even popcorn. Or try our beer-battered fish recipe.
Another way to serve tartar sauce at home is to add it to sandwiches. Any kind will do. If your burger is too dry, add a generous helping of this creamy tartar sauce and it will be delicious.
You can also serve it as a dip for french fries, fresh veggies, chips, or crackers. These crispy potato wedges would be perfect for dipping.
Add a teaspoon of tartar sauce to your next salad for a unique salad dressing.
Top these scrumptious salmon patties with a dollop of this creamy sauce.
Frequently asked questions
What are capers?
Also known as Flinders rose, the caper is a fruit from a caper bush, which is native to Mediterranean countries. They can be pickled and eaten raw or used as a garnish, seasoning, or ingredient in many dishes such as this McDonald's tartar sauce recipe. The flavor is similar to mustard or black pepper and is often used in Greek, Italian, and Maltese recipes like salads, pasta, and chicken dishes.
Why is my tartar sauce runny?
It could be the temperature. Tartar sauce gets thicker as it cools so try putting it in the fridge for a while. Another main reason for runny tartar sauces is not draining your pickle relish. This is an important step so make sure you do not skip it! It may also be the mayonnaise that you used. If you use too much or it is not a high-quality brand, it may add excess oil to your sauce.
Is pickle relish just chopped pickles?
Although you can use chopped or diced dill pickles to make it, that is not the only ingredient in most commercial relishes. In fact, you will usually find bell peppers, onion, sugar, fresh lemon juice, and vinegar in most pickle relishes. If you like sweeter relishes, you can use sweet pickles. But for this recipe, we use dill pickles. You can use whatever kind you like to eat.
What are the nutrition facts in this recipe?
Each serving has 140 calories, 15 grams fat, and 3 grams saturated fat. It also contains 150 mg sodium, 10 mg cholesterol, and 1 gram carbohydrates. You also get 20 mg calcium, 1 mg iron, and 1 mg vitamin C. These numbers for the nutrition, calories, and fat are just estimates and only count the sauce, not the fish sandwich or anything you use for dipping.
More sauces to try:
How to store leftovers:
Store: To store McDonald's tartar sauce, refrigerate it in an airtight container like a jar where it will stay fresh for up to three weeks.
Freeze: If you want to freeze your leftover sauce, put it in any freezer-safe container such as a freezer bag. It can remain frozen for three to four months.
Thaw: Be sure to thaw frozen leftovers in the fridge overnight before using. Do not thaw at room temperature.
Recipe tips:
You can thin out the sauce with a teaspoon of milk or cream if it is too thick.
Make sure you use dill pickle relish. The sweet relish will give your Filet o Fish sandwich too much sweetness.
Also, be sure to drain the relish or it will make your tartar sauce too runny.
Instead of a food processor or blender, mash capers and relish with a fork. It may not shorten prep time, but it will shorten cleanup.
If you do not have pickle relish, make your own homemade version from dill pickles.
Make a big batch and chill overnight. The longer you let the sauce chill the better the taste. It will absorb more flavors that way.
For the exact version of this Filet o Fish sandwich, add a slice of American cheese.
Also, the bun should be a soft steamed bun to be authentic.
McDonald's Tartar Sauce Copycat
Ingredients
1

cup

mayonnaise

4

tablespoons

pickle relish

divided

1 1/2

teaspoons

capers

2

tablespoons

very finely diced onion

divided

1/2

teaspoon

dried parsley

1/2

teaspoon

granulated sugar
Instructions
First, add the mayonnaise, 2 tablespoons of pickle relish, the capers, 1 tablespoon of diced onion, parsley, and sugar into a blender or food processor, and blend until smooth.

After that, mix in the remaining 2 tablespoons of pickle relish and 1 tablespoon of onion until well combined. Season with salt to taste.

Transfer the sauce to a jar and cover, refrigerate for at least 2 hours before serving. Enjoy!