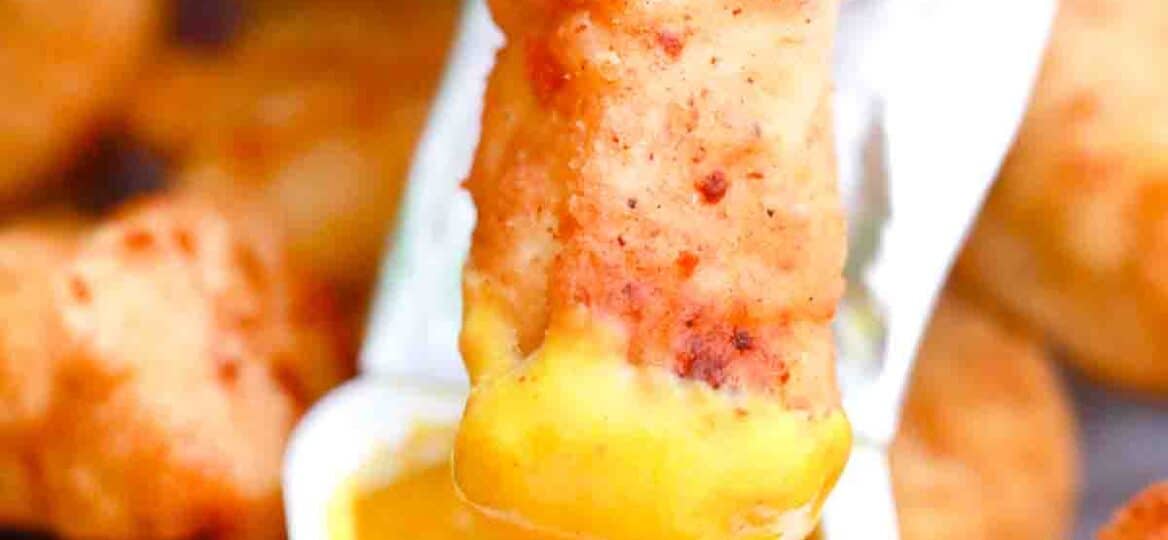 McDonald's Chicken Nuggets Copycat [Video]
McDonald's Chicken Nuggets copycat recipe makes the perfect crispy and golden nuggets that are tender and juicy on the inside. This recipe is for those who love the delicious little fast food bites but do not like processed foods. Served with your favorite dipping sauce, you can enjoy these McDonald's chicken McNuggets anytime.
For more recipes you may like that are similar, try this Chick-Fil-A Nuggets Copycat recipe made with dill pickle juice, white pepper, and chili powder and served with homemade honey mustard sauce. For something a little different, our Crispy Orange Chicken is seasoned with garlic, ginger, and vinegar with homemade orange sauce.
Did you know that fast-food restaurants consider kids to be their best customers? That may be why the Happy Meal was so popular when they started selling it in 1979. The first ones had a burger, fries, soda, and Keebler cookies with a small Cracker Jack toy, and it was in a circus-style box that kids loved.
The corporation came out with McNuggets soon after, and they were included in the choices for the newer Happy Meals in 1983.
This homemade chicken nugget recipe is easy to make and gives your chicken an amazing flavor. Each chicken McNugget is deep fried to golden brown in just a few minutes so you can have these on the table in less than a half hour. If you do not like fried food or cooking with hot oil, try our air fryer McDonald's chicken nuggets recipe.
Another copycat recipe you may like is this Panda Express firecracker chicken with black beans, sweet chili sauce, and oyster sauce. Or this easy KFC chicken copycat marinated in pickle juice and buttermilk.
Follow us on Pinterest for more delicious recipes!
Ingredients needed:
These are the simple ingredients for these Mcdonald's chicken nuggets at home without the complicated recipe you will get from some food blogs. After you gather these items, scroll down to our recipe card for complete instructions and exact measurements.
Skinless chicken breast fillets
Egg
All-purpose flour
Vegetable oil
Ground mustard
Garlic powder
Onion powder
Kosher salt
Ground black pepper
Water
How to make McDonald's chicken nuggets from scratch?
Beat your chicken: The first step is the most fun since you get to relieve some stress by squashing and pounding on the chicken breasts. Mash them until they are about 1/4 inch high and then cut them into smaller pieces for dipping.
Beat it: Then, beat the egg and mix in the cup of water.

Make the batter mixture: After, pour flour, garlic powder, onion powder, ground mustard, salt, and pepper into a zipper food bag. Shake it up well until it is combined.

Shake your nuggets: Now, put a couple of nugget shapes into the bag and shake it until they are covered.

Do it again: Next, dip the nuggets into the egg mixture before shaking them in the bag of flour mixture again.

Chill: After all the chicken nuggets have been covered twice, put them in the fridge for about an hour to settle and cool.

Coat them again: Then, remove the nuggets from the fridge and coat them in both mixtures one more time.

Preheat oil: Meanwhile, preheat your oil in a deep skillet or fryer to 370 degrees F.

Fry your nuggets: Once the oil is hot enough, put the nuggets in the oil and fry for 10 minutes, flipping after five. Do not overcrowd the fryer.
Let them drain: As you remove the nuggets, lay them on a paper towel-lined plate or paper bag for a few minutes to drain.

Serve with dipping sauce: Finally, after they are all cooked and drained, serve them with your favorite dipping sauce.
How to make air fryer McDonald's chicken nuggets from scratch?
Smash your chicken: To begin, smash your chicken breast fillets until they are about 1/4 inch thick, and then cut them into nugget-sized pieces.

Whisk it: Then, whisk your egg and water together in a shallow bowl.

Make the breading: Next, add your seasonings and flour into a Ziploc baggie and shake well or add it all to a mixing bowl and stir until combined.
Coat your nuggets: Afterward, shake the nuggets in the bag of flour mixture two at a time until they are done.
Redo: Then, coat them in the egg mixture and shake them in the bag again.

Refrigerate: Now, put the nuggets in the fridge to cool for an hour before coating them in the two mixtures again.

Air fry the nuggets: Last, put your nuggets into the air fryer basket and fry at 375 degrees F for 10 to 12 minutes, flipping them over halfway.

Serve nuggets warm: Once all the chicken nuggets are done, serve them warm with your favorite dipping sauces.
Recipe variations:
Another oil: Feel free to use another oil such as canola oil or whatever you like to cook with.

More heat: If you love spicy food, add a teaspoon of red pepper flakes to your breading mixture.

Different cuts: Instead of chicken breasts, you can use chicken thighs or drumsticks.
Other meats: In fact, you do not even have to use chicken. Try making these with pork or turkey for a change.

Your own blend: The batter mixture can be substituted with your own favorite blend.
Sweeten it up: If you like a sweet flavor in your chicken, add some brown sugar to the batter.

Sweet extracts: You could also use a sweet extract such as lemon, orange, or butter.
How to serve:
These crispy little fun nuggets are delicious any way you serve them. But you can try one of these serving ideas or share one of your own in the comments below.
These yummy nuggets would be great with any dipping sauce but you should try our slightly hot buffalo sauce, tangy honey mustard, rich teriyaki sauce, or our easy homemade barbecue sauce.

Why not make your kids their own homemade kid meal by adding some french fries, apple slices, and a cup of chocolate milk?
If you like Chick-Fil-A sauce, try our copycat sauce to dip your nuggets in.

Instead of serving the kids a meal, make an adult Happy Meal with a bigger order of french fries, some applesauce, and a drink along with a few dipping sauces.

You can also serve these as an appetizer or game-day food with chicken wings and guacamole.

Have just a few nuggets left over? Pop them in your food processor and chop them up to add to your favorite chicken or beef recipe. It would be great in a meatloaf.

McDonald's fans may also enjoy a burger with our copycat McDonald's Big Mac sauce.
Frequently asked questions
Is it true that the fast food chain does not use chicken in their chicken McNuggets?
We have all seen the ads on social media and heard the rumors about McDonald's chicken nuggets being made with a pink slime that comes from grinding up entire bodies of chickens. However, the ingredients in McNuggets are actually white boneless chicken, seasonings, and breading as well as a bit of cornstarch and wheat starch. You may find some baking soda, dextrose, and citric acid as well.
Why should I chill these chicken nuggets before cooking?
To keep the runny batter from disintegrating when you make them in your deep fryer or running off in your air fryer, it is best to cook them when they are very cold or even partially frozen. Not only does it help dry out the batter, but it also helps it stick as it settles onto the meat. This is better for getting a good thick and crispy coating on your tender nuggets.
What are the different sauces McDonald's has for chicken nuggets?
Besides ketchup, the most popular dipping sauce for McNuggets is their tangy barbecue sauce. It has a sweet hickory smoked flavor. Spicy buffalo sauce is another favorite with a slight bit of butter flavor to make the heat manageable. Creamy ranch, honey mustard, and pure honey are the other three sauces you can choose from.
What are the nutrition facts in this recipe?
Each serving of these McDonald's chicken nuggets has 420 calories, 26 mg of cholesterol, and 42 grams of fat with 3 grams of saturated fat. You also get 121 mg of sodium, 9 carbs, and 2 grams of sugar. On the other hand, you get 1 gram of fiber, 7 grams of protein, and 320 mg of potassium.
How to store leftovers:
Store: You can store your leftover Mcdonald's chicken nuggets in an airtight container in the refrigerator for up to three days.
Freeze: If you cannot eat them in a few days, it is safe to freeze your copycat McDonald's chicken nuggets for up to two months. Put them into a freezer bag and make sure you push all the air out of it before sealing.

Thaw: Remember to thaw out your frozen leftovers in the fridge overnight before serving for the best texture and flavor.
Reheat: Warm your chicken nuggets in the microwave on medium-high for 45 to 90 seconds for soft nuggets. If you want them crispy, reheat them in the air fryer for one to two minutes at 400 degrees F.
More finger food:
Cooking tips:
Instead of beating your chicken, grind them in a blender or food processor with one egg, cornstarch, salt, and pepper. Then mold the chicken mixture into nugget shapes before coating them with the flour mixture. Just use half the salt for this and the remaining salt for the breading.

When using this molded chicken nuggets recipe, use wet hands to shape them so they stick together better.

Another way to prepare this is to mix all the flour ingredients into a medium bowl and dip each piece of chicken into it before putting them onto a baking sheet covered in parchment paper. Freeze for two hours before you deep fry frozen nuggets.
You could also use pre-ground chicken to save prep time.

Make a big batch of these and freeze them in small freezer bags or containers to be eaten for quick meals.

If you are making a big batch, be sure not to overcrowd the deep fryer or they will not cook evenly.

Instead of flour, you can use cornstarch or cornmeal for a thicker breading.

Do not skip the mustard. It may seem like an odd addition to the recipe, but it is important in the flavor. If you do not have ground mustard, you can use regular mustard.
McDonald's Chicken Nuggets Copycat Recipe
Ingredients
3-4

chicken breast fillets

skinless and boneless

1

egg

1

cup

water

1

cup

all-purpose flour

1

tablespoon

onion powder

1

teaspoon

ground mustard

1/4

tablespoon

ground black pepper

2

teaspoons

garlic powder

1

tablespoon

kosher salt

or to taste

Vegetable oil

for frying
Instructions
Place the chicken fillets on a wooden board, cover them with plastic wrap, and use a rolling pin to pound them until they are 1/4 inch in height. and squashing each of the breast fillets!

After that, cut the chicken breast into smaller, nugget-sized pieces.

In a small bowl, beat the egg and mix it with the water.

Next, in a Ziploc bag add the flour, salt, pepper, onion powder, mustard powder, and garlic powder, and shake it to combine.

Add a few nuggets at a time into the bag and give them a little shake.

Remove the chicken pieces from the bag, arrange them on a plate, and repeat with the rest.

After that, coat them in the egg mixture, one at a time, or just a few at a time.

Next, return the coated chicken pieces to the bag, and give them a final shake. Do NOT discard the flour mixture.

Once all nuggets have been well covered in the mixture twice, chill them in the fridge for one hour.

After refrigerating, give the chicken nuggets another coating in the flour mixture.

Add oil to a deep skillet, saucepan, or fryer, and preheat it to 370°F.

Fry the nuggets in batches, do not overcrowd the pan, and fry for approx 10 minutes, turning once or twice.

Arrange the fried nuggets on a plate covered with paper towels to drain excess oil. Let them on the paper towels just for a few minutes, after that transfer them to a serving plate.

Serve with your favorite sauce.