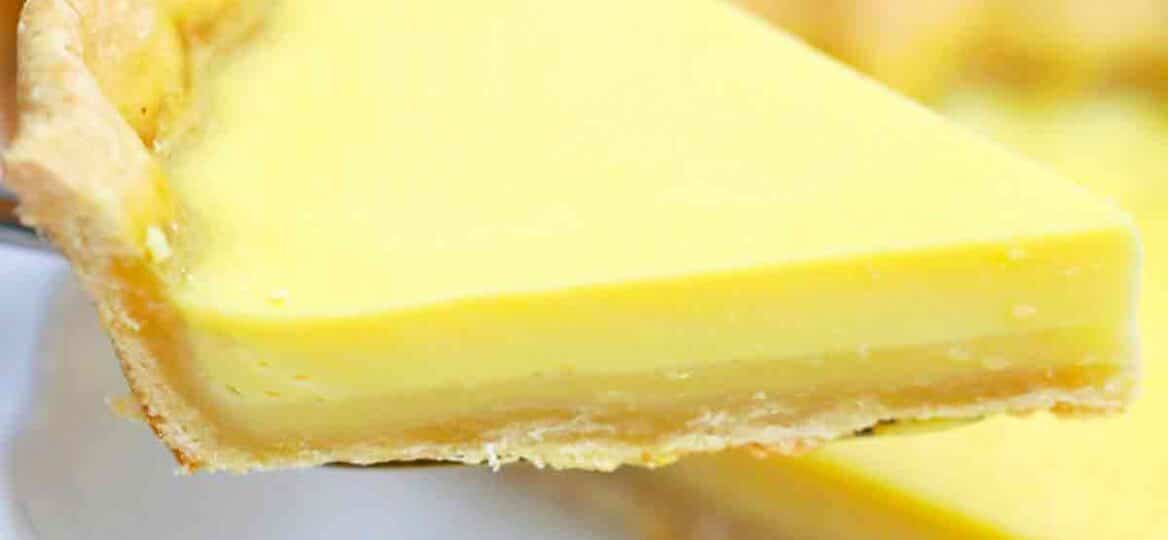 Amish Custard Pie is a delectably creamy and sweet treat you can make in minutes with a handful of ingredients. The spices blend with the vanilla and milk to make this a light and airy dish for breakfast, dessert, or just a snack. You may not even have to go to the grocery store since you probably have all the ingredients in the kitchen.
Nobody wants to turn on the oven in the summer but this No-Bake Oreo Pie does not require baking or cooking of any kind. Another cool treat for any time is this light and fluffy Banana Cream Cheesecake with cream cheese, sour cream, and a graham cracker crust.
Today's recipe is easy and inexpensive so you can make it any time you are craving a sweet and creamy dish.
Just tossing it all into a mixing bowl and whisking before baking is how simple this recipe is. This is one Amish recipe you will want to hand down to the kids.
You could also try this Instant Pot Rice Pudding made with whole grain rice, cinnamon, and milk.
Ingredients needed:
These are all the ingredients needed for this amazing recipe. Scroll down to get the measurements and instructions from our recipe card below.
½ cup sugar: White granulated sugar.
All purpose flour: Or whatever type is your favorite.
Large eggs: At room temperature for best results.

Egg yolks: Save the egg whites for egg wash.
Salt: I used Kosher salt.
Vanilla: Pure vanilla extract is best.

Milk: Whole milk is what I used but you can use what you have.

Spices: Nutmeg and cinnamon.
How to make Amish custard pie recipe?
Prepare: To prepare, preheat the oven to 350 degrees F and move the oven rack to the bottom rack.
Line pan: Meanwhile, line a 9.5-inch pie dish with the Amish pie crust or another unbaked pie shell.

Whisk: Next, use a large bowl to combine sugar, flour, eggs, egg yolk, vanilla, and salt with a whisk.
Heat milk: Then, heat milk in a medium saucepan over medium heat until it reaches the boiling point.

Add the milk: Immediately, add one ladle of milk to the egg mixture and stir. Continue to add the remaining hot milk one ladle at a time, stirring it after each ladle.
Strain: Afterward, pour your custard through a strainer and into the unbaked pie crust.

Bake: Last, sprinkle nutmeg on top of the pie and bake for 45 to 50 minutes, or until the center is set. Pour the mixture through a strainer and into the unbaked crust.
Serve: Finally, add more nutmeg and cinnamon and cool before slicing and serving.
Recipe variations:
Brown sugar: Try using brown sugar instead of white for a richer flavor.
Egg wash: For a crispy crust, brush it with egg whites mixed with water.
Add fruit: Add some cherry, strawberry, or apple pie filling to make a cherry, strawberry, or apple custard pie.

Rhubarb: Another great choice would be a rhubarb custard pie.
Lemon: You could also add some lemon juice to make lemon custard pie.
How to serve:
This is the easiest and fastest Amish custard pie recipe I have found that makes a creamy and delicious dessert you can make any time. Serve it on its own or try one of these serving suggestions:
Use this delicious pumpkin pie pudding recipe to make Amish pumpkin custard pie.
Squeeze some chocolate syrup on top for chocolate lovers.
Add a big dollop of this homemade whipped cream topping to the top for extra creaminess.
You could also add some rainbow sprinkles or candy to make it festive.

This also tastes amazing with a scoop of our sweet and tangy strawberry ice cream.
Frequently asked questions
What makes Amish recipes different?
Traditional Amish cooking means cooking with ingredients that are fresh from their own farm. It is typically healthier than other types of cooking because they do not use artificial flavors or preservatives.
Also, their recipes are passed down from generations to sustain healthy and traditional cooking.
What is the difference between Amish pie and custard?
If just looking at the words themselves, pie is the pastry that is made with a flour dough used to make different types of Amish pies.
Custard is a milky sauce with egg yolks that can be used to make Amish bakery custard pie.
Should I blind bake the crust?
Although you do not have to, some cooks say one of the first things they do is to give the crust an egg wash and prebake it for 10 to 15 minutes.
This prevents a soggy crust and gives it nice crispy flakiness. Our recipe for this egg custard pie does not call for it but feel free to do so.
How to store leftovers:
Store: After it cools to room temperature, you can keep what is left in the fridge in a covered pie dish or pan. It should stay fresh for several days.

Freeze: For longer storage, feel free to wrap the leftovers in plastic wrap and slide them into a freezer bag. They will stay good in the freezer for about 90 days.
Thaw: Remember to thaw overnight in the fridge before serving.
More pie recipes:
Cooking tips:
You know it is done when it has just a little wiggle in the middle and the edges are set. It will be overbaked if you let it puff up.

Do not refrigerate until it has cooled to room temperature for best results.
You could also use a 9-inch pie plate for this recipe.

Place parchment paper between slices when freezing.

Next time you make this dish, try some other flavors of extracts for a different taste.

Before you mix flour with anything, make sure you sift it.
Amish Custard Pie
Ingredients
1/2

cup

white granulated sugar

1

tablespoon

all-purpose flour

3

eggs

1

egg yolk

1/4

teaspoon

salt

1

teaspoon

vanilla extract

2

cups

milk

Pinch

of nutmeg

Pinch

of cinnamon
Instructions
Move the oven rack to the bottom position and preheat the oven to 350 degrees F.

Line a 9 ½-inch pie dish with the Amish Never Fail Pie Crust from the blog, you will only need the bottom part.

In a large bowl, whisk together the sugar, flour, eggs, egg yolk, salt, and vanilla, until smooth and fully combined.

In a small saucepan, over medium heat, add the milk and heat until just beginning to boil.

Add the hot milk, little by little at a time, to the egg mixture, stirring every well while you add it and until fully combined.

Pour the mixture through a strainer and into the unbaked pie crust.

Sprinkle with nutmeg and cinnamon and bake for 45 to 50 minutes, until the center is set. Also, you can mix these ingredients with flour and sugar. Or skip them for a more yellowish dessert

After baking, place the dish on a cooling rack and allow it to cool completely before cutting.

For best results refrigerate for a few hours after cooling.
Deliciousness to your inbox
Enjoy weekly hand picked recipes and recommendations