Cherry Pork Chops Recipe [Video]
Last updated on August 21st, 2022 at 05:30 pm
Cherry Pork Chops are tender and juicy, coated in a sweet and tangy cherry sauce for a burst of flavor in every bite, ready in 30 minutes. This is one of my family's favorite recipes and you will see that even the pickiest eaters will love it. And this recipe is so easy even the newest home cooks can do it.
If your family liked this recipe, they will love our Skillet Pork Chops seasoned with maple syrup and brown sugar also make a delicious dish any night of the week. For something different, try our Garlic Lamb Chops with cherry tomatoes, marinara sauce, and garlic.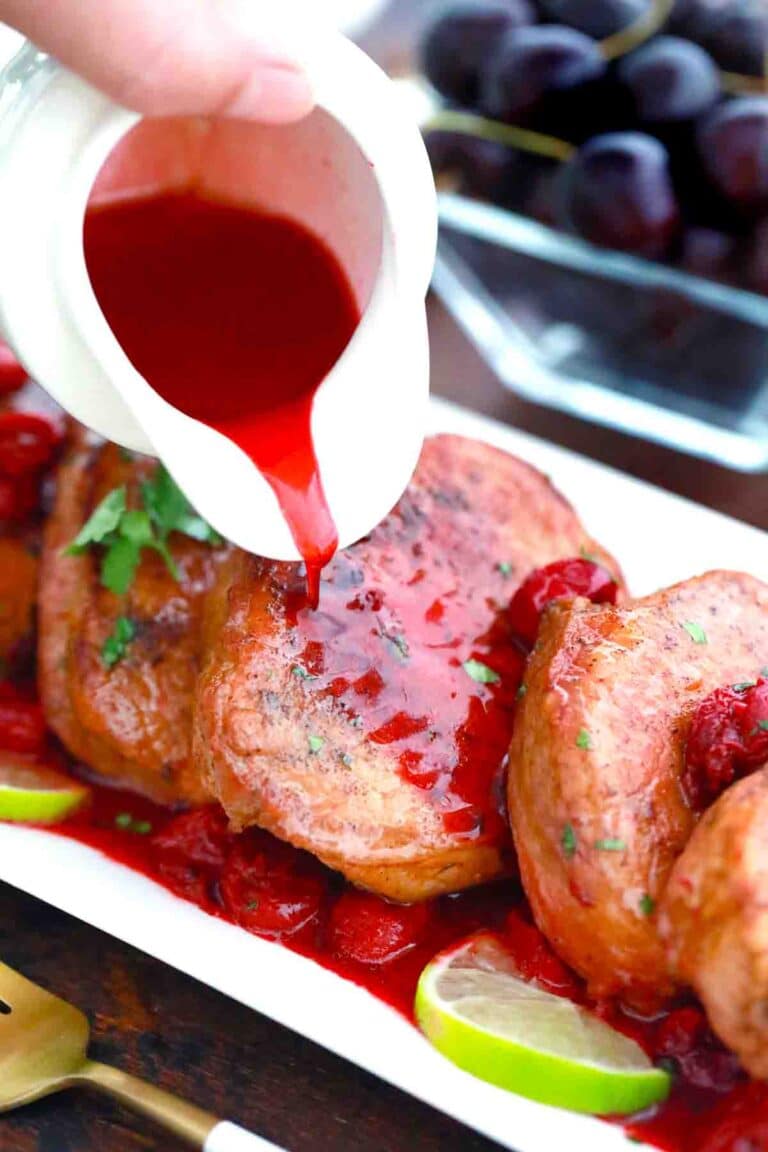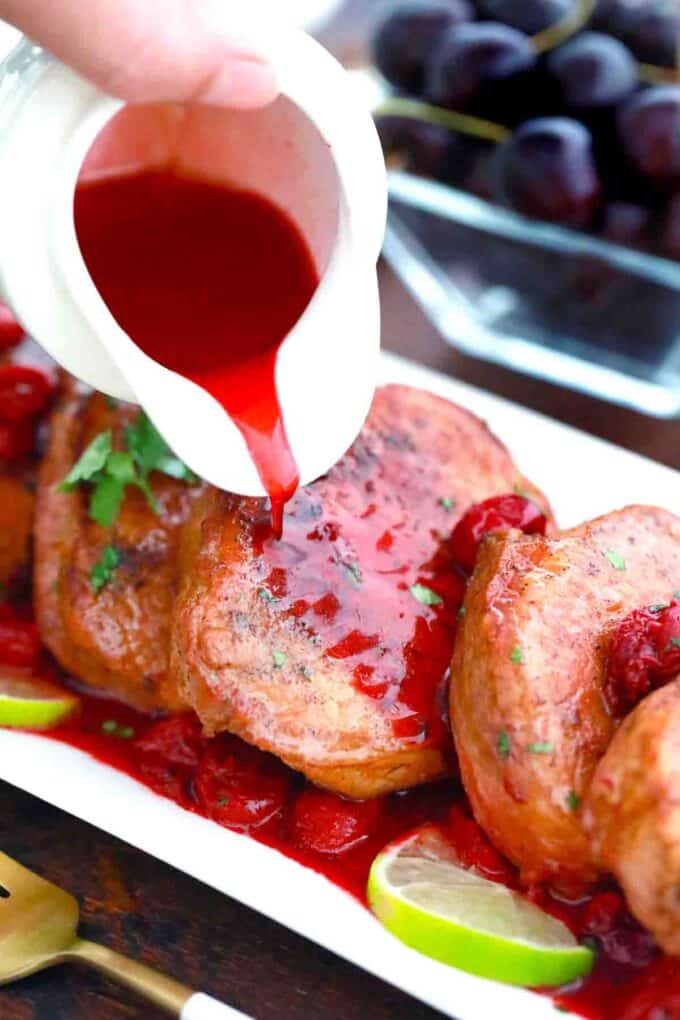 Pork chops are one of the leanest and healthiest meals you can make but that also means they can dry out easily. The less fat, the easier it is to make them dry out when cooking. Be sure not to overcook them and try using a tenderizer to break up the muscle fibers before cooking.
This scrumptious dish is easy to make and takes just minutes. There is no need to turn on the oven because you can cook it all in one pan. Add a spice rub of salt, pepper, and your favorite herb before searing and your pork will have an incredible taste throughout.
This is one of the best pork recipes there is, and it is one of my favorites. Add a small bowl of pineapple cucumber salad as the perfect starter for any of these pork dishes.
Are you looking for more pork recipes? These apple cinnamon pork chops need no description because the name says it all, and they are incredible. If you need something super easy, try our slow cooker pineapple pork loin. Just dump it all in the crock pot and let it cook all day.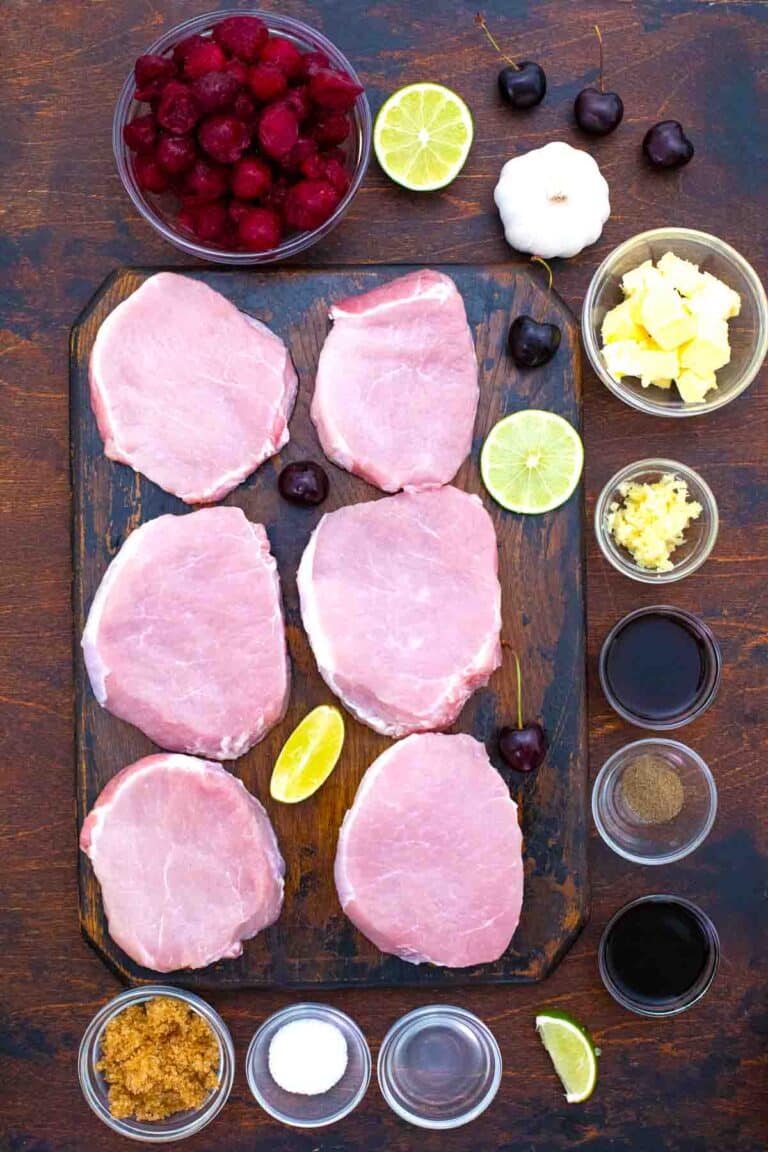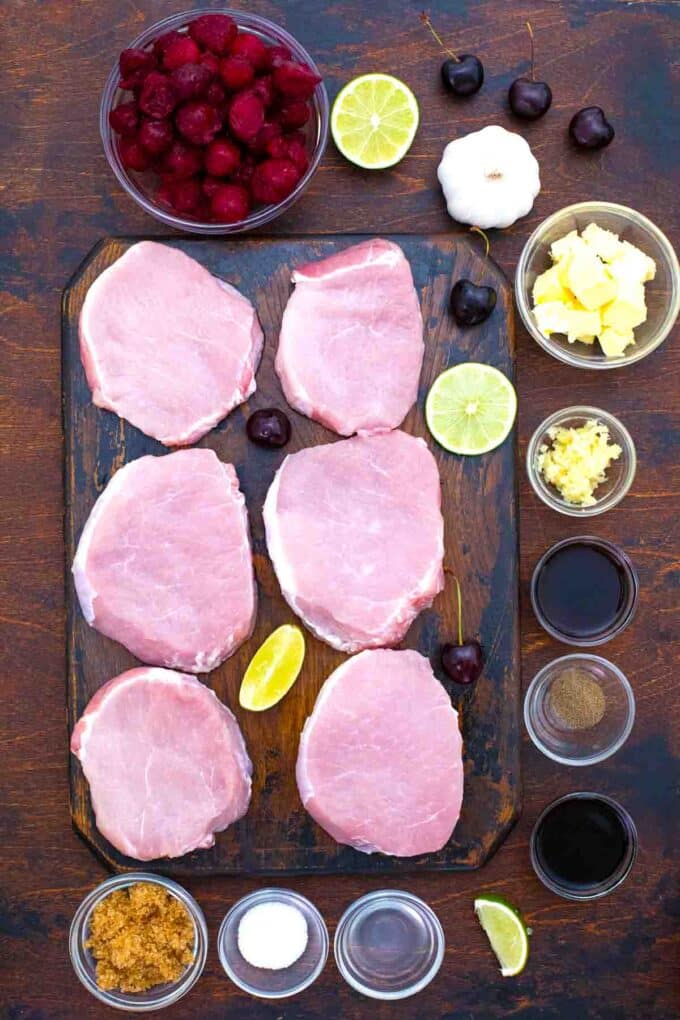 Ingredients needed:
You will need to gather these ingredients for your sweet cherry chops. To get the complete instructions, scroll down to our recipe card at the bottom of the page.
Boneless pork chops
Thawed frozen cherries: Or fresh cherries, pitted and cut in half,
Lime juice: Use fresh lime juice for best results.
Balsamic vinegar: Red wine or apple cider vinegar with a teaspoon of sugar will also work.
Soy sauce: Low-sodium soy sauce is best.
Garlic cloves: Minced.
Brown sugar: Light or dark brown sugar will both work.
Unsalted butter: If you use salted butter, omit the salt from the recipe.

Kosher salt
Black pepper
How to make cherry pork chops recipe?
Prep: First, season your pork chops with salt and pepper.
Heat the skillet: Next, heat a cast iron skillet or any large skillet on medium-high heat until it is hot before adding the butter.
Sear: Once the butter melts, add pork chops to the skillet and sear on medium heat for three to four minutes per side until they are golden brown. Remove meat and set it aside.
Make the cherry sauce: Then, add the brown sugar to the same skillet and stir continuously with a wooden spoon until it is dissolved which should take one or two minutes. Put in the garlic, soy sauce, balsamic vinegar, lime juice, and cherries, and cook for one more minute, stirring occasionally.
Add the chops: Lastly, put the pork chops back in the pan and simmer for a few more minutes, spooning the cherries on top until the internal temperature is 145 degrees F on an instant-read thermometer.
Let them rest: After, place the chops on a plate and cover with aluminum foil for five minutes to rest.
Go ahead and eat: Finally, serve pork chops with cherry sauce and lime wedges.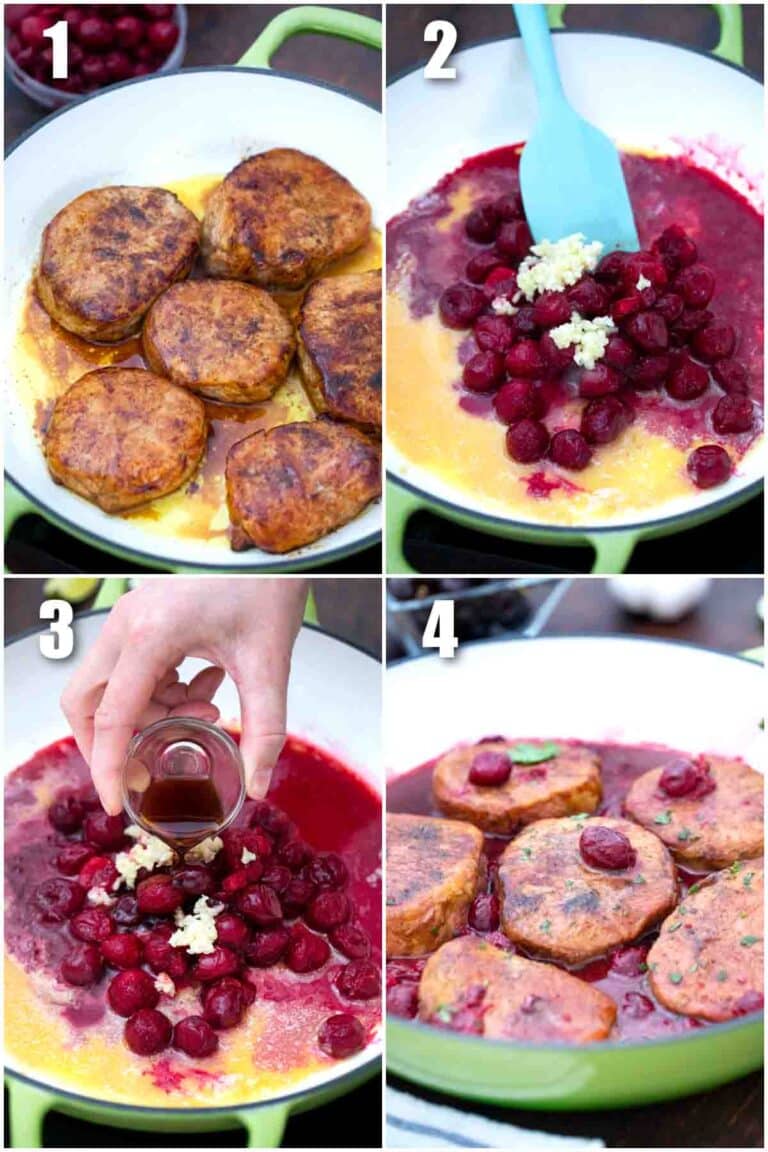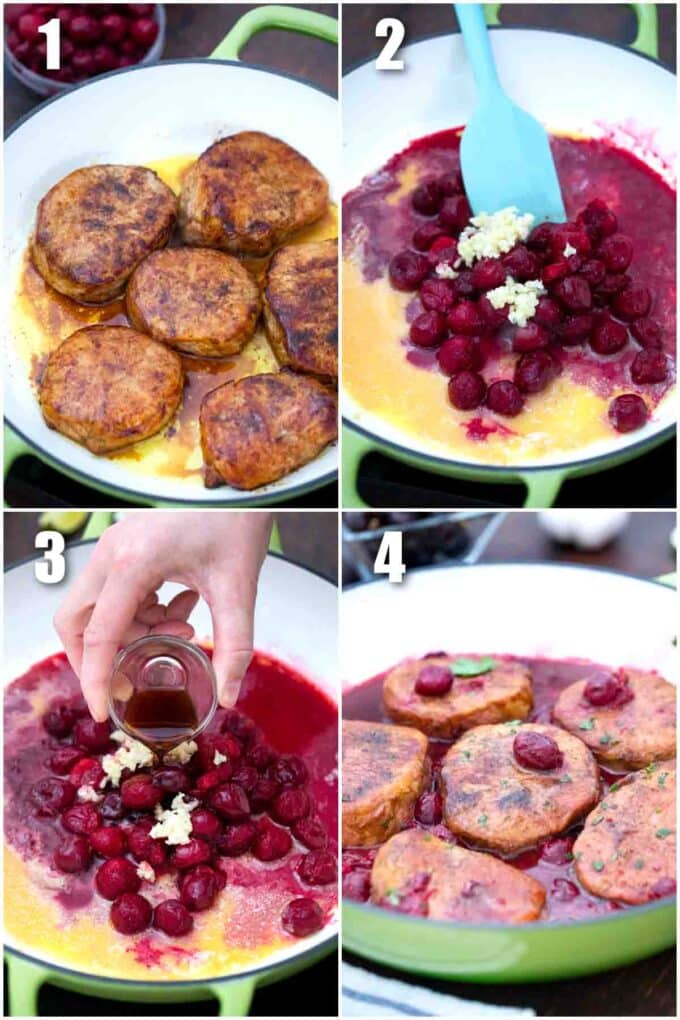 How to make pork chops with cherry sauce in the oven:
Make the marinade: While waiting, mix the cherries, lime juice, balsamic vinegar, soy sauce, minced garlic, butter, brown sugar, salt, and pepper in a small saucepan and cook over medium heat for about two minutes.
Marinate chops: Once it cools, pour marinade into a large bowl or large freezer bag with the chops and let them marinate in the fridge for at least two hours.
Preheat oven: After, preheat the oven to 350 degrees F and prep a baking dish or pan with nonstick cooking spray.
Bake: Then, place them in the dish and cover with cherry sauce before baking for 30 minutes or until the internal temperature is 145 degrees F.
Rest and eat: Afterward, let it rest for five minutes before serving with extra cherry sauce and limes.
Recipe variations:
Oil: Feel free to replace the butter with olive oil or whatever oil you like cooking with.
Fresh herbs: You can add your own favorite herbs like fresh thyme leaves, rosemary, basil, shallots, ground mustard, and smoked paprika.
Other meats: Try using chicken, turkey, or beef steaks instead of pork.
Add other fruit: This dish would also be delicious with chopped apples, plums, peaches, or pears.
Another juice: Instead of lime juice, you can use lemon, pineapple, or orange juice.
Use extracts: For more flavor, use your favorite extracts like maple, orange, lemon, or almond.
Grill: You can also grill these chops on the BBQ grill.

Hot: For a hot and spicy taste, add cayenne pepper or red pepper flakes to the sauce.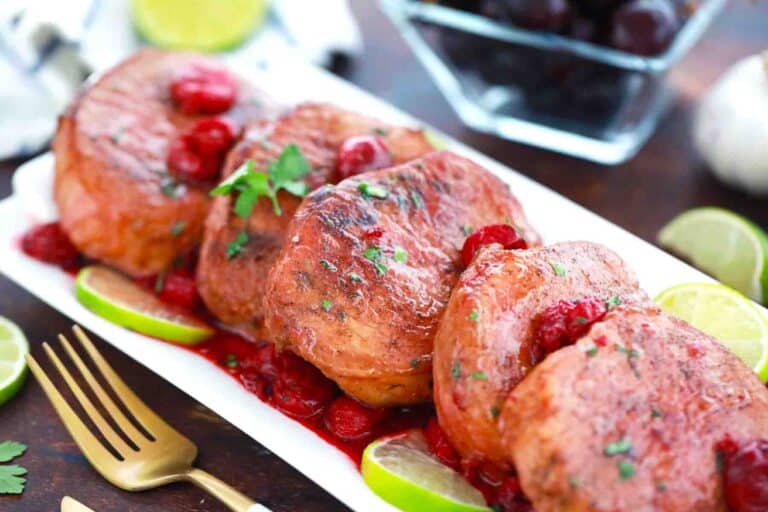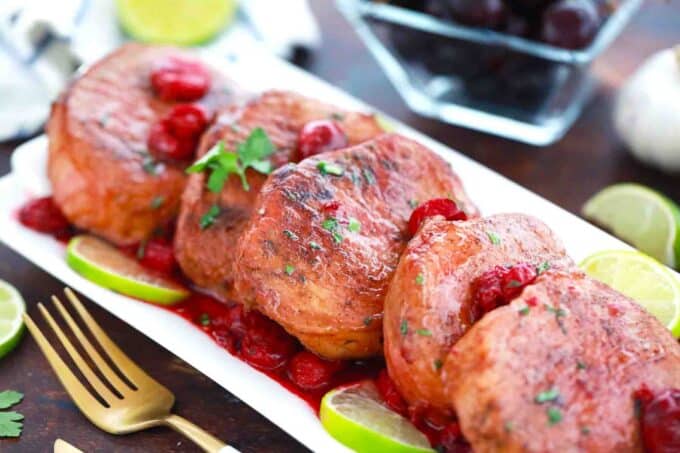 How to serve:
Our pork chops with cherries make the perfect dish for dinner tonight or any time. Prepare these with your favorite sides and a glass of wine or try one of these serving suggestions.
For an appetizer, try our avocado corn salad with cherry tomatoes, lime juice, and red onions.
Top your pork chops with maple or cherry syrup for a sweeter meal.
Serve this delicious pork chop dish with mashed potatoes or our crispy air fryer potatoes with parmesan and paprika.
If you are a cheese lover, top these with a handful of mozzarella or brie cheese.
Another great topping for these is this pineapple salsa.
Sprinkle your favorite herb on top before serving for a boost of taste.
Frequently asked questions
What kind of cherries are best for this recipe?
Sweet cherries, pitted and halved are what we used for this recipe. Some of the best choices are Bing and Rainier cherries work best but you can also use Chelan, Montmorency, or maraschino cherries for this recipe. Frozen cherries are also good but you have to let them thaw out first.
What is the difference between regular boneless, center-cut, and pork loin chops?
Pork chops all come from the loin, which is the area from the shoulder to the hip. The regular boneless cut is the top of the loin and is lean with a rich flavor. The center cut is from the hip area and has a bone in the middle like a steak.
Also known as sirloin, the pork loin comes from the backbone and has a variety of meats. They need to be braised or they will be tough.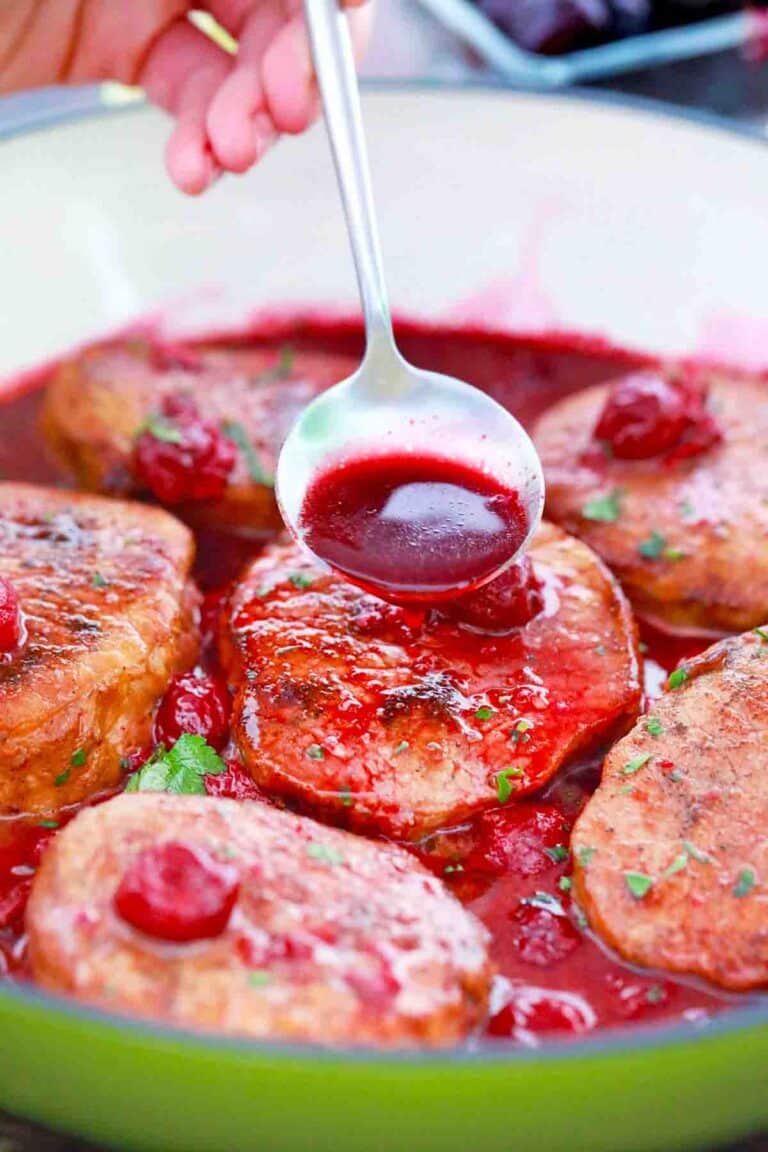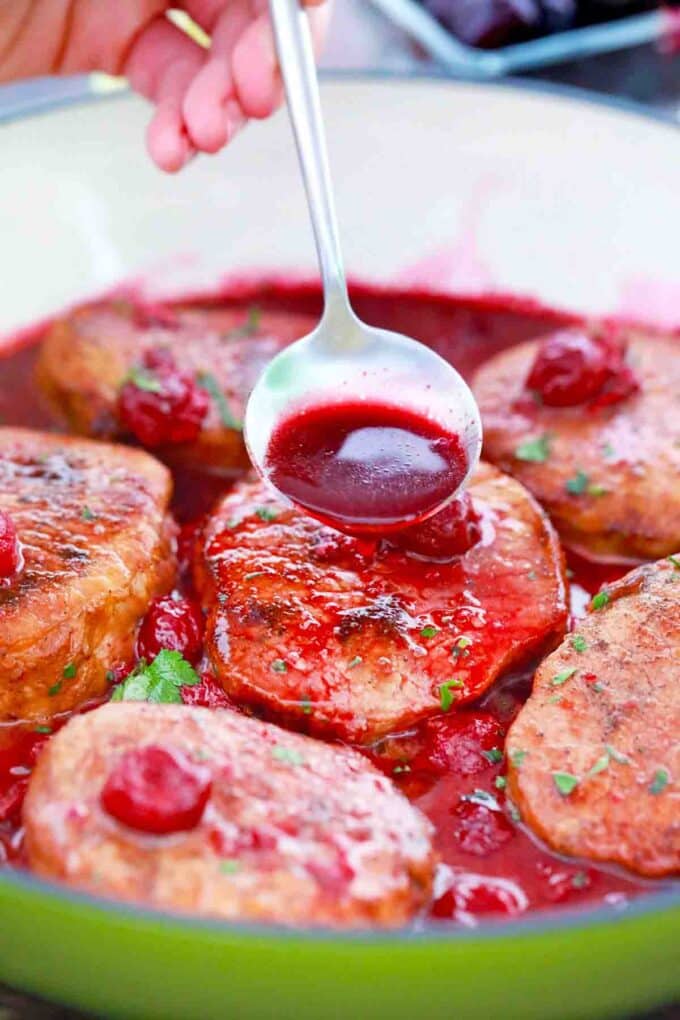 What is the secret to juicy and tender pork chops?
There are several tips for making tender chops. First, break up the muscle in the pork by pounding it with a meat mallet. Then, marinate them in an acid-based juice like citrus, vinegar, or red wine.
Also, making sure they are pan-seared before cooking is a perfect way to keep the juices in to make sure the pork chops are not dry.
What are the nutrition facts for this recipe?
Each serving of these delicious pork chops has 370 calories, 15 grams of fat with 5 grams of saturated fat, 45 milligrams of cholesterol, 15 grams of carbs, and 10 grams of sugar. You also get 2 grams of fiber, 25 grams of protein, 7 milligrams of vitamin C, 30 milligrams of calcium, and 1 milligram of iron.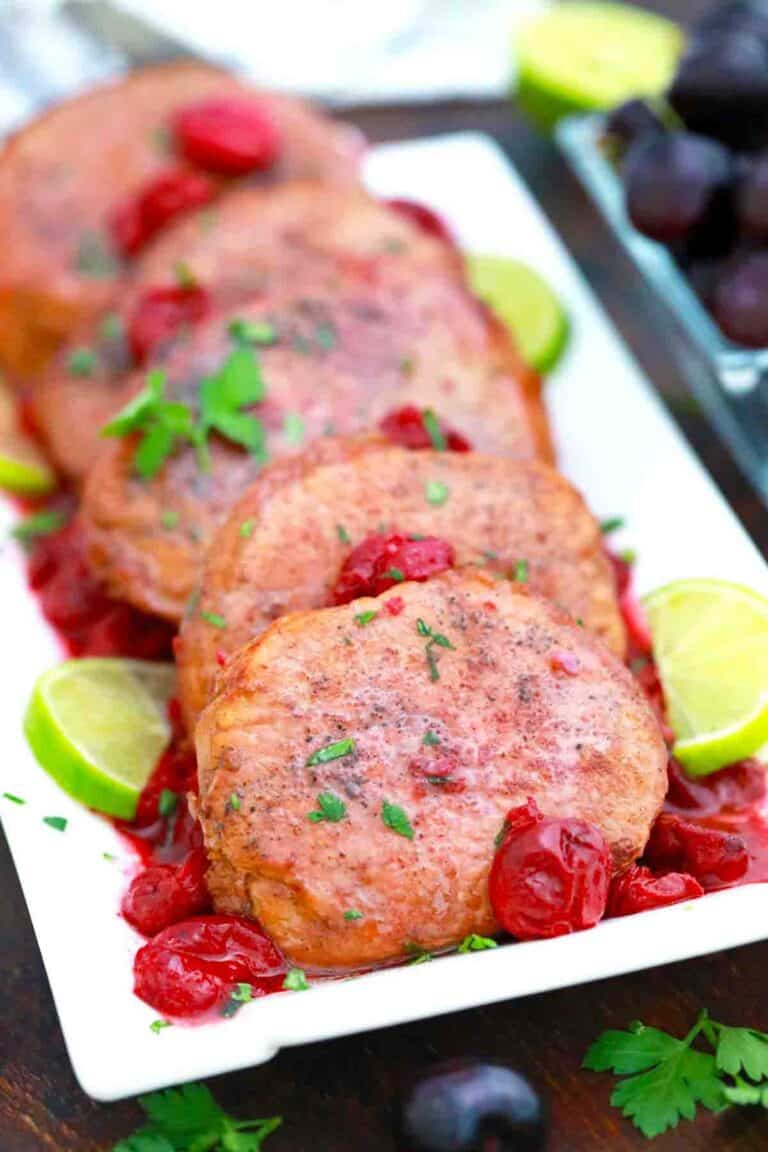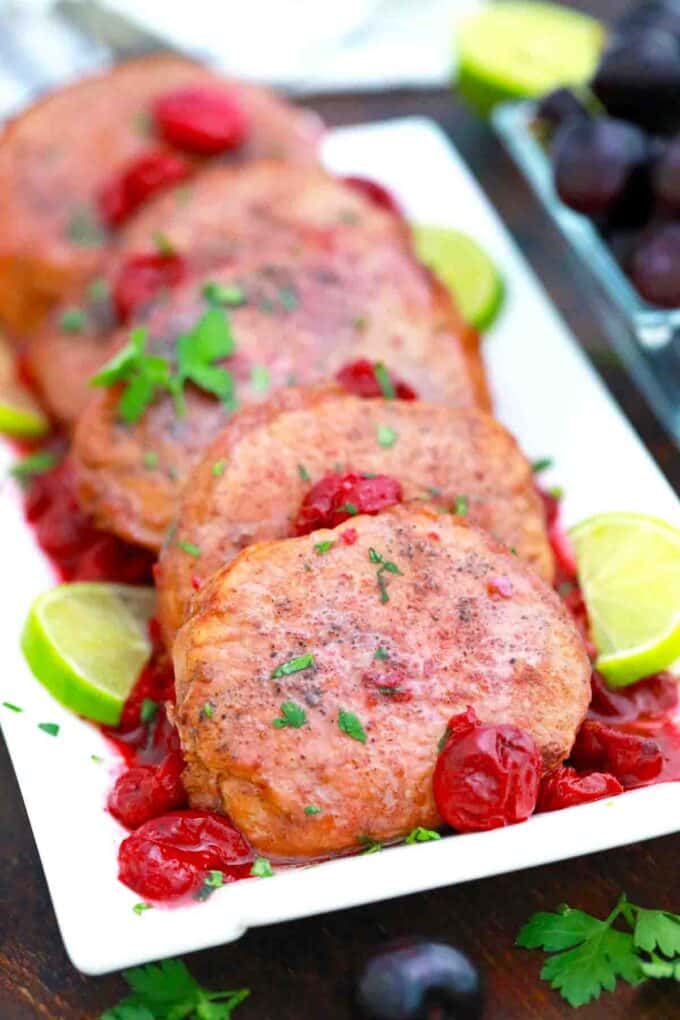 How to store leftovers:
Store: Once they are cooled to room temperature, wrap them in foil and put them in a zipper baggie or an airtight container in the fridge. Eat these within four days.

Freeze: You can also freeze these for three months if you cannot eat them within a few days.

Thaw: Remember to thaw frozen leftovers overnight before serving.
Reheat: To reheat, microwave for one minute or heat in a skillet for a few minutes.
More pork recipes:
Tips on how to cook tender pork chops:
We have all been there, you start preparing a tasty and beautiful dinner using pork chops, and when you bite into one it's so unappetizingly tough. Here are a few tips on how to make sure you always get tender pork chops.
Take the pork chops out of the refrigerator about 15 minutes before you plan to start cooking. Bringing the meat up to room temperature helps it cook more evenly throughout.
The thicker the pork chops the better. Since the pork chops are lean, if the cut is very thin, they will cook quicker, which leaves more room for error. It is easier to cook thicker pork chops. Aim for a double cut, which is about 1 1/2 inches thick.
Also, bone-in pork chops have some fat around the bone, which results in juicier meat and the bone provides some protection for overcooking.
Brine the pork chops, this is very important as it keeps the meat moist and adds extra flavor.
Don't overcook the pork chops. The very popular loin and rib chops don't require much cooking time, so be very careful not to overcook and dry out the meat. Cook the chops between 145 and 160°F and let them rest a few minutes before serving.
Always rest the meat. After it's done cooking, transfer to a separate plate, tent with foil, and let the meat rest for five minutes.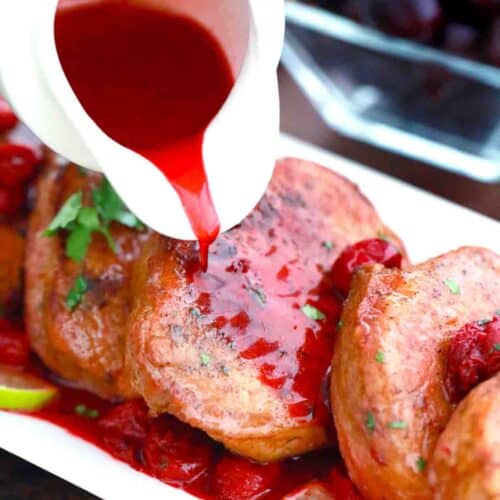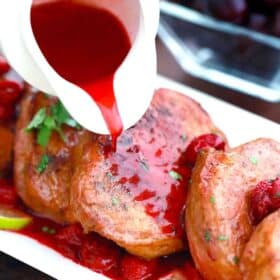 Cherry Sauce Pork Chops
Cherry Pork Chops are tender and juicy, coated in a sweet and tangy cherry sauce for a burst of flavor in every bite, ready in 30 minutes.
Save
Share
Print
Pin
Rate
Ingredients
For the Pork:
6

boneless pork chops

3

tablespoons

unsalted butter

1/4

cup

brown sugar

1 1/3

cup

frozen cherries

(thawed or fresh pitted cherries cut in half)

2

cloves

garlic

(minced)

2

tablespoons

soy sauce

1

teaspoon

fresh lime juice

1

teaspoon

balsamic vinegar

salt and pepper

(to taste)
Instructions
Pat dry the boneless pork chops, salt, and pepper on both sides.

Place a large cast iron skillet over medium heat, once the skillet is warm add the butter to it, when the butter is almost melted add the seasoned pork chops to the skillet and cook for 3-4 minutes on one side, and then 3-4 minutes on the other side. If you prefer a more caramelized top, cook for an extra minute. Set aside.

Add the brown sugar, and cook for 1-2 minutes, stirring continuously until the sugar is dissolved.

Next, add the cherries, and the rest of the ingredients except the meat, and cook for another minute. Stir the cherries and the sauce and cook for about 5 minutes, until it thickens.

Add back the pork chops and cook a few more minutes, using a spoon also pour some of the sauce over the pork chops. The internal temperature of the pork chops should be at least 145 degrees F.

Remove the pan from heat, let the meat rest for 5 minutes and serve with lime wedges on the side.
Notes
*Fresh cherries can be used if you have some on hand, make sure they are pitted.
Nutrition
Serving:
0
g
|
Calories:
351
kcal
|
Carbohydrates:
20
g
|
Protein:
31
g
|
Fat:
15
g
|
Saturated Fat:
7
g
|
Polyunsaturated Fat:
1
g
|
Monounsaturated Fat:
6
g
|
Trans Fat:
0.3
g
|
Cholesterol:
105
mg
|
Sodium:
449
mg
|
Potassium:
516
mg
|
Fiber:
3
g
|
Sugar:
14
g
|
Vitamin A:
1137
IU
|
Vitamin C:
0.3
mg
|
Calcium:
37
mg
|
Iron:
1
mg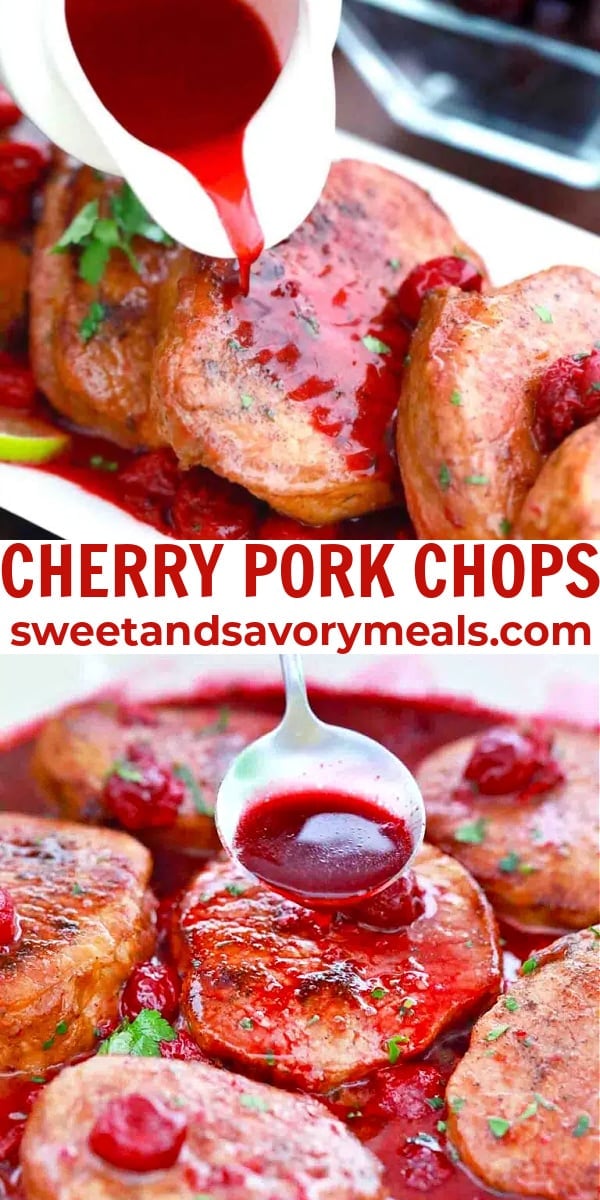 More recipes you might love