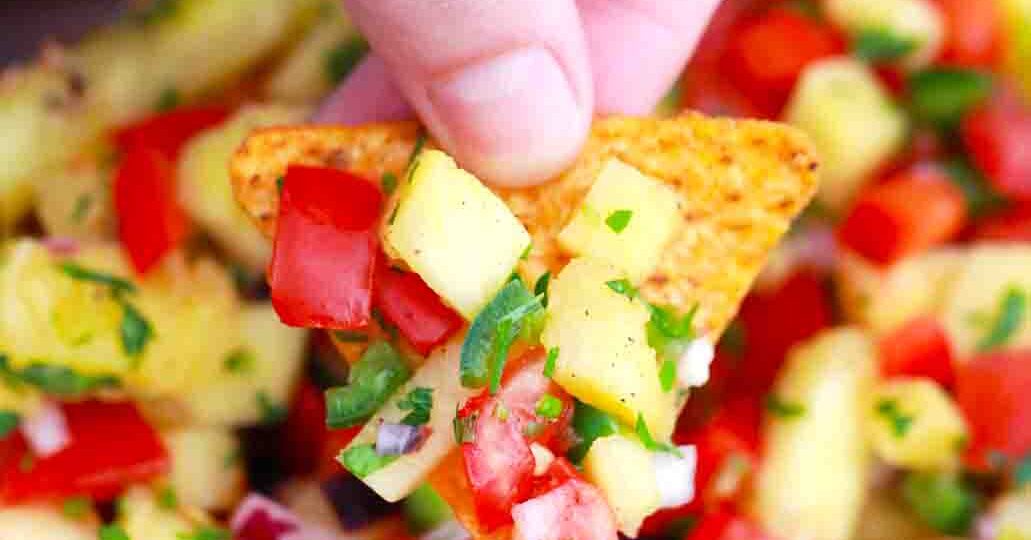 Pineapple Salsa Recipe [Video]
Pineapple Salsa is light and refreshing, made with fresh fruit and veggies, the perfect summer appetizer or side dish. It is a healthy vegetarian dish that everyone will love. The perfect balance of sweet pineapple and spicy peppers and onions makes this the best pineapple salsa recipe you have ever made.
Another great recipe made with fresh pineapple is this super yummy Pineapple Bread seasoned with brown sugar and powdered sugar. If you are a huge fan of pineapple and need ideas for dinner, try our recipes for Slow Cooker Pork Loin with soy sauce and brown sugar and Instant Pot Salsa Chicken made with chicken breasts.
The combination of diced fresh pineapple, red onions, jalapeno pepper, and tomatoes gives you plenty of vitamin C and other vitamins and minerals. The salsa also has no fat or cholesterol and is under 50 calories per serving. With all that and such great taste, you will want to make this all the time.
If you have never made homemade salsa, this is the recipe to start with. It is simple and fast, with just a handful of ingredients and it makes a really artistic snack for game day or any celebration. It is one of my family's favorite recipes and if you love pineapple, you will want to make this recipe.
This is a deliciously tangy dipping sauce for game day, a summer picnic, or any time you want. It goes great with tacos, as a topping on burrito bowls, or served with some fajitas.
In addition, this is a great appetizer for a summer barbecue party, for a potluck, or just a refreshing side dish for any main dishes you want to enjoy!
Are you looking for more salsa recipes? Our chipotle corn salsa recipe is amazing and easy to make using canned corn. Our original homemade salsa is also scrumptious and made from fresh ingredients like tomatoes, onions, and cilantro. We also have more vegetarian recipes to share on our website.
Ingredients needed:
Here are the basic ingredients you will need to make this fresh pineapple salsa recipe. Be sure to scroll down to our recipe card to see the measurements and instructions and to print out this easy recipe.
Whole fresh pineapple: To make the pineapple bowl.
Diced pineapple
Jalapeño pepper: Diced.
Roma tomatoes: Diced.
Red onion: Very finely chopped.
Chopped fresh cilantro
Freshly squeezed lime juice: Two limes or 1/4 cup bottled lime juice.

Black pepper
Salt
How to make pineapple salsa recipe?
Make the pineapple bowl: First, cut about 1/3 of the pineapple off lengthwise with a sharp knife but leave the stem on the larger part. Cut across the middle of the pineapple and around the edges and scoop out the pineapple chunks with a metal spoon. Drain the juice until the pineapple is empty.
Dice the pineapple: Next, dice the fresh pineapple chunks to make about three cups to be used to make the pineapple salsa. Save the rest along with the extra pineapple juice for another use.
Make the salsa: After, use a small bowl to combine pineapple salsa ingredients: diced pineapple, tomatoes, jalapeno pepper, minced red onion, chopped cilantro, fresh lime juice, salt, and pepper.

Serve: Lastly, pour the pineapple salsa into the pineapple bowl to serve.
Recipe variations:
Mango salsa: Make your own mango salsa by adding diced mango.
Grilled meats: Add some grilled meats like ham, pork, or chicken to make it a meal.
Other onions: You can use other white, yellow, or sweet Vidalia onions instead of red onion.
Heat it up: Add a sprinkle of red pepper to make extra spicy pineapple salsa.

Red bell pepper: Add diced green, orange, and red bell pepper to make your pineapple salsa more colorful and tangier.

Pico de Gallo: Add garlic to this recipe to make pineapple pico de Gallo.
How to serve:
Serve this deliciously sweet and spicy pineapple salsa with a large bowl of Tostito chips or another brand of tortilla chips. You can also try one of these serving ideas:
Chill the pineapple salsa before serving for a nice cool dip for summer.

Besides using this as a dip, you can also add it to a stir fry or some other recipes. It would be awesome in our honey garlic chicken stir fry recipe.
Sprinkle with chili powder before serving for an extra kick.

Serve over a bed of rice or pasta for a fresh side dish.

This salsa recipe also goes great with any pork or chicken dish. For example, it would be amazing on pulled pork tacos.
Try our rosemary chicken recipe topped with your fresh pineapple salsa.

Use leftover pineapple chunks to make other fresh salsas like tomatillo salsa with pineapple and fresh lime.
Pineapple salsa also tastes deliciously mixed in with this slow cooker rice and beans dish. The black beans add a nice flavor and plenty of protein.
This fresh pineapple salsa also makes a nice accompaniment to grilled salmon or fish tacos.
Frequently asked questions
Can I use canned pineapple for this recipe?
Although fresh fruit always tastes better, you can certainly use canned pineapple if you do not have fresh pineapple at your grocery store. You can get chopped or sliced pineapples and chop or pineapple tidbits so you do not have to chop at all.
Can I use apple cider vinegar instead of lime juice?
If you do not have fresh limes or lime juice, you can use apple cider vinegar in a pinch. We recommend a 1:2 ratio but adjust to taste. You can also use bottled or fresh lemon juice at a 1:1 ratio. You will probably not be able to taste the difference.
How can I select the freshest pineapple?
First, squeeze it. If it gives just a little, that is good. It should not be really squishy or have any mushy spots. Also, take a whiff and see how it smells. Fresh pineapple smells lightly sweet. If it smells bitter or too fruity, find a different one.
What are the nutrition, calories, and vitamins facts?
One serving of this pineapple salsa is only 48 calories and has zero fat, no cholesterol, and just 12 grams of carbs including 8 grams of sugar. You also get almost 70% of your daily recommendation of vitamin C as well as vitamin B6, magnesium, vitamin A, iron, and vitamin K.
How to store leftovers:
Store: You can save your fresh salsa for up to a week in the fridge as long as you put it in an airtight container.

Freeze: It is also easy to freeze your pineapple salsa for up to three months using a freezer bag.
Thaw: Don't forget to thaw your frozen leftovers in the fridge overnight before serving for best results.
Reheat: This is delicious served cold or at room temperature, but you can reheat it in the microwave for 30 to 90 seconds if you like it warm.
More appetizers:
Salsa recipe making tips:
For the best flavor, use all fresh ingredients.

If you do not have a whole pineapple, you can still make the dip. You will just have to use a medium bowl instead.
Use the extra pineapple juice and fresh pineapple chunks to make a pineapple smoothie or our delicious and refreshing pineapple lemonade.
You can warm up your limes in the microwave for 15 to 20 seconds to get more juice from them.
Make a double batch and freeze the extra for the next time you are having people over.

Remove any brown spots, or eyes, in the pineapple flesh with a sharp knife.
For faster prep time, use a food processor to dice and chop the pineapple, jalapeno, tomato, and onion.
Be sure to remove the seeds from the jalapeno unless you want your pineapple salsa to taste super spicy.
Our nutrition information should not be considered a medical or professional nutritionist's advice.
Pineapple Salsa
Ingredients
1

whole pineapple

to use as two bowls

3

cups

fresh pineapple

diced (from scooping the flesh out of the whole pineapple)

1

jalapeno

diced

1

cup

Roma tomatoes

diced

1/3

cup

cilantro

chopped

1

red onion

very finely diced

4

tablespoons

lime juice

1/4

teaspoon

ground black pepper

salt

to taste
Instructions
Make the pineapple bowl:
Cut the pineapple in half lengthwise. Use a metal spoon to scoop out the pineapple chunks until it is empty.
Salsa:
In a medium bowl, mix together the diced pineapple, diced tomatoes, diced pepper, onion, chopped cilantro, lime juice, salt, and pepper.

Transfer the salsa to the pineapple bowl and serve.
Deliciousness to your inbox
Enjoy weekly hand picked recipes and recommendations