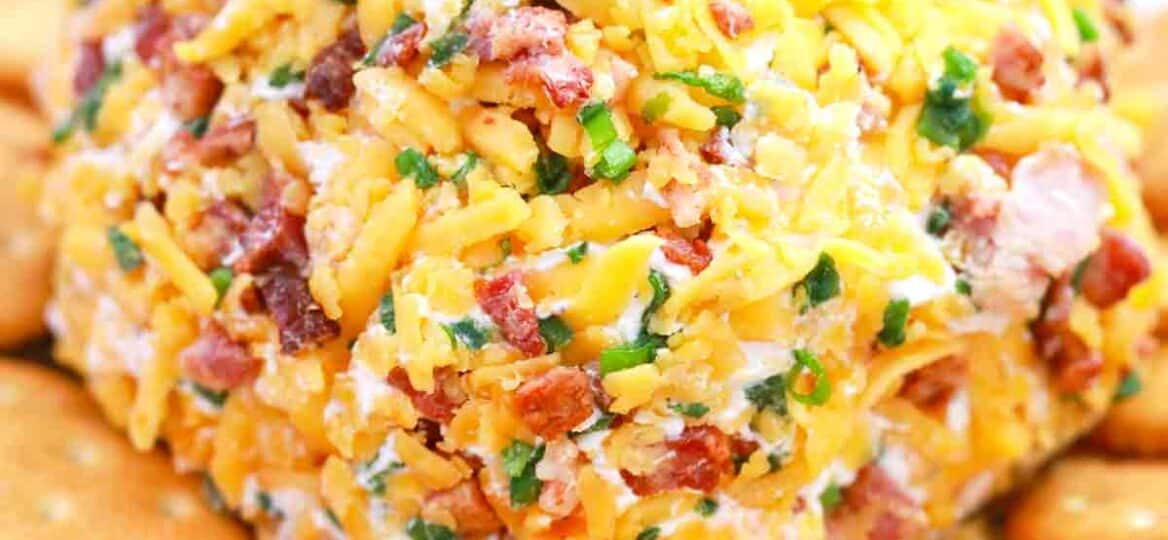 Jalapeno Popper Cheese Ball Recipe [Video]
Jalapeno Popper Cheese Ball is an amazing holiday appetizer, spectacular food for game day, or just a delicious snack to enjoy whenever you like. With smooth cream cheese, salty bacon, and fresh jalapenos, every bite has a burst of flavors.
Add some Bacon Cheddar Ranch Pinwheels to your snack tray made with rotisserie chicken and ranch dressing. These Puff Pastry Cheese Pockets are also a delicious addition to your layout. These Chipotle Chicken Nachos made with Greek yogurt, corn chips, and chicken breast will be a nice addition as well.
For one of the best cheese balls you have ever had, this jalapeno bacon cheese ball recipe is perfect. You can make them as spicy or mild as you want, use different cheeses, cut out the bacon, or add other toppings if you like.
This recipe is great as it is highly adaptable, you can skip or add ingredients as you please. To make it more festive for e example, we like to add chopped cranberries or pistachios.
In addition, you can skip the bacon and add more herbs, the sky is the limit when it comes to flavor combos. The best part is that this appetizer is always. a success and a crowd pleaser!
Ingredients needed:
For step-by-step instructions, scroll down to our recipe card. But here are the main ingredients you need for this delicious game day appetizer:
Cream cheese: Softened.
Sour cream: Full fat is best.
Garlic powder
Onion powder
Black pepper
Kosher salt
Sharp cheddar cheese: Shredded.
Crispy bacon: Chopped.
Jalapeno peppers: Minced.
Green onions: Chopped.
How do you make jalapeno popper cheese ball from scratch?
Combine: In a large bowl, using your hand mixer or stand mixer, combine cream cheese, sour cream, garlic and onion powders, salt, and black pepper on medium speed until smooth and creamy.

Low: Then, turn to low and mix in 1 ½ cups of cheddar cheese, half of the bacon, half of the minced jalapeno, and half of the chopped green onions.

Mix: After, mix the rest of the toppings together and put them in the fridge in a storage bag.

Chill: Last, lay out a large piece of plastic wrap on a flat surface and put the cream cheese mixture on top, shaping it like a ball. Wrap tightly in plastic wrap and put it in the refrigerator overnight.

Serve: Finally, 20 minutes before serving, put remaining toppings on a large plate or cutting board and roll the ball until it is covered. Serve with your favorite crackers or whatever else you like.
Recipe variations:
Make them mini: Alternatively, make 12 small jalapeno poppers cheese balls about the size of a golf ball and chill them in a muffin pan before rolling and serving.

Add nuts: Add some chopped pecans, walnuts, or almonds to give it a crunch.
Crunchier: Similarly, use some panko bread crumbs in the topping for an even crunchier cheese ball.

Spice it up: For a spicier cheese ball, add some cayenne pepper to the mix as well as the topping.

Different flavors: Feel free to use other types of cheese such as mozzarella, Colby, or pepper jack cheese.
How to serve:
Serve this delicious snack at room temperature as a party appetizer for the holiday season, at a tailgate party, or on game day. Here are some other ideas:
Frequently asked questions
How long does a cheese ball have to chill?
After making the ball but before rolling it in toppings, you should chill it for at least six hours for best results. Wrap it tightly in plastic wrap, using the process to help form the ball shape.
Then, put the ball in the coldest spot in your fridge for at least six hours but overnight is better.
How long can a cheese ball sit out?
No matter how long you chill it, do not leave it out for more than two hours before putting it back in the refrigerator.
Although some foodies say that you can leave certain types out for much longer, this type is only safe for two hours.
Should I serve my cheese ball at room temperature?
After chilling for at least six hours, take the ball out of the fridge at least 15 minutes before serving.
Then, arrange the toppings on a flat surface and roll the ball on top until it is covered with toppings. Let sit another 10 minutes so it will be easier to spread.
How to store leftovers:
Store: You can store your leftovers in an airtight container for up to five days in the fridge.
Freeze: If you have any left after a few days, wrap it in plastic wrap and put it in a freezer bag. Then place it in the freezer for up to three months.

Thaw: Thaw overnight in the fridge before serving for best results. Serve at room temperature.
More easy appetizers:
Cooking tips:
If you like spicy food, use the whole spicy jalapenos without removing the seeds and membrane.
Make sure the cream cheese is at room temperature before using it so it will be easier to work with.

If you do not have bacon, it is fine to use bacon bits.

Shred your own cheese. You will be surprised at the amazing taste difference. It will also stick better.
Use a crisscross pattern of plastic wrap and roll it to form the ball.
If you use nuts in the topping, toast them in a large skillet until they are golden brown. Then put them on a paper towel to cool before using.

Feel free to make ahead of time but use it within three days.
Jalapeno Popper Cheese Ball
Ingredients
2

boxes

(8 ounces each) cream cheese

slightly softened

1/4

cup

sour cream

1

teaspoon

garlic powder

or less

1/2

teaspoon

onion powder

1/4

teaspoon

fresh ground black pepper

2

cups

sharp cheddar cheese

shredded

16

slices

crispy cooked bacon

chopped

2

jalapenos

finely minced

1/2

cup

green onions

chopped
Instructions
Add the cream cheese, sour cream, pepper, garlic powder, and onion powder to a medium bowl. Using a mixer beat on medium speed until smooth and creamy.

Turn the speed to low and mix in 1 1/2 cups of cheddar cheese. After that add half of the chopped bacon, half of the minced jalapeno, and half of the chopped green onions.

In a medium Ziploc bag combine the remaining cheddar cheese, bacon, jalapenos, and green onions, and store in the refrigerator.

Layout a large piece of plastic wrap on the kitchen counter. Spoon the cream cheese mixture into a ball shape and bring up the sides of the plastic wrap to cover the cheese ball.

Shape the cheese into a ball and refrigerate it for 6-8 hours or better overnight.

Remove the cheese ball about 20-30 minutes prior to serving.

Spread the reserved mixture from the Ziploc bag on a large plate.

Unwrap the ball and roll it evenly in the reserved toppings so it covers the whole surface.
Deliciousness to your inbox
Enjoy weekly hand picked recipes and recommendations