Balsamic Pot Roast [Video]
Last updated on June 18th, 2021 at 10:57 pm
Balsamic Pot Roast is an impressive entrée with juicy, slow-roasted meat and a balsamic reduction loaded with herbs, spices, and caramelized notes from the molasses and brown sugar. Easy enough for a special Sunday dinner, and elegant enough for company!
Wondering what side dishes go with this gorgeous Balsamic Pot Roast? It's fantastic with Mashed Potatoes, some homemade Caesar Salad, or some Steamed Broccoli!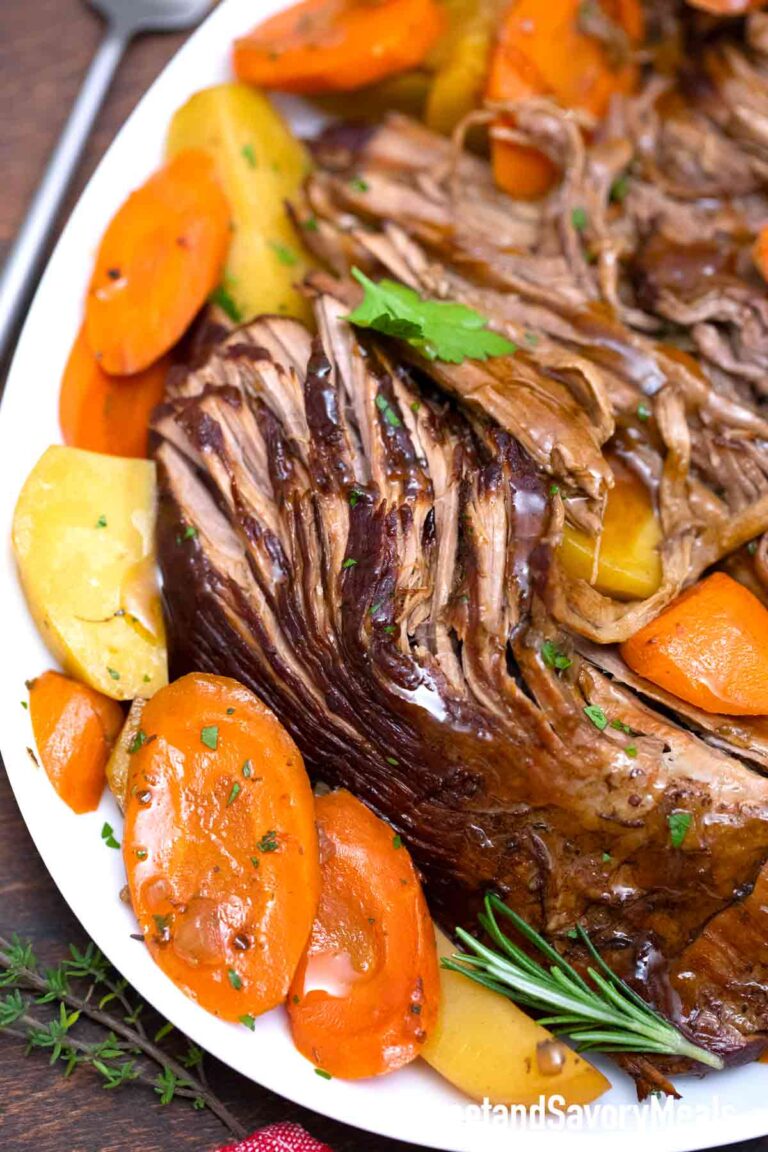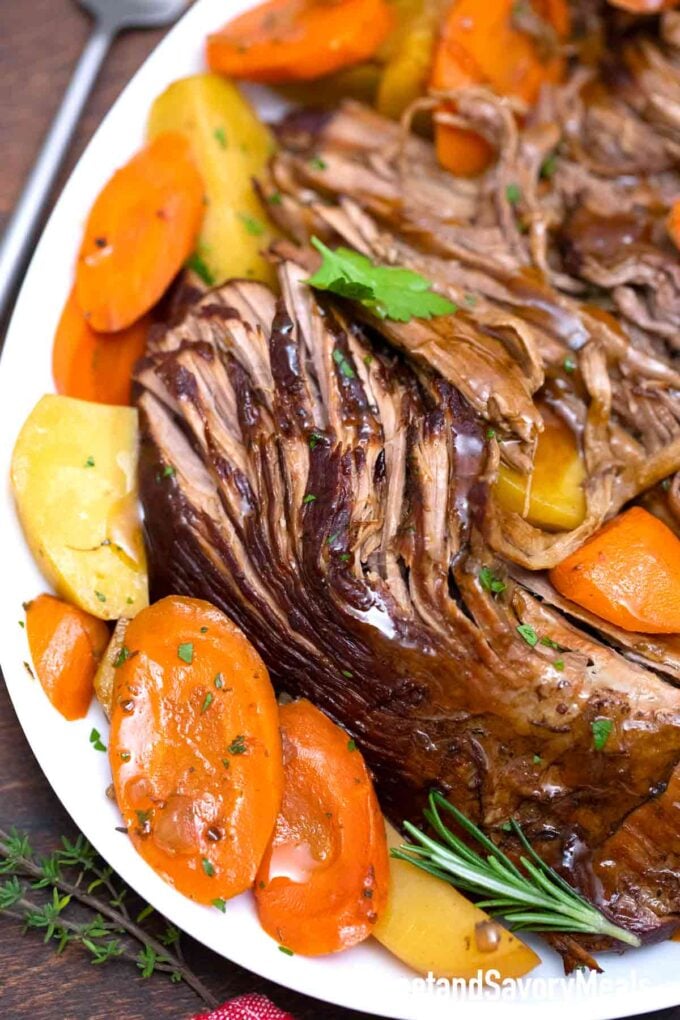 Easy Balsamic Pot Roast Recipe
Balsamic Pot Roast is one of my signature dishes when I have company over. The balsamic reduction is just terrific, spooned over the juiciest roast chuck you've ever had. I know some people find the taste of this vinegar too strong. But thanks to the molasses, brown sugar, stock, and tons of spices and herbs, it turns into a beautifully savory glaze that's impossible to resist.
It may taste gourmet, but it's also seriously easy. Once you've browned the chuck, all that's left is to let it braise in the Dutch oven. I love how I can focus on the side dishes, or just relax before dinner while it cooks. This is one recipe you shouldn't miss!
What meat should be used for pot roast?
Because we will be cooking it very slow for several hours, we need a cut that becomes tender over time, not mushy. Tough cuts like chuck are perfect for this cooking method.
The slow roasting process breaks down the muscle fibers, rendering them unbelievably juicy and so tender, it almost melts in your mouth. Choose chuck with excellent marbling. That fat adds so much flavor and also keeps the meat tender.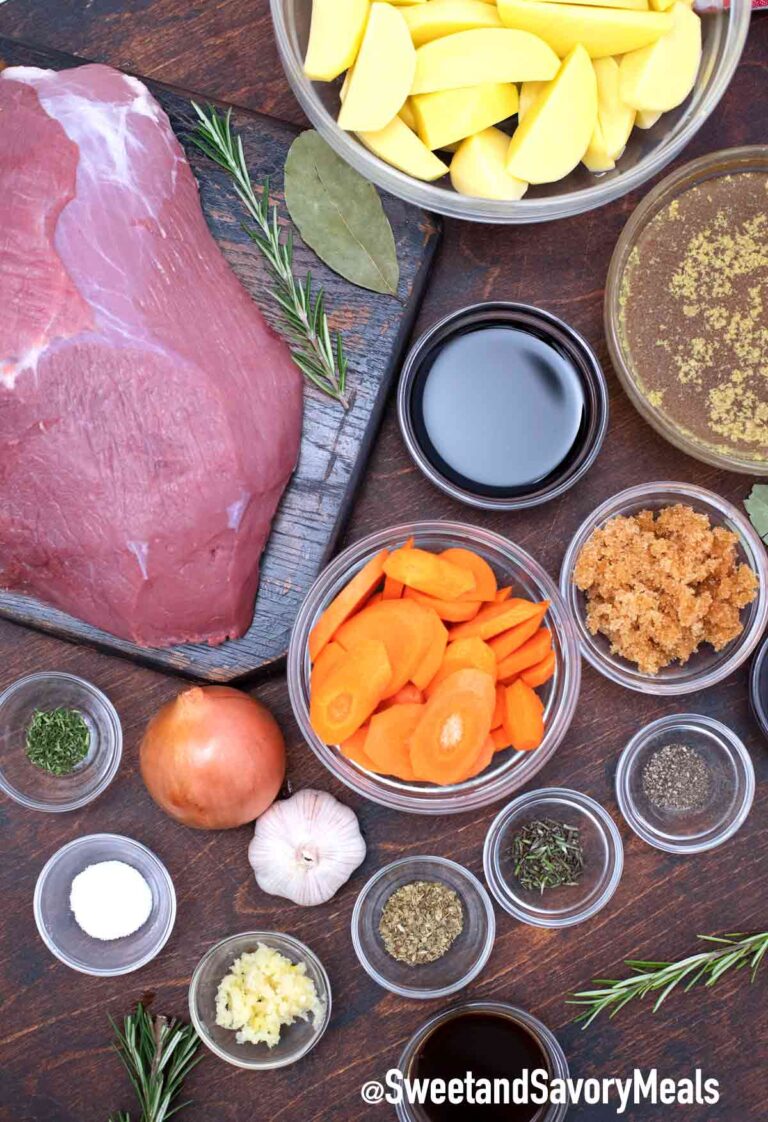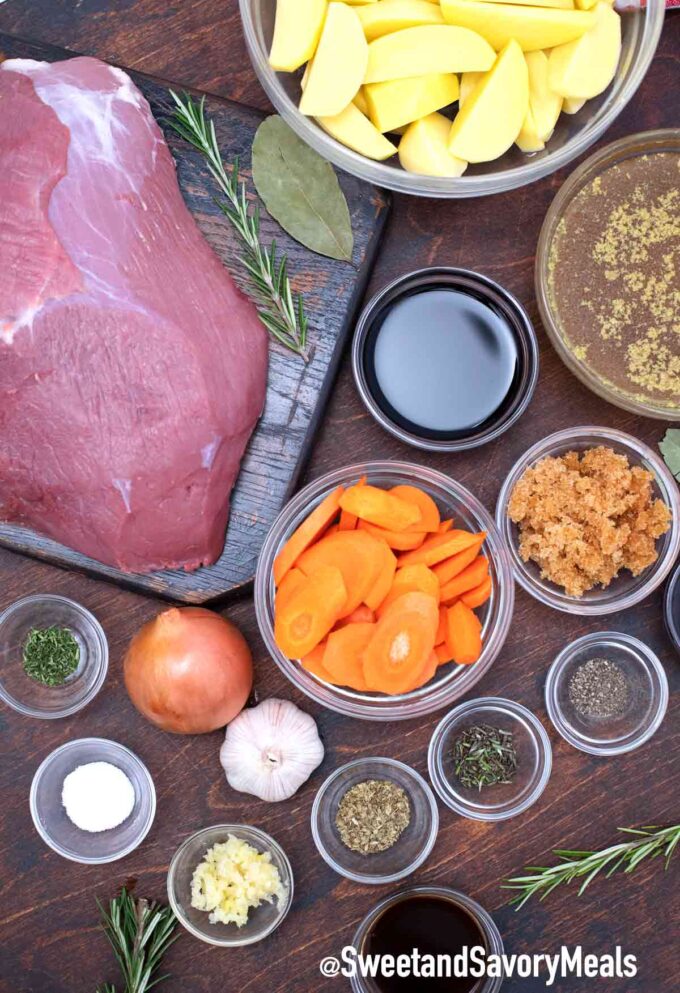 What is the difference between balsamic vinegar and balsamic reduction?
Balsamic vinegar comes from grapes and has a very intense flavor and dark color compared to other vinegars. It has a thin, liquid consistency, and you can use it for dipping, for dressing, and anything you want to add more sour zest to.
On the other hand, you make a balsamic reduction by simmering the vinegar from 10 to 20 minutes. As it reduces, the vinegar becomes a little sweeter and transforms into a syrup-like thick glaze.
The recipe may also call for the vinegar to be combined with other ingredients like broth, sugar, and spices. It's all brought to a boil, then simmered until it's thick and reduced to around half its original volume.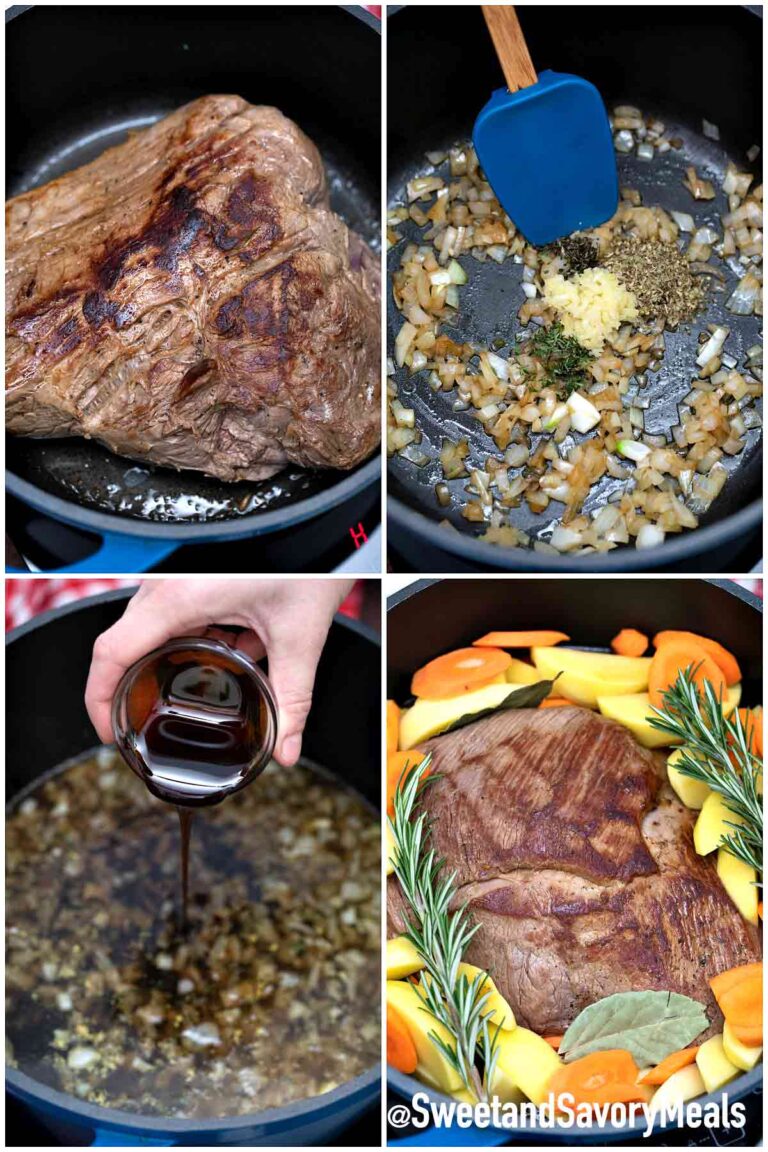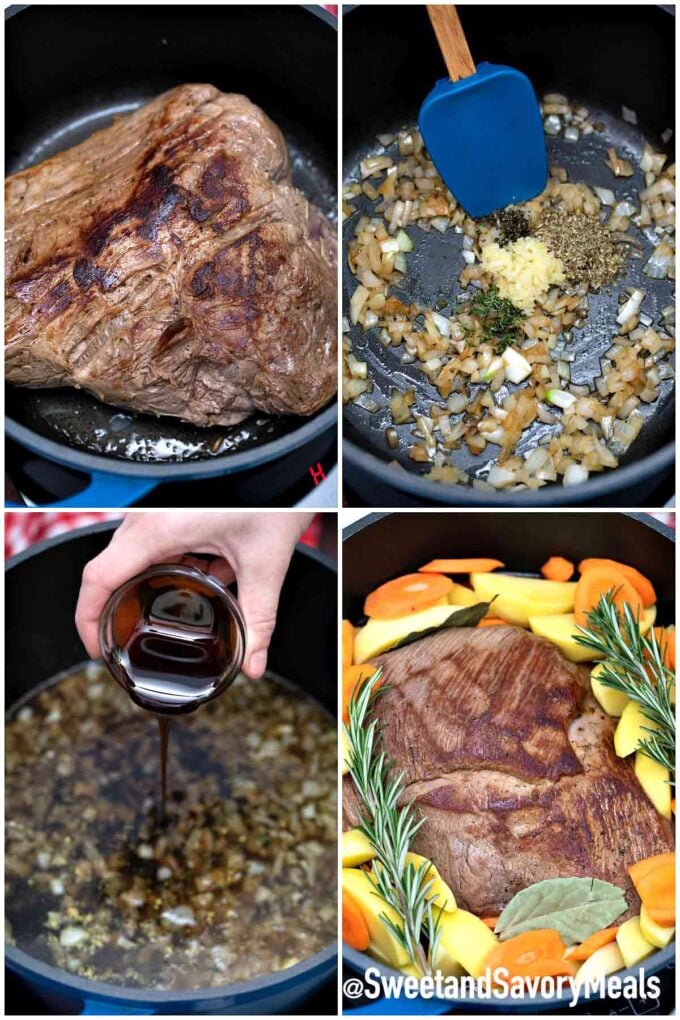 How do you make Balsamic Pot Roast?
Sear the chuck. Season with fresh ground pepper and salt, then brown on all sides in hot oil. It should be very nicely browned, with a sort of crust all around. Take out and set aside.
Cook the braising liquid. In the same pot, sauté the aromatics followed by the herbs. Deglaze with a splash of broth. Add the rest of the stock, along with the vinegar, sugar, and molasses. Stir very well.

Roast long and slow. Place the chuck carefully into the braising liquid, along with carrots and potatoes. Arrange bay leaves and fresh rosemary on top. Roast until tender, about 3 to 4 hrs.
Reduce the sauce. Strain the braising liquid into a pan, then discard all the fat. Cook on a hard simmer until the liquid is reduced and resembles a thick glaze. You may add more vinegar if you want a stronger balsamic taste.
Serve. Plate up the chuck with herbs and fresh parsley on top. Enjoy!
How do you make Balsamic Pot Roast tender?
This recipe's long and slow method guarantees perfectly tender roast, every single time. However, make sure you also begin with high-quality meat with plenty of marbling.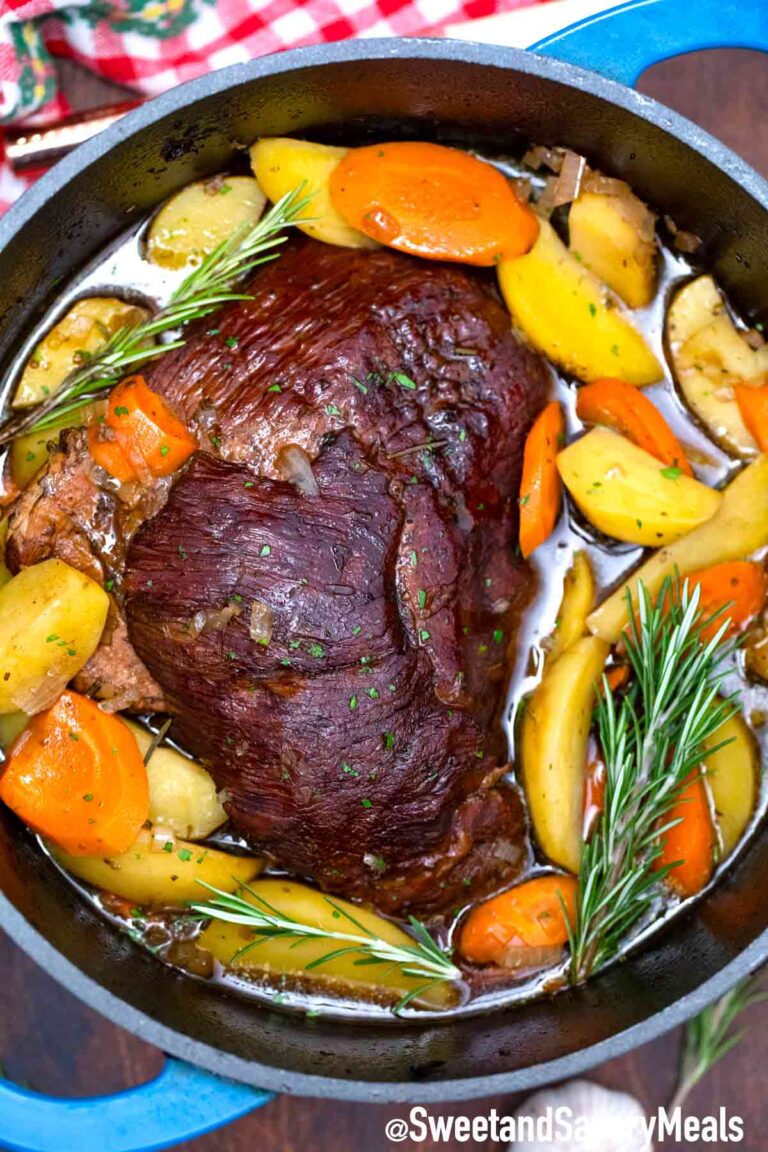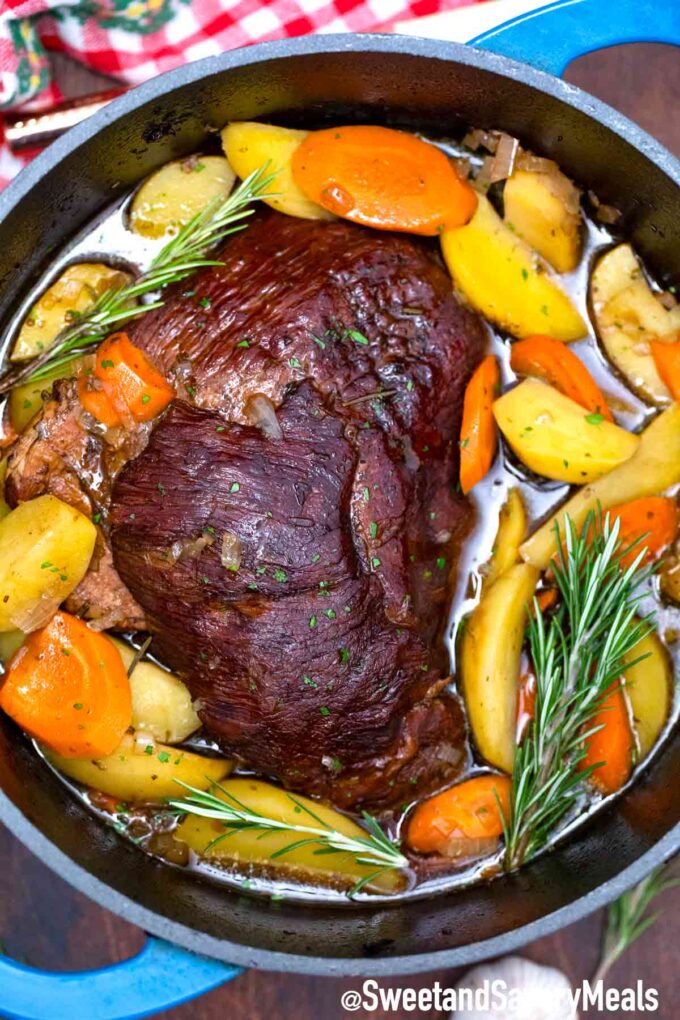 Recipe Variations:
Use other parts: Well-marbled bottom round will also work for this dish.
Add more vegetables: Make it healthier and more flavorful with parsnips and sweet potatoes.
Make it spicy: Sprinkle a dash of pepper flakes if you like it hot.
Can you make it in the slow cooker?
Yes, the slow cooker is a great alternative to the oven. I like how I don't have to watch over the chuck, and it doesn't heat up the kitchen as much.
Follow the searing step and brown every side of the chuck. Then, add all the ingredients of the braising liquid into the pot, along with the vegetables, spices, and herbs. Cook 4 hrs. (set on high), and up to 8 hrs. (set on low). Finally, make the reduction by straining out the liquid, and simmering it until it turns into a syrupy glaze.
Can you make it in the Instant Pot?
Definitely! Again, begin by browning the chuck nicely on all sides. Use the Sauté function for this.
Deglaze the bottom of the IP completely, then pour in the rest of the braising liquid ingredients. Arrange the chuck at the bottom, topped with the veggies, bay leaves, and herbs. Set the IP to pressure cook for about 30 mins, finished with a natural release.
Take out everything, leaving only the liquid behind. Reduce until it turns into a thick glaze. Pour that on top of the meat or return the meat into the glaze to coat before serving.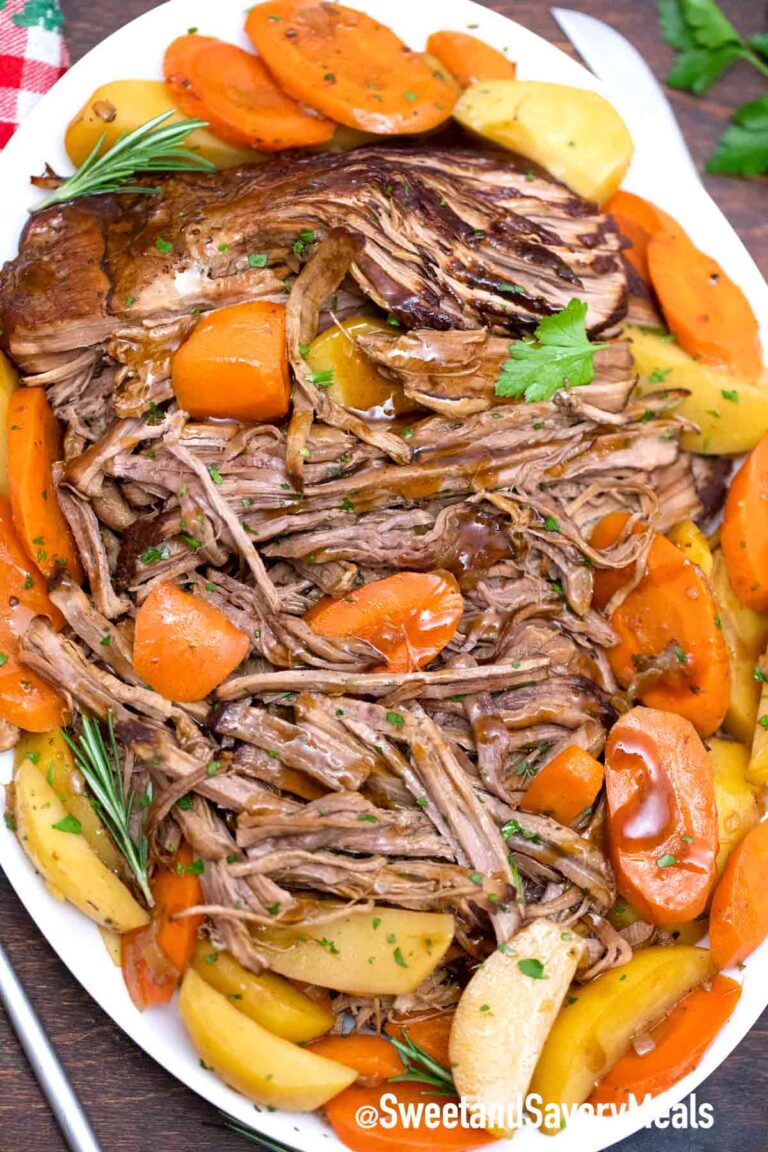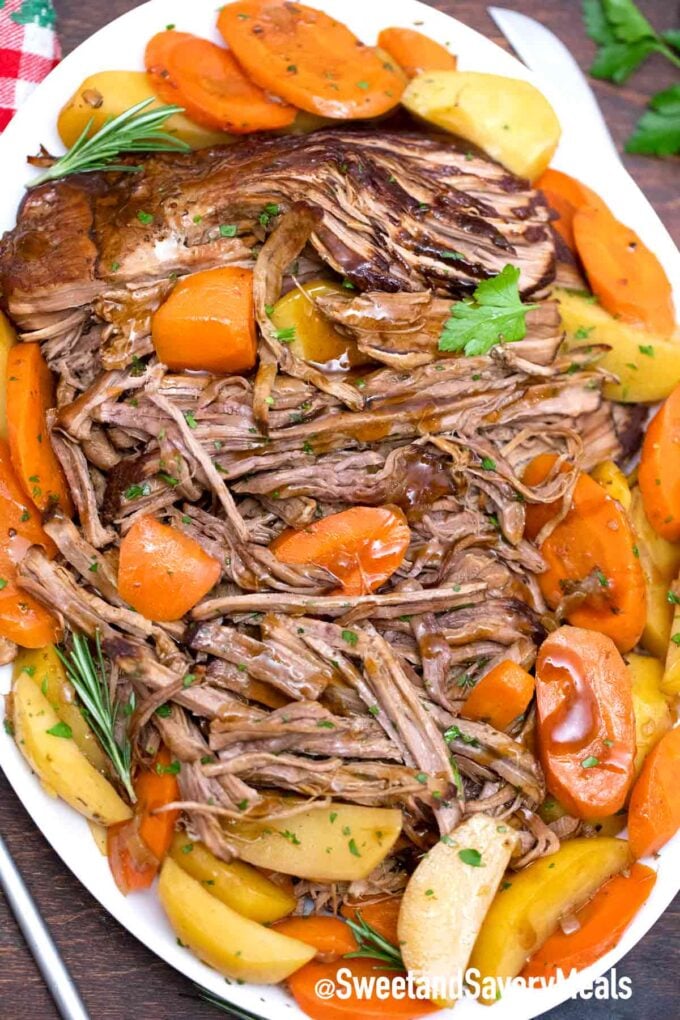 More Recipes:
How to Store:
First, cool all of the leftovers. Transfer to an air-tight storage, then chill in the fridge. Consume within 3 to 4 days.
To freeze, cool down everything first before transferring to a freezer-friendly container. Freeze up to 3 months. To reheat, thaw. Microwave until piping hot, or bake on low with the sauce until heated through.
Recipe Tips:
Sear the chuck very well until it forms a nice, brown crust. That's where all the flavors are!
Slice all veggies into large chunk so they become tender, not mushy, through the long cooking time.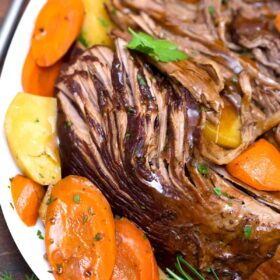 Balsamic Pot Roast
Balsamic Pot Roast is an impressive entrée with juicy, slow-roasted meat and a balsamic reduction loaded with herbs, molasses and brown sugar.
Save
Share
Print
Pin
Rate
Ingredients
2

tablespoons

canola oil

4

pound

boneless chuck roast

1 1/2

teaspoons

kosher salt

1/2

teaspoon

ground black pepper

1

yellow onion

(diced)

4

cloves

garlic

(minced)

1

teaspoon

fresh thyme

(finely chopped)

1

teaspoon

fresh rosemary

(finely chopped)

1

teaspoon

dried oregano

2

bay leaves

1/3

cup

balsamic vinegar

2

tablespoons

molasses

2

tablespoons

Worcestershire sauce

2

cups

beef broth

1/4

cup

brown sugar

2

carrots

(chopped into 1 inch pieces)

1

lb

potatoes

(cut into 1 inch cubes)

3

sprigs fresh rosemary
Instructions
Pat dry the beef with paper towels, season with the salt and pepper.

Place a large pot or dutch oven over high heat and add 2 tablespoons of canola oil.

Once the oil is hot, add the pot roast and brown on both sides, for 3-5 minutes on each side. until nicely browned. Set aside.

Add the diced onion to the pan and cook for 1-2 minutes. Add the garlic, thyme, rosemary, oregano, stir and cook for 1-2 minutes.

Add 1 cup of the broth and scrape the bottom of the pan well.

Add the rest of the broth, balsamic vinegar, molasses and brown sugar. Stir to combine.

Add back the beef, add carrots, potatoes, and top with fresh rosemary and bay leaves.

Preheat oven to 325 degrees F. Cover and cook in the oven for 3-4 hours or until fork-tender.

Discard the bay leaves before serving.

To make the sauce into a glaze, strain the liquid out after cooking, spoon off the fat and discard it. Place it in a small sauce pan and cook on medium heat until thickened, about 10-12 minutes.

Garnish with fresh parsley and herbs when serving.
Nutrition
Calories:
514
kcal
|
Carbohydrates:
16
g
|
Protein:
45
g
|
Fat:
30
g
|
Saturated Fat:
12
g
|
Cholesterol:
156
mg
|
Sodium:
902
mg
|
Potassium:
982
mg
|
Fiber:
1
g
|
Sugar:
14
g
|
Vitamin A:
2589
IU
|
Vitamin C:
3
mg
|
Calcium:
78
mg
|
Iron:
6
mg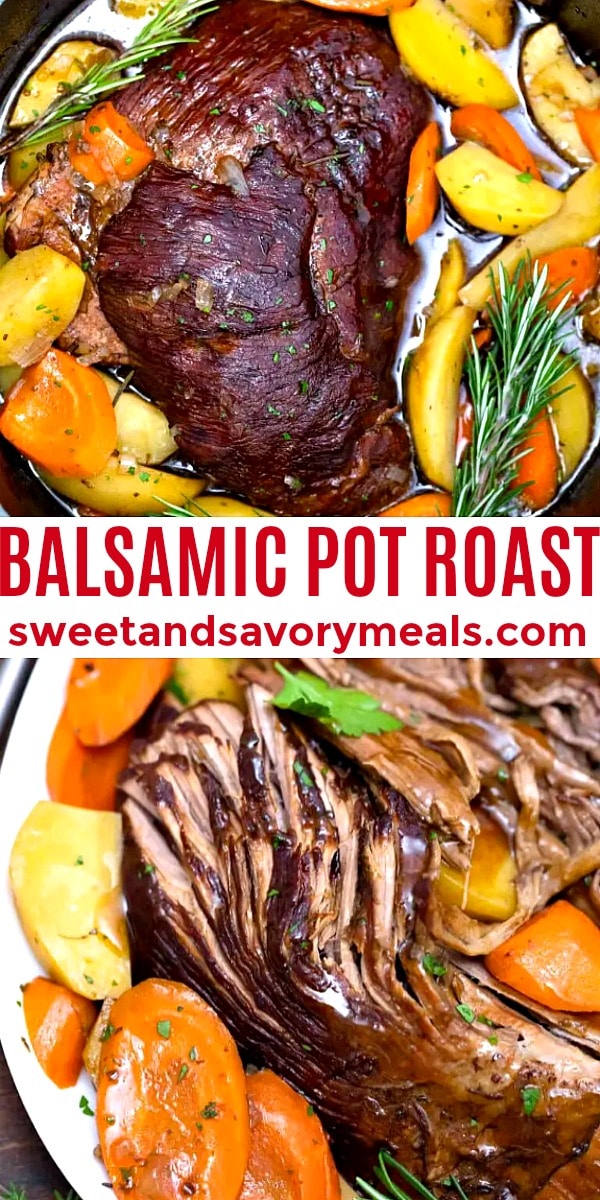 More recipes you might love