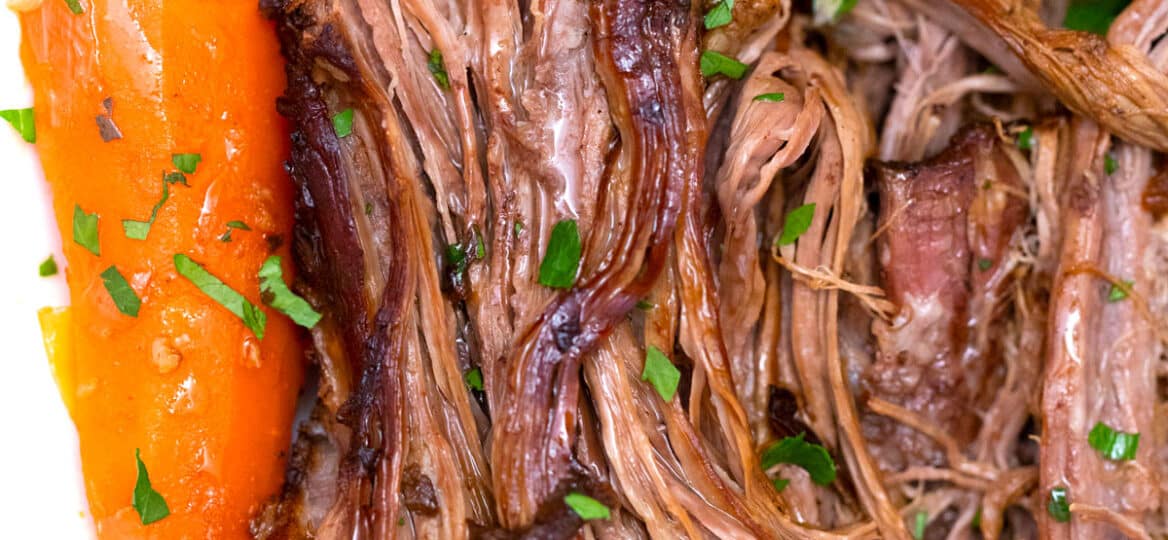 Guinness Pot Roast [Video]
Guinness Pot Roast is braised in dark beer, broth, and lots of herbs and spices over low heat for hours. Full of bold flavors and so juicy, it melts in your mouth!
Beer is not just great for drinking; it's an excellent cooking ingredient, too! Use it for baking this golden and crusty Beer Bread, for this Beer Ribs Rice Bowl, and this light and crispy Beer Battered Fish!
Irish Guinness Pot Roast Recipe
Guinness Pot Roast replaces the usual red wine with dark beer to create a rich and robust flavor. This roast is full of garlic, fresh and dried herbs, onions, paprika, plus a touch of brown sugar and tomato paste.
Finally, the beef almost falls apart because of how juicy and tender it becomes after being slow-braised in the oven for four hours. It's unbelievable how good this pot roast is!
What is Guinness pot roast?
It's very similar to the classic pot roast, but instead of red wine or just broth, we're using Guinness beer as part of the braising liquid.
What beef cut is the best for pot roast?
A well-marbled chuck is our top recommendation. It's practically designed for slow-cooking because it gets softer and juicier the longer it cooks. But you can also use other cuts like rump, round, and brisket.
Does pot roast get more tender the longer you cook it?
Yes, as long as you use the correct cut of beef! You want tougher cuts with lots of connective tissue, which break down into melt-in-your-mouth tenderness the longer and slower you cook the meat. Another upside is that these cuts tend to be on the cheaper side – reserve the expensive ribeyes for another time!
Is it better to cook pot roast on low or on high heat?
Low and slow is the way to go, as we like to say about pot roasts! If the heat is too high, you risk overcooking the meat without breaking down the connective tissues. That's why we're only heating up the oven to just 325F.
More St. Patrick's Day Recipes:
How can you make a more flavorful pot roast?
First, put a lot of aromatics, herbs, spices, and vegetables in there! Next, make sure you BROWN your meat. You want it to have a nice, deep brown crust all over. That brown crust, along with the bits left on the bottom of the pan after searing, are flavor bombs. Browning is what separates an exceptional roast from a forgettable one!
Finally, use flavorful liquids. Aside from umami-packed beef broth, we're also using dark beer with a dash of tomato paste and Worcestershire.
What is Guinness beer?
It's a dark beer known as an Irish dry stout. It has a malty sweetness with a little citric bitterness, some coffee notes, and a roasted flavor thanks to the barley. When added to slow roasts, Guinness beer infuses the dish with an earthy and complex flavor.
How do you make Guinness pot roast?
Sear. Season, then brown ALL sides of the beef until a nice crust forms.
Make your Guinness roasting liquid. First, saute the aromatics, followed by the paprika and herbs. Add the tomato paste and continue sauteeing. Next, add your broth, beer, Worcestershire, and brown sugar. Stir them all together really well. Finally, mix in the vegetables and whole garlic cloves.
Assemble. Nestle the browned beef with the vegetables and roasting liquid. Cover with bay leaves and sprigs of rosemary.
Cook. Slow-roast for 3 to 4 hrs. in a 325F until tender.
Serve. Slice or shred, and shred with the veggies and gravy.
Recipe variations:
Use other cuts: No chuck? No problem! Use a brisket, rump, or round. Chuck eye, shoulder steak, and arm steak will work, too. You can even make this dish with a pork loin!
Include more veggies: Root veggies like sweet potatoes, turnips, and parsnips are delicious additions. Try adding some celery and mushrooms, too.
Non-alcoholic: If you don't have a beer or just don't want to use it, replace it 1:1 with more broth.
Low-carb: Skip the spuds and carrots, and use low-carb veggies like zucchini, cauliflower, turnips, bell peppers, and celery (add them in the last hour or two because they cook quickly).
How do you make it in the instant pot?
Sear the meat, then place the liquids, veggies, and other ingredients in the Instant Pot. Cook on High for 15-20 mins, with 25-30 mins. natural release. For step-by-step instructions, use this Instant Pot recipe and simply replace the wine with dark beer.
How to make the slow cooker version?
After searing the meat, place it along with all other ingredients and liquids into the crockpot. Cook on high (4-5 hrs) or low (6-8 hrs). For more detailed instructions, follow this slow cooker recipe, and just add the Guinness beer!
How do you serve Guinness pot roast?
You can slice or shred it, depending on how you like your beef. Arrange on a plate along with the veggies and gravy, and enjoy!
Now for the sides, we love it with mashed potatoes (sweet potatoes are delicious, too!), warm rolls, roasted asparagus, and potato wedges.
How to store leftovers:
Once the leftovers are cool, transfer them to an air-tight container and cover them with all the remaining gravy. Keep in the fridge for up to 4 days.
To freeze, let the meat cool completely. Transfer to a heavy-duty freezer bag, along with any remaining gravy. Freeze up to 3 months.
To enjoy, thaw first. Then, microwave until hot. You can warm it up slowly in a skillet with a splash of broth.
More Pot Roast Recipes:
Recipe tips:
Searing and browning are a must for flavorful results.
Cut your veggies into large chunks so they don't get mushy.
If you can, use organic grass-fed beef for the best flavor and tenderness.
Thicken the liquids with a little cornstarch slurry to create a gravy before serving.