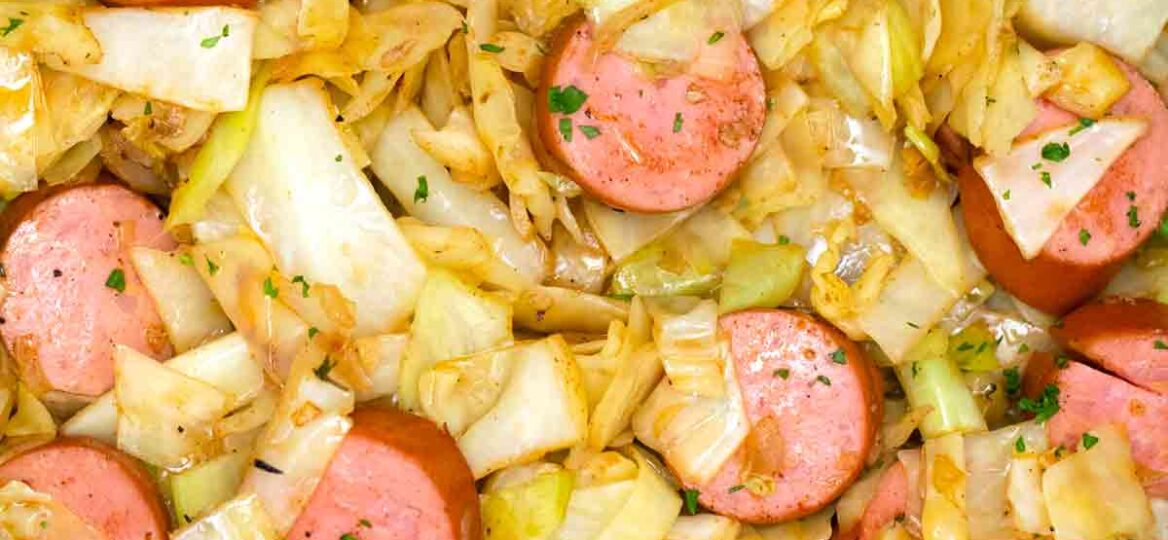 Fried Cabbage and Sausage [Video]
Fried Cabbage and Sausage is a hearty and savory one-skillet meal. Garlicky kielbasa is sauteed with thinly-sliced cabbage, herbs, and spices for an easy dinner the whole family will love!
30-minute dishes are a real lifesaver when you're too busy, but still want to enjoy something homecooked. You only need half an hour to whip up these Skillet Pork Chops, Pesto Chicken Kabobs, and Chicken Enchilada Pasta from scratch!
Easy Cabbage and Sausage Recipe
Fried Cabbage and Sausage is a fuss-free dish that's incredibly delicious and filling. This recipe highlights the best parts of the two. You've got that meaty, super juicy sausage with a slight snap as you bite into it.
Sauteing the cabbage brings out its natural sweetness, and it develops flavorful brown bits in the hot pan. The simple seasonings – garlic, spices, herbs, and a dash of Worcestershire – coat everything beautifully.
It's also the perfect weeknight dinner. Forgot to plan ahead? This recipe only requires less than 10 minutes of prep time, and around 20 minutes to cook. Best of all, you know you're feeding your family something healthy and wholesome for dinner.
What meat goes well with cabbage?
This vegetable, which has a naturally bland taste, goes really well with most meats such as corned beef, bacon, ground beef, chicken strips, and pork.
Is cabbage good for weight loss?
Yes, it's a very good addition to any diet. It's mostly water, which means it has very few calories. However, it's also packed with fiber, Vitamins C and K, antioxidants, and aids in digestion. It's a very healthy vegetable that I try to incorporate in many of my recipes.
Does cabbage need to be washed?
Not necessarily, but I highly encourage it. It's usually clean inside thanks to the outer leaves, but I like rinsing it under running water to get rid of any trapped dirt, insects, and other debris.
What I do is I take off the outer leaves, then I slice the head as the recipe calls for. Then I rinse the sliced pieces and drain them in a colander. Draining is important especially for sauteed recipes like this one so that it gets seared instead of getting steamed in the pan.
How do you slice cabbage?
To begin slicing, split it in half, then cut each half down the middle. This makes it easier to cut out the core, aka the stem. Once the core is out, you can then cut the parts into wedges, chunks, thin ribbons, or whatever the recipe requires.
How do you cook cabbage and sausage?
Sauté. Stir-fry your aromatics in hot butter and oil until tender and fragrant, followed with the cabbage. Stir to coat, then season with paprika, fresh ground pepper, and salt. Wait for the vegetables to wilt, stirring from time to time. Season with Worcestershire sauce and a little fresh thyme.
Add the sliced kielbasa. Add the kielbasa into the veggies, and cook until it's nicely browned.
Serve. Plate it up with some chopped fresh parsley on top, and eat hot.
Recipe Variations:
Use other sausages: This veggie is also delicious with hot or mild Italian sausage, smoky Andouille, or bratwurst.
Use other meats: Try this with some ground meat, strips of beef, or shredded roasted chicken.
Make it vegetarian: Use vegan butter and sub tofu for meat.
Add other vegetables: Make it healthier with carrots, florets of cauliflower, julienned bell peppers, mushrooms, snow peas, and other veggies.
Try other seasonings: Boost the flavor with a dash of Creole seasoning.
Is the cabbage core healthy or edible?
Did you know you can actually eat the core? You can shred it really thinly and add to stir-fries, pickle it, roast, or even puree the stalk for soups.
How to store?
Let it cool completely first, then place it in an air-tight storage container. You may keep this in the fridge, but it's best to consume it within 2 days for the best flavor and texture.
Can you freeze it?
Yes, it's a great recipe to make in advance! Again, let everything get completely cool. Place in a freezer-friendly storage container. Freeze for as long as a month. When ready to eat, thaw, then microwave until piping hot.
More recipes:
Recipe tips:
Don't move the veggies around too much, so it develops those flavor-loaded brown bits.
You may brown the kielbasa slices first before sautéing the veggies.
Deliciousness to your inbox
Enjoy weekly hand picked recipes and recommendations