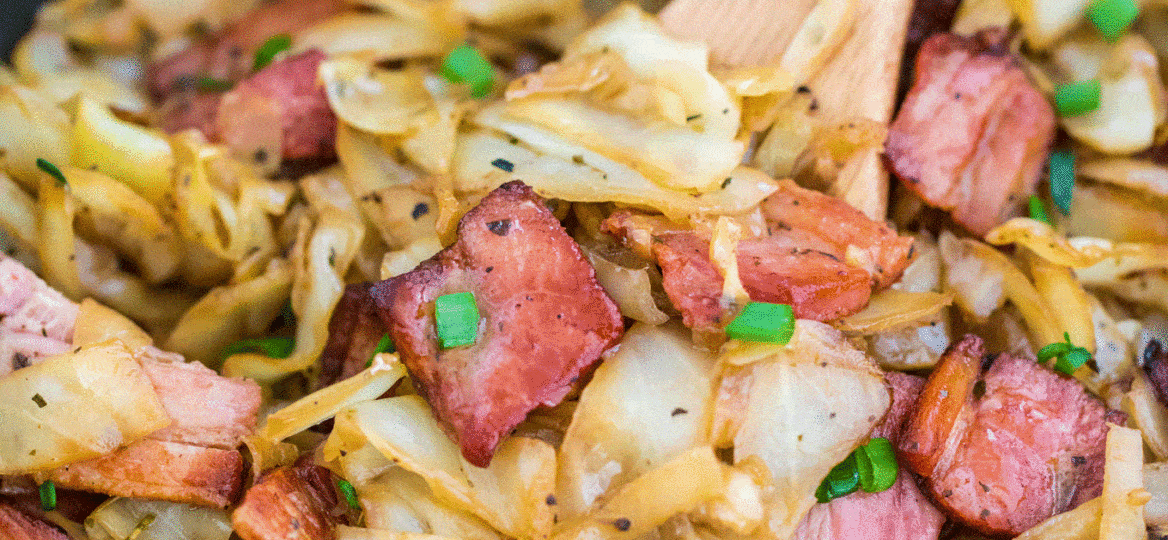 Easy Bacon Fried Cabbage [Video]
Bacon Fried Cabbage is delicious and super easy to make with only a few ingredients. It is flavorful and ready in less than 30 minutes! Check out the short video tutorial attached below and see how simple this recipe is!
This is the perfect dish to make for a St.Patrick's day or bring to a potluck. It goes really well with Corned Beef, Beef Stew, or Pork Chops.
The Best Bacon Fried Cabbage
Bacon Fried Cabbage is one of our favorite dishes to make year-round. It is easy to make with simple ingredients, resulting in such a flavorful and delicious side dish. All you need is four ingredients – cabbage, onion, garlic, and bacon, along with a few seasonings.
I guess the secret ingredients here are bacon and garlic, as it makes this recipe so amazingly delicious! Once you try it, you will be making it over and over again, it is that good!
If you have never fried or sauteed cabbage before, you need to try this dish. It is also budget-friendly and can be made with various toppings. For, example, you could replace the bacon with sausage, or for a vegetarian version, simply use potatoes instead. It tastes delicious either way.
We also like to keep the spices very simple and only use salt, pepper, and a bit of paprika to add a smoky flavor to it. This is one of our most beloved dishes, and every time we make it, we cannot stop eating it!
WHAT IS FRIED CABBAGE?
It is a common Irish side dish that is made by pan-frying cabbage with onion, garlic, and basic spices. This side dish is served predominantly with corned beef. Also, it became very popular in the United States lately, where it got some variations it.
Southern bacon fried cabbage is a popular alternative to the traditional Irish version.
How to Make the Best Bacon Fried Cabbage?
As stated above, this is one of the easiest dishes to make, and it is one of the first sides to go on the table. We love to fry the cabbage in some bacon fat as this enhances the flavor tremendously. Below you can find the easy steps on how to best make this recipe. Also, please WATCH THE RECIPE VIDEO attached above.
First, we cook the bacon until crisp and remove it to a paper towel-lined plate.
Then, reserve about 2 tablespoons of the grease and saute the onions in it until soft.
Next, add the cabbage to it along with spices, and cook until tender.
Towards the end of cooking, mix in the garlic and the bacon into the cooked cabbage and then serve!
What goes with Bacon Fried Cabbage?
You can enjoy it as a full meal or side dish. It is perfect for breakfast, lunch or dinner. If you're super hungry, feel free to add a couple of fried eggs or a dollop of mayo to it. It also pairs well with:
HOW DO YOU CORE A CABBAGE?
Even though a cabbage core has plenty of vitamins, it is typically tough and not optimal for eating. We usually remove it before proceeding with the recipe.
The easiest way to core it is to cut the cabbage head in half and use a knife to slice around the core to remove it.
CAN FRIED CABBAGE BE FROZEN?
Yes, this dish can be frozen and enjoyed later. Prior to freezing it, let the cabbage completely cool. Then, transfer it to a freezer-safe container, and freeze for up to 3 months.
To thaw, pull frozen cabbage out of the freezer and overnight it in the refrigerator.
Other Great St. Paddy's Day Dishes:
Recipe Tips:
Use whatever type of bacon you like- regular, turkey, or even vegan. However, if you are going with turkey or vegan bacon, just remember that they are not very oily and additional oil or butter must be added.
Don't over-cook the cabbage or else the texture becomes very soft and mushy.
Not a fan of bacon? Substitute with favorite sausage or diced ham.
To make it vegetarian, omit the meat altogether. Also, you could use tofu or potatoes instead.
Also, when cooking cutting the cabbage, ensure to cut it up in uniform size to ensure even cooking.
To make it spicier, add some cayenne pepper or chili red pepper flakes to it.
Fried cabbage makes great leftovers, so make a double batch if needed. Leftovers can be stored in an airtight container in the refrigerator for up to 3-4 days.
Deliciousness to your inbox
Enjoy weekly hand picked recipes and recommendations