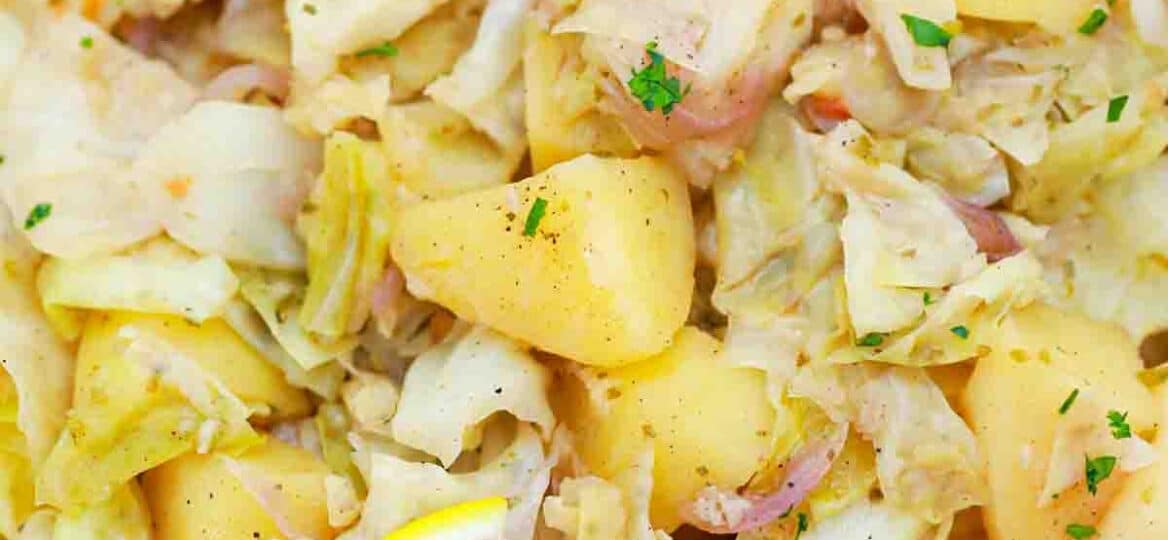 Cabbage and Potatoes Recipe
Cabbage and Potatoes make a simple yet delicious side dish with fork-tender Yukon Gold potatoes, cabbage, and fresh herbs. The best thing about cabbage is that you can boil it, fry it in a pan, or cook it in the oven. You can even toss it into the slow cooker and let it simmer all day, soaking up all the herbs and spices.
The most popular recipe for this type of food is our Instant Pot Corned Beef with potatoes, cabbage, and beer. It is a popular St. Patrick's Day dish. You could also use our recipe for Slow Cooker Corned Beef with Cabbage flavored with beef broth and bay leaves. If you have any leftovers, mix them into this Potato and Cabbage Soup for a quick meal.
Cabbage is an ancient vegetable. In fact, it has been used for food since 4000 BC in China. However, the first cabbages in America came from the French explorer Jacques Cartier in 1541. It became a staple on long journeys because of the high amount of vitamin C needed to prevent scurvy.
Today, cabbage mostly comes from China, but Russia and India are the biggest consumers. Many people refer to this as smothered cabbage and potatoes. Not because it is smothered in gravy.
It is smothered in herbs and spices. It is what my family calls true comfort food and although you can use it as a great side dish, I like to make it a meal. Potatoes and cabbage go perfectly together no matter how they are cooked.
Looking for more cabbage recipes? Our cabbage hash browns recipe made with eggs, sour cream, and onion are amazing. Cheesy cabbage gratin is also delicious with lots of gooey cheddar cheese and heavy cream.
For something different, try our slow cooker cabbage and sausage made with smoked sausage and flavored with apple cider vinegar and a blend of fresh herbs and spices.
Follow us on Pinterest for more delicious recipes!
Ingredients needed:
You will need these basic ingredients for cooking cabbage and potatoes. Please scroll down to our recipe card for complete instructions and exact measurements when you are ready to get started.
Medium Yukon gold potatoes: Peeled and chopped into 1-inch pieces.
Medium head green cabbage: Chopped into 1-inch chunks.
Garlic cloves: Minced.
Medium red onion: Finely sliced.
Vegetable broth
Salted butter
Salt
Black pepper
Paprika
Oregano
Lemon juice
Crushed red pepper flakes
How to make cabbage and potatoes from scratch?
Cook the onion: To begin, melt butter or heat oil in a Dutch oven over medium heat. Add the chopped onion and cook for four minutes.
Add the garlic: Next, add the garlic cloves and cook for another 30 to 45 seconds.
Simmer: Then, add the rest of the ingredients and stir. Reduce heat to medium-low and cover, simmering and stirring occasionally, for 10 minutes.
Keep cooking: After, take the lid off and turn the heat back to medium-high. Continue cooking until most of the liquid is gone. This should take about 15 minutes.
Serve: Finally, serve your smothered cabbage and potatoes warm with parsley.
How to make crock pot cabbage and potatoes?
Cooking the veggies: First, in a large skillet, melt the butter over medium-high heat and cook the onion for about five minutes, stirring occasionally with a slotted spoon, adding the garlic at the last 30 seconds.
Add all the ingredients: Then, add the potatoes, cabbage, vegetable broth, lemon juice, red pepper, oregano, paprika, salt, and pepper to the crock pot with the onion and garlic mixture.
Cook cabbage and potatoes: Lastly, cover and let it cook for two hours on low or two hours on high.
Serve: Garnish with parsley sprigs and serve warm.
Recipe variations:
Other onions: You can use another kind of onion like white, yellow, or sweet onion.
Bacon drippings: Cook bacon as an add-in and use bacon grease to make fried cabbage and potatoes, flipping occasionally.
No butter: If you want, you can substitute butter with olive oil or whatever cooking oil you like best.
Different potatoes: You can also use russet potatoes for this great recipe.
Colcannon: Make colcannon (Irish mashed potatoes) by mashing the potatoes and cabbage together with lots of cream and butter. You can also add kale or other greens to this hearty side dish. Try our delicious colcannon recipe.
Healthy swap: Swap out the potatoes for parsnips for a seriously healthy meal. They are full of fiber, zinc, B1, B5, and vitamin E as well as vitamin K folate, and magnesium.
Less spicy: If you are not a fan of spicy food, leave out the red pepper flakes.
More heat: On the other hand, you can add jalapenos or cayenne pepper for extra spiciness.
Sweeten the pot: Alternatively, sprinkle in a few tablespoons of sugar for a sweeter cabbage and potato dish.
How to serve:
Make this easy cabbage and potatoes a main dish by adding some kind of meat or other hearty root veggies. This is one of those simple recipes that you can easily make your own just by adding one or two ingredients. Try one of our delicious serving ideas or share one of your own.
Use leftovers to make cabbage soup. Try our fast and easy recipe for instant pot cabbage soup flavored with bell peppers, tomatoes, and a handful of spices.
Use your potato masher or a fork to turn your potatoes into mashed potatoes and add some crumbled bacon on top.
You can also add this to a casserole or stew. It would go great in our Turkish cabbage stew with ground beef and beef broth.
This makes a delicious breakfast served with a fried egg or two and some thick-cut bacon.
Add chicken to make cabbage, potatoes, and chicken. Our recipe for instant pot shredded chicken would be perfect.
Sprinkle garlic powder on top before serving.
Looking for a new diet recipe? Our instant pot weight loss soup can easily be made with this cabbage and potatoes.
You could also top your bowl of cabbage and potatoes with sour cream.
Frequently asked questions
What is the difference between red and green cabbage?
Curiously, there are actually four different kinds of cabbage but the main ones are red and green. The green cabbage is the most commonly used for cooking and the red is most popular for cole slaw and other cold salads. The flavor of the red is a bit more peppery but has more vitamins and nutrients.
Is cabbage healthier than other greens?
Yes. In fact, cabbage has double, triple, or even 10x the number of many vitamins and minerals you get from the same serving of lettuce. For example, you get three times the amount of fiber, 10x the amount of vitamin K, and triple the amount of vitamin B6. And if you eat red cabbage instead of green, you get even more health benefits.
What is corned beef?
Corned beef is made by brining a beef brisket in salt and has nothing to do with corn. It has to be braised for a long time with moisture at a low temperature because it is a tough cut of meat.
They call it corned because of the size of the rock salt kernels used in brining the beef. Today the prepackaged corned beef you get in the store is given injections of pickling solution.
What are the nutrition facts in this recipe?
With each serving, you will get 165 calories, 24 grams of carbs, 7 grams of fat with 1 gram of saturated fat, 310 milligrams of sodium, and 5 grams of sugar. On the other hand, you also get 3 grams of protein, 5 grams of fiber, 115 units of vitamin A, 60 milligrams of vitamin C, and 65 milligrams of calcium.
How to store leftovers:
Store: To store, let your cabbage and potatoes cool completely, and then put them in an airtight container. They will stay fresh in the fridge for four days.
Freeze: If you will not be eating it within a few days, move your container to the freezer where it will be safe for about three months.
Thaw: Defrost in the fridge overnight before serving.
Reheat: Warm up in the microwave for about one minute on medium, depending on how much you are reheating.
More side dishes:
Cooking tips:
It helps to chop the potatoes and cabbage the same size so it all cooks evenly.
Make sure you choose the best cabbage. Look for one that is heavy and firm but not too big.
You can store cabbage in the refrigerator crisper for a month to six weeks.
Be sure to label your food if you store it in the freezer and put the date on it.
If you do not have a vacuum sealer machine yet but save a lot of leftovers, you may want to invest in a good one. They will save you money in the long run with all the safely stored food.
Add a swirl of butter just before you serve for a richer taste.
Don't skip sauteeing the onion and garlic. It really adds to the flavor.
Cabbage and Potatoes
Ingredients
4

tablespoons

salted butter

1

medium red onion

thinly sliced

4

cloves

garlic

minced

1

medium head green cabbage

cut into 1-inch pieces - core removed

3

medium Yukon Gold potatoes

peeled and cut into 1-inch chunks

1 1/2

cups

vegetable broth

1

teaspoon

liquid smoke

optional

1 1/2

teaspoons

salt

1/2

teaspoon

ground black pepper

1

teaspoon

paprika

1

teaspoon

oregano

1

teaspoon

lemon juice

1/4

teaspoon

crushed red pepper flakes
Instructions
Place a Dutch oven over medium-high heat and melt the butter.

Add onion, stir and cook for 4-5 minutes, or until soft.

Next, add garlic and cook for 30 seconds.

Add the cabbage, potatoes, broth, liquid smoke (if using), salt, pepper, paprika, oregano, lemon juice, and red pepper flakes.

Cover the pot, reduce heat to medium-low and simmer for 10 minutes, stirring occasionally.

Remove the lid and increase the heat to medium-high. Give the mixture a stir, and cook until most of the liquid has evaporated, this will take about 14 minutes. Gently stir occasionally.

Garnish with chopped fresh parsley and serve.