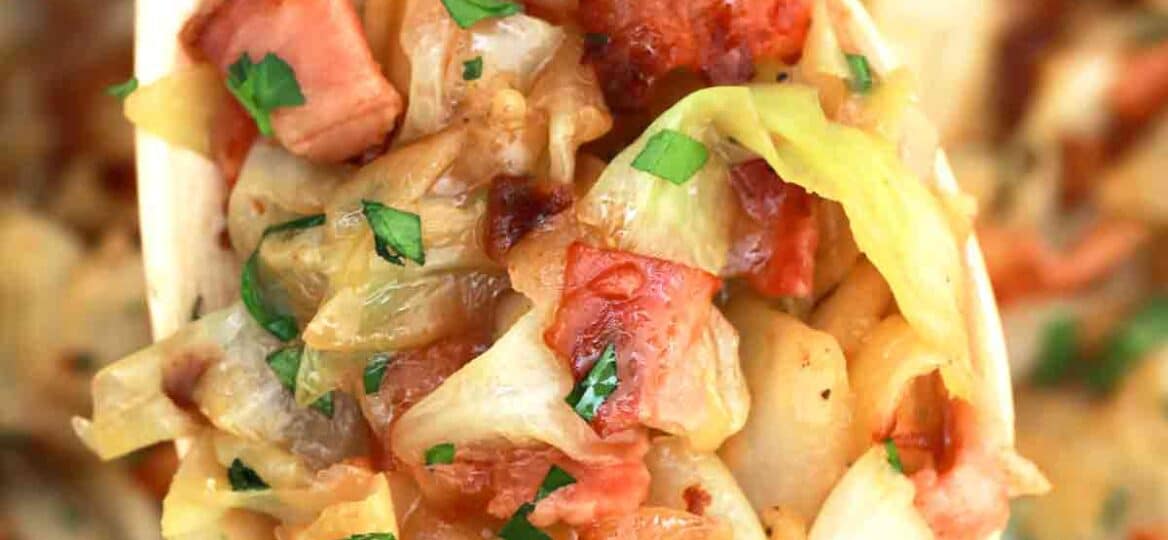 Cabbage with Bacon and Onions [Video]
Cabbage with Bacon and Onions is cooked to buttery perfection with smoky, caramelized onions, bacon, and fresh cabbage. A speedy side or a hearty one-pan meal!
Got some extra onions in your pantry? Use them in this refreshing Creamy Cucumber Tomato Salad, the crispiest Onion Rings, and Instant Pot French Onion Soup!
Fried Cabbage with Bacon
Cabbage with Bacon and Onions doesn't sound too fancy, does it? But trust me, one bite, and this will become a staple in your home! The smoky bacon and onion flavors melt into the cabbage, turning every bite into salty, smoky, and buttery deliciousness. It's so good, my family keeps stealing bites right out of the skillet!
This recipe is really quick, too, taking 30 minutes at most from stove to table. It's filling enough to be a meal on its own, but it's also an amazing side dish. We include some of our favorite add-ons and variations below, so make sure to try them as well!
Is cabbage healthy?
Yes, it's a really healthy ingredient to add to your meals. It's very low in calories, which is great if you're trying to lose weight. You can eat a lot of it without packing on the pounds. In fact, it's the key ingredient in our popular Weight Loss Soup!
This vegetable has minimal carbs too, which makes it keto-friendly. You also get a ton of fiber, minerals, and vitamins in every serving. Finally, it's been found to improve everything from heart health to digestion, skin, and the immune system. If you're trying to eat healthier, then you should definitely add this veggie to your diet.
What goes into the cabbage with bacon and onions recipe?
Cabbage: Use regular green or Savoy, chopped or shredded.
Onion: Use a very large one sliced as thin as you can.

Bacon: Chop about 12 strips of your favorite bacon.
Butter: You may use salted or unsalted for this recipe.

Brown sugar: Balances out the saltiness of the bacon and brings out the sweetness of the veggies.
Cooking liquid: Use either half cup of boiling stock or water.
How to core a cabbage?
Use either the V (or triangle) method, or chop it off at an angle. For the first one, chop the head in half. Then, position your knife beside the core. Slice it off at an angle, forming a V shape on either side of the core until it's out.
You can also chop the head into four to six wedges, and position the wedge core side down. Chop it off an angle, and your vegetables are ready.
How to make fried cabbage with bacon and onions?
Sauté. Fry the aromatics in butter, followed by the bacon until crispy, a bit caramelized, and fragrant.
Add the vegetables. Put the sugar and chopped veggies into the bacon, and cook until browned. Pour in your boiling stock or water. Continue cooking for two mins. more, then cover and let it cook for another 5 mins. Uncover and check for doneness— take off the heat when the veggies are as tender or crisp as you like.
Serve. Enjoy hot with a sprinkle of parsley on top!
Recipe variations and substitutions:
Include more vegetables: We love this with browned mushrooms, baby spinach or kale, shredded carrots, broccoli, and cauliflower florets, snow peas, and zucchini. A great way to use up the veggies in your fridge!
Vegetarian: Skip the bacon and sub with mushrooms or vegan meat. Use veggie stock.
Try other meats: It's also delicious with sliced sausages or diced ham, ground beef and pork, seared chicken breast, or turkey.
Southern: Sprinkle some Creole or Cajun seasoning.
Add herbs: Add a dash of Italian seasoning for a stronger herb flavor. Poultry seasoning is great too!
How to keep bacon crunchy?
You can add it at the end, so it doesn't absorb the broth while cooking. You can also crisp it up evenly in the air fryer or oven first, then sauté the aromatics in the rendered fat and mix the crispy bacon at the end just before serving.
What to serve with Cabbage with bacon and onions?
It's delicious with just a squeeze of lemon and some sriracha if you like heat. We also love it as a side to most meat and seafood entrees, like shrimp, chicken, pork medallions, and more.
How to store leftovers?
Once all the leftovers have completely cooled down, transfer to a sealed container or baggie. Keep refrigerated up to 3 days, or up to 2 weeks frozen.
To reheat, thaw first if heating up from frozen. Microwave until hot, or heat up with a splash of water or stock on the skillet.
More homemade cabbage recipes:
Recipe tips:
If you have a mandolin, you can use it to evenly shred both the onions and cabbage.
Use sliced, thick-cut bacon if you want a more meaty bite in the dish.
Stir in a little apple cider vinegar to add delicious tanginess to the veggies.
The vegetables should have a little color in them once you're done cooking, so you can enjoy perfectly tender veggies with just a bit of bite.