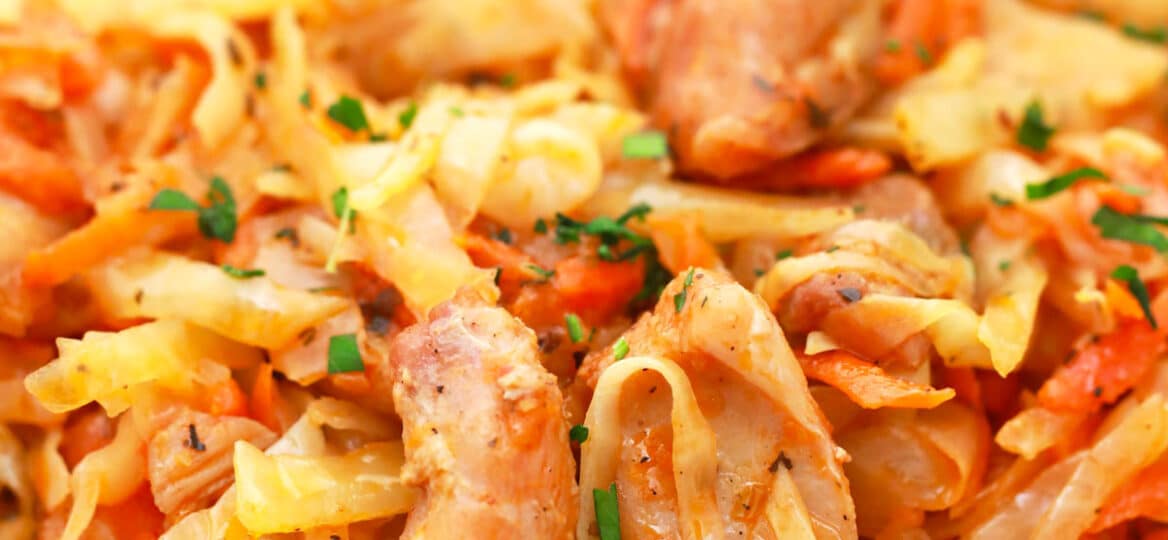 Chicken and Cabbage Stir Fry [Video]
Chicken and Cabbage Stir Fry with carrots is flavored with onions, spices, herbs, and a touch of tomato paste for a fast and flavorful weeknight meal.
Boneless chicken is the perfect meat for stir-fries because it cooks up in a flash and absorbs all the flavors you add into the dish. See for yourself in this addicting Firecracker Chicken, Honey Garlic Chicken Stir Fry, and Panda Express Mushroom Chicken (Copycat)!
Chicken and Cabbage Recipe
Chicken and Cabbage Stir Fry means no more skipping dinner, no matter how busy you are! It takes MINUTES to make this healthy and delicious one-pan meal.
It's flavored with fresh onions and garlic, herbs, paprika, plus tomato paste to brighten it all up! The seasoned meat and veggies are simmered in broth until it absorbs all that fantastic umami flavor. Enjoy it as a rice bowl, with a side of noodles, or on its own for a tasty low-carb meal!
What is the best variety of cabbage to use for stir fry?
It's up to you! Most varieties will work for this recipe. Napa and Savoy are a little delicate, but they add a lovely, peppery bite to the dish.
We prefer the green and white varieties ourselves because we love how sweet and tender it becomes as it cooks. It retains a nice crispness which adds more texture to the dish.
If red is all you have, it'll do in a pinch! Please note that its beautiful purple color does tend to stain the rest of the dish.
How do you cut cabbage for stir fry?
Take off loose leaves, rinse the head out, and pat it down as dry as possible.
Chop straight in half through the stem.

Slice each half into quarter wedges.

Remove the stem from each wedge by slicing it off at an angle.
After removing the core from all wedges, slice them into skinny strips lengthwise, like you would for coleslaw.
It's now ready for your stir-fry!
More easy dinner recipes:
Does cabbage need to be washed?
Yes, because there's usually stuff like dirt or soil between the leaves. That's totally normal! Just rinse it clean with water, drain it, and pat it dry.
What does cabbage go good with?
Almost anything! Because its flavor is so mild, it complements almost any seasoning, meat, or flavor you add to it. Try it with beef, pork tenderloin, sausage, Turkish spices, or even with mashed potatoes (aka colcannon!). Lovely with just a little bit of butter, or raw in a salad too!
What do you need to make chicken and cabbage stir fry?
Chicken: Slice boneless fillets (breasts or thighs) into small pieces or strips.
Cabbage: We use regular green, sliced into thin strips.
Carrots: Shred them thin!
Aromatics: Fresh diced onion and fresh garlic, minced.

Seasonings: Dried herbs (oregano and basil), fresh herbs, smoked paprika
Tomato paste: Adds beautiful color and richness to our stir-fry.
Chicken broth: Try making your own stock from scratch! But pre-made is perfectly fine, too.
How to make homemade chicken and cabbage stir fry?
Saute. Brown the chicken until golden by sauteeing in oil for about 5 to 7 mins. Add the aromatics, shredded carrots, seasonings, and tomato paste. Saute for a few minutes more, followed by the cabbage.

Reduce. Pour the stock into the stir-fry and season. Continue sauteing until all the liquid evaporates.
Serve. Plate up with a sprinkle of fresh parsley, and enjoy immediately.
Recipe variations:
Beef: Use thinly-sliced flank steak or skirt steak.
Pork: Try this with sliced pork loin, pork shoulder, or Boston butt.
Include more vegetables: Got any veggies you need to use up? Add them to this stir-fry! We love it with broccoli and cauliflower florets, spinach, baby corn, mushrooms, julienned bell peppers, snow peas, and water chestnuts.
Vegetarian: Use veggie stock, and replace the meat with tofu, tempeh, or mushrooms.
Use other sauces: Turn it into a delicious Asian stir-fry by adding sauces like teriyaki, Szechuan, and General Tso.

Spicy: Add more fresh-ground pepper, chopped red chilis, or chili flakes.
How to serve:
We love it simple – spooned over fluffy white, brown rice, or cauliflower rice if you're watching your carbs. Fantastic with egg fried rice, too! As for sides, it's hard to beat Chow Mein and Egg Rolls for a Chinese takeout-style meal.
How to store leftovers:
Cool all the leftovers completely first. Then, transfer to an air-tight container. If you want to freeze it, we recommend placing it in a freezer-safe baggie instead, so it takes up less space in the freezer.
Stored in the fridge, this will stay fresh and tasty for up to three days, but try to finish it earlier, especially if you like your veggies crisp. Frozen, will stay good for up to 3 months.
To reheat, thaw first from frozen. Microwave for a few minutes until hot.
More cabbage recipes:
Recipe tips:
If you prefer juicier meat, use boneless thigh fillets.
Don't forget to remove the core! It's really tough and virtually inedible, so you want to chop it off before stir-frying.
Make sure all your ingredients are set out before you begin! Stir-fries cook really quickly, and you don't want anything to burn while you're still prepping the rest of the recipe.