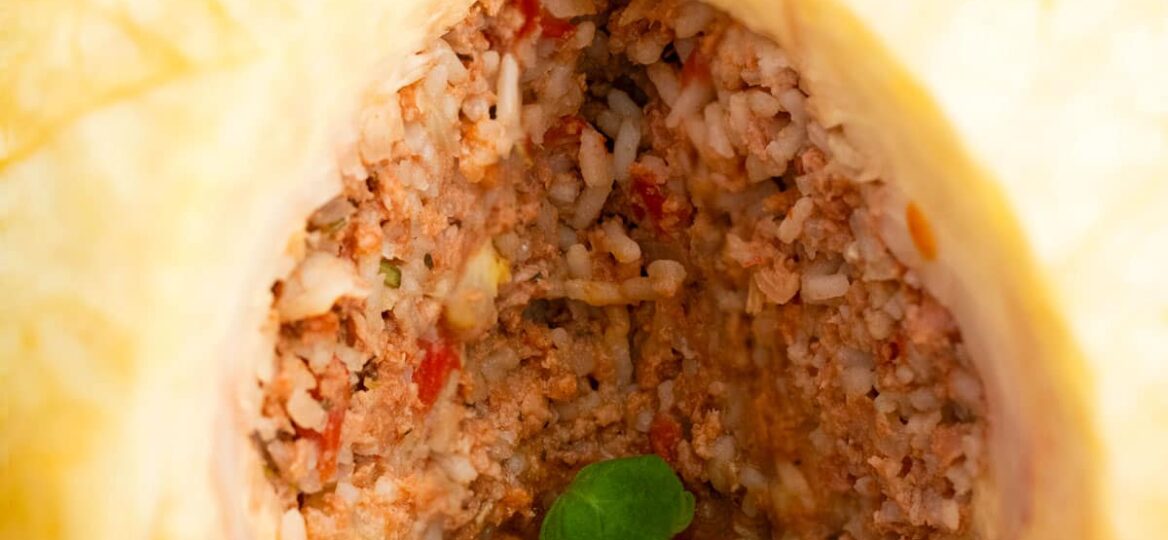 Stuffed Whole Cabbage Recipe [Video]
Stuffed Whole Cabbage is filled with seasoned ground beef and rice, then simmered in a rich, herb tomato sauce until tender and perfect. Serve with parmesan cheese for a hearty and healthy family meal!
Ground beef, which is our main protein for this dish, is such a tasty and versatile ingredient. Use it for the Best Cheeseburger Pasta, the juiciest Homemade Meatballs, and these kid-friendly Pizza Sloppy Joes!
Whole Stuffed Cabbage
Stuffed Whole Cabbage is a delicious twist on the classic Stuffed Cabbage Rolls. Instead of softening, stuffing, and rolling up individual leaves, we simplify the process by stuffing the entire head with all that good stuff.
You've got juicy ground beef, fluffy rice, onions, and lots of spices and herbs to make an incredible filling. Then, we cook the stuffed cabbage in a lovely tomato sauce with garlic and herbs.
The result is a hearty dinner complete with veggies, meat, rice, with an incredible sauce to enjoy it all with. Treat your family to a special meal with this Stuffed Whole Cabbage!
What is the healthiest way to eat cabbage?
The healthiest way to eat any vegetable is as fresh as possible and with only a little fat and carbs in the dish.
In this recipe, for instance, we use very little oil or butter. You get tons of fiber, protein from the beef, and vitamins and minerals from the vegetables, meat, and veggies!
Other healthy ways to eat this veggie are by braising in apple cider, roasted, boiled, and simply sauteed.
How do you core cabbage and keep it whole?
First, position the head with the core-side pointing up. Then, slice around the stem in a cone shape, careful not to cut the leaves around it.
More budget recipes:
How do you remove the heart from a cabbage?
It depends on how you plan to use it. If you need it whole like in this recipe, place it stem-side up and slice in a cone shape around the stem.
You can also slice it clean in half, then chop it in a triangle or V shape from either side of the stem to get it out. In addition, feel free to chop the head into wedges and place each piece stem-side down. Simply slice at an angle to take out the core.
How do you make Stuffed Whole Cabbage?
Take out the stem. First, take out the entire core, but leave the head intact. Then, discard the stem and chop any remaining leaves from the center.
Stuff. Mix the rice, beef, half the sauce, and the rest of the filling components. Stuff this into the center of the head. Tie a cheesecloth tightly around the head so that everything stays inside while it cooks.
Simmer in the sauce. Next, place the rest of the sauce, the chopped veggies, and the broth in your pot and mix them all together really well. Carefully place the stuffed vegetable onto the mixture, then bring to a boil. Reduce to a simmer and cover the pot. Let the vegetables cook until it's tender and the center registers 165F. Remove the vegetable and set it aside.
Reduce the sauce. Add slurry to the sauce in the pot. Boil until it's as thick as you like it.
Serve. Slice the stuffed cabbage into wedges. Spoon the sauce on top, then finish with some parmesan cheese and more herbs. Enjoy hot.
Recipe variations:
Use other meats: Any ground meat will work for this recipe, such as pork and lighter options like turkey or chicken. We like adding bacon and sausage bits to the beef mixture for more flavor, too.
Vegetarian: Replace the beef with a ground vegan meat substitute, and use veggie broth instead. Replace the egg with a flax egg.
Spicy: Add a dash of cayenne or a tbsp of chili flakes to the sauce.
Low-carb: Replace the rice with quinoa, oats, riced cauliflower or broccoli, orzo, or couscous.
What else can I do with a whole cabbage?
A lot of things! You can turn it into a vegetarian pot roast for a delicious meatless entrée! We also love it roasted whole, then basted with an unbelievable maple-garlic butter sauce.
What do you put in cabbage to soften it?
You can stuff it with filling as we do here, then simmer in liquid. That way, it gets tender from the inside and outside. If you need soft leaves, you can also steam them a bit or freeze them overnight. The leaves will be soft and easy to roll after they thaw.
How to serve it?
This dish looks stunning plated up! We recommend bringing it to the table whole, then carving it up in front of everyone, sort of like a roast.
Once it's carved up, you can serve it as a wedge with sauce and meat on top, plus a generous sprinkle of parmesan. We also like sprinkling ours with some chopped oregano and thyme for a bit more herb flavor.
How to store leftovers?
First, cool everything down. Arrange the wedges in an air-tight container, then spoon any remaining meat and sauce on top.
Keep in the fridge for up to three days, but try to finish earlier to keep the veggies from getting too soggy. Microwave until hot when you're ready to reheat.
More cabbage recipes:
Recipe tips:
Ensure the cheesecloth is wrapped around the head very tightly, or the vegetables and filling may fall apart during cooking.
Since we're stuffing this with raw beef, the temperature check is essential. It should be 165F or higher to be safe to eat. Otherwise, let it simmer a little more.
Also, don't drain your diced tomatoes! The juice gives it an even more robust tomato flavor, so we're using everything in the can.