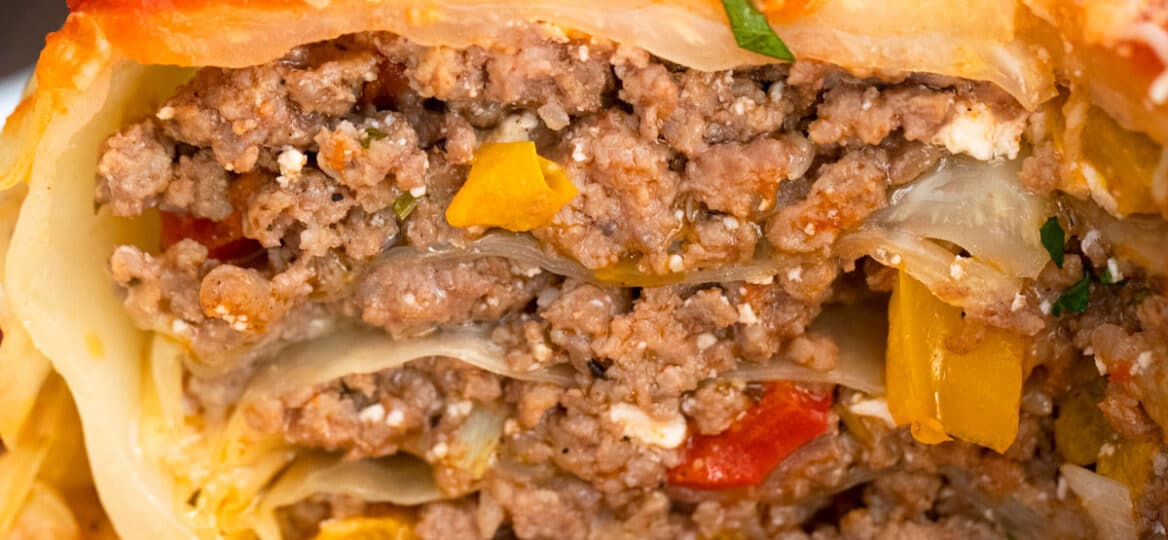 Low Carb Cabbage Cake Recipe [Video]
Low Carb Cabbage Cake has layers of flavorful beef, gooey and creamy mozzarella, and tender vegetables for a low-carb version of the classic lasagna!
We love thinking up creative ways to serve this pasta favorite! Enjoy those familiar flavors with a twist in this Slow Cooker Lasagna Soup, the BEST Taco Lasagna, and Zucchini Lasagna Roll-Ups!
Healthy Cabbage Cake
Low Carb Cabbage Cake is our keto-friendly version of traditional lasagna! Instead of pasta sheets, we're using beautifully tender vegetable leaves between layers of seasoned beef and mozzarella. Then, we bake the dish until it's bubbly, cheesy, golden, and perfect!
Even picky eaters and kids love this veggie-packed dish because the cabbage tastes so mild, the cheese, beef, and fragrant marinara really take the spotlight. It's like pasta, but lighter and even better for you!
What is a Cabbage Cake?
As we mentioned above, it's our keto version of a meaty, cheesy beef lasagna. We're substituting the lasagna pasta sheets with vegetable leaves. This reduces the carb content to almost nothing because this veggie is incredibly low-carb!
This dish has three main layers – the tender leaves, the flavorful beef (mixed with ricotta, marinara, aromatics, and herbs!), and gooey mozzarella. Every bite has a little bit of each. It's absolutely delicious!
How do you make cabbage soft?
First, you can soften the leaves in boiling water for a few minutes before drying and patting them dry. Also, you can also freeze them overnight, and they'll be soft when you thaw them out.
How do you make low-carb cabbage cake?
Prep the leaves. Start by separating them from the core, then soften by boiling for about 5 mins. Then, pat dry and set aside.
Cook the beef filling. Next, crumble it up and brown, then add the aromatics, basil, and Worcestershire. Follow this up with the cheeses and marinara. Cool the mixture a little bit, then mix everything up with the egg.
Layer. Cover the bottom of the dish with the largest and best-looking leaves. Scoop some of the beef and spread it around to create the first layer. Top with mozzarella then leaves. Repeat until the pan is full. Finish with more leaves on top, tucking it really tightly all around. Drizzle with some olive oil and more parmesan.
Bake. Place in a 350F oven and bake for about 40 mins. Rest for a few minutes after baking, then flip onto your serving plate.
Serve. Slice into serving portions. Serve with more marinara and cheese. Enjoy immediately.
Recipe variations:
Ricotta alternatives: In place of ricotta, you can use yogurt, more parmesan, queso fresco, and cream Fraiche.
Use other meats: Ground chicken or turkey are leaner for sub for beef. We also like using pork, or a mixture of pork and beef! For even more flavor, add some crumbled Italian sausage and chopped bacon.
Use zucchini: Instead of the leaves, roast some thinly sliced zucchini and use them for the veggie layer! Check out our Zucchini Lasagna, another amazing low-carb version of this pasta dish!
Vegetarian: Substitute the beef with plant-based meat, and add more veggies into it like chopped spinach, carrots, zucchini, mushrooms, and bell pepper.
More Low-Carb Recipes:
How do you make cabbage not soggy?
Try not to overcook them! Once the leaves turn bright green and tender with a little crisp, they're ready. The residual heat of the dish will soften them further. Therefore, there's no need to cook them for a long time.
How many carbs in cabbage?
Every 100 grams only has 6 grams of total carbs, making it an incredibly low-carb veggie! You can eat a lot of it on a keto diet. In fact, it can also be a tasty replacement for many carb-heavy foods, like hash browns, gratin, and savory pancakes.
How can you use cabbage leaves as pasta?
What we do is carefully separate the leaves from the head, making sure we don't tear them up. Then, we boil them for a few minutes so they become pliable and flat enough to layer.
Cabbage leaves are a really good substitute for pasta because they have a very mild taste that allows that amazing beef, marinara, and cheese to shine through.
What is the best type of cabbage to use for this recipe?
Green or white is your best option for this one. Other types like Savoy and Napa are too delicate to stay intact under all that meat and cheese.
In contrast, green and white varieties remain firm even after they become tender and done.
How to serve this dish?
We love keeping it simple because there's so much going on in this dish already.
To serve, slice the dish into hearty squares like you would a lasagna. Then, dollop warm marinara on top, and finish with lots of parmesan cheese and some basil!
If you'd like sides with your meal, we recommend fresh-baked dinner rolls or a simple salad.
How to store leftovers?
This dish keeps really well! Make sure all the leftovers have cooled down first, then transfer them in a well-sealed container. This will stay fresh and delicious for up to a week. You can also freeze for up to 1 month.
To reheat, simply thaw (if reheating from frozen), and microwave until piping hot. You can also re-bake it at 400F until heated through.
More cabbage recipes:
Recipe tips:
Use fresh, organic beef for the best taste.
Also, make sure to place the most beautiful leaves on the bottom! This will become the top of your dish, and you want to make sure it looks as good as possible.
Remember to let the dish rest for about 10 minutes before you flip it onto a serving plate. This way, the layers have time to cool down a little, and they stay intact during slicing.
For the mozzarella layer, you can also mix it up with some shredded cheddar if you like.
Deliciousness to your inbox
Enjoy weekly hand picked recipes and recommendations