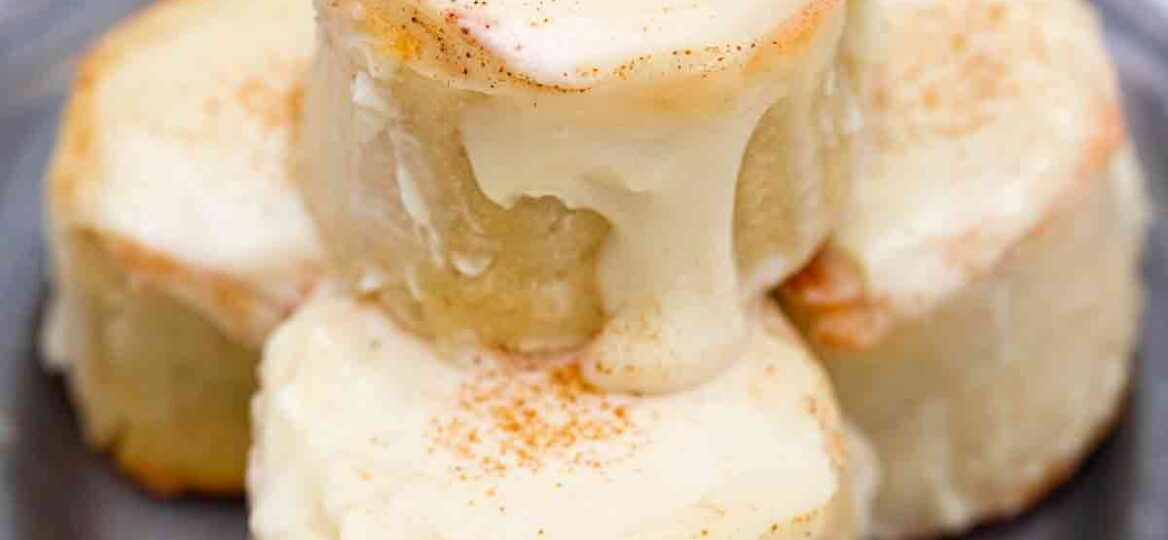 Keto Cinnamon Rolls are loaded with buttery-sweet spiced filling and smothered in low-carb cream cheese icing. Enjoy this classic without breaking your keto goals!
Just because you're on keto doesn't mean skipping dessert! This delectable Chocolate Cake, Brownies, and Strawberry Cheesecake are all low-carb and as amazing as the regular versions!
Low Carb Cinnamon Rolls
Keto Cinnamon Rolls are bites of happiness in fluffy, buttery rolls filled with cinnamon sugar, then drizzled with cream cheese icing. Crazy delicious and keto-friendly, because it's a legit low-carb version of this breakfast favorite!
Aside from being an awesome breakfast and snack, they're also perfect for sending out as thoughtful edible gifts, especially for friends and family who are following low-carb diets. There's nothing like homemade baked goodies to make someone's day, especially when you show up at their door with a batch of these cinnamon rolls!
Is cinnamon allowed on keto?
Yes, this spice is great for low-carb bakes and recipes! One teaspoon only has less than 1g of carbs (net). Aside from being keto-approved, it can also help reduce the levels of blood sugar in the body.
Cinnamon is excellent for enhancing sweetness while adding warm spice flavors in low-carb baked goods.
What flour can you use on keto diet?
If you want to try a low-carb diet but also loved baked treats, there's nothing to worry about. You've got plenty of low-carb flour options out there, such as coconut flour, nut flours like almond flour, bean flours like soy flour, and seed flours like sunflower flour.
What sweetener can you use on keto diet?
Like flours, there are many sweetener options for those following a low-carb diet. Try using artificial sweeteners like sucralose or the ever-popular Stevia or Swerve. If you prefer natural alternatives, you can bake with Erythritol, yacon syrup, or monk fruit syrup.
These sweeteners won't halt ketosis because they barely have carbs. They're usually sweeter than regular sugar too, so you can use less than you normally would. All of them are a yummy way to add a kick of sweetness without breaking your low-carb goals!
Are baking powder and baking soda keto?
Baking soda has zero carbs. Baking powder does have carbs, but very little of it. Every teaspoon contains around 1.3g carbs, and because you need only a bit in recipes, feel-free to use it in low-carb bakes.
How to make Keto Cinnamon Rolls?
Make the dough. Whisk the sweetener and baking powder with the coconut flour. Microwave both the cheeses until melted. Into this, stir the vanilla, your butter, and coconut flour mix, and eggs. Blend until you have a slightly sticky dough. Roll into a rectangle (around 9×2), trying your best to achieve even thickness throughout.
Spread the filling. Mix spice and sweetener. Spread butter all over your dough, then sprinkle evenly with spice mix.
Cut. Shape into a tight log, then slice into 1-inch-thick rolls.
Bake. Arrange in your pan, then bake until golden in a 400F oven. Allow it to slightly cool on a rack.
Ice and serve. Drizzle with the icing while warm. Enjoy!
How do you make keto cream cheese icing?
Mix. Cream butter together with cream cheese, then sweetener. Add extract if using. If your icing is too thick, add a splash of almond milk to thin it out.
Drizzle. Pour, spread, or drizzle on your fresh-baked treats!
Recipe variations:
Use other icing flavors: Drizzle with low-carb caramel sauce or chocolate sauce.
Add chocolate: Sprinkle with low-carb chocolate chips before rolling up.
Add zest: Give these a fresh zing with grated orange or lemon! You can also add a squeeze of lemon to your icing.
Top with nuts: Sprinkle with some candied pecans for a caramel-flavored crunch!
Add bacon: Top with crispy bacon crumbles for a salty and smoky layer of flavor.
How to store Low Carb Cinnamon Rolls:
Cool completely before storing. These will stay fresh and delicious at room temp, as long as you keep them in an air-tight container. Consume within 3 days, or within 5 days if keeping in the fridge.
Yes. Transfer the dough into an air-tight bag, then freeze as long as 1 month. To bake, thaw and shape, spread with filling, slice, and bake.
Alternatively, fill and shape them already, then arrange them on a flat sheet and freeze. Once frozen, transfer to a plastic bag and store for a month.
Can you make these in advance?
Yes, you can chill them overnight in the fridge once shaped. Bake directly in your pre-heated oven the next day.
More Recipes:
Recipe Tips:
Use pre-shredded mozzarella, because they have much less liquid than fresh.
Oil your hands with nut oil if you find the dough too challenging to work with.
Deliciousness to your inbox
Enjoy weekly hand picked recipes and recommendations