Pork Tenderloin with Cabbage [Video]
Last updated on June 18th, 2021 at 11:24 pm
Pork Tenderloin with Cabbage is roasted on top of apples, bacon, herbs, and a medley of seasonings for a hearty one-pan meal. Try this recipe for an easy dinner, or a fancy event, this dish is made to impress!
Got some extra apples laying around? Use them for this amazing Apple Pie Caramel Cheesecake, Apple Bread, and Classic Apple Crumble!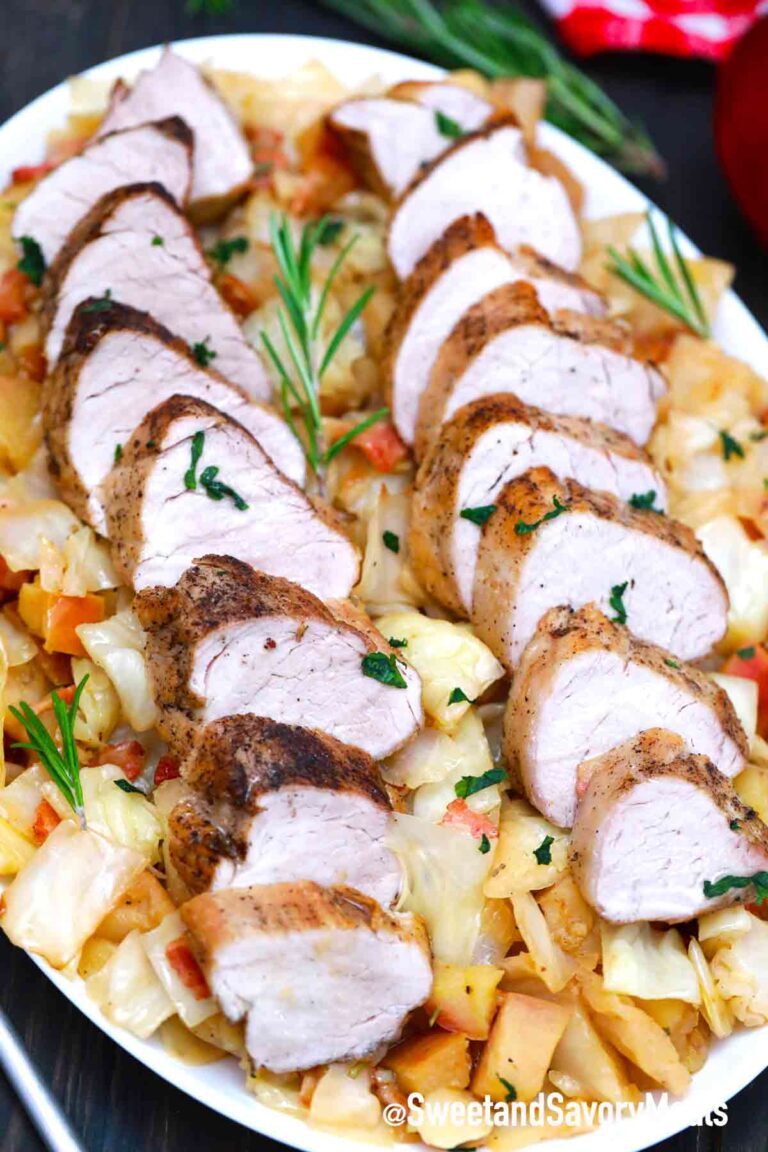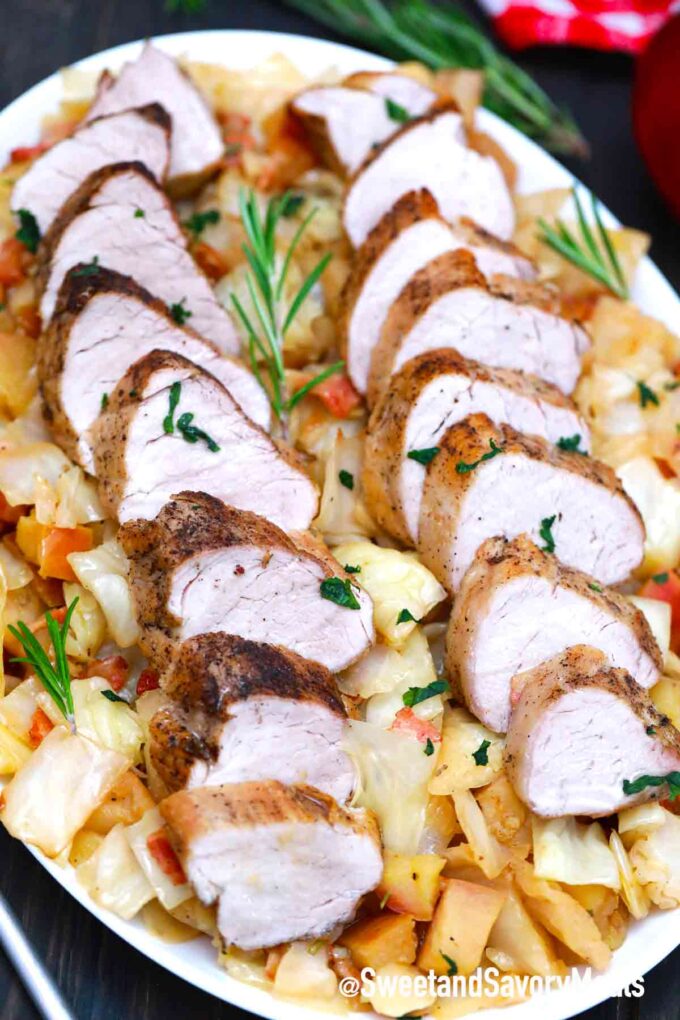 Pork Tenderloin Recipe
Pork Tenderloin with Cabbage is baked to melt-in-your-mouth perfection in this easy weeknight recipe. We use butter, Dijon, apple cider, brown sugar, and herbs to infuse the meat with more flavor while it gets roasted with fresh apples, caramelized cabbage, and crispy bacon.
We love the way the caramelized veggies and apples get reduced into this smoky, sweet, and savory applesauce that complements the lean and juicy pork perfectly. Get ready for the rave reviews when you serve this to friends and family!
Pork Tenderloin with Cabbage recipe ingredients:
Pork tenderloin: A couple of pieces about 2 pounds each.
Bacon: We're using 8 pieces sliced into ½ inch strips.
Cabbage: Half of a medium head, chopped with the stem removed.
Cubed Apples: One each of Granny Smith and Fuji for the perfect tart and sweet flavor. You can use either one with great results!
Aromatics: Finely chopped onion and minced garlic.
Herbs and seasonings: Dijon, apple cider and apple cider vinegar, chopped rosemary, and brown sugar.
Butter: For a richer sauce.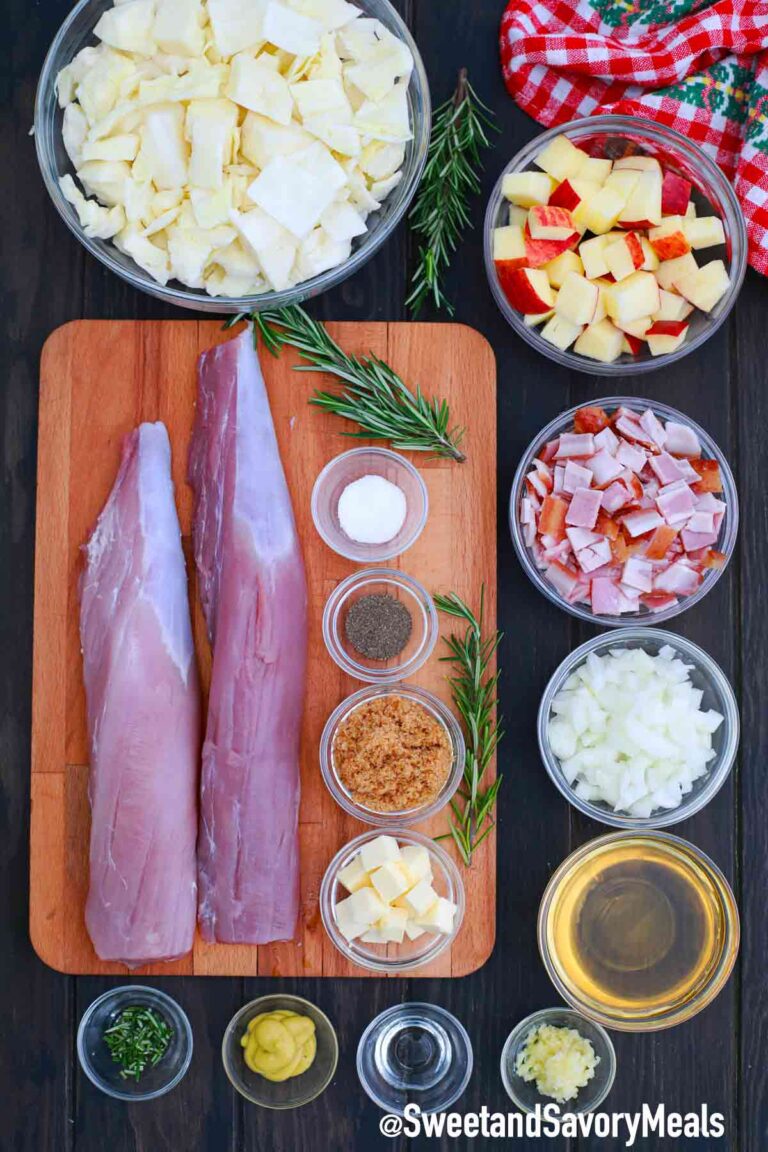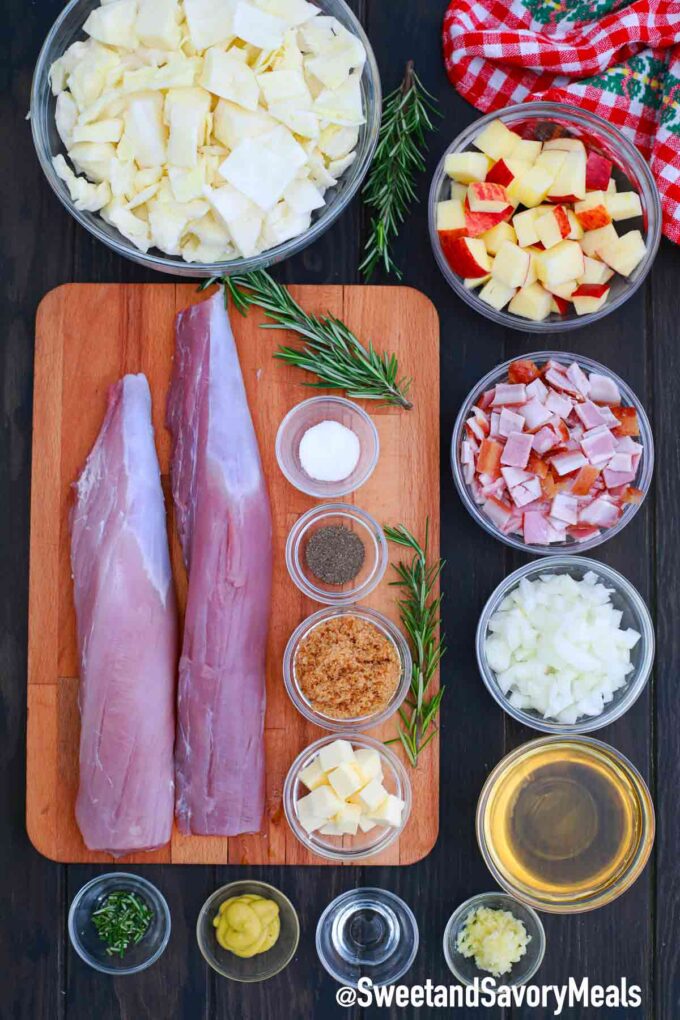 What is the difference between pork loin vs tenderloin?
The tenderloin is cut taken from the backbone, which the loin is from the back itself. It's very easy to tell the two apart – the first is always boneless plus thin and long, while pork loin is bigger, wider, and flatter. You can also buy it with or without the bone.
Never interchange them in recipes, because they have very different cooking requirements. Wouldn't want to waste good meat!
How to make Pork Tenderloin with Cabbage?
Sear. Crisp up the bacon, transfer to a plate and leave behind a little of the fat. Sear all sides of the tenderloin using bacon fat, until all the sides are beautifully browned. Set aside.
Cook the caramelized cabbage-apple mixture. Sauté your aromatics, followed by the butter once fragrant and soft. Then, add the cabbage and sauté until wilted. Add the crispy bacon and continue caramelizing the cabbage. Add the apple chunks, herbs, and seasonings.

Roast. Lay the seared meat on top of the apples and caramelized cabbage. Bake at 350F for 20 mins. Turn the meat a couple of times through. Rest the meat for about 5 mins.
Reduce the sauce. Let the apples and vegetables cook down until it turns into a chunky sauce.
Serve. Carve the meat, arrange on the bed of apples and caramelized cabbage, and enjoy immediately.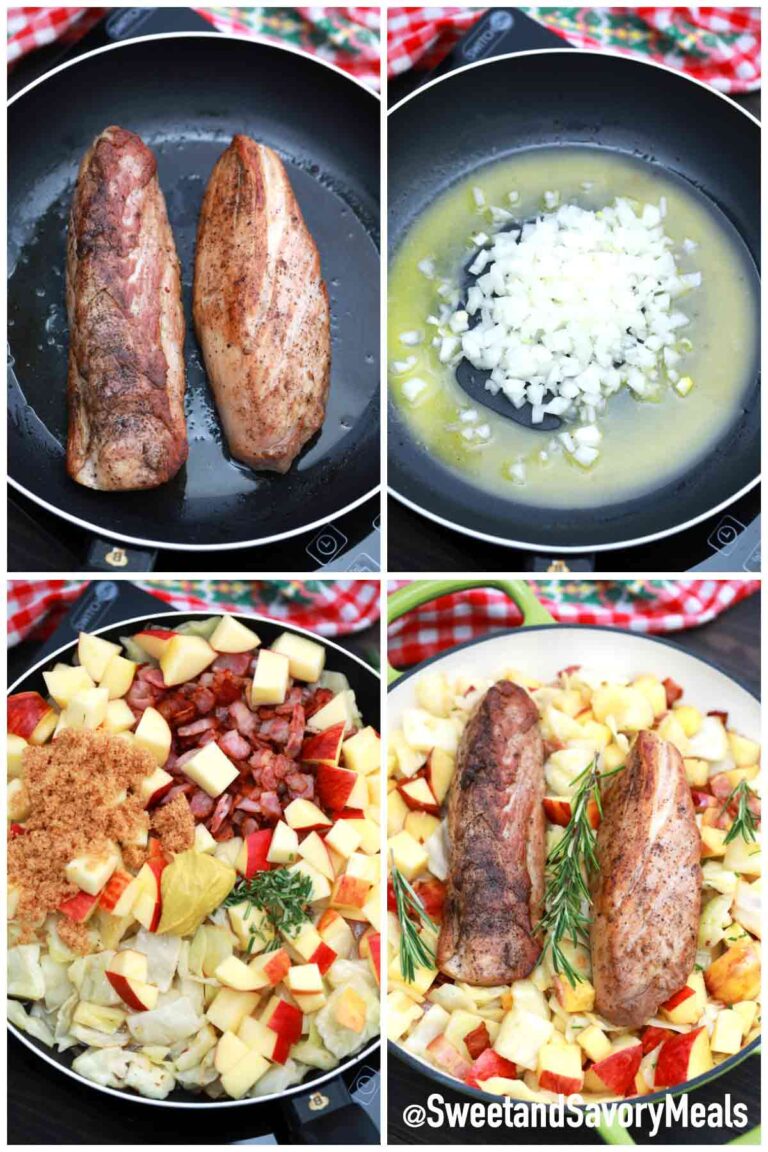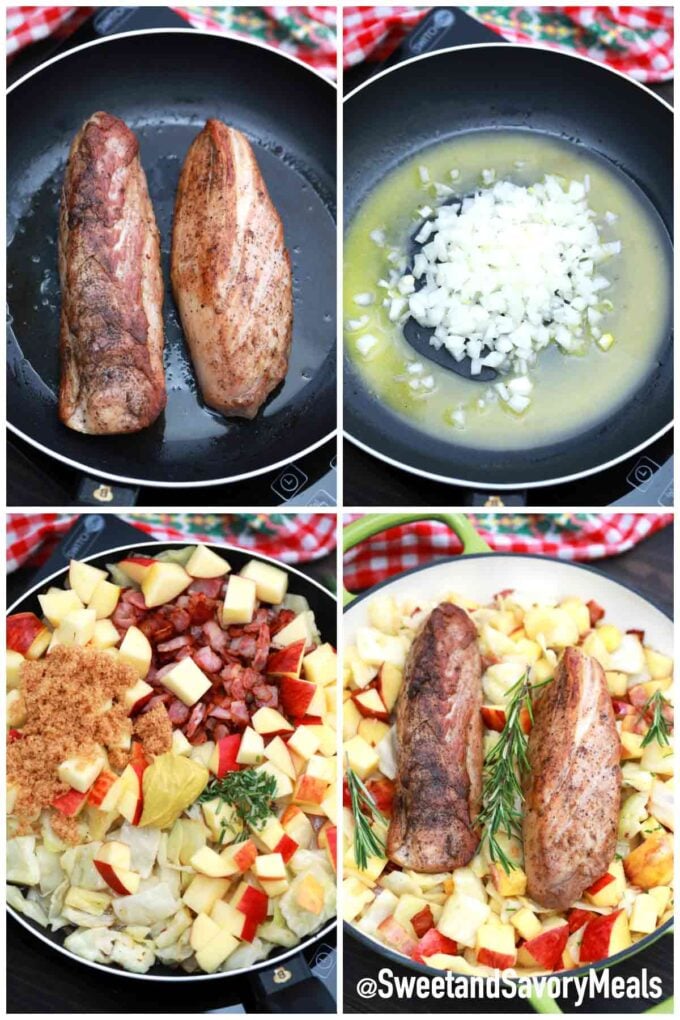 Recipe variations and substitutions:
Use lemon juice or white wine: These two are great substitutes for apple cider vinegar.
Dijon mustard substitutions: This recipe will also work with regular yellow mustard, spicy brown mustard, or in a pinch, some Worcestershire sauce or horseradish sauce.
Use other cuts of pork: Try this recipe with some nice, thick chops.
Spicy: Add some cayenne or chili flakes for a spicier dish.
Use pears: No apples? Try subbing with fresh pears.
Does pork tenderloin get more tender the longer you cook it?
No. The cut is already very tender, to begin with, and it tends to become too tough when overcooked. The best ways to prepare it are high-temp, quick-cooking methods like roasting in the oven, searing, grilling, and sautéing.
What temp should Pork Tenderloin be cooked at?
According to the USDA, it's safe to eat pork tenderloin at 145F internal temp. They also recommend following that with a 3-minute rest to allow the heat and juices to redistribute throughout the meat.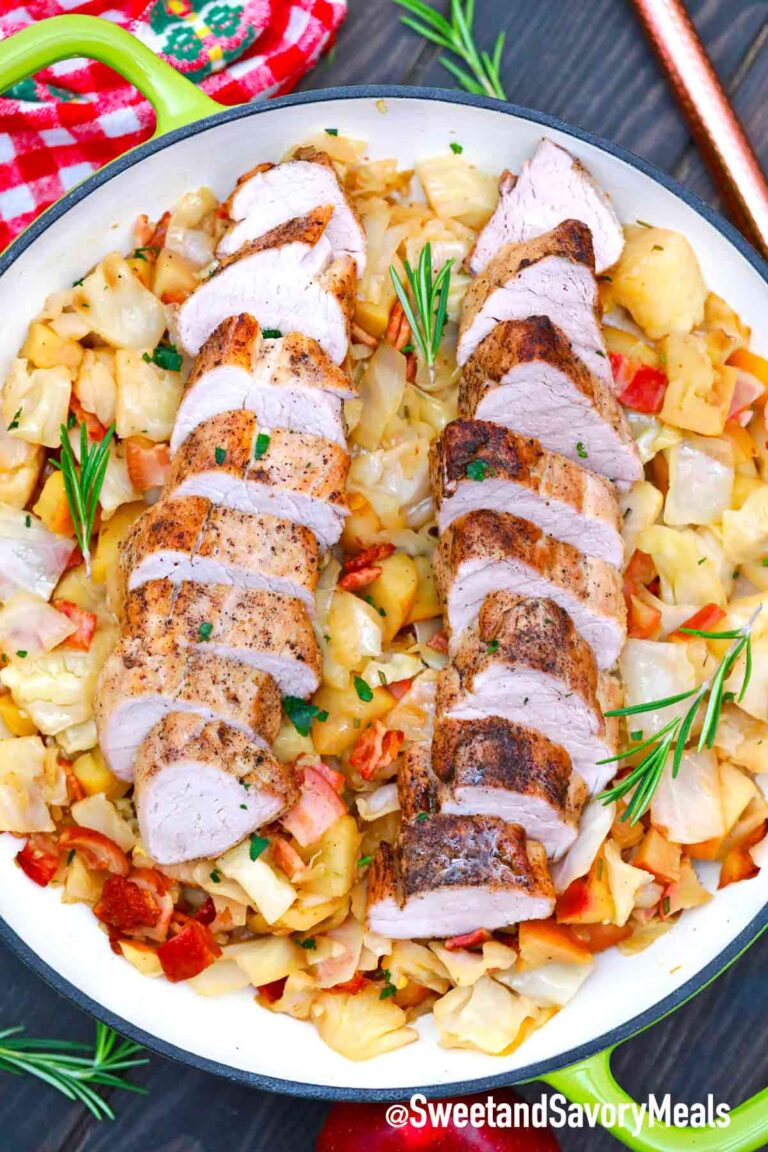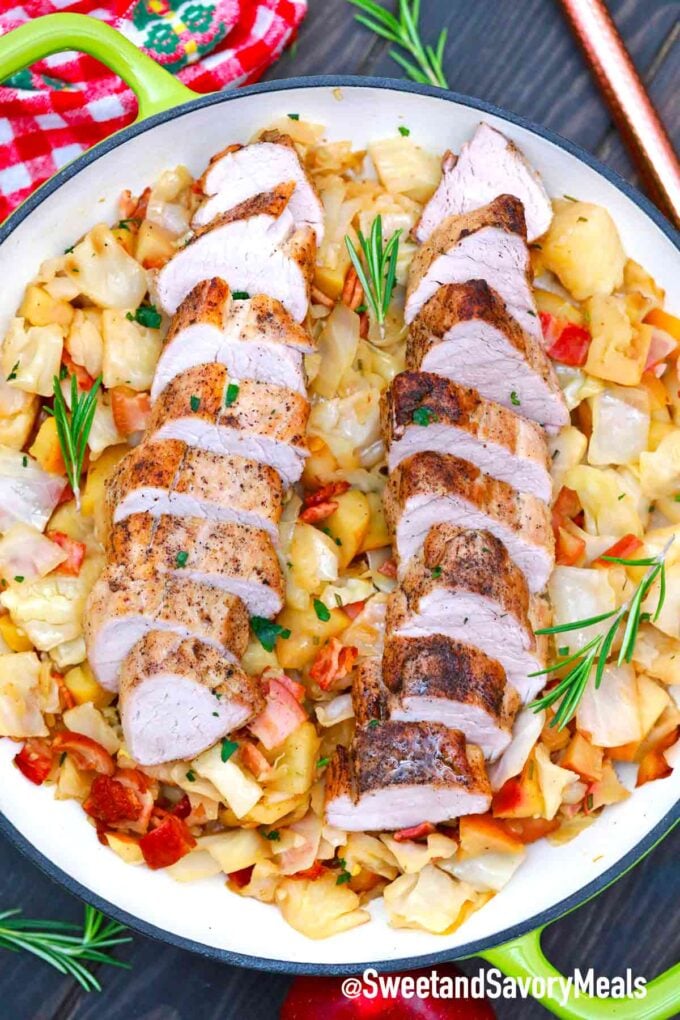 What to serve with pork tenderloin and cabbage?
We love this dish with some mashed potatoes, soup, and a couple of dinner rolls on the side. They're also really good with more veggies like roasted asparagus.
How to store leftovers?
Cool them down first, then transfer the leftovers to a storage container. Try to cover the meat with any remaining sauce to prevent it from drying out. To reheat, bake at 400F for 8 to 10 mins. You can also use the microwave.
More Pork recipes to try: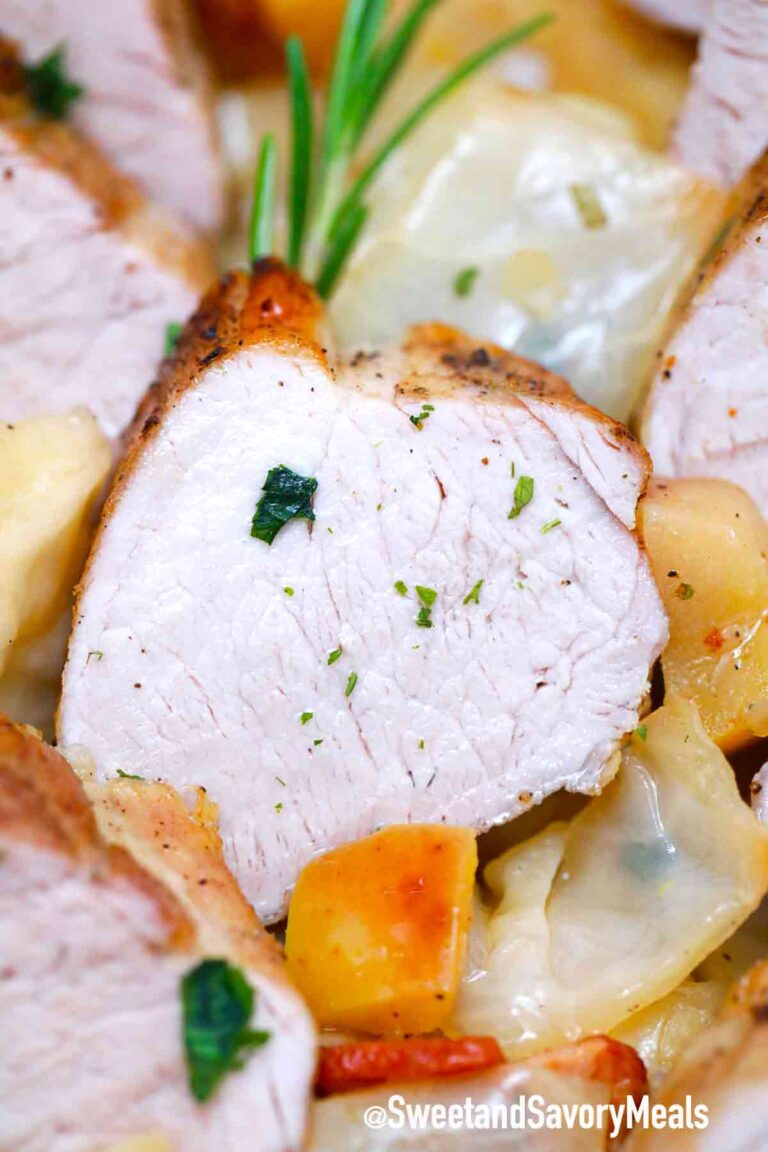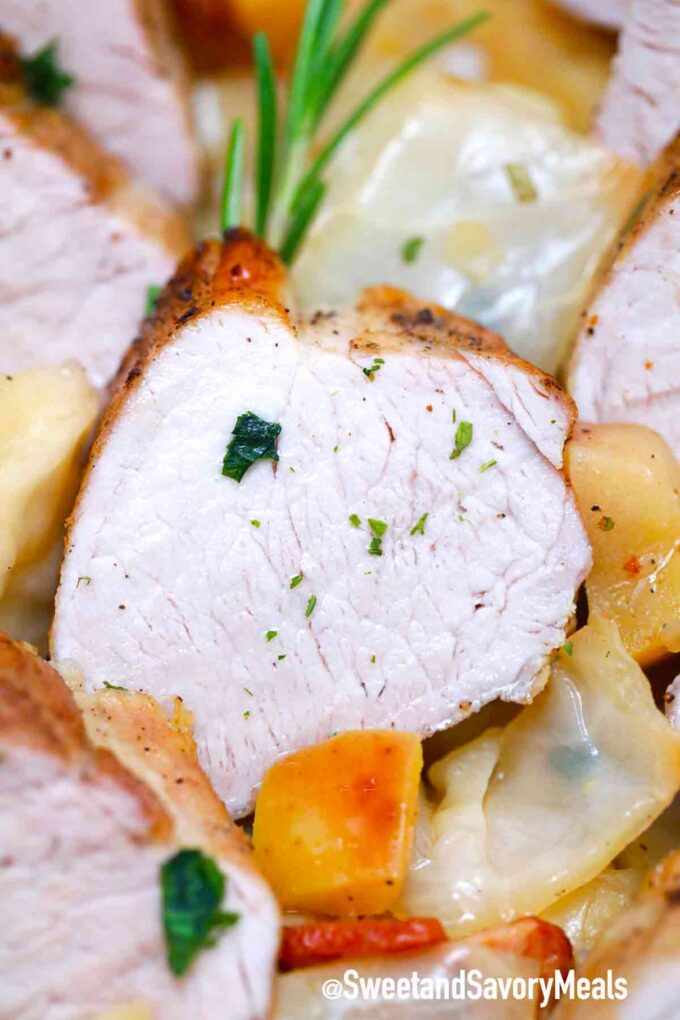 Recipe tips:
Slice off the silver skin, aka the white membrane off the meat. It's very tough and won't get tender during cooking.

Sear your meat and caramelize the cabbage VERY WELL. It makes a world of difference to the flavor and color of the dish.
Don't carve the meat without letting it rest, or it can dry out.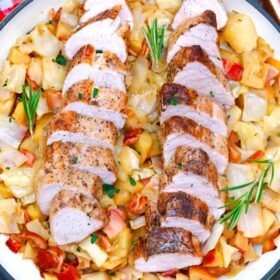 Pork Tenderloin with Cabbage
Pork Tenderloin with Cabbage is roasted on top of apples, bacon, herbs, and a medley of seasonings for a hearty one-pan meal.
Save
Share
Print
Pin
Rate
Ingredients
2

pork tenderloins

(about 2 lbs each)

Salt and freshly ground black pepper

8

slices

bacon

(cut into pieces)

2

tablespoons

unsalted butter

1

onion

(finely chopped)

4

cloves

garlic

(minced)

1/2

medium head green cabbage

(cored and chopped)

1

Granny Smith apple

(cored and cut into cubes)

1

Fuji apple

(cored and cut into cubes)

2/3

cup

apple cider

1

tablespoon

apple cider vinegar

2

tablespoons

brown sugar

1

teaspoon

freshly chopped rosemary

2

teaspoons

Dijon-style mustard

3

rosemary sprigs

Chopped fresh parsley for serving
Instructions
Using a very sharp knife, trim the white membrane from the pork and season it on all sides with salt and pepper.

Preheat oven to 350 F.

Place a large oven-safe pan over medium-high heat, once hot, add the bacon and fry it until crisp. Transfer to a paper towel-lined plate.

Discard bacon fat from the pan leaving in only about 2 tablespoons.

With the heat to medium-high, add the pork tenderloin and sear it on all sides in the bacon fat, about 2 minutes per side. it should be nicely browned! Transfer it to a plate and set it aside.

Return the pan to the stove over medium heat and add the butter. Once melted add the onion and cook until soft and translucent, 3 to 4 minutes.

Add the garlic and cook for 1 minute more.

Add the cabbage and continue cooking until wilted, 8-10 minutes, stirring from time to time. Season to taste with salt and pepper.

Return the bacon to the pan, stir and cook for 4 to 5 minutes longer.

Add the cubed apples, cider, vinegar, mustard, rosemary, and brown sugar to the pan and stir to combine, cook for 3-4 minutes.

Add the pork tenderloin to the pan, nestling it into the cabbage and apple mixture. Add some rosemary sprigs.

Cover the pan and bake for 20 minutes, turning the pork once during the cooking time.

Once done cooking, transfer the tenderloin to a cutting board and allow it to rest for 5 minutes before carving.

In the meantime, place the cabbage mixture on the stove over medium-high heat and cook, stirring constantly, until any liquid has evaporated and the apples are soft and saucy.

Transfer the cabbage mixture to a serving platter. Slice the pork, and arrange it on top of the cabbage.

Serve immediately.
Nutrition
Calories:
641
kcal
|
Carbohydrates:
22
g
|
Protein:
63
g
|
Fat:
21
g
|
Saturated Fat:
14
g
|
Trans Fat:
1
g
|
Cholesterol:
39
mg
|
Sodium:
278
mg
|
Potassium:
325
mg
|
Fiber:
4
g
|
Sugar:
16
g
|
Vitamin A:
248
IU
|
Vitamin C:
32
mg
|
Calcium:
84
mg
|
Iron:
7
mg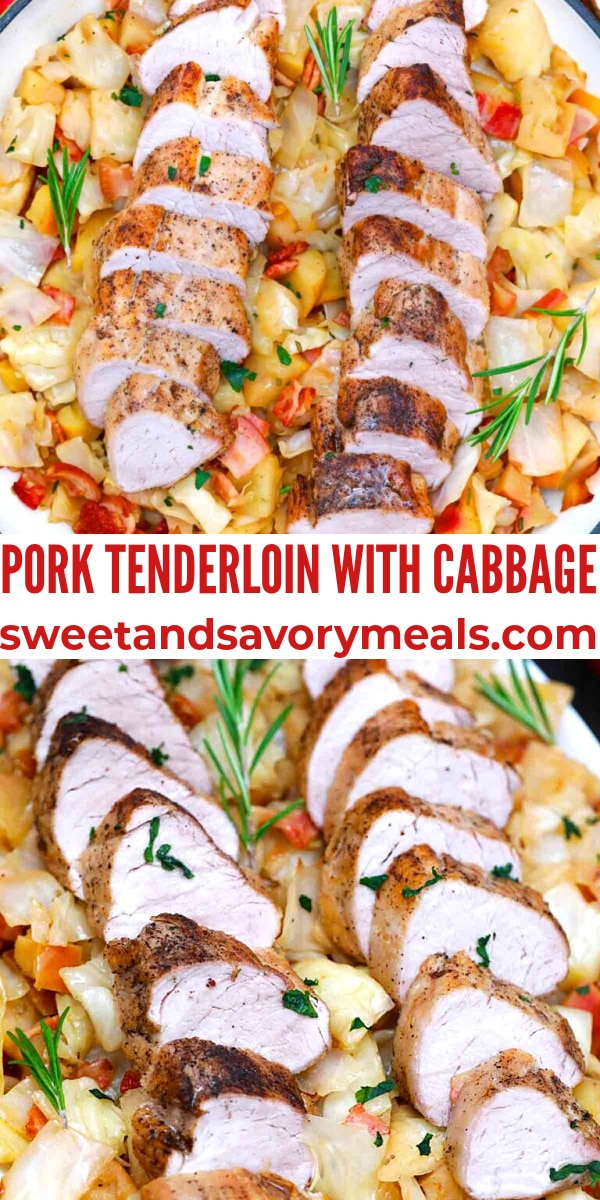 More recipes you might love