Shamrock Sour Recipe [Video]
Shamrock Sour will get you in the mood for St. Patrick's Day, it is boozy, refreshing, and a bright green color that makes it very festive!
The perfect cocktail can really take brunches and parties to the next level. Treat your guests to this Peaches and Cream Martini that has actually roasted peaches! Freshen up your summer BBQs with a Kiwi Margarita, and get creative with your mojitos using my recipe for Fruit Mojitos Four Ways!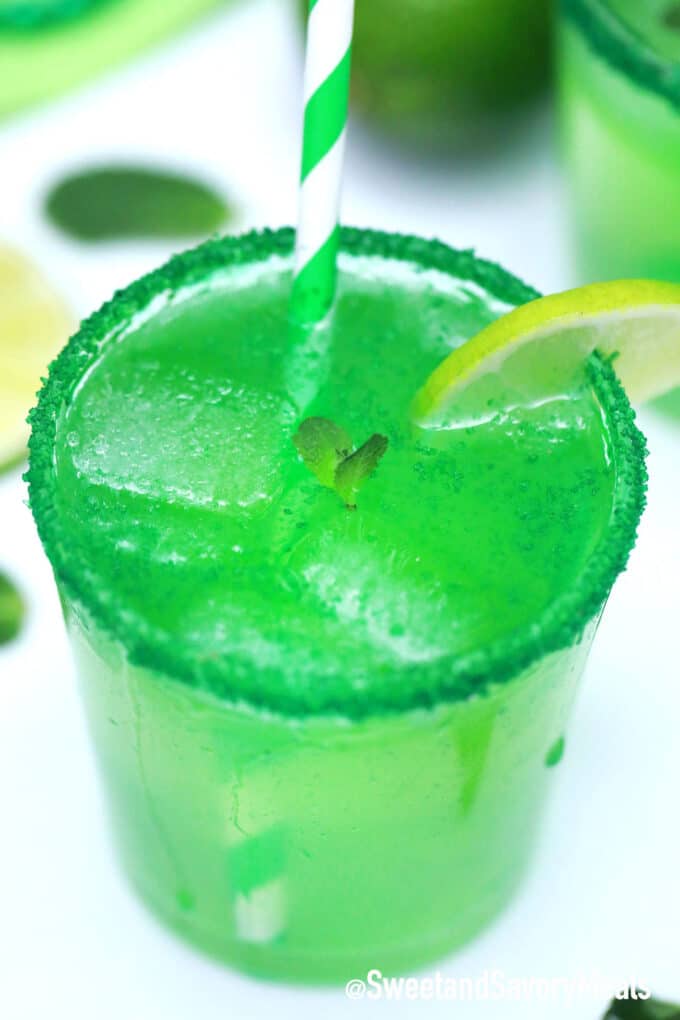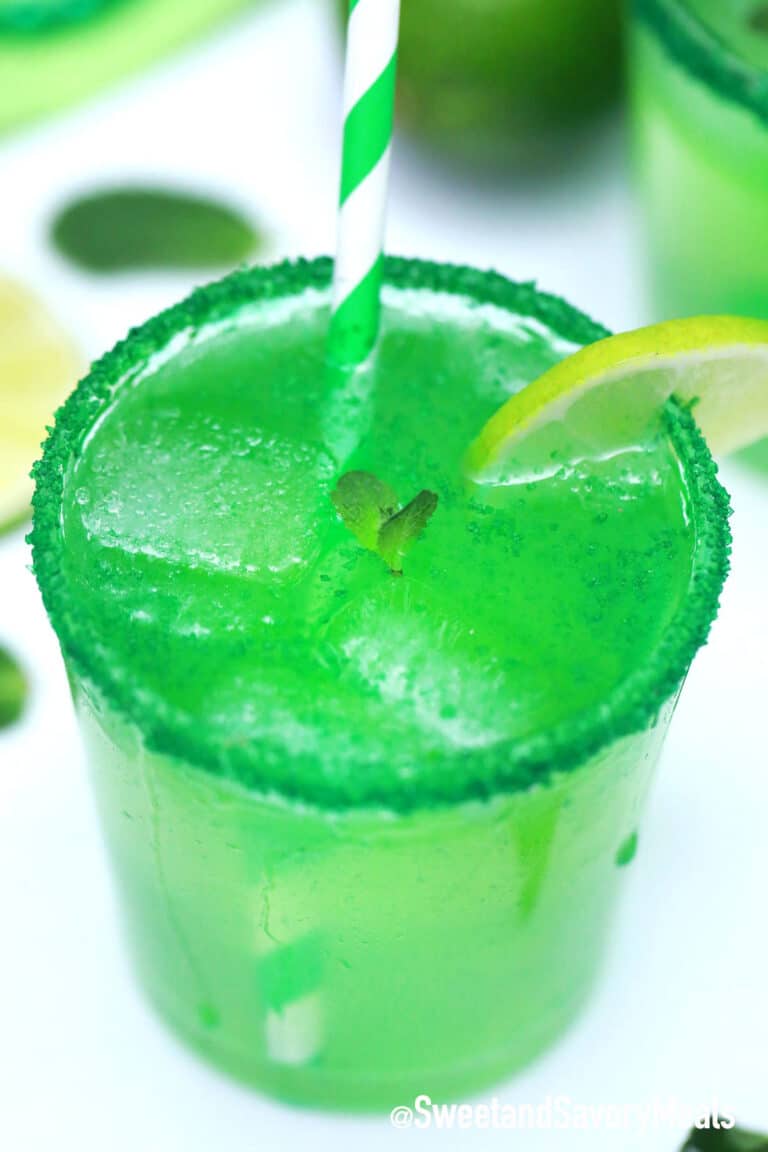 Shamrock Sour Cocktail
Shamrock Sour is the ultimate St. Patrick's Day cocktail! It's green all over, from the actual drink to the garnishes. We're even rolling the rim in some fun green sprinkles to complete the look! True to the holiday, we're using Irish whiskey to make this delicious beverage.
As the name suggests, this drink has a sour flavor profile. However, the simple syrup balances it out, and it also has a really nice and subtle minty taste due to the extract.
Finally, it looks festive and fancy, but this cocktail cannot be easier to make. Shake it up, pour, and enjoy. Say cheers to St. Patrick's Day with a glass (or several) of Shamrock Sour!
What is a Shamrock Sour?
It's basically your classic whiskey sour with an Irish twist. It's got all the elements of a traditional sour— good whiskey, simple syrup, and citrus.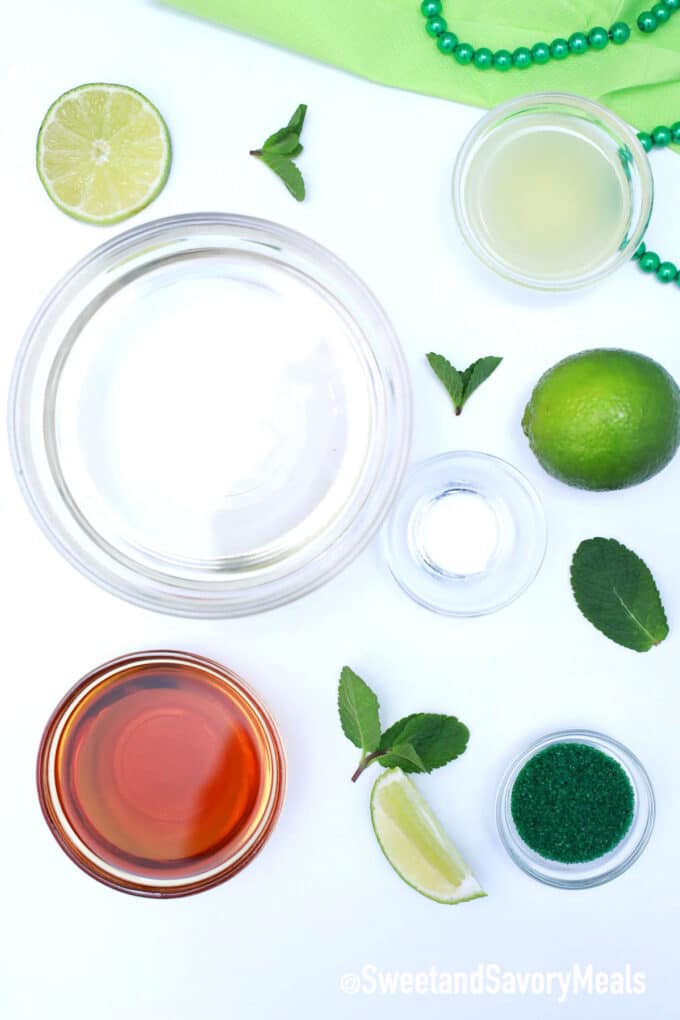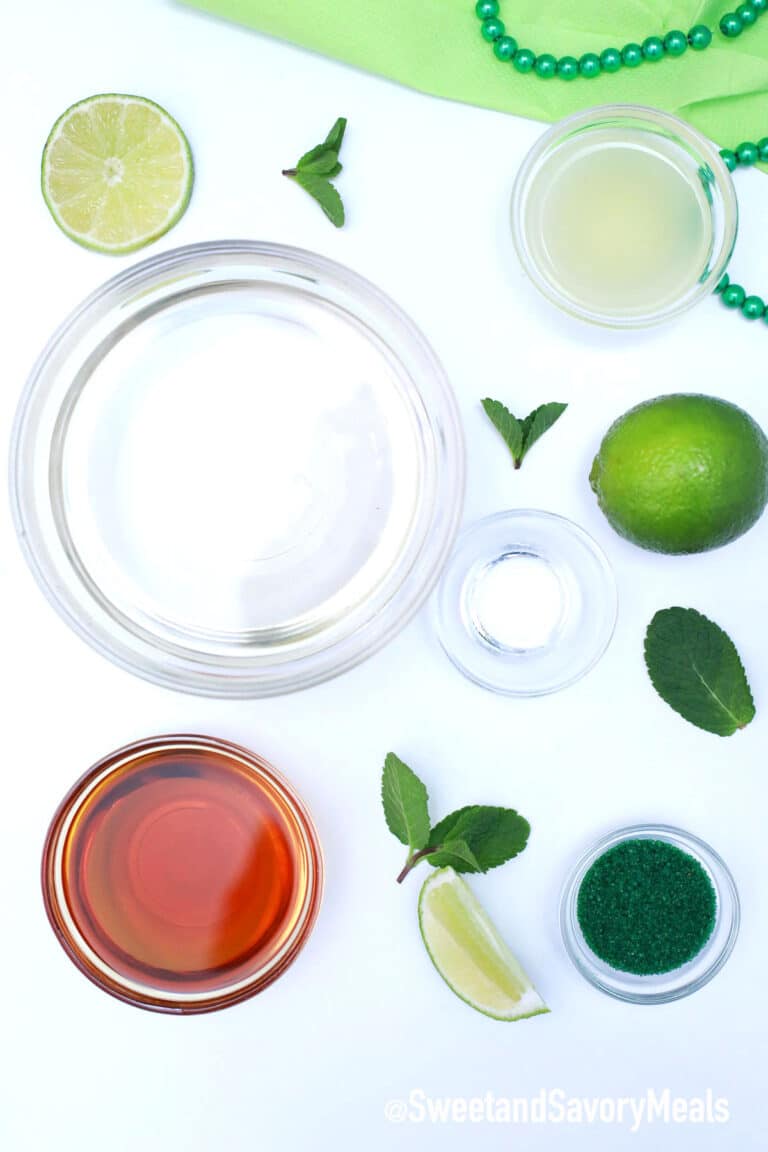 More Cocktail Day Recipes:
But in the spirit of St. Patrick's Day, we're customizing it with Irish whiskey, lime juice, and a dash of cool mint extract. Of course, we can't forget about the color— a bit of green dye gives this drink the bright colors of a shamrock!
What do you need to make a Shamrock Sour?
Irish whiskey: Use one with a smooth finish, such as Jameson or Bushmills.
Lime juice: Fresh-squeezed is best, but you can also use the bottled kind if you have it.

Simple syrup: Balances out the bitterness and tang with sweetness.
Mint extract: Makes the drink taste fresh and leaves a lingering cool feeling in the mouth.
Green food color: Just a tiny drop gives the drink a stunning Shamrock green shade!
Garnishes: Set aside some mint leaves and wedges of lime. Prepare some green sprinkles as well for decorating the rim.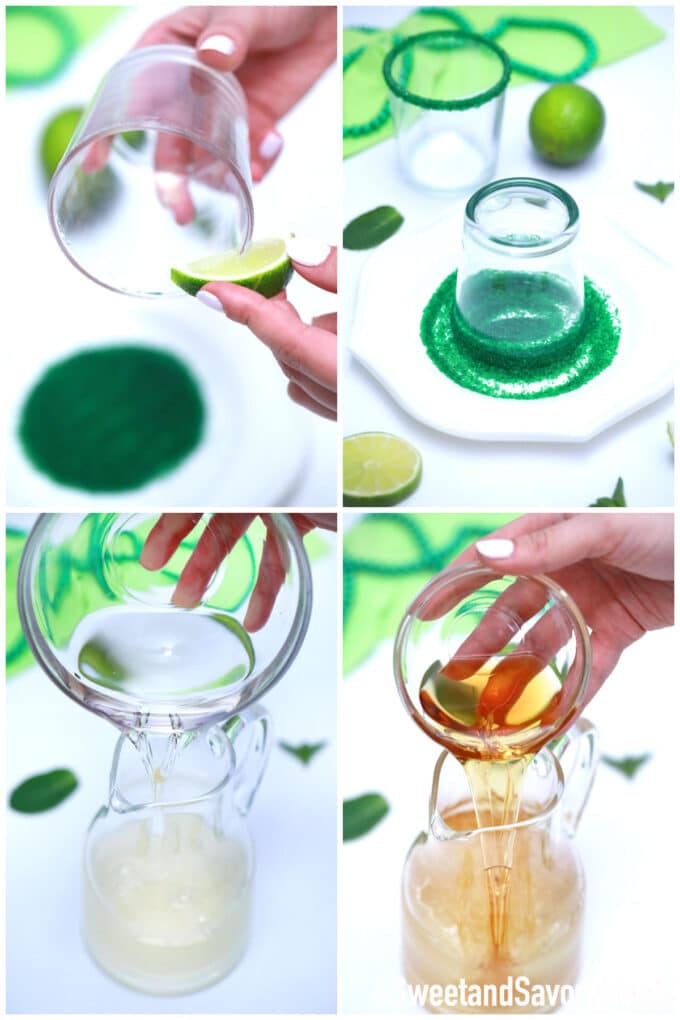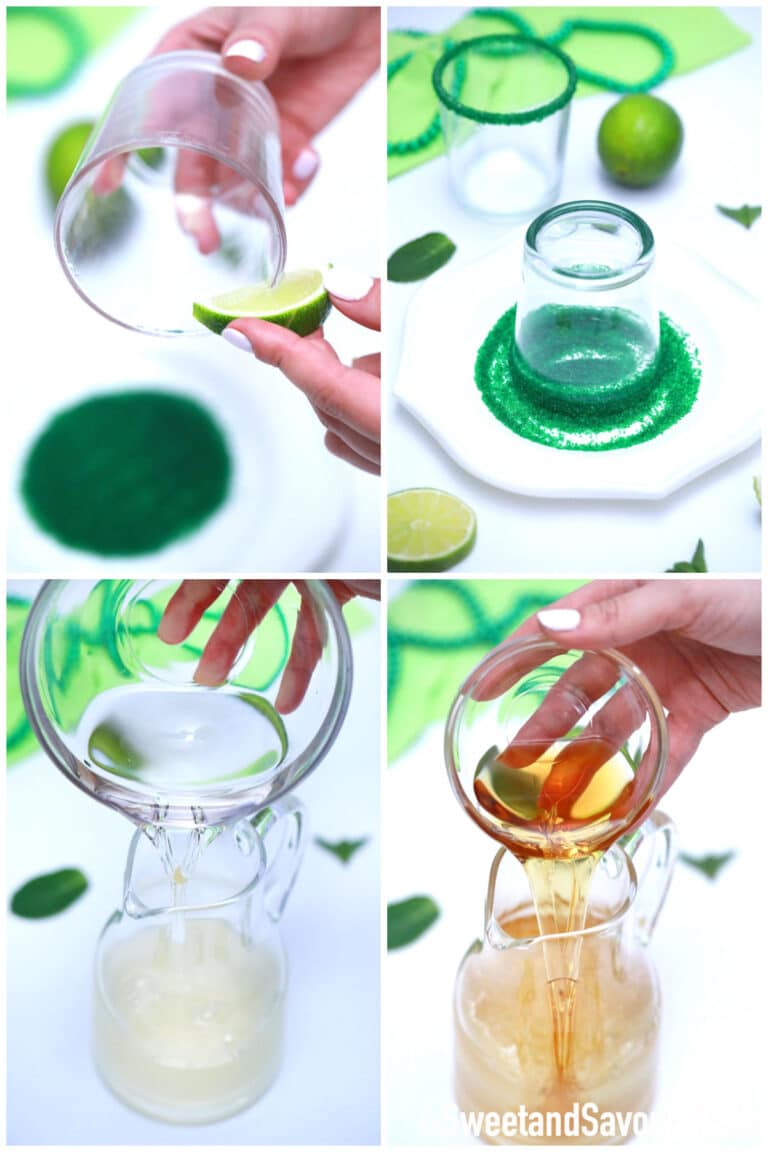 How do you make a Shamrock Sour?
Decorate the rim. Run a lime wedge around each rim, then roll in the green sprinkles. Chill the glass for 20 mins.
Mix. Pour the Irish whiskey into a shaker along with the syrup, food dye, citrus juice, and some ice. Shake really well to incorporate the syrup. Strain, and serve in chilled glasses over ice.
Serve. Garnish each drink with mint and a wedge of lime. Enjoy!
Recipe Variations:
Use other alcohol: You can use a mild bourbon, brandy, rum, or cognac in place of the Irish whiskey.

Use lemon: Don't have lime? Lemon will do in a pinch.
Other ways to make it green: Instead of food dye, use green liquors such as sour apple schnapps, Midori, and green crème de menthe.
Shamrock Sour Slush: In a blender, add all the ingredients along with ice cubes. Blend and serve in prepared glasses.
What is simple syrup and how do you make your own?
It's a mix of water and sugar. You can use it to sweeten many drinks, from cocktails to lemonades, iced teas, and smoothies because it's easy to blend with other liquids and ingredients.
To make your own, boil one cup of water with a cup of white granulated sugar until completely dissolved. Let the mixture cool down and store for up to a month.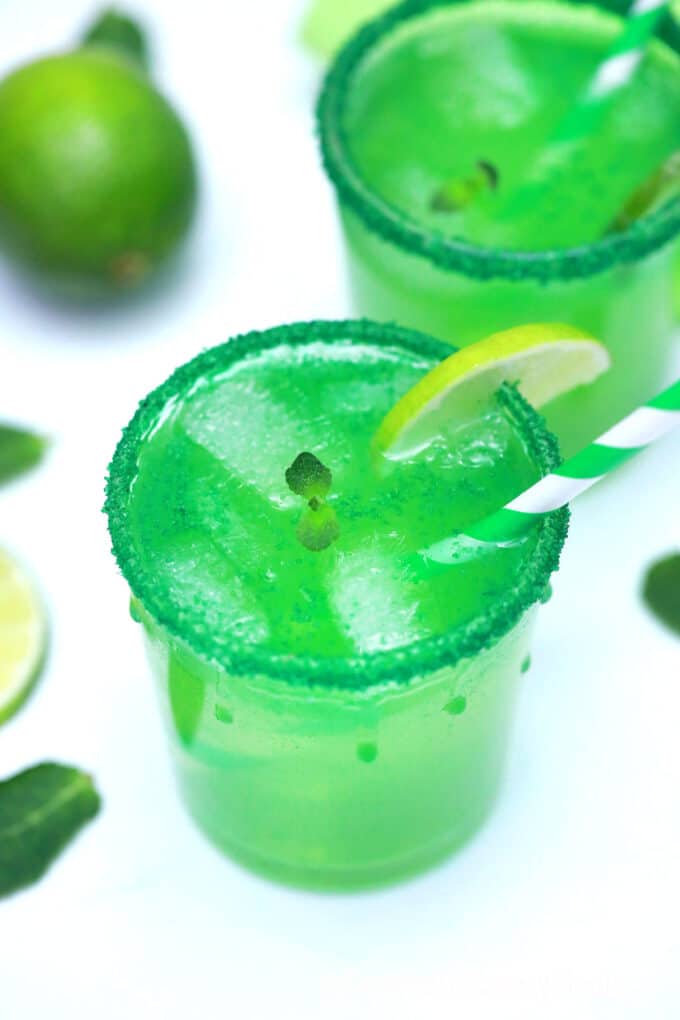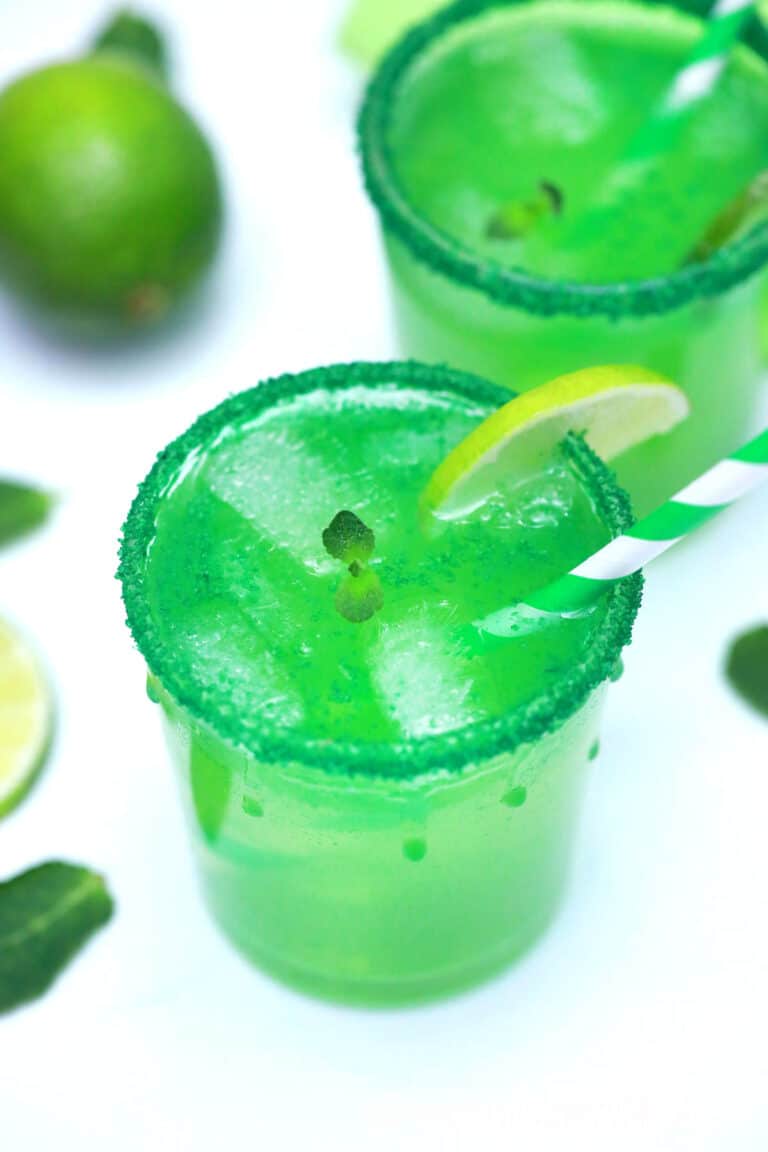 What is Irish whiskey?
It's one of the most popular types of whiskey in the world, made entirely in Ireland. This alcohol is typically triple-distilled from unmalted barley that's often mixed with grain whiskey. Some of the most well-known brands are Jameson, Bushmills, Teeling, Green Spot, and Connemara.
How do you serve a Shamrock Sour?
It's usually served over ice in a chilled glass. I like using lime wedges for garnish so that people can adjust the tartness of their drink.
If you don't have any green sprinkles, you can also tint some sugar with a little green dye. A great way to add some emerald sparkle to your Shamrock Sour!
Can you make it ahead of time?
Sure! You can mix up everything, and chill up to 4 hours in advance. You can also juice your citrus in the morning, combine with the syrup and dye, and just mix with the Irish whiskey before serving.
More St. Patrick's Day Recipes: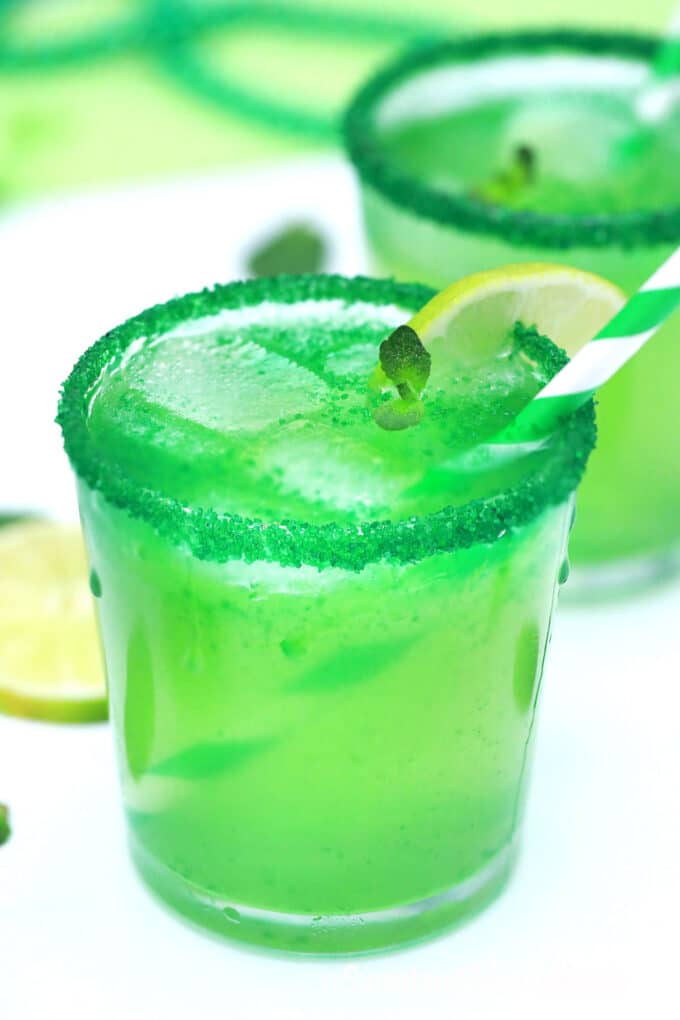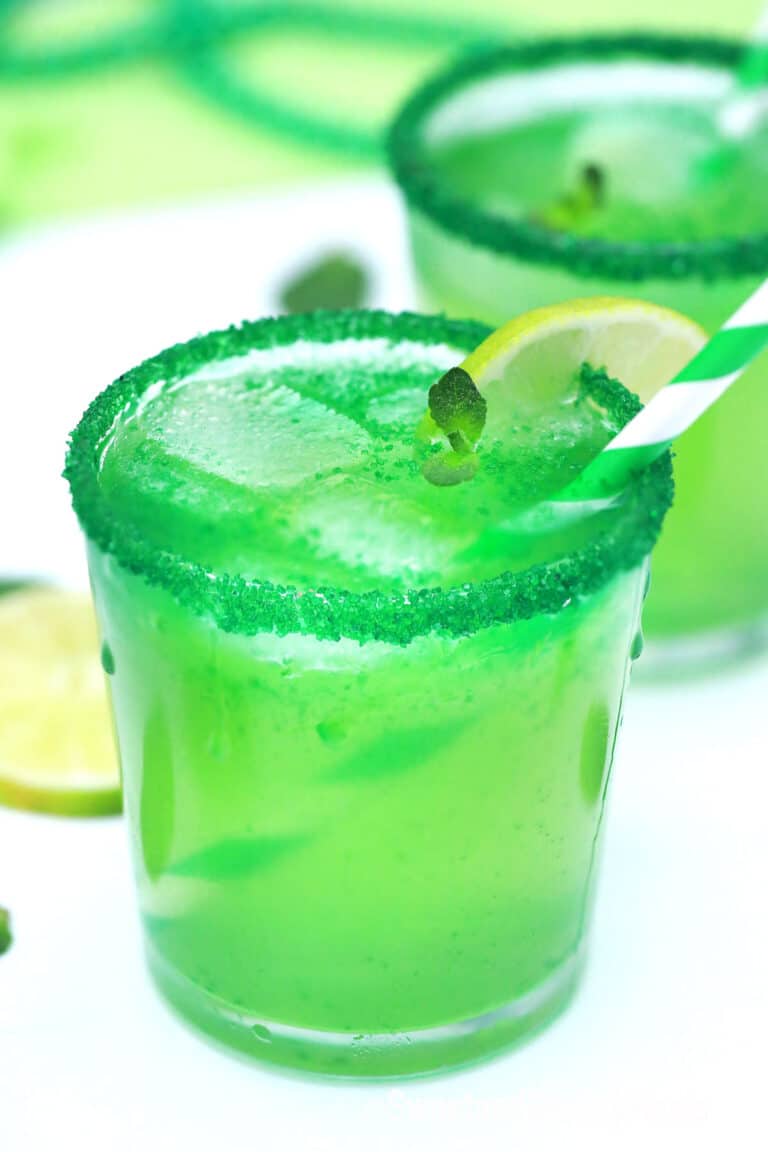 Recipe Tips:
You don't need a lot of food color! Dunk the tip of a toothpick into the dye, and mix that into the cocktail so you can control the shade. Add more if you want a greener cocktail.
If you can't find Irish whiskey, any type of smooth whiskey will do.
Discard the ice you used to shake up the cocktail, and place fresh ice cubes in the glass before pouring.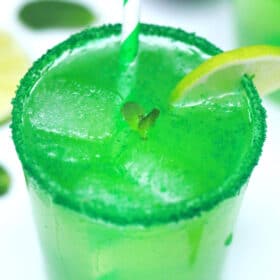 Shamrock Sour Recipe
Shamrock Sour will get you in the mood for St. Patrick's Day, it is boozy, refreshing, and a bright green color that makes it very festive!
Save
Share
Print
Pin
Rate
Ingredients
FOR THE RIM:
Green sprinkles

(or green sanding sugar)

Lime Wedges
COCKTAIL:
4

tablespoons

lime juice

1/4

cup

simple syrup

4

ounces

Irish whiskey

1

tiny drop of green food coloring

1/4

teaspoon

of mint extract
Instructions
Add green sprinkles to a shallow bowl.

Rub the rim of the glasses with the lime wedge. Dip in green sprinkles or green sanding sugar and set aside to chill for 20 mins.

Combine cocktail ingredients in a cocktail shaker and shake well strain over ice.

Pour into glasses and garnish with a lime wedge and mint, serve.

To avoid the drink becoming too green, dab a wooden skewer into the green food coloring, and then stir that into the drink. This way you better control the color.
Video
Nutrition
Calories:
263
kcal
|
Carbohydrates:
33
g
|
Protein:
1
g
|
Fat:
1
g
|
Sodium:
25
mg
|
Potassium:
62
mg
|
Fiber:
1
g
|
Sugar:
31
g
|
Vitamin A:
15
IU
|
Vitamin C:
9
mg
|
Calcium:
10
mg
|
Iron:
2
mg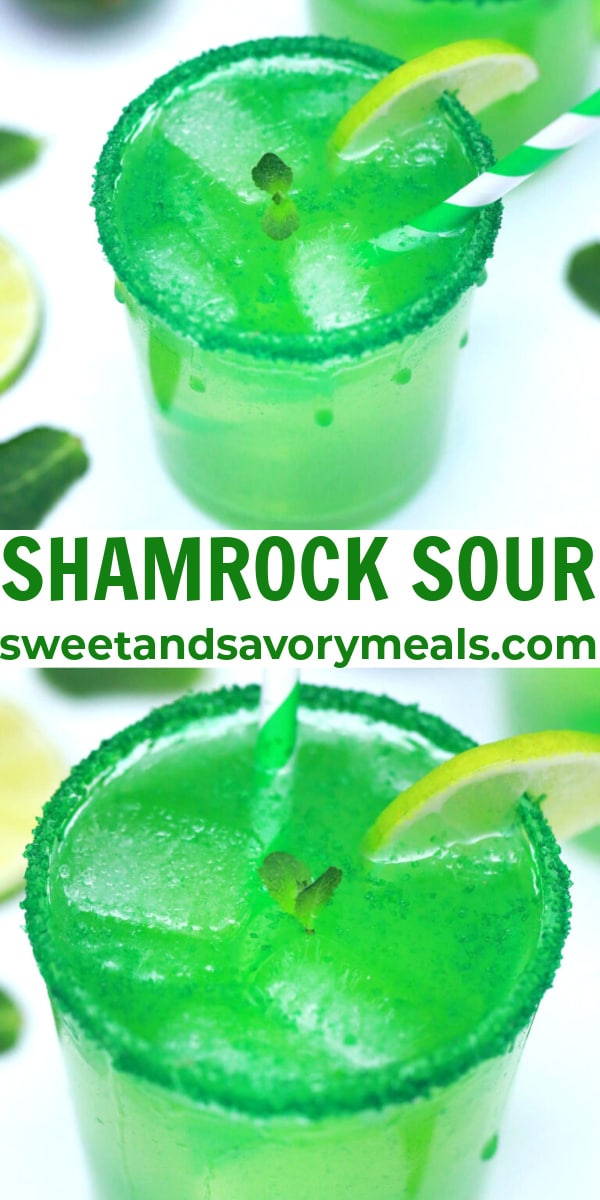 More recipes you might love